Table of contents:
Osaka Aquarium Kaiyukan
Aquarium Permanent Exhibits
Feeding Times and Aquarium at Night
Tempozan Harbor Village
Tips for Visitors to Osaka Aquarium
Found in the Tempozan Harbor Village near the Osaka Bay area, Osaka Aquarium or Kaiyukan is one of Japan's most respected aquariums. Kaiyukan is one of the largest public aquariums in the world and is sure to captivate those who explore its exhibits, home to 30,000 marine animals from across the Pacific Ocean. What makes the Osaka Aquarium so special is innovate and interactive approach that really allows visitors to connect with its theme and the creatures that call the aquarium home. Here's everything you need to know to make the most of a visit to Osaka Aquarium Kaiyukan with your Japan Rail Pass.
Osaka Aquarium Kaiyukan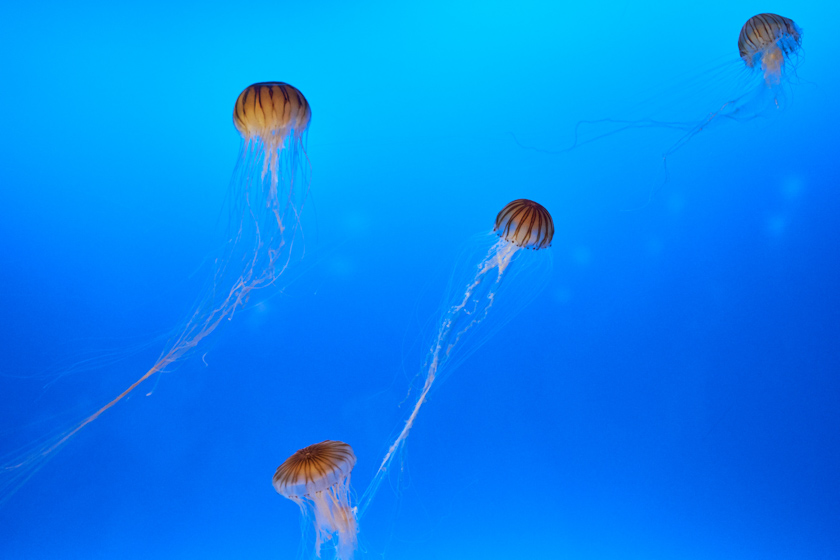 More than just your local aquarium, the Osaka Aquarium is a state of the art complex dedicated to marine life from around the Pacific Rim. To properly showcase these creatures from around the Pacific, Kaiyukan recreates the natural environment of their different habitats. This theme revolves around the idea of the "Gaia Hypothesis", suggesting that in some ways the Pacific Ocean region acts as one single ecosystem.
This means you can see an incredibly diverse selection of marine animals here, with 620 species calling the aquarium home. Dolphins, penguins, otters, sea lions, whale sharks and jellyfish are among the many animals on display here. With so much to see, both children and adults are sure to be impressed by what they see at the Osaka Aquarium. No wonder it's one of Osaka's most popular tourist attractions.
Aquarium Permanent Exhibits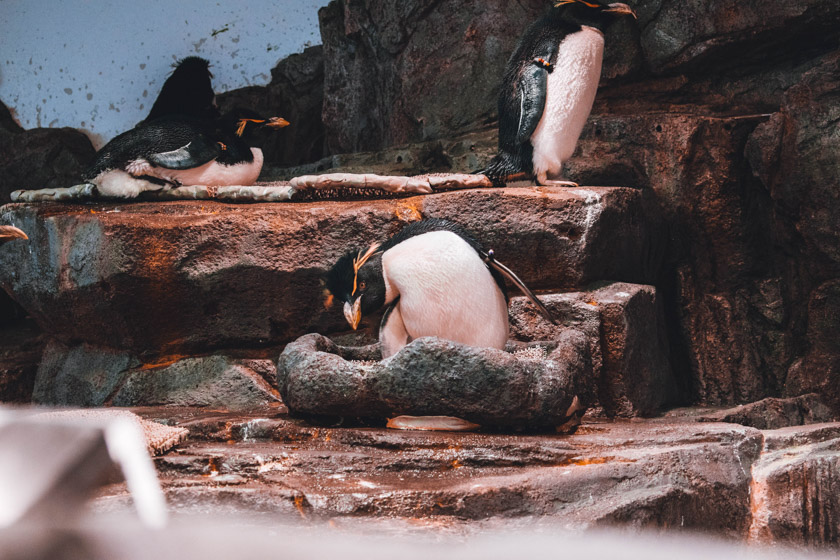 As if the animals at the aquarium weren't impressive enough on their own, wait until you see how the Osaka Aquarium is set up. Over the course of a tour, visitors are taken past 15 large tanks, each dedicated a different region around the Pacific Rim. Things start quite spectacularly with the "Fish Underpass – Aqua Gate" aquarium shaped like a tunnel that you pass through.
Journeying up to the building's eighth floor, you'll begin a process of slowly working your way back down, starting with the "Japan Forest" exhibit full of trees and greenery. Other exhibits within the aquarium include "Antarctica" which is home to penguins and "Great Barrier Reef" full of vibrant, tropical fish. Many of the exhibits span across multiple floors, meaning you're treated to different perspectives on these complex habitats.
However, the star attraction at Kaiyukan is the "Pacific Ocean" exhibit. That's because it has the largest tank in the aquarium at 9 metres deep, making it suitable as the habitat for the two gigantic whale sharks, the largest species of fish alive in the world today.
Feeding Times and Aquarium at Night
Osaka Aquarium also has various special activities that make a visit here much more than just looking at each of the different habitats. This includes the various interactive elements introduced to the aquarium, like recreating the climate, smells and sounds for certain habitats. Some exhibits like the Maldives Zone allow guests to actually touch sharks and rays in the water.
Then there are feeding times, where guides will provide special talks explaining the biology and habits of creatures. And to see things in a new light, stick around until 5pm when the aquarium enters its "Kaiyukan Night Aquarium" mode. At this time, the music and lighting inside changes, changing the entire mood to one of a moonlit night.
Tempozan Harbor Village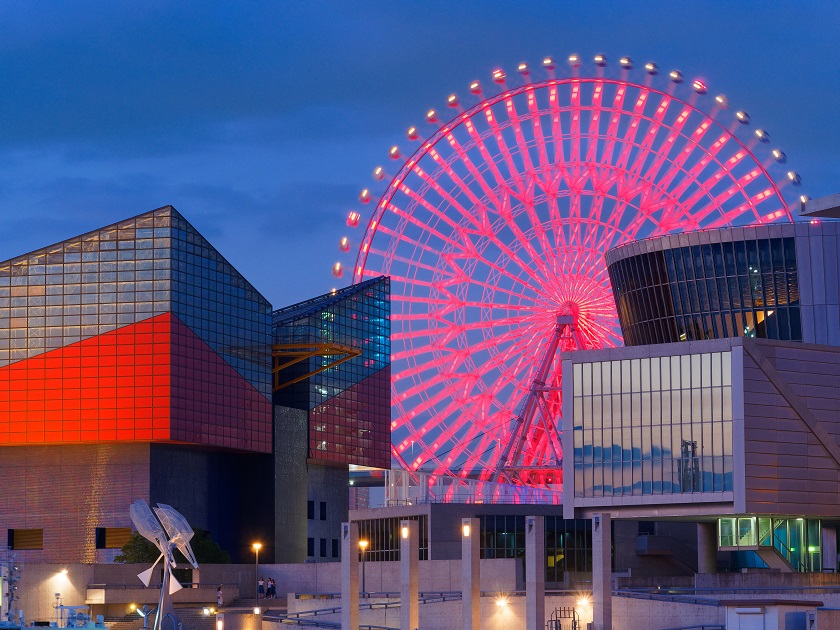 While the Osaka Aquarium is the most popular attraction in the Osaka Bay area, it's just one of part of Tempozan Harbor Village. This waterfront area boasts various family-friendly attractions, not to mention loads of places to sample Japanese cuisine. Head to the Naniwa Kuishinbo Yokocho to try various Japanese street food, while the Tempozan Giant Ferris Wheel will provide you with some stellar views across the bay and city.
Tips for Visitors to Osaka Aquarium
Visiting the Osaka Aquarium is quite easy for those in Osaka or travelling with a JR Pass. Simply travel to Osaka Station with your JR Pass and then take the Chuo Subway Line to Osakako Station. From there the aquarium is just a five minute walk away.
Normal hours for entry are from 10:00 to 20:00, however during certain seasons the opening hour may be moved to 9:00.
Tickets cost 2400 yen for adults and for the time being must be bought in advance online. These tickets are valid for a designated date and time.
Those interested in finding other wildlife experiences in Japan should read out articles on other animal experiences like Rabbit Island or Japan's Snow Monkeys.