Futuristic and glamorous, Osaka's Umeda district features some of the city's most spectacular landmarks and is packed with places to shop, eat and explore.
Table of contents:
Intro
A Brief History of Umeda
Top Five Things To Do in Umeda
How To Get There
Attractions nearby Umeda
Bonus Tips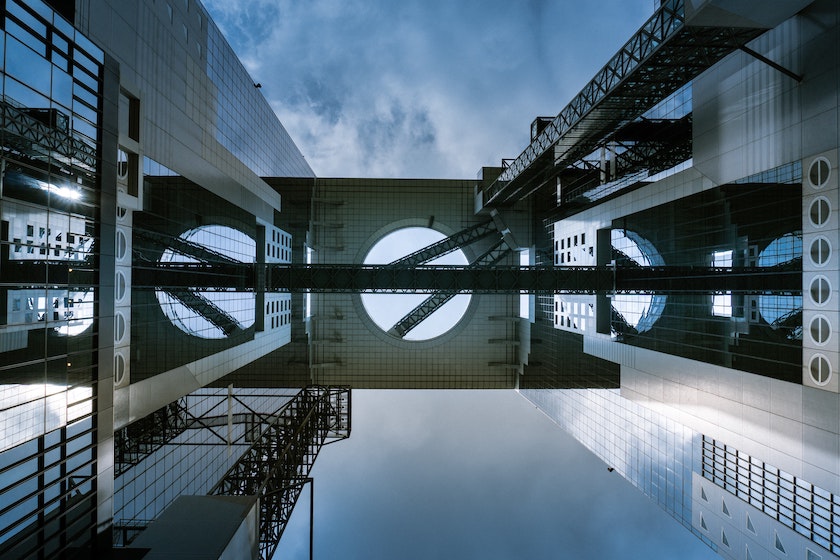 Intro
From Osaka's tallest skyscrapers to its most spectacular landmarks, plus the very best in high-end shopping, cuisine and entertainment – it's easy to see why Umeda is such a popular attraction. This futuristic and glamorous part of Osaka is a famous business and shopping district with iconic landmarks such as the Umeda Sky Tower and the giant Hep Five Ferris Wheel. It's also a major transport hub for the city and the biggest business district in the Kansai region. We'll give you a guided tour of this stunning area, talk you through its past and present, how to get there with the JR Pass, and list the many things to see and do while you're there. Osaka is a city with many faces and Umeda is definitely its glamorous side.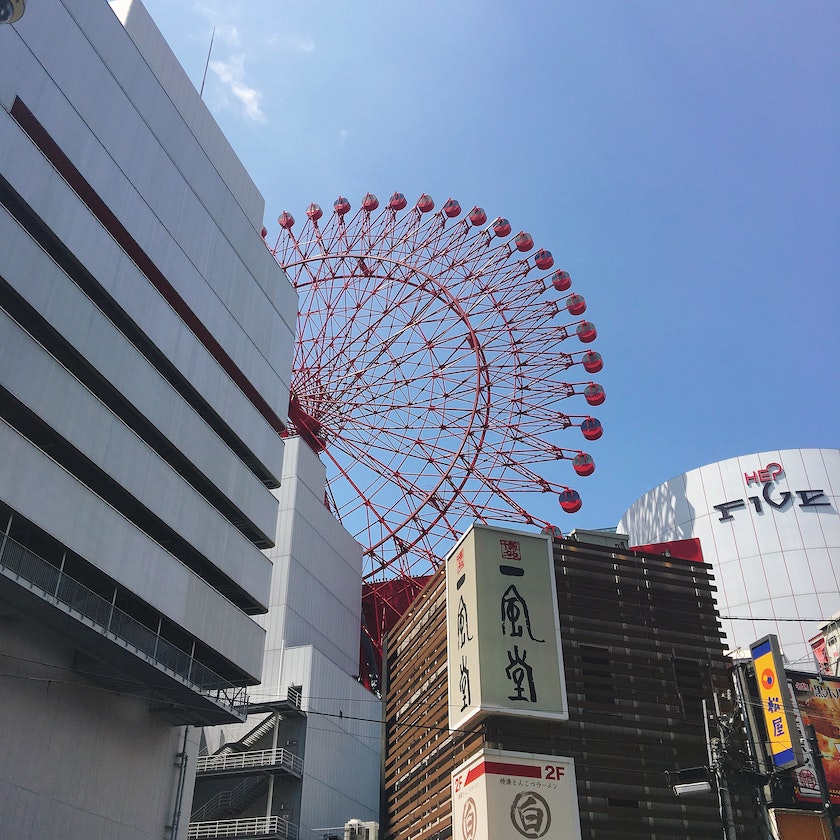 A Brief History of Umeda
Umeda's history as a business and entertainment sector begins in the 17th Century, but the land itself has an interesting past that goes back much further. In the early Edo Period, the wetland fields of Umeda were used as a burial ground. Locals were buried with clay dolls, pipes, rosary beads, and rokusenmon – a set of coins to pay for their passage across the Sanzu river which separates the land of the living from the world of the dead. One of the translations of Umeda means 'reclaimed fields', as the land was taken back from its historic use and turned into an entertainment district in the 17th Century. This transformation was hastened by the building of Osaka Station in 1874, followed by Hanshin Umeda Station in 1906, Hankyu Umeda Station in 1910, and Osaka Metro Umeda Station in 1933, cementing the area as a hugely important transport hub. Travel and business naturally go hand in hand and the area thrived throughout the 20th Century. This influx of investment led to ongoing regeneration and construction, and the area soon had the tallest skyscrapers in Osaka. In 1993, the spectacular Umeda Sky Building was constructed, followed by major refurbishment and rebrands of other iconic buildings such as the train stations, and the area began its next transformation, from a business district to a major tourist attraction. This has been capped off in the last 15 years with buildings such as Grand Front Osaka and Osaka City Station – huge, lavish, futuristic complexes packed with things to see and do. Today, Umeda is the biggest commercial district in the west of Japan and the place to go for glamorous sightseeing, high-end shopping, entertainment, restaurants, bars, and more.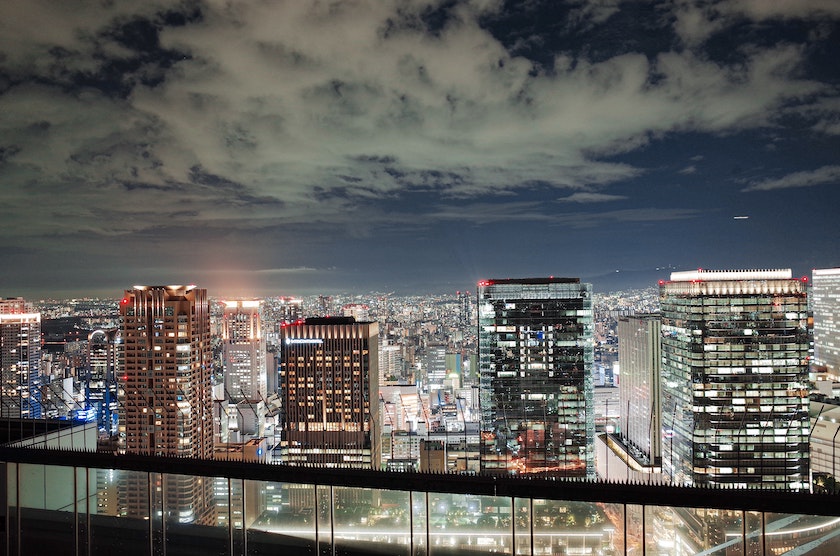 Top Five Things To Do in Umeda
Umeda is one of Osaka's busiest areas with a vast array of attractions and activities for visitors. Here's our Top Five: 
1.) Umeda Sky Building
Standing 173 metres tall, the Umeda features two forty-storey towers that are connected at the thirty-ninth floor by a ring-shaped observation deck, the Floating Garden Observatory. Designed by Hiroshi Hara and constructed in 1993, it didn't take long for the building to become one of Osaka's landmarks. The main attraction of visiting the Sky Building is the chance to enjoy views of Osaka from the building's Floating Garden Observatory. Known in Japanese as Kuchu Teien, you reach this observation deck by first taking an elevator up to the 35th floor. From there, you take the world's highest escalator that actually crosses between the building's two towers (see the photo below). It's an unmissable experience if you plan to visit Umeda. There's also an underground Showa-era replica town called Takimi Alley beneath the tower.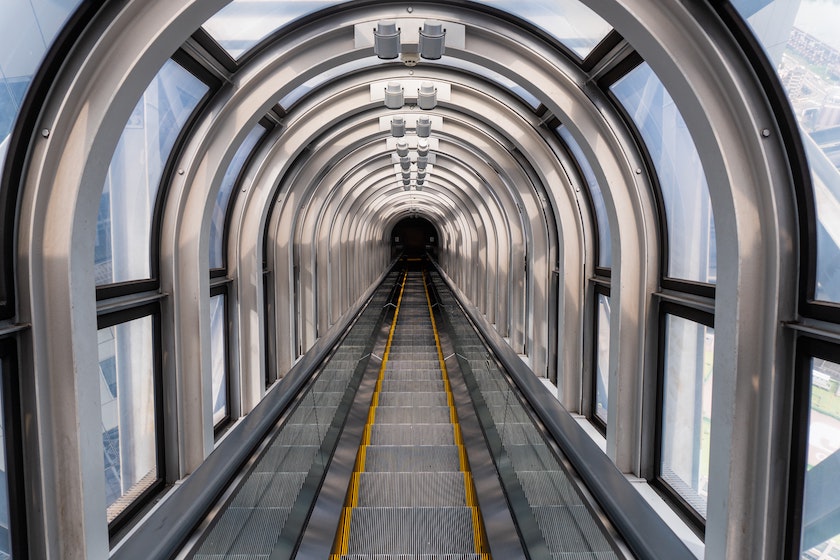 Umeda Sky Building is a 10-minute walk from Osaka Station. You can also use the Midosuji Metro line to reach Umeda Station and walk from there. For a comprehensive overview of Umeda Sky Building including admission prices, activities, and everything else you need to know, read our full guide to Umeda Sky Building.
2.)HEP FIVE Ferris Wheel
HEP stands for Hankyu Entertainment Park and is actually a huge shopping complex in Umeda. It's arguably even more famous for having an iconic red ferris wheel on its roof, which has become a landmark in itself and offers amazing views of Osaka. From its highest point, the wheel is an impressive 106 metres from the ground! As well as the famous wheel, HEP FIVE features more than 300 shops and restaurants. Inside you'll also find a giant red whale – one of the mascots of HEP FIVE. The mall has become famous for taking purikura pictures – special photo booths that allow visitors to take photos with huge eyes and long legs! Interestingly, Osaka also has another giant ferris wheel – the Tempozan Ferris Wheel – near Osaka Bay that's worth checking out too. 
3.) Explore Nakazakicho and Kitashinchi
Umeda isn't all about the modern and futuristic, it also has some authentic, hidden alleyways and shopping streets that will take you back in time to the city's past. Nakazakicho in particular is the perfect place to visit if you're yearning to see a glimpse of pre-WW2 Japan. It was one of the few areas of Osaka that wasn't flattened by bombing and now offers visitors a trip down Japan's memory lane. Authentic and quirky, its  beautiful wooden buildings are the ideal antidote when you need a break from towering skyscrapers. It's also packed with interesting little cafes and shops. Kitashinchi meanwhile offers a different kind of Umeda shopping experience that's more retro and vintage, as well as hundreds of shops and restaurants to choose from. 
4.)Visit Ohatsu Tenjin Shrine
Officially called Tetsu-no-Tenjinsha, but locally known as Ohatsu Tenjin, this famous North Osaka shrine has existed in one form or another for more than 1,000 years and is a five minute walk from Hankyu Umeda Station. The shrine commemorates the tragic love story of a woman, Ohatsu, and her lover, who took their own lives because they could not be together in this life. This was turned into a play called The Love Suicides of Sonegi in 1700 and became even more popular. The shrine has been regarded as a site for lovers to visit ever since and is adorned with heart-shaped decorations and dolls. There is also a market on the temple grounds on the first Friday of every month, which is popular among locals and visitors alike. For more on Japan's fascinating religious beliefs, temples, and shrines, take a Spiritual Tour of Japan
5.)Shopping and food – Umeda-style!
Umeda has become famous for its high-end shopping, and is the home to a number of major department stores and huge shopping complexes, as well as more traditional shopping streets like Hankyu Higashi Dori. There really is something for everyone and if you love shopping, you won't be disappointed. Osaka City Station has shopping and entertainment under its giant glass roof, as well as being a train station, while Grand Front Osaka, which opened in 2013, is another major complex of interconnected buildings packed with shops and restaurants. Umeda has a vast amount of department stores too including Hankyu – the largest in Japan – Daimaru, Isetan Mitsukoshi and Hanshim, as well as Links Umeda and Yodobashi Camera Umeda for electronics. This is in addition to the aforementioned HEP FIVE shopping and entertainment complex. There's also underground shopping thanks to a vast network of shopping malls below the city as well as more traditional arcades. Look out for special Christmas celebrations at Hankyu department store each December which have become an attraction in themselves.   
Osaka is also famously known as Japan's 'kitchen' because of its incredible food, and Umeda is no exception. You'll find fine dining and big name food franchises alongside more traditional eateries and street food to choose from. You'll find a number of Izakaya restaurants to the east of Osaka Station in the covered shopping arcades. Try the finest Kobe beef at Umeda Ohatsutenjin, or another local speciality, takoyaki, at Takonotetsu restaurant, which was featured on Anthony Bourdain's famous food TV show No Reservations. To read more about Osaka's love of food, check out our Beginners Guide to Japanese Food and Regional Specialities
How To Get There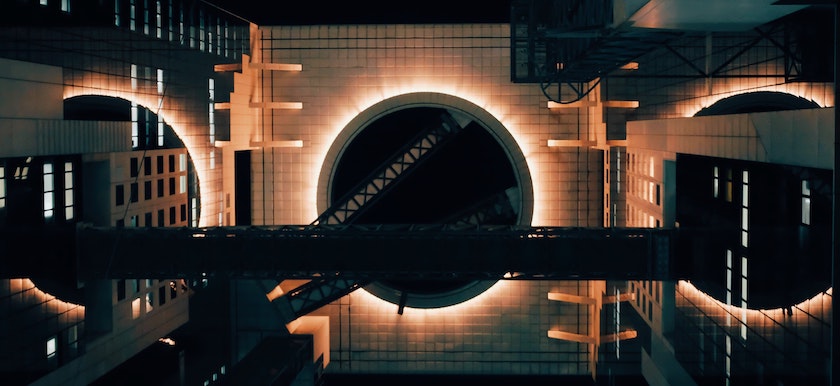 Umeda's Osaka City station (which includes JR Osaka Station) is the busiest terminal in western Japan and therefore among the easiest to reach, and the most connected. If you've got a JRailPass, there are trains arriving and departing Umeda's stations every few minutes. From Shin-Osaka station, you can take a JR train to Osaka Station and you will reach Umeda in less than five minutes. You can also use the JR Loop Line to get around the city. Osaka generally is within easy reach of Japan's other major cities when you have a Japan Rail Pass. You can reach the city from Tokyo and Kyoto on the JR Tokaido Shinkansen. Once in Osaka, the easiest way to get around the city is either using the JR Loop Line or public transportation, so you may want to invest in a prepaid travel card such as an ICOCA, PASMO or Suica card, as well as a JR Pass for the rest of the country. Check out our Top 30 Tips for Using Japan's Metros for advice and guidance on using the city's subway network. Osaka is huge so you may also want to invest in PocketWifi to stay connected and avoid any unwanted data charges, if you happen to need directions or language advice while you're on the move.
Bonus Tips
Osaka is Japan's second biggest city and has a huge amount to see and do. Once you've seen the best of Umeda, you may want to check out one of the following attractions:

Dotonbori is arguably Osaka's most famous district. Osaka is famous for its neon lights, food, and nightlife, and Dotonbori is the place to come for all three. Discover The Best of Dotonbori.
 

While Umeda Sky Building and the Hep Five Ferris Wheel are definitely two of the city's best landmarks, you don't want to miss the beautiful Osaka Castle and Osaka Aquarium either.


If Umeda's shopping has whetted your appetite for a bargain, check out Denden Town for the very best in electronics – it is the Akihabara of Osaka. This is the place to come if you're a lover of technology, gadgets, games and other devices.


Visiting Denden town is also a great way to experience Japanese Otaku culture (most known for anime, manga and video games), or to shop for electronics and parts. For more information read our guide to Denden Town and for more on Manga, Anime, Otaku and J-culture, read our guide to Japan for Gamers, Otaku and J-culture fans.


Osaka is such a big city with so much to see and do you might benefit from our Meet and Greet service if you're a first-time visitor, or would like a little extra help when you arrive. It's like having a personal assistant for your holiday.