Non-Japanese passport holders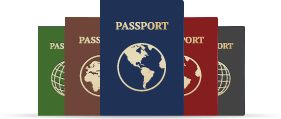 To use the Japan Rail Pass passengers must enter Japan with a temporary sightseeing visitor visa single entry of 15 or 90 days duration. Passport holders from 67 countries will automatically receive this visa on arrival into Japan if entering for 90 days or less of non-paid activity. Other nationalities must apply for the temporary visitor visa before they arrive in Japan. Please see the visa guide at the Japanese Ministry of Foreign Affairs for more information on the visa applications procedure. For further details, learn more about JR pass.
---
Who is NOT eligible?
The Japan rail pass will NOT be activated in Japan if the passenger is a visa holder of any other entry status or visa type regardless of duration.
Long term visas which allow to stay in Japan more than 90 days
Student visa
Permanent residency visa
Tokubetsu Eijuken holders (Special permanent residency visa)
Entertainer visa
Working holiday visa
Military entry status
Any other visas which are not a temporary visitor visa with the purpose of sightseeing.
If you are unsure or would like confirmation of eligibility status, please contact us.
For Japanese nationals living outside of Japan:
As of June 1st 2017, Japanese nationals who have lived outside of Japan for 10 years or more can qualify for the Japan Rail Pass as long as the following conditions are met:


Before purchase:
You will need to provide
one
of following documents that proves foreign residence outside of Japan for at least 10 years at the time of purchase. This must be:
(1)
Copy of your Overseas Residential Registration
(在留届の写し) issued by the embassy or legation of Japan in the foreign country where you live.
(2)
Certificate of Overseas Residence
(在留証明書) issued by the embassy or legation of Japan in the foreign country where you live.
[USA, Brazil and Canada only]
(3)
Permanent Resident Card
(永住カード) issued by your country of residence. This is only a special case and limited to the USA, Brazil, and Canada. The date of recorded residence on the card should be at least 10 years.
For Japanese children below the age of 12.
Japanese children under 12 years old can only use the Japan Rail Pass if they are accompanied with an adult Japanese Japan Rail Pass holder. They must conform to the following rules:
1. The Overseas Residential Registration verifies that he/she lives with the child applicant and whose stay in the country is *10 consecutive years or more.
2. The child must also use the JAPAN RAIL PASS with the adult applicant.
*In case that "the date of arrival" in the overseas country is at least 10 years earlier, but "the date of acceptance" by Japanese embassy for the Zairyutodoke is less than 10 years, than such a case does not meet the eligibility requirements.
The full regulations can be found
here in English
and
here in Japanese
.
We cannot issue any Japan Rail Pass exchange order unless the above conditions are met.
Exchanging in Japan:
At the time of exchange in Japan, you must bring your passport, proof (as outlined above) that you have lived outside of Japan for at least 10 years, and your exchange order. Failing to bring any of these will result in the Japan Rail Pass not being issued.