Kiyomizu-Dera, Kyoto's 'pure water temple', is a beautiful Buddhist temple and UNESCO World Heritage Site with a wooden stage famous for its amazing views.
Table of contents:
Intro
A Brief History of Kiyomizu-Dera
Main Features of Kiyomizu-Dera
Things To See and Do at Kiyomizu-Dera
Exploring Kyoto's Higashiyama district
Bonus Tips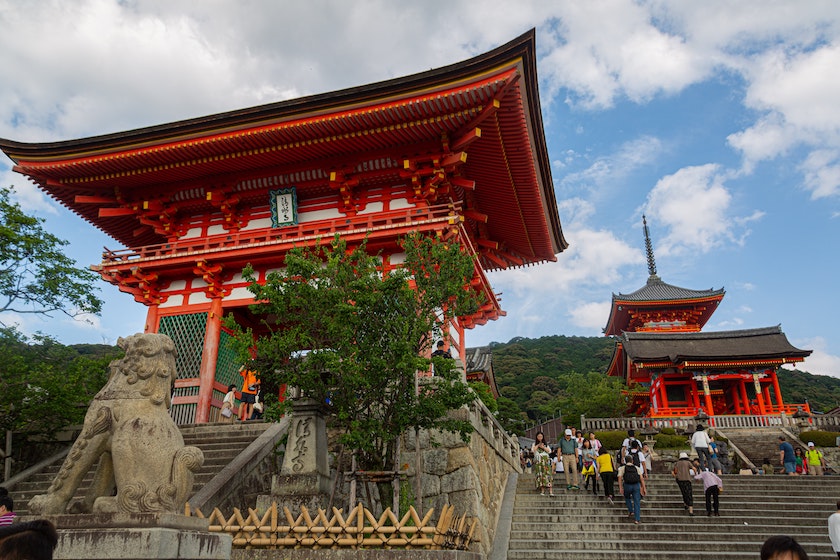 Intro
Even in Kyoto, a city that is world famous for its temples and shrines, Kiyomizu-Dera is known for being one of the most beautiful and historic sites. The 'pure water temple' is especially renowned for its famous and iconic wooden stage which offers breath-taking views over the cultural heart of Japan. In this special guide, we'll tell you about the fascinating history of Kiyomizu-dera, provide a detailed overview of the temple buildings and what to do while you're there, while also explaining how best to get around with the JR Pass on Japan's excellent domestic rail network. If Japan's temples and shrines have always captured your imagination, you simply can't miss Kyoto's 'pure water temple' and its breath-taking views.
A Brief History of Kiyomizu-Dera
Located in Higashiyama ward in Kyoto, Kiyomizu-dera dates back more than 1,200 years. This ancient Buddhist temple takes its name from the water flowing through the temple complex from Otowa Waterfall. Kiyomizu-dera literally means 'clear or pure water''. The temple was founded in 778 during the early Heian period and was originally part of the Hosso sect – one of the most ancient schools of Buddhism. Kiyomizu-dera was originally part of the Hosso sect's Kofuku-ji temple in Nara, which was Japan's capital at that time. The story of the temple's origin is a fascinating one. Kiyomizu-dera's founding abbot Enchin found the location, after a dream instructed him to travel up the Kizugawa River to find a well of pure water. When he arrived there, he met a Buddhist monk who gave him a piece of sacred wood. The abbot carved the wood into a statue of Kannon – the Buddhist goddess of mercy and compassion – before enshrining it in the monk's hut. This was the beginning of what would become Kiyomizu-dera, but the story does not end there. Years later, a famous general was hunting deer in the Higashiyama mountains, hoping to find a cure for his wife's illness. He met the founding abbot on the mountain who taught the general about the sanctity of all life and the mercy of Kannon. Consumed with guilt for killing the deer, the general became a devoted follower of the abbot and built a hall around the statue of Kannon. This hall was the first of Kiyomizu-dera's temple buildings.
Kiyomizu-dera temple complex grew to cover a vast expanse of land in eastern Kyoto, with more than 30 structures built into Mt.Otowa's beautiful, forested hillside. Most of these buildings date back to 1633 when the temple complex was reconstructed by the Shogun, Tokugawa Iemitsu, after fires had destroyed the previous structures. Kiyomizu-dera has always been associated with Buddhism and formed its own sect – Kita Hosso – in 1965 under the leadership of Onishi Ryokei. He guided Kiyomizu-Dera to independence from Kofuku-ji and inspired the temple to form its own sect.
Buddhism is one of the two main spiritual beliefs in Japan, alongside Shintoism. As a basic rule, temples like Kiyomizu-Dera are related to Buddhism, while shrines belong to Shintoism. You can find out more about Buddhism by reading our Spiritual Guide to Japan.
In 1994, the temple was officially named one of Japan's UNESCO World Heritage Sites as one of the historic monuments of Ancient Kyoto. Today, Kiyomizu-dera is arguably most famous for its main hall and wooden stage, which offers incredible views over Kyoto. The huge wooden stage, made from centuries' old trees, looks out over the treetops and offers a magnificent view whatever the season. In spring, you have the cherry blossom and in autumn, you have maple trees. It's no wonder this iconic wooden platform receives millions of visitors each year.
Main Features of Kiyomizu-Dera
As we mentioned, Kiyomizu-Dera features more than 30 buildings and structures in Kyoto's eastern mountains, so once you've arrived in Kyoto thanks to your Japan Rail Pass, and you've reached Kiyomizu-Dera, you'll have a huge amount to explore. These include:
Main Hall
Kiyomizu-Dera's magnificent main hall has been designated a national treasure and houses small statues of the eleven-faced and thousand-armed goddess, Kannon.
Jishu Shrine
Located behind Kiyomizu-Dera, Jishu Shrine is dedicated to the deity of love and matchmaking and attracts single people and couples wishing for good fortune in their relationship.
Butai
Kiyomizu-Dera's famous wooden stage (or Butai) is made from hundreds of 13-metre high wood pillars made from centuries old keyaki (Japanese Zelkova) and cypress trees, all assembled without using a single nail. The huge wooden stage is part of the temple's main hall and overlooks the treetops to provide unbeatable views of Kyoto from the east.
Otowa no Taki (Otowa Waterfall)
The very waterfall from which Kiyomizu-Dera takes its name, Otowa Waterfall brings water flowing down from Mt. Otowa.
Three-storey Koyasu pagoda
One of the tallest in Japan, this beautiful red pagoda dates back to 1633 and is definitely worth a visit. Look out for the dragon protector on the southeast corner, regarded as a god of water, which is there to prevent fire damaging this iconic structure.
Bell Tower
This stunning bell tower was constructed in 1596 and is rung 108 times each New Year's Eve to symbolise the 108 earthly desires that Buddhism believes we must overcome.
Tainai Meguri
This unique experience, known as the 'womb tunnel', is located in a hall called Zuiga-Do, and is intended to represent going back into the womb and being born again when you return to the light.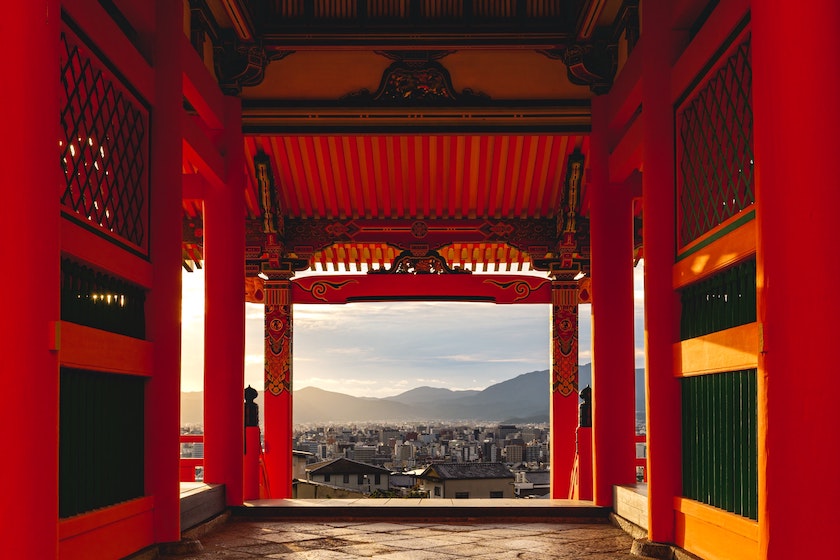 Things To See and Do at Kiyomizu-Dera
There's lots to see and do at Kiyomizu-Dera alongside exploring the temple complex itself and enjoying the spectacular views, which you could easily spend the day doing. If you're the romantic type you can visit Jishu Shrine, which is dedicated to the deity of love and matchmaking. Apparently, if you can find your way between two stones positioned 18 metres apart in front of the shrine, with your eyes closed, you'll be rewarded with luck in finding love. Kiyomizu-Dera's famous Otowa Waterfall is also said to have special powers. Its pure, flowing water is divided into three separate streams, and visitors are invited to drink from one of the streams, with a cup attached to a long pole. One stream will grant you a long life, one will give success in education, and the last will help you to have a good love life. Just remember not to try and drink from more than one stream as that is thought to be greedy and bad manners! And that's not where the good luck ends. If you visit Koyasu Pagoda in the southern end of the temple ground, and you happen to be pregnant, it is believed to help with a safe childbirth.
Alongside these activities and the stunning temple surroundings, there are a number of special events, celebrations, and festivities at Kiyomizu-Dera throughout the year. These include regular seasonal night illuminations, which Kiyomizu-Dera has become famous for, and the Seiryu-e Matsuri – Blue Dragon Festival – which takes place each year in September. This colourful and lively festival featuring a large Japanese Dragon puppet and parade is held to honour Seiryu – one of four divine beast protectors of Kyoto's borders and an incarnation of the goddess Kannon. Japan loves festivals and there are literally thousands across Japan all year round. Read our guide to the Top 12 Festivals in Japan to find out more and how to visit each one with the JRailPass. While there are night illuminations year-round at Kiyomizu-Dera, the biggest takes place in March to coincide with Higashiyama Hanatouro – a 10-day special event in which the whole area, and all of its shops, open up after dark. As well as the special illuminations for this event, there are also thousands of beautiful lanterns lighting up the streets, maiko dances, fox processions and flower decorations.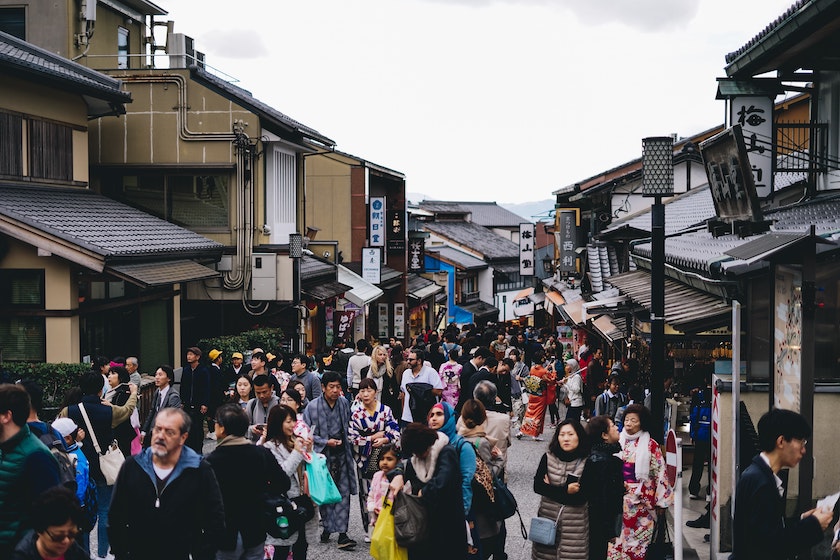 Exploring Kyoto's Higashiyama district
Kyoto is known as the cultural heart of Japan thanks to its abundance of temples and shrines, and Higashiyama ward, in the city's eastern mountains, is one of its most historic, traditional, and well-preserved districts. If you're looking for 'old Kyoto' this is one of the best places to visit. Look out for local specialities such as Kiyomizu-dera sweets, pickles, black sesame ice cream, and pottery known as 'Kiyomizu-yaki'. There are also lots of great traditional shops and restaurants in the area – a street called Sannenzaka is known for its free food samples if you get hungry while exploring.
Getting to Kyoto with your JRailPass is easy from either Tokyo or Osaka. Both cities are connected to Kyoto by the JR Tokaido Shinkansen. From Osaka you can also take the JR special rapid train on the JR Kyoto Line. Once in Kyoto, the easiest way to get around the city is using public transportation, so you'll want to invest in a prepaid travel card such as an ICOCA, PASMO or Suica card, as well as a Japan Rail Pass for getting around the rest of the country. Check out our Top 30 Tips for Using Japan's Metros for advice and guidance on using the city's subway network. You can reach Kiyomizu-Dera and Higashiyama district by taking one of the regular buses from Kyoto Station or by walking from Kiyomizu Gojo Station or Gion-Shijo Station.
Bonus Tips
As we've mentioned, Kyoto – as the cultural heart of Japan – is world-famous for its temples and shrines. It has so many you might not know where to start, which is why we've put together our list of the Best Buddhist Temples in Kyoto to help you plan your visit.
One of the names on this list is the famous Toji Temple, which boasts the tallest pagoda in Japan. Discover Why You Can't Miss The Toji Temple in Kyoto.
After reading this, you might also be interested in our list of Japan's Top Five Most Beautiful Pagodas.
Alongside Buddhist temples like Kiyomizu-Dera, Kyoto is also famous for its Shinto shrines and arguably the most famous is Fushimi Inari Shrine with its thousands of vermilion Torii gates. Read our Ultimate Guide to Fushimi Inari Taisha Shrine for everything you need to know.
Kyoto doesn't just have temples, shrines and pagodas either – it also has castles. Discover Why Nijo Castle is Worth Visiting.
If you've enjoyed reading about historic Kiyomizu-Dera, you may also be interested in Japan's other

UNESCO

World Heritage Sites. With the JR Pass, you could even plan a trip around them. You can find out more and start planning your journey in our guide to Japan's World Heritage Sites You Can Visit With the JR Pass.
One of these sites – and a hugely important site if you're interested in Buddhism – is Koya-San. This Buddhist monastery and holy mountain was the birthplace of Japanese Shingon Buddhism and remains a deeply spiritual destination for millions of visitors to this day. Read our Itinerary Tip: Koya-San for more information.