Nijo Castle is one of the most popular attractions in the city of Kyoto and for good reason. With a visit to Nijo Castle Kyoto history is firmly on display.
Table of contents:
A Brief History of Nijo Castle
Ninomaru Palace
Honmaru Palace
Seiryu-en Garden
Hanami at Nijo Castle
Tips for Visitors to Nijo Castle Kyoto
Nijo Castle is one of the most popular attractions in the city of Kyoto and for good reason. With a visit to Nijo Castle Kyoto history is firmly on display, seeing as the site is one of the seventeen Historic Monuments of Ancient Kyoto classified by UNESCO as a World Heritage Site. But visiting this castle in Kyoto is about more than just history, as it is also a place of spellbinding beauty.
Inside the grounds of Castle Nijo you'll have the opportunity to see ornate palace rooms, ancient fortifications and picture-perfect gardens. So, let us take you on a tour of this essential Kyoto landmark and share tips on visiting, like how to get there with a JR Pass.
A Brief History of Nijo Castle
To see why Nijo Castle is so special and worth your time, it helps to know a little of its history. Nijo Castle began construction in 1601, under orders of Tokugawa Ieyasu who founded the Tokugawa shogunate at the start of the Edo Period. He had just risen to power the previous year, effectively gaining control of all of Japan and this castle was a sign of that power. However, he did not survive to see the castle's completion.
The castle, with some new additions, was completed in 1626 under the rule of his grandson, Tokugawa Iemitsu. Even though Edo was the capital city, the Imperial Court remained in Kyoto and this castle was the shogun's Kyoto residence. That explains why it is so close to the Imperial Palace just to the north east.
When the Meiji Restoration removed the Tokugawas from power, Nijo Castle was used as an imperial palace. Later in 1939 it was donated to the city, in part because of how well-preserved its feudal architecture was. It was only a matter of time before it was made a World Heritage Site in 1994.
Ninomaru Palace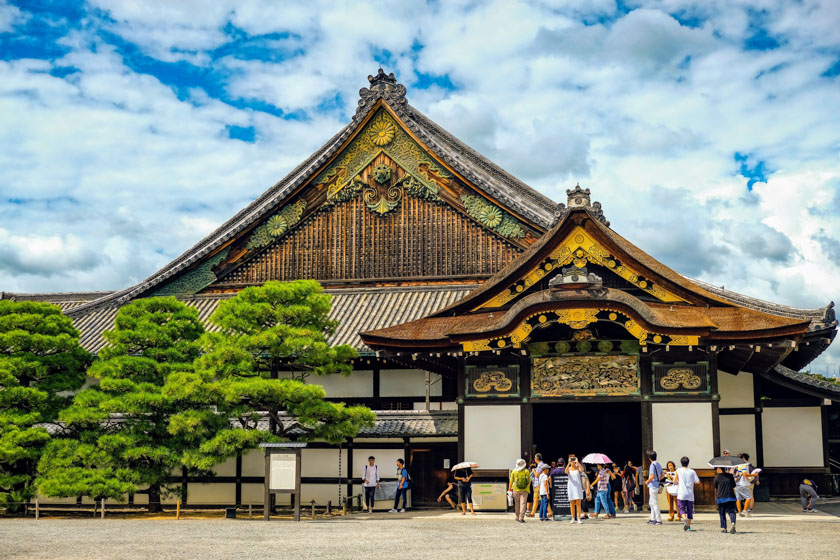 With Nijo Castle, it's best to look at it in terms of three separate attractions, the first of which is Ninomaru Palace. On approach to Ninomaru Palace you'll pass under the gorgeous Karamon gate to enter the castle's outer ring of walls.
Upon reaching Ninomaru Palace, the residence and office of the shogun, you'll see that it is made up of five distinct buildings. These buildings have whitewashed walls, traditional wooden roofs and are connected together by corridors. It's in these corridors that you can find the so-called "nightingale floors" that were designed to squeak underfoot to identify intruders.
However, it's the decorations of the rooms and chambers inside the Ninomaru Palace that make a visit here so unforgettable. Floors are covered in tatami mats, rooms are connected by masterfully painted sliding doors and the ceilings are intricately designed, all of which reflect the power and wealth of the shogun. Outside, you'll also find the Ninomaru Garden, a small and tranquil pond garden.
Honmaru Palace
Heading into the inner ward of the castle complex, you'll pass through another ring of walls to reach the second palace complex, Honmaru. Unfortunately, the original palace and keep here were destroyed in a fire in the 18th century. In later years, an imperial residence was moved onto the site and is now known as Honmaru Palace. This palace is rarely open to the public, but you can climb up the foundations of the old keep for its views and wander around the nearby gardens.
Seiryu-en Garden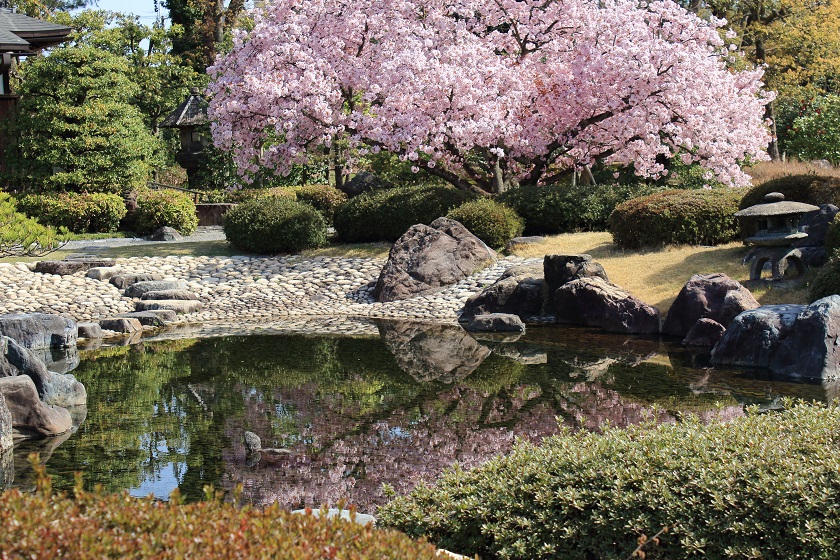 Among the expansive grounds of Nijo Castle are several gardens, but probably the most popular is the Seiryū-en Garden. This particular garden is actually quite new, only added in 1965 by the city as a reception and cultural venue. Inside its garden complex you will find over 1000 stones and a pond, as well as two teahouses. It's yet another quiet spot in Kyoto to enjoy, not to mention great for taking photos.
Hanami at Nijo Castle
Kyoto is one of the best places to view the cherry blossoms in Japan come springtime and the same can be said for Nijo Castle. The reason this Kyoto castle is so good for 'Hanami', the custom of flower viewing, is that the castle grounds are full of trees that blossom in spring.
While it does have over 400 sakura trees that usually bloom in late March or early April, that's just the start of things. Nijo Castle actually has a whole orchard of plum trees that tend to bloom in February or March, as well as many other types of trees that each blossom at different times.
Tips for Visitors to Nijo Castle Kyoto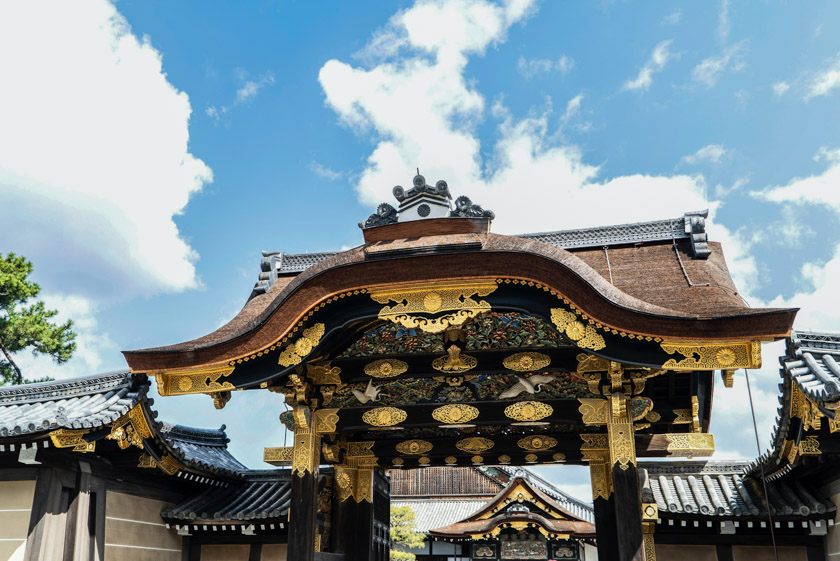 To reach Nijo Castle, take the Karasuma Subway Line from Kyoto Station to Karasuma-Oike Station. From there, transfer to the Tozai Subway Line to Nijojo-mae Station just outside the castle moat. Note, the Kyoto metro is not covered by the JR Pass.
There are two types of tickets for Nijo Castle: the basic adult ticket is 620 yen, while a ticket that includes Ninomaru Palace is 1030 yen.
English audio guides are able to be rented if you'd like to learn more about the castle and its history
It's best to visit the castle complex first thing in the day to beat the crowds, because Nijo can get quite busy as a premier Kyoto attraction.
If you're interested in seeing more castles while you visit Japan, we recommend reading this article on 5 Incredible Castles to Visit in Japan.