With its unbeatable views of iconic Mt. Fuji, its beautiful and distinctive traditional architecture, and its incredible location, nestled amongst cherry blossoms and trees in Fuji Five Lakes, Chureito Pagoda has it all.
Table of contents:
Intro
A Brief History of Chureito Pagoda
Hanami at Chureito Pagoda
Spectacular Views of Mount Fuji
Things To Do in Fuji Five Lakes
Bonus Tips for Visitors to Chureito Pagoda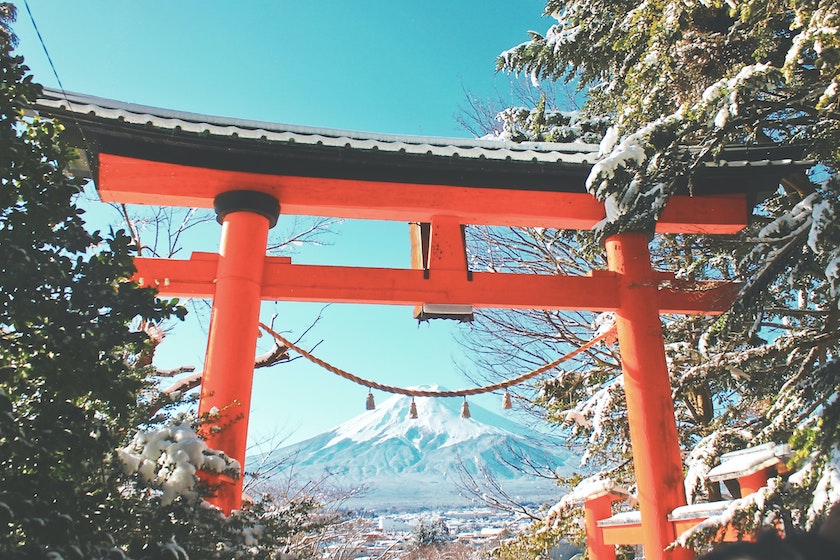 Intro
It's hard to imagine a more quintessentially Japanese destination in all of Japan. Surely, if you're visiting Japan and you want to experience an iconic location that ticks multiple boxes at once, then Chureito Pagoda is hard to beat. It's no wonder that it's become such a popular attraction for international visitors and one of Japan's most photographed and 'Instagrammable' spots. What makes it so great? Well, the red, five-storey pagoda itself is stunning in its own right. It also offers some of the best views of Japan's iconic Mt. Fuji, which is undeniably one of the country's must-see landmarks. Chureito Pagoda is an ideal day trip from Tokyo, making it practical and easy to accommodate into an already busy travel itinerary. It's also located in the Fuji Five Lakes region – a hugely popular area with lots to see and do. Like we said, as a visitor destination – Chureito Pagoda has it all. So sit back and relax. We're going to take you on a tour of this very special place and tell you everything you need to know, from how to get there with the JR Pass, to how to get the most out of your visit, and more. Welcome to the ultimate guide to Chureito Pagoda.
A Brief History of Chureito Pagoda
Chureito Pagoda was built on the mountainside overlooking Fujiyoshida City in 1963 as a peace memorial. Although it is located 400 steps away up the mountain, it is officially part of the Arakura Sengen Shrine. The shrine was founded on Mt. Arakura in 705 and is marked by a large red Torii gate and more than 300 cherry trees which bloom each spring. For more on Japan's iconic Torii gates, read our Ultimate Torii Gate Tour. Arakura Sengen has a suitably colourful history. In 807, when Mt. Fuji erupted, an envoy was dispatched to the shrine to perform a 'fire-extinguishing ritual'. Later, during the country's civil wars, a famous warrior, Nobutora Takeda, the father of the warlord Shingen Takeda, set up camp on Mt. Arakura, prayed for and won a major victory. He then dedicated his sword to the shrine. Visitors to the shrine pray for happiness, the safe delivery of children and to ward off evil.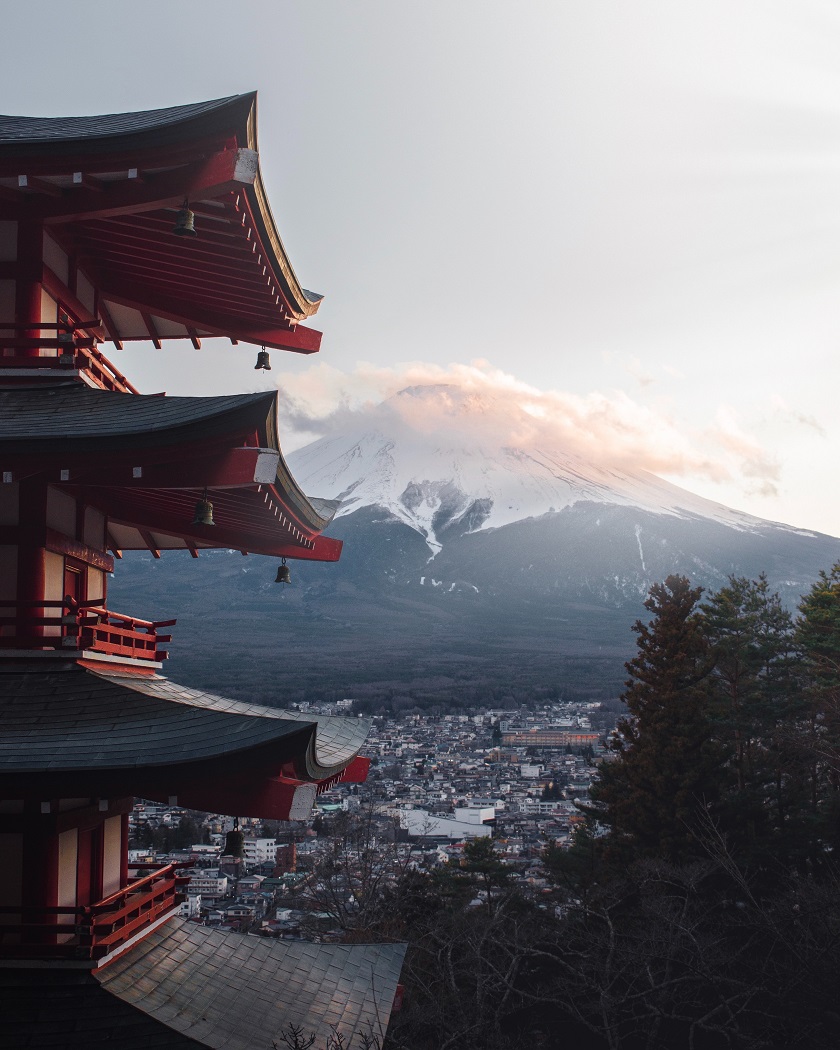 As a peace memorial, Chureito Pagoda's official name is the Fujiyoshida Cenotaph Monument. It was built to commemorate the people of Fujiyoshida who died in wars from the mid-1800s (from the First Sino-Japanese War in 1868) to World War II. The structure is also known as the Chastain Tower. However, despite its many names, today it is best known as Chureito Pagoda and has become a particularly popular spot for photographers and tourists – primarily because of the incredible views it offers of Mount Fuji, and the fact that it is a prime location for viewing the famous Japanese Cherry Blossom in the spring and the beautiful golden leaves of the autumn 'koyo' season.
Chureito Pagoda makes an excellent day trip from Tokyo (one of the many reasons why it is so popular) and you can get there in less than three hours using your JRailPass. From Tokyo, use your pass to take the JR Chuo Line from Shinjuku station to Otsuki station then transfer to the Fujikyuko line. The closest station to the pagoda is Shimo-Yoshida on the Fujikyu Railway line. It's about a 20-minute walk from there. Alternatively, you can get a bus from Kawaguchiko Station to the Chureito Iriguchi bus stop.
Hanami at Chureito Pagoda
Arakurayama Sengen Park is a perfect place for 'Hanami' or flower gazing. Hanami is famous in Japan and most commonly associated with the Japanese Cherry Blossom (also known as sakura). However, you can also enjoy this practice during the earlier plum blossom season in February, in the 'koyo' season in autumn, or at any time of year in which beautiful flowers appear. Although Chureito Pagoda is most famous for its Cherry Blossom, it's equally beautiful in the autumn when the leaves turn all shades of gold, orange, brown and yellow, and the light takes on a different quality. Similarly, many people recommend visiting the pagoda in the winter months, when Mt. Fuji is covered with snow, and claim that is the most beautiful time of year to visit. Clearly, when it comes to Chureito Pagoda, there is no bad time to visit.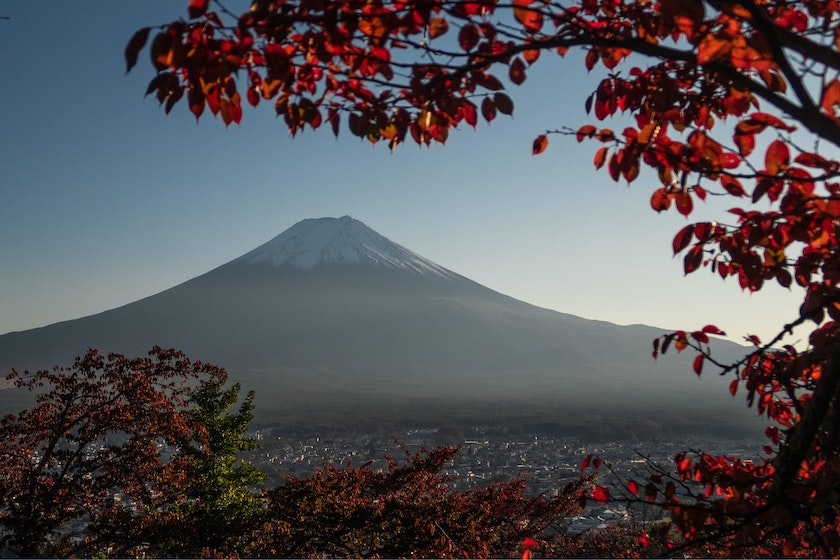 For much more on cherry blossom and plum blossom, hanami, and enjoying the autumn leaves, check out our guides to Visiting Japan for Hanami, Experiencing the Plum Blossom season, Japan in Autumn, and Top Five Spots for Autumn Leaves with the JR Pass.
Spectacular Views of Mount Fuji
They have a saying in Fujiyoshida City, 'Mt. Fuji is always here.'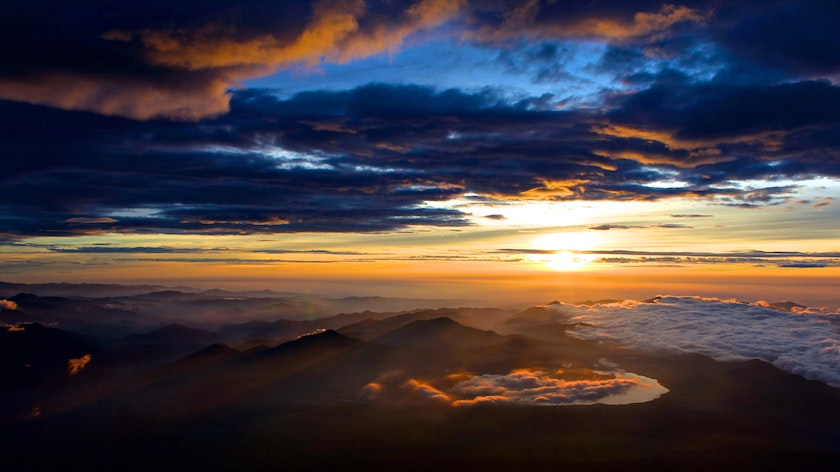 Chureito Pagoda is perhaps even more famous for its views of Mt. Fuji than it is for its cherry blossoms, and is rated as one of the best places to view the mountain. Combine the five-storey pagoda's distinctive red outline, the blue sky, the cherry blossom, and of course, Mt. Fuji itself, and you have one incredible image. It's the kind of view you'll remember your entire life and is arguably the quintessential image of Japan.
Mount Fuji isn't just Japan's highest mountain at 3,776 meters. It is a sacred location, an iconic symbol of the country, and a national treasure. An active volcano which last erupted in 1707, Mt. Fuji stands between Yamanashi and Shizuoka prefectures and is visible from Tokyo and Yokohama when the sky is clear. Mt. Fuji is so iconic that it would be almost criminal to visit Japan without seeing it. And just because there are travel restrictions right now, doesn't mean you can't get a glimpse of this wondrous sight – read our Virtual Tour of Japan's Most Beautiful Spots (including sunrise at the summit of Mt. Fuji) for more.
If you're interested in learning more about Mount Fuji you could also visit the Fujisan Museum, which is dedicated to the worship and climbing of the mountain. Another option would be the World Heritage Centre which also features lots of information about this historic and sacred mountain. And when it comes to seeing the mountain, as well as Chureito Pagoda, you can also get a great view of Mt. Fuji by train on the shinkansen bullet train from Tokyo in the direction of Kyoto and Osaka. They say one of the very best angles (other than Chureito Pagoda itself) is from the right-hand side of the train as it passes Shin-Fuji Station. Just remember your Japan Rail Pass!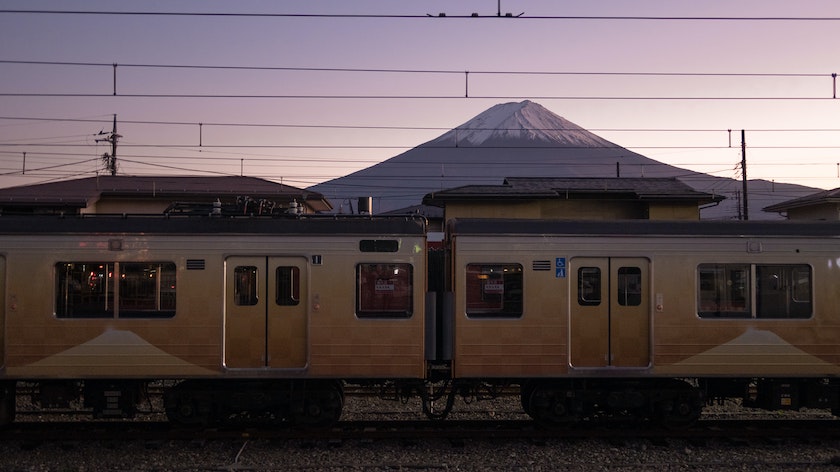 Mt. Fuji is famous for climbing and hiking enthusiasts and is officially open to climbing during July and August. Whether you're an experienced climber who wants to take on the summit or just an avid walker who likes to stretch their legs and enjoy the beauty of nature, there's something for you in the area. Read our Comprehensive Guide to Climbing and Hiking Mt.Fuji for everything you need to know.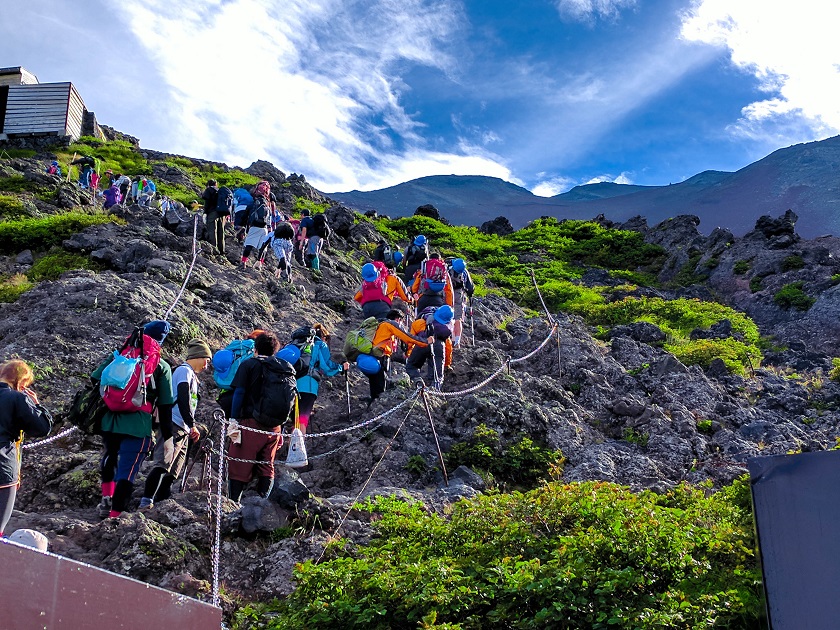 Things To Do in Fuji Five Lakes and Nearby
Fuji Five Lakes (also known as Fujigoko) gets its name from the five beautiful lakes around Mount Fuji – Kawaguchiko, Saiko, Yamanakako, Shojiko, and Motosuko. There is a huge amount to see and do in the area and it is very popular among locals and international visitors. It's a particularly great area if you love outdoor activities and enjoy scenic woodland vistas. The region is understandably known for being a lake resort area with camping, fishing, hiking, cycling, water sports and snow sports available. There are also several hot springs to choose from and a number of museums and other attractions, including a popular theme park. Here's our recommendations for the best things to do in the Fuji Five Lakes area and nearby:
Lake Kawaguchiko
This wouldn't be much of a list of things to do in Fuji Five Lakes without mentioning a lake! Lake Kawaguchiko is said to be the best of the lakes for international visitors as it's the most accessible and arguably offers the most to see and do. Kawaguchiko is a hot spring resort town at the base of Mount Fuji and the perfect place to begin exploring the wider area. To get there using your JRailPass, take the JR Chuo Line to Otsuki Station from Shinjuku Station in Tokyo before transferring to the Fujikyu Railway Line to Kawaguchiko Station.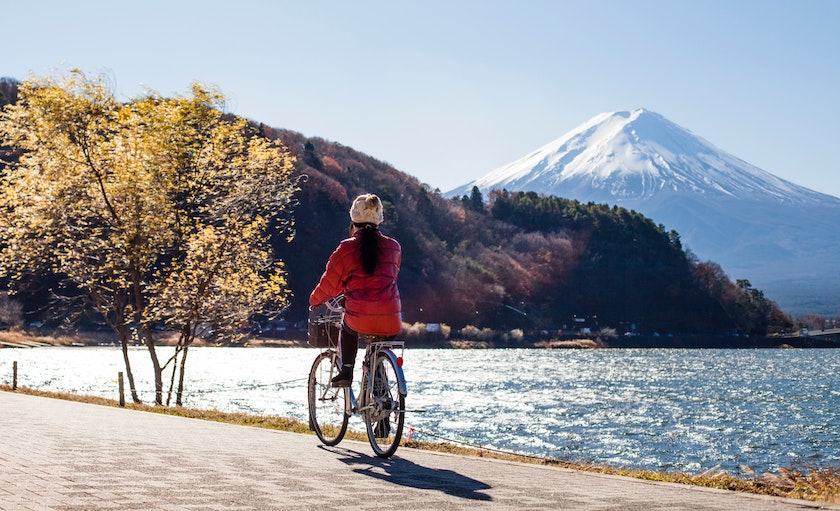 Cycling
Fuji Five Lakes isn't the only great area to cycle in Japan either. In fact, the country has some of the best cycle routes in the world. Find out more in I Want To Ride My Bicycle: Japan's Best Cycle Routes.
Relax in an onsen in Hakone
Hakone is famous for its hot spring resorts (onsen) and is another excellent day out from Tokyo. It also offers lots of natural beauty, including serene views across Lake Ashinoko and nearby Mt. Fuji, and plentiful activities and attractions. The lake is known for the picturesque red Torii gate on the shore – another highly Instagrammable spot. Hakone may be most famous for its super relaxing hot springs (and that's reason enough to visit) but there is a wealth of things to see and do from historical shrines, castles and ropeways, to observatories, museums and more. Read our guide to Hakone: Visiting with the JR Pass for a much more detailed and comprehensive overview.
View Mt. Fuji from Subaru Line 5th Station
Halfway between Chureito Pagoda and the summit of Mt. Fuji on the Yoshida Trail up the mountain, this perfectly positioned station is a great sightseeing spot at 2.300 meters above sea levels. It has restaurants, cafes, and lockers for climbers to refuel and store their belongings before climbing, but don't worry, if you just want to appreciate the views, that's fine too!
Visit a green tea plantation
Japan is famous for green tea and two of the best plantations in the country are in this area. Imamiya and Obuchi Sasaba plantations in particular are both highly recommended and offer beautiful green fields against the iconic backdrop of Mt. Fuji. The nearest train station is JR Fuji Station and there are buses available in the direction of both plantations. Read our guide to Getting Started with Green Tea to find out much more.
Enjoy Fuji-Hakone-Izu National Park
Both Chureito Pagoda and Mt. Fuji are located within the beautiful Fuji-Hakone-Izu National Park. The park spans 474 square miles, including areas like Mt. Fuji, Fuji Five Lakes, Hakone, Izu Peninsula, and the Izu Islands. Activities range from soaking in hot springs, hiking, enjoying the lakes, or taking in one of the thousands of volcanic islands. This park is one of the most visited national parks in Japan.Fuji-Hakone-Izu National Park is just one of more than 30 amazing national parks across Japan, from the cold and snowy north of Hokkaido to the white-sands and crystal blue waters of sub-tropical Okinawa. The sheer diversity of environments, landscapes and wildlife is incredible. Find out more in Visiting Japan's National Parks.
Ride the ropeway up Mount Tenjo
There are several spectacular ropeways up the mountains to try in the area, including the Mount Fuji Panoramic Ropeway which takes visitors 400 metres from Lake Kawaguchiko up to the peak of Mount Tenjo.
Explore subterranean lava caves
These amazing underground caves created by past eruptions from Mt. Fuji make for a fantastic day out. You'll find the bat cave, ice cave, and wind cave at the mountain's northern base. There are regular buses to the caves from Kawaguchiko Station.
Go on a culture trip
There are a number of museums in the area for those with cultured tastes. Try the Kubota Museum if you're interested in the story and origin of kimono artistry, Iyashi no Sato, a small open air museum and craft village, or the Maglev Exhibition Center for train lovers.
Have fun at Fuji-Q Highland
While the area is known for its beauty and tranquillity, Fuji Five Lakes also boasts one of Japan's best theme parks – Fuji-Q Highland which has a record-breaking roller coaster. It's not for the faint of heart! For those who are less adventurous, there is also another smaller alternative theme park called the Music Forest.
Bonus Tips for Visitors to Chureito Pagoda
The climb up to Chureito Pagoda features 400 steps so make sure you pack suitable footwear!
Even though Chureito Pagoda and the Fuji Five Lakes region is well-travelled, it always pays to stay well connected.
PocketWifi will keep you online wherever you take a wrong turn and need directions, want to look up the nearest place to eat, or just want to post a photo of yourself with Mount Fuji in the background, without any unexpected data charges.
If your post-pandemic holiday to Japan is your first trip to the country, you might want to consider our Meet and Greet Service – it's like having a Personal Assistant and local expert on hand to help welcome you to the country and organise the tricky things.
International travel might currently be limited, but Japan had one of the lowest impacts from the pandemic and lockdown restrictions globally are easing all the time so it may not be long until you can travel again. In the meantime, there are some great ways to plan and research your dream holiday and view some of Japan's leading beauty spots from afar.
From a Virtual Tour of Japan's Most Beautiful Spots to Six Things You Can Do To Prepare For Your Trip to Japan from a (social) Distance, you've got lots of options.
We also recommend reading Why Japan Should Be Your No.1 Destination After The Lockdown for more reasons to put this amazing country at the top of your post-pandemic holiday list.