Known as "Kyoto's Kitchen" this narrow 5-block street market is home to over 100 small shops and stands selling all kinds of (street-) food and kitchen related items.
Table of contents:
The story of Nishiki Market
The best food and what to eat at Nishiki Market
The best food and what to eat at Nishiki Market
What to buy at Nishiki Market
How to travel to Nishiki Market
Tips for exploring the market
The story of Nishiki Market
Lively, crowded and lots of delicious food on sale, that's what to expect from Nishiki Market. Anyone looking to try local Kyoto cuisine should check out the market, with many tasty items on sale, there's something to try for everyone.
Nishiki market has an official history of over 400 years, it was first established in 1615 as the official fish market in Kyoto by orders of the then government. It was in the Meiji period that the market really flourished and grew to sell all kinds of culinary items, and it was in 1928 when a push was made to promote the selling of local produce that the name "Kyoto's kitchen" became popular. Ever since, the market has gone through different redevelopments, some of the earliest shops to set up remain open until today. The market is open to everyone and popular with locals and tourists alike.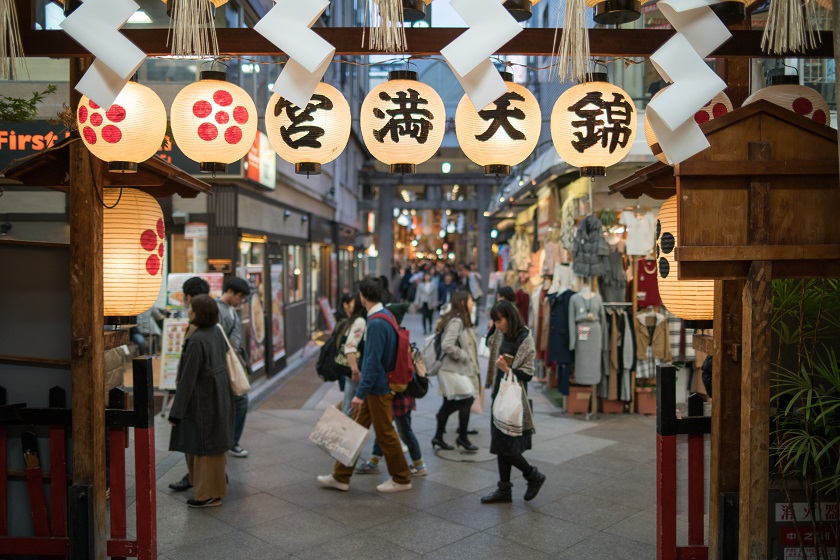 Part of the allure of Nishiki is the open and inviting nature of the market, and it is easy to explore the many tasty options on display. Vendors will likely offer free samples to eat and drink and shops range from single stands to larger two floor establishments. What adds to the appeal is that shops are often highly specialized in certain types of food or kitchenware, these make for great places for unique souvenir hunting.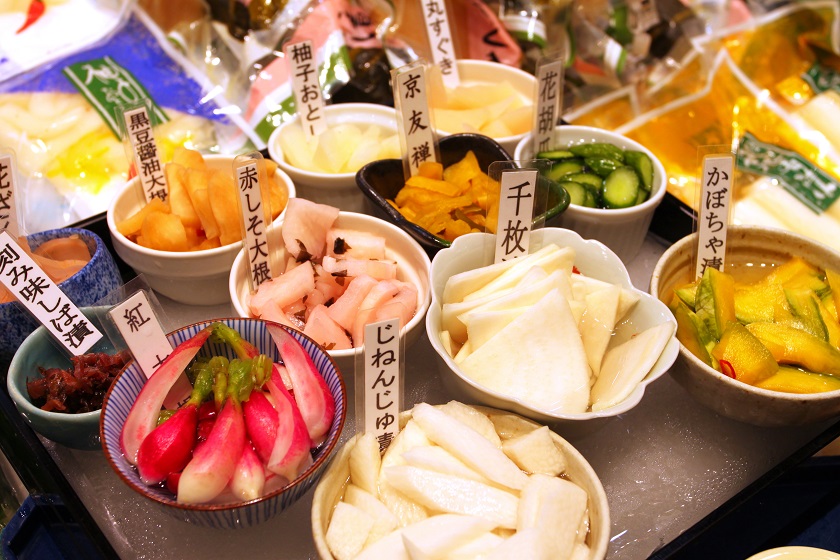 The best food and what to eat at Nishiki Market
There's a lot to taste at Nishiki Market, from festive street food to local specialities. Here are our recommendations on what to try!
Mochi
Melonpan
Ramen
Sushi
Soy doughnuts
Yakitori
Takoyaki and Octopus
Icecream
Tsukemono (pickles)
What to buy at Nishiki Market
The shops of Nishiki Market are a great spot for souvenir hunts. From kitchenware to yummy things to bring home, there's a lot to explore. Here are our suggestions on what to buy specifically at Nishiki Market.
Japanese Knifes, the market is one of the best places to buy a good Japanese knife, they are of world renown quality. Look out for the shop named Aritsugu, famous for its hand-crafted knives. It was founded in 1560 by Aritsugu Fujiwara, a master swordsmith.
Chopsticks, for functional eating utensils, look no further. Different stores sell quality chopsticks aimed at professional buyers, like chefs and restaurants, but the shops are happy to sell to anybody
Ceramics, local pottery and stoneware from Kyoto are on sale, including the well sought after kiyomizu ware
Green tea, quality green tea served in high-end establishments, like Pontocho, is sold at market prices, and makes for an excellent gift or souvenir
Rice, some of the best domestic rice is sold at Nishiki market, some in smaller packages to take home.
Yatsuhashi, a local confectionery which is made from rice flour, sugar, and cinnamon. It is a very popular gift for those who visited Kyoto.
How to travel to Nishiki Market
It's easy to access Nishiki Market due to its location in central Kyoto. The area can be reached on foot within minutes from anywhere in Kawaramachi, Sanjou street or Shijou street.
From Kyoto station the fastest option is to take the Kyoto subway to Sanjou station and walk from there. Alternatively, take any bus that stops in Sanjou street. This includes bus lines 4,5,17, 26, 206.
Tips for exploring the market
The best time to visit is in the morning around 10 o'clock, as it tends to get much busier later in the day
The market is open to locals and tourists alike, for everyone to remain welcome, please be respectful to stores and other shoppers.
If you enjoy visiting markets in Japan, then check-out Kuromon market in Osaka as well!
We highly recommend the surrounding area of Kawaramachi as well, this is the beating heart of Kyoto
.
Photo credit ©: Andriy Blokhin – stock.adobe.com – Banner image.