Namba is one of Osaka's most vibrant and dazzling districts and a great place to experience the wonders of contemporary Japan.
Table of contents:
Intro
A Very Brief History of Namba
Top Ten Things To Do in Namba
How To Get To Namba
Bonus Tips for Osaka Visitors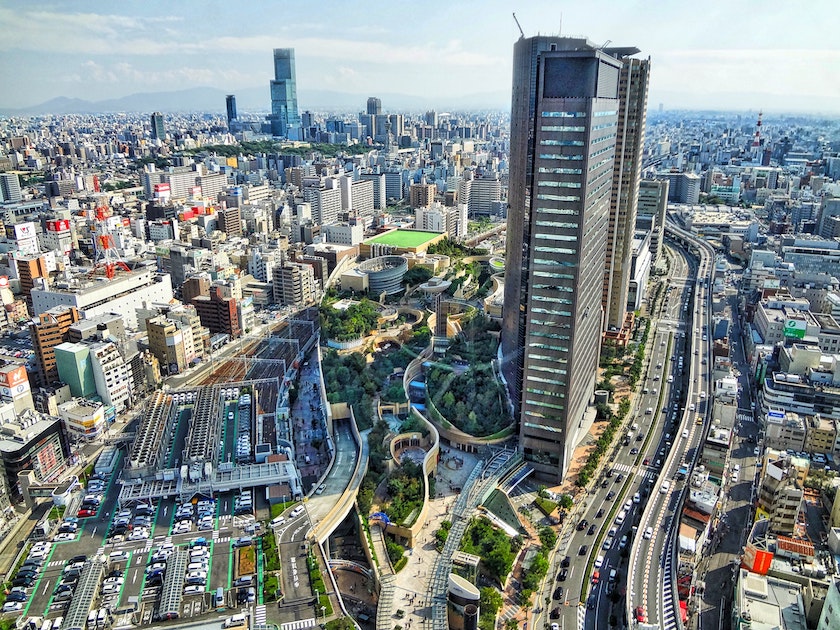 Intro
Namba is a popular entertainment and shopping district in the south of Osaka. In many ways, it's like a microcosm of Osaka itself – a dazzling, sensory experience packed with the fun and excitement of 21st Century Japan as well as plenty of history and culture to be found just under the flashing, neon surface. From entertainment, shopping, restaurants and street food, to neon signs, futuristic buildings, and plenty of quirky and colourful J-Culture, Namba has plenty to offer including some of Osaka's most famous experiences like the iconic Dotonbori area. Of course, with so much to do it may feel overwhelming on your first visit and that's where our guide comes in. We'll walk you through everything you need to know about Namba, how to get there with the JR Pass, the best things to do in Namba, nearby visitors attractions in Osaka, and much more. If you need a guide to Namba, we're here to help.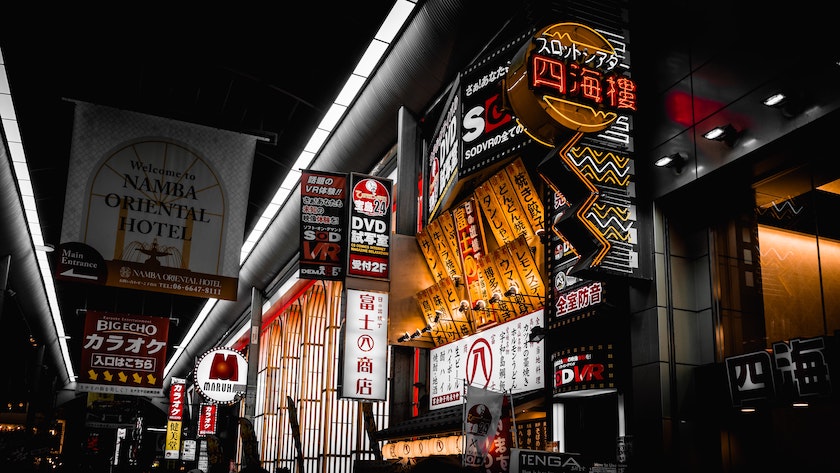 A Very Brief History of Namba
Namba is in the Minami (which means south) area of Osaka. Minami is where you'll find Osaka's major commercial districts, including Namba whose name is a variation on the former name of the city itself, Naniwa. The names Namba and Minami are often used interchangeably to describe the same area, which also includes Dotonbori – the famous canal and entertainment district that's world-famous in its own right and one of Osaka's biggest attractions for international visitors. Dotonbori is where you'll find the city's iconic Glico 'running man' neon sign and the giant mechanical crab at the entrance to the famous Kani Doraku Crab restaurant. Namba's history as an entertainment district is intertwined with the colourful history of Dotonbori canal, which dates back to 1612. You can read more about that history and learn all about the present day attractions of the area by reading our guide to The Best of Dotonbori. Today, Namba is Osaka's main south-central railway terminus, making it a major transport hub, and the area is famous for its entertainment, shopping, and food, as well as being home to some of Osaka's most iconic sights and experiences. Like Dotonbori and Osaka as a whole, Namba is also famous for 'kuidaore' – a phrase that essentially means to eat and shop until your drop. That should tell you a lot about the area!
Top Ten Things To Do in Namba
As the gateway to Minami, the south downtown area of Osaka, Namba is an intersection of numerous popular areas including Dotonbori, Denden Town, and more, meaning there's a huge amount to do and include in any 'best of' list. We've put together our Top Ten recommendations while visiting Namba:
1.) Namba Shrine
Famous for its unmistakable lion-head building with its huge golden eyes and teeth, Nambayasaka Shrine (or Namba Shrine for short) has been a place of worship for followers of Shintoism – one of Japan's two main religions alongside Buddhism – for centuries. Namba Shrine has been rebuilt many times over its long history and was most recently destroyed during the bombing Osaka endured during the Second World War and rebuilt into its current form in the 1970s. Despite its tumultuous past, the site remains hugely important to Shinto and extremely popular with international visitors. Every year on January 3, a tug-of-war is held on the shrine's grounds in honour of the enshrined deity – the event is so famous and significant that it has been named an 'intangible folk culture property' in itself. Namba Yasaka's distinctive lion head shrine is a popular attraction all year round too and an unmissable Namba landmark. For more on Japan's religious beliefs and culture read our Spiritual Guide to Japan.
2.) Namba Parks
An incredible piece of architecture, featuring more than 70,000 plants, rooftop gardens, ponds, streams, and waterfalls. Namba Parks is a building and shopping mall like no other. It was designed by architect Jon Jerde to bring together nature and urban architecture in a single structure. Namba Parks resembles a hollowed out canyon overgrown with lush greenery and populated with futuristic shops (more than 120) – it really is a sight to see!
3.) Amerikamura
Also known as Amemura, this area reflects Japan's interest in western culture, specifically the US, and is filled with American-style bars, cafes, and shops – all with a unique Japanese twist of course. It's the place to come for independent boutique shopping, super trendy second-hand goods, and hip flea markets. Amerikamura has a reputation for attracting young people into western pop culture and all things retro.
4.) Namba Hips
A towering and futuristic 10-storey shopping mall, with two basement levels, Namba Hips is styled as an urban paradise with 24/7 shops, bars, karaoke, and even a golf course and archery range. From the outside it looks like a giant silver guitar with its distinctive 'figure eight' centrepiece and it's just as futuristic and stylish on the inside too. It was seemingly designed as a shopping mall you'd never have to leave and they appear to have achieved their goal!
5.) National Bunraku Theatre
Namba is where you'll find Japan's National Bunraku Theatre. Bunraku is a theatrical performance similar to Kabuki, but featuring tall puppets. Namba's theatre is regarded as the finest Bunraku theatre in the country and definitely worth a visit if you're interested in experiencing a unique and traditional Japanese show. Meanwhile for fans of Kabuki, there's the famous Shochikuza Theatre which opened in 1923 and remains a popular venue to this day. Finally, don't miss Namba Grand Kagetsu if you're a comedy fan.
6.) Kamigata Ukiyoe Museum
The only museum in the world to hold a permanent Kamigata Ukiyoe exhibition, this Namba institution is another highlight for art and culture lovers. Kamigata Ukiyoe are woodblock prints from the Osaka and Kyoto regions. This fascinating museum is also unique for having a wild rice field on its roof.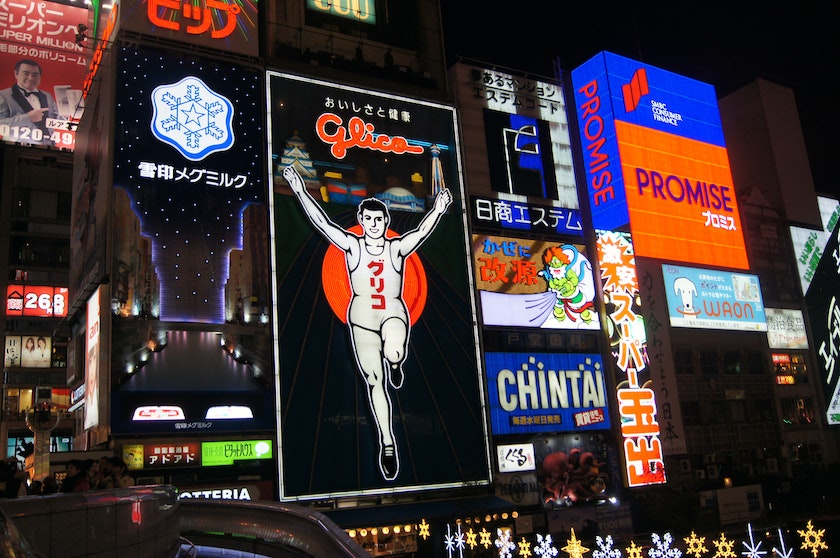 7.) Dotonbori
Home to many of Osaka's best bars, restaurants, street food vendors, theatres, comedy venues, secret alleyways, and much more, Dotonbori is the city's No.1 destination for fun, entertainment, and quirky J-Culture. In many ways, it's contemporary Japan in its purest form. Go for a boat ride along the famous canal from which Dotonbori takes its name and make sure you look out for iconic landmarks like the Glico neon sign 'running man' and Ebisubashi Bridge. Alongside Dotonbori, Soemon-cho in Namba is another famous street with hundreds of years of history (as well as lots of bars and restaurants) to explore and discover. It's definitely worth a look.
8.) Hozenji Temple and Hozenji Yokocho
This small temple, located down a narrow 'yokocho' or alleyway, is a relic from Dotonbori's past and features a moss-covered statue of Buddhist deity Mizu-Kake Fudo. This serene safe haven is the perfect place to unwind. Hozenji Yokocho (the alleyway) is a visitor attraction in itself too thanks to its traditional architecture and atmosphere – it's like stepping back in time to 17th Century Japan.
9.) Denden Town
Denden Town is the Akihabara of Osaka. The name comes from the Japanese 'Denki no Machi' or 'Electric Town' and here you'll find everything related to anime, electronics, gadgets, music and Otaku culture. Visiting Denden town is a great way to experience Japanese Otaku culture (most known for anime, manga and video games), or to shop for electronics and parts. For more information read our comprehensive guide on What To Do In Denden Town.
10.) Shinsaibashi and Kuromon Market
Shinsaibashi is the city's biggest shopping area with hundreds of big name stores. It's been a massive part of Osaka's culture and history for 400 years and features every big name brand you could wish for – all under one 600-metre long covered street. It is the place to go if you want to shop until you drop. When it comes to shopping, make sure you also try Southroad Sennichimae – known as Ura-Namba or Back Namba – which is a smaller covered shopping arcade and strip of restaurants near Namba Grand Kagetsu. Finally, Sennichimae Kitchenware Street is a unique area, found close to Namba Station, that sells exclusively (you guessed it), kitchenware including the finest Japanese kitchen knives.
Meanwhile, if you're into cooking, you should definitely visit Kuromon Ichiba Market, which has developed a reputation for offering the freshest ingredients and seafood. It's a traditional food market like they had decades ago in pre-war Japan, and it is apparently where Osaka's best chefs get their local ingredients from. You'll find Kuromon Ichiba Market about 10 minutes from Namba station. Osaka is known as Japan's kitchen for its outstanding food and sampling the regional delicacies the city is famous for – such as Okonomiyaki, Takoyaki, Crab, Kushikatsu, and more – is part of the experience of visiting the city and an unmissable attraction in itself.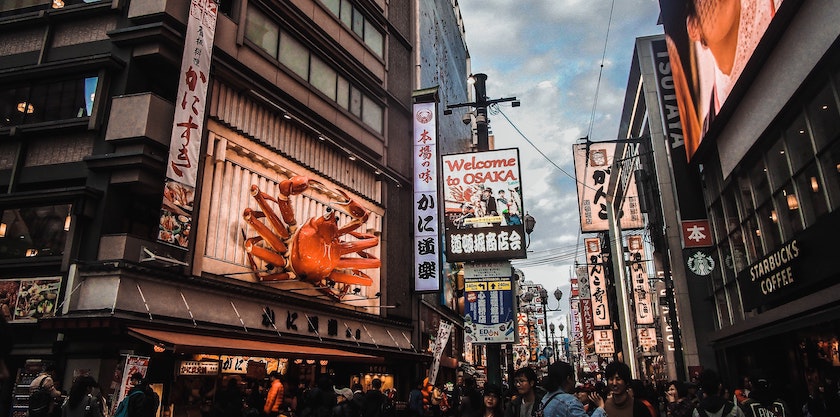 How To Get To Namba
As a major transport hub, Namba is very easy to get to although you may initially feel a little overwhelmed by the sheer quantity of stations and travel options in the areas. Namba is home to four stations – Namba Station, Nankai Namba Station, Osaka Namba Station, and JR Namba Station. If you're travelling to Osaka on the shinkansen bullet train using the JRailPass, you'll arrive into the city at Shin-Osaka Station. You can then take the train to JR Namba or the subway on the Midosuji Line to Namba. Also look out for the JR Osaka Loop Line, which is helpful for getting around the city and seeing major attractions.
Osaka itself is within easy reach of Japan's other major cities when you have a Japan Rail Pass. You can reach the city from Tokyo and Kyoto on the JR Tokaido Shinkansen. Once in Osaka, the easiest way to get around the city is either using the JR Loop Line or public transportation, so you may want to invest in a prepaid travel card such as an ICOCA, PASMO or Suica card, as well as a JR Pass for the rest of the country. Check out our Top 30 Tips for Using Japan's Metros for advice and guidance on using the city's subway network.
Bonus Tips for Osaka Visitors