Yamadera (山寺) literally meaning mountain temple, is a sacred temple complex high up in the Tohoku mountains, with breathtaking views. It has remained relatively unknown by international visitors to Japan and makes for a great day trip from Sendai or even Tokyo. Yamadera has its own train station and is easy to visit with the Japan Rail Pass.
Why visit Yamadera
The original temple was founded in 860, by one of the earliest Buddha sects in Japan. While the official name is Risshakuji, locals just referred to it as mountain temple (Yama-dera in Japanese), the name stuck and that's how it is popularly used today as well.
The temple complex starts at the base of the mountain, different temples, ceremonious buildings and little treasure houses make up the base complex. Yamadera's main hall is also located here, called Konponchudo Hall, said to be the oldest building in Japan made of beechwood and remained in place for over 600 years.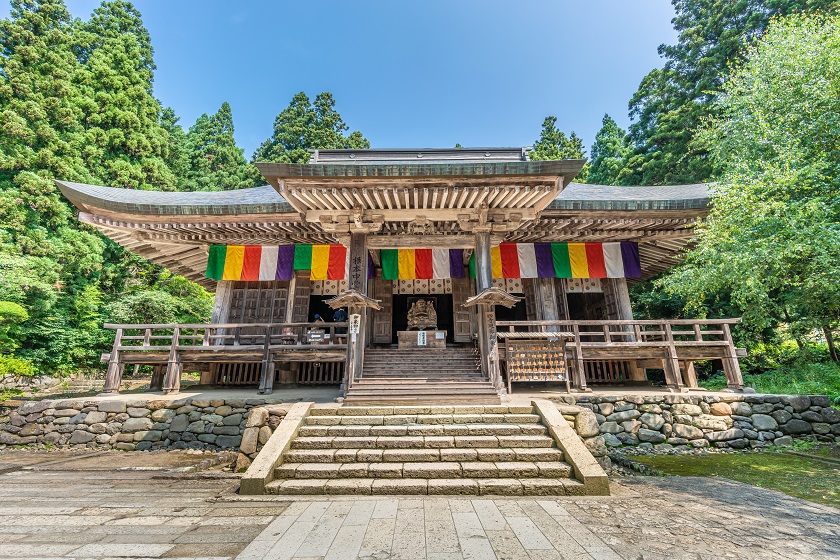 Once done exploring the temple base, it's time to hike up the mountainside. The hike up takes about 1000 steps and takes about 30 minutes at a leisurely pace. Along the way small temples and shrines are in place, each with their own story to uncover, adding to the atmospheric scenery. One third into the hike, the treeline starts to clear open up to beautiful views of Yamadera valley. Going further up is one of Yamadera's most well known buildings, Kaisando Hall, or Founder's Hall.
Going up further will lead visitors to the observation deck, overlooking the valley and small settlements within. The observatory is part of Godaido Hall, build around 300 years ago. Picturesque and relatively untouched by modernity, the view remains largely the same as it was hundreds of years ago. Take a moment here and imagine the monks standing here watching over the valley in times past, it is a real Zen moment.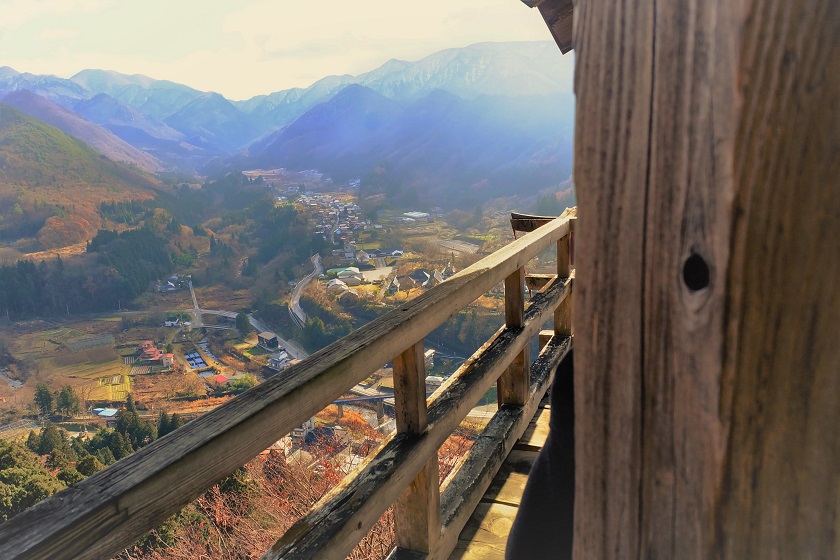 The way up can be challenging for those without any hiking experience but is certainly not impossible. There are plenty of rest stops along the way. The way down is considerably easier and can be done in as little as 15 minutes.
More activities of interest are just south of Yamadera, including a shopping complex with local souvenir shops, museum of Western art and small local restaurants. It's a great stop to try local Tohoku noodles.
When to visit Yamadera
Yamadera can be visited year round and has no closing days. Weather-wise it is best to visit in spring or fall. Yamadera is well known in fall for its colourful autumn leaves that colour the whole mountain side. During winter, it can be harder to go up but the view is well worth it, when the whole area takes up a mantle made of snow. During summer, it can be hot and humid and may not be the best time to visit.
How to access Yamadera
Yamadera station is about 60 minutes by local train from Sendai Station on the JR Senzan Line. Coming from Tokyo, use the Tohoku Shinkansen to Sendai taking about 90 minutes. The route is fully covered by the Japan Rail Pass and JR East – South Hokkaido Rail Pass.
From Yamadera station, it is just 5 minutes on foot to the base of the Yamadera temple complex.