You might just have booked your ticket to Japan or you are already in the process of booking your first trip. Japan is becoming more popular every year and that's not without reason. With an ever growing list of things to do, see and experience – it can be hard to prioritize and select the best places to visit in Japan.
We've asked our most experienced Japan Rail Pass travelers what their recommendations are for a first time 7-day itinerary. Bringing together the perfect mix, to get a taste of both modern and traditional Japan.
Tokyo
Start your stay in Tokyo, the modern capital of Japan – and easy to reach by plane – with either Narita or Haneda Airport. To keep local travel to a minimum, we've conveniently grouped highlights together for each day.
Day 1.) Shinjuku, Harajuku, Shibuya & Neon lights at night.
Shinjuku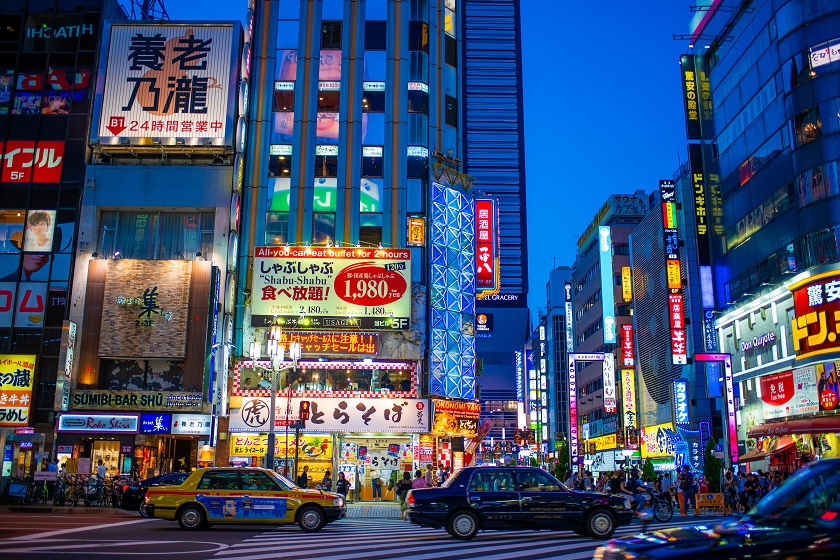 Start the day with a visit to Shinjuku, one of the most modern wards in Tokyo and well known for its tall skyscrapers and entertainment district. Starting here will immediately immerse you in the metropolitan life of Tokyo: see businessmen go to work, the many trains come and go and feel the rush of the city. Take some time to just walk around and marvel at your surroundings, then head to the Tokyo Metropolitan Government Building Observation Decks for a panoramic view of the city, on a clear day Mt. Fuji can be seen in the distance (access is free).
Harajuku
The next stop is Harajuku, home to everything cool and many of Japan's youth subcultures. Harajuku is just a few stops away from Shinjuku on the JR Yamanote line. Once you arrive, walk down Takashita-dori, the main shopping street of Harajuku lined with fashion boutiques, cafes and restaurants. Many of which are unique independent shops.
Once at the end of Takashita-dori, turn right and go to Omote-sando. Often named 5th avenue of Tokyo, Omote-sando is a modern luxury shopping destination with upscale brands, souvenirs and Japanese craft items. Once you reach the end of Omote-sando, turn right onto Aoyama street, from here its a short 20min walk to the next stop: Shibuya!
Shibuya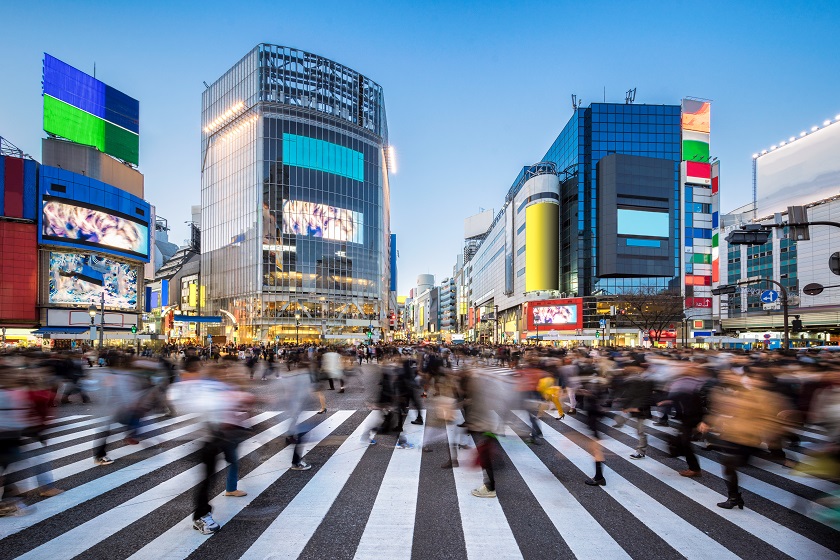 Shibuya is a special ward in Tokyo and a major commercial and business center, the area is known as one of the contemporary fashion centers of Japan, as well as a booming nightlife area. Reaching Shibuya, the first item of business is to see Shibuya crossing, the most used and super busy street crossing in front of Shibuya station. Here is also the statue of Hachiko, an Akita dog remembered for his remarkable loyalty to his owner. He continued to wait for his owner to come home for over nine years after this owner passed on.
Be sure to visit Shibuya 109, a famous department store often featured in popular fiction. To finish the day we suggest having dinner in Shibuya, such as at one of the many restaurants in Hikarie, a department store with great views over the Shibuya station. There are also many smaller local restaurants serving Japanese street food. After dinner, walk around to see the city light up and get a taste of the evening atmosphere. If you're up for a drink with the locals go to Nonbei Yokocho or "Drunkards Alley", home to many small bars that remain open till late.
Day 2.) Asakusa, Ueno, Akihabara & Ginza. Feel the Tokyo downtown atmosphere.
Asakusa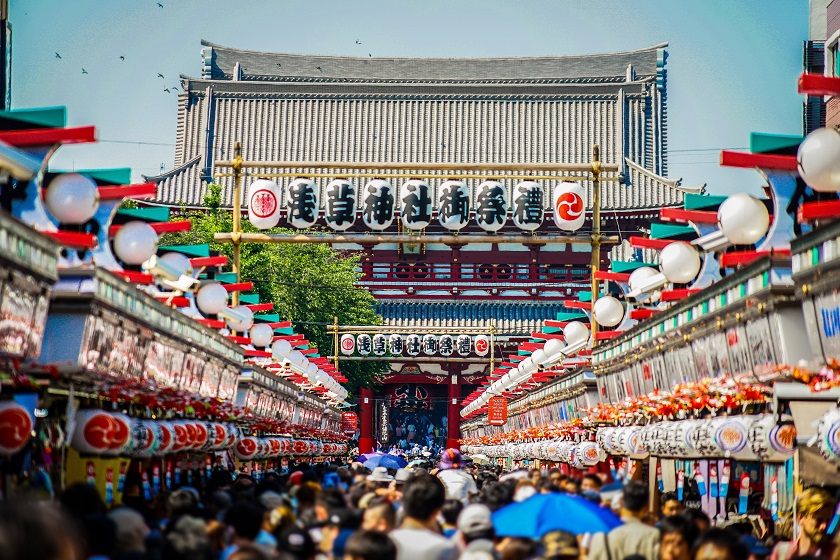 Today's theme is to get a feel of the more traditional and downtown feel of Tokyo. Starting with Asakusa, fondly referred to as Shita-machi (lit. meaning downtown), the area used to be the rough part of town. During the Edo period, it was often frequented by traders, sailors and workers, for entertainment and lodging. Today Asakusa is most famous for Sensoji, a very popular Buddhist temple. To reach the temple visitors must pass through the Kaminarimon (or gate of Thunder), then walk the Nakamise promenade, where 100's of small stalls sell street food and souvenirs. Once at the temple, do as the Japanese do by burning some incense and try your luck at Omikuji to find out your fortune for the coming year.
Ueno
The next place to visit is Ueno, just a couple stops away on the Tokyo Metro from Asakusa. A must visit is Ueno park, one of the largest city parks in Tokyo. Home to many beautiful temples, shrines and ponds. Ueno park is also home to various museums, like the Tokyo National Museum, National Museum of Nature and Science, and Shitamachi Museum. Not to forget Ueno zoo, which is great when traveling with kids.
Akihabara
Just 20 minutes away on foot or two stops away from Ueno station by JR, is Akihabara. Often referred to as "Electric Town" and "Otaku heaven", Akihabara is the center for anything electronic, anime and J-culture related. The largest department store is Yodobashi Camera, right behind Akihabara station, with 6 massive floors dedicated to tech, games and gadgets. If you're interested, then Akihabara is also the place to try a maid cafe.
Ginza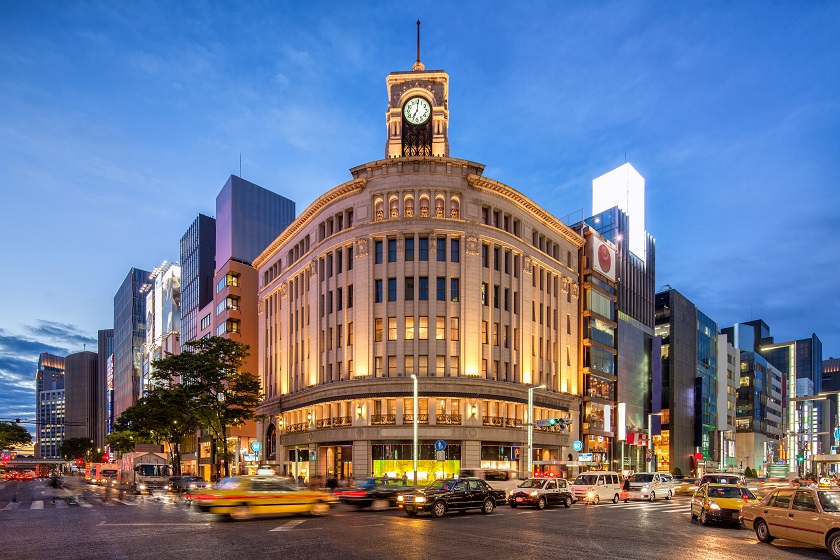 Ginza is the posh part of town, with high end stores, brands, cocktail bars and coffee houses. On sale is fine jewelry, fashion and duty-free items. Just a couple stops away from Akihabara, take the JR Yamanote line to Yurakucho station, from where you walk right into Ginza. The flag ship stores from brands like Apple and Sony can also be found right on the main street of Ginza.
Day 3.) Travel to Kyoto and explore the east of Kyoto.
Kyoto shows a whole different side of Japan, historically the cultural capital of the country, Kyoto has remained true to its historical roots. Famous for its countless shrines, temples, pagoda's and historical buildings, Kyoto is where you can experience Japan as in times past.
Travel to Kyoto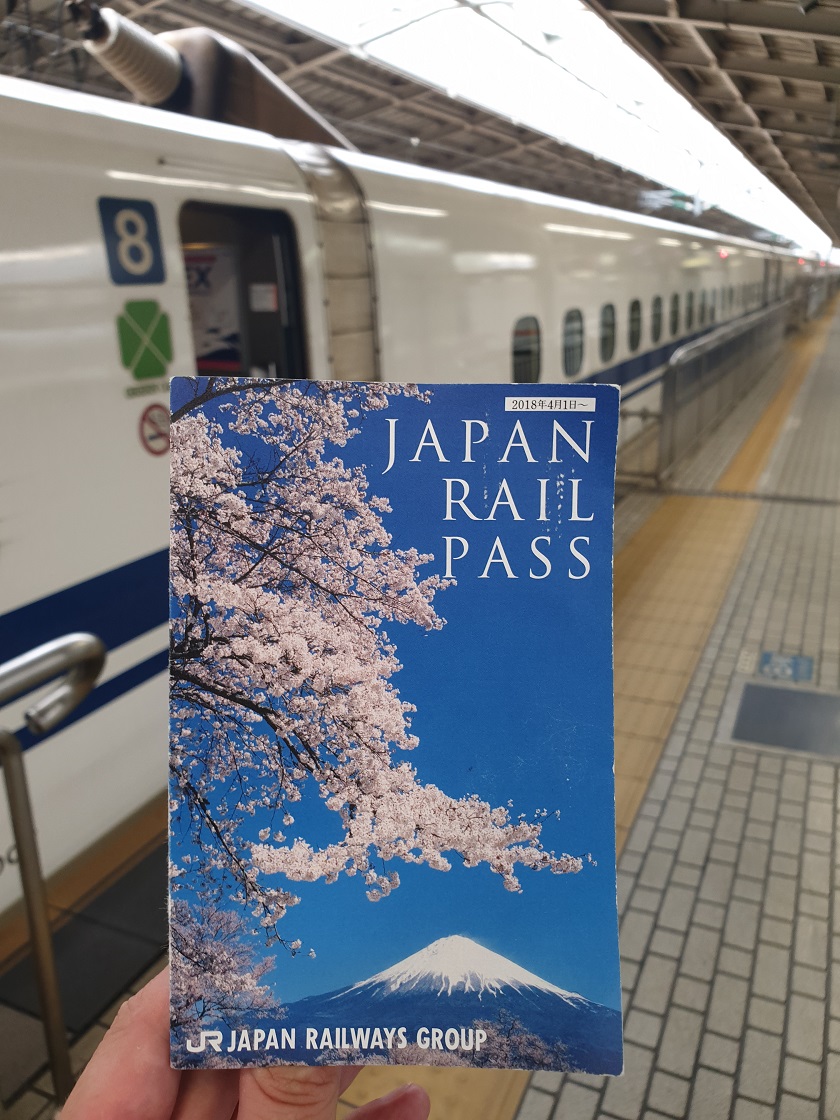 The first part of the day is reserved for travel from Tokyo to Kyoto. Multiple Shinkansen bullet trains depart per hour on the Tokaido Shinkansen line, connecting Tokyo to Kyoto in as little as 140 minutes. The route is completely included in the JR Pass, using any Hikari Shinkansen train service. After arrival, make your way to your hotel and check-in. We've set aside a small section of activities for this day, to get an unforgettable impression of Kyoto, located in the east of the city.
Eastern Kyoto: wander among the many temples, shrines and old streets.
The first stop is Kiyomizu-dera, perhaps the most beautiful and impressive temple complex in Kyoto. The main hall has a large veranda with a panoramic view of the city, then wander the temple grounds, drink the water from Otowa waterfall to receive good luck in life, and see some of the many shrines.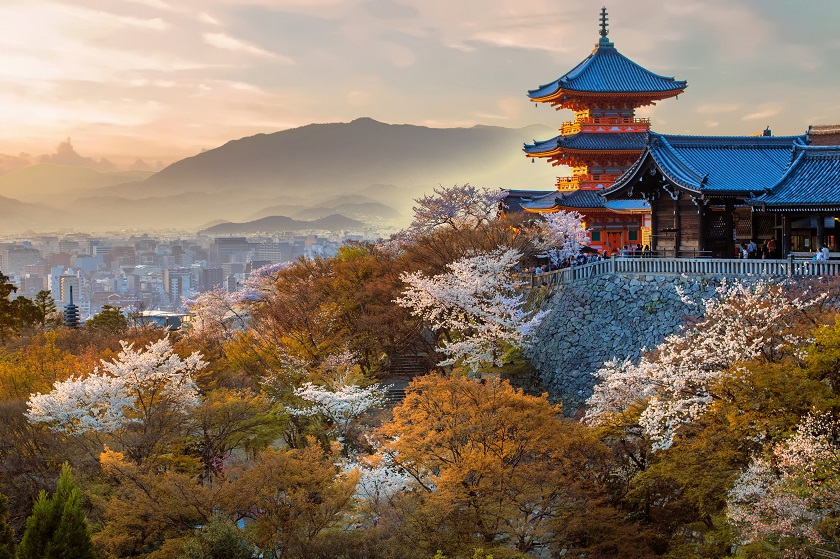 Then continue on north along Nineizaka, a charming pedestrian thoroughfare known for its classic architecture, teahouses & cherry blossoms. There's a lot to take in here, so take it slowly. Reaching the end of Nineizaka, you'll reach Yasaka Shrine and and Maruyama park.
From Maruyama park, you'll walk right into Gion, the traditional home of the Geisha and colorful kimonos. After dark it turns into a buzzing entertainment and nightlife district. Gion is a must visit on any trip to Kyoto, just be sure to treat the locals with respect.
After Gion, cross the Kamogawa river into Kawaramachi, the beating heart of everyday life in Kyoto. Kawaramachi is said to combine both modern and traditional Japan all in one place.
There are endless small shopping boutiques along the Teramachi shopping arcade, catering to both locals and tourists alike. Along the side trips of the arcade Nishiki market is located, being rich with history and tradition, the market is famous for the many local (street-)foods and goods on offer.
To finish the day, try one of the local restaurants along the Kamogawa river for dinner or then make your way to your accommodation.
Day 4.) Western Kyoto: The golden pavilion, bamboo grove, and endless torii gates.
Today brings us to the west of Kyoto, starting in the northwest and slowly making our way down.
Western Kyoto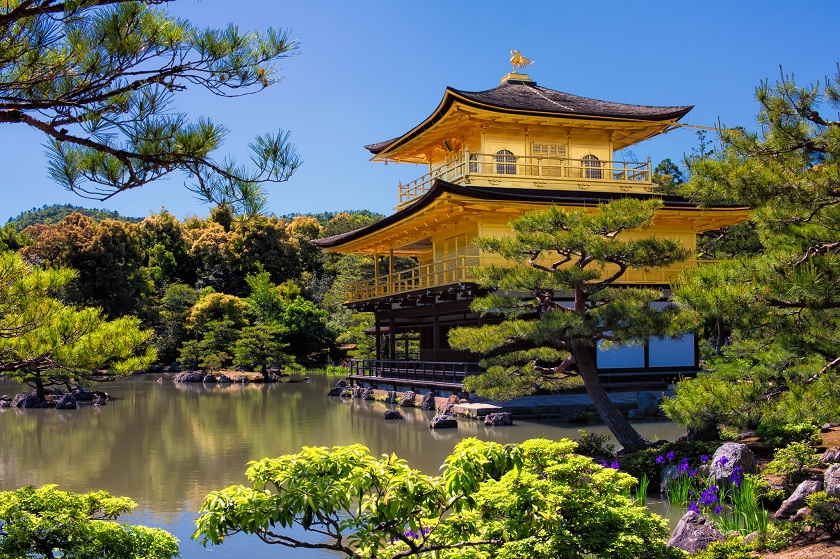 The first stop of the day is Kinkakuji, or the Golden Pavilion, a well renowned Zen Buddhist temple. Often featured on postcards and pictures from Kyoto, it is certainly one of the most famous landmarks in Kyoto. Getting there is easy, as different city buses (line 12, 50 and 59) stop directly in front.
The next stop is Arashiyama, though getting there is a bit of an attraction in itself. From Kinkaku-ji, walk about 3 blocks down on Nishioji-dori, to Kitanohakubaicho tram station. From here historic trams operated by the Randen railway company run to Arashiyama.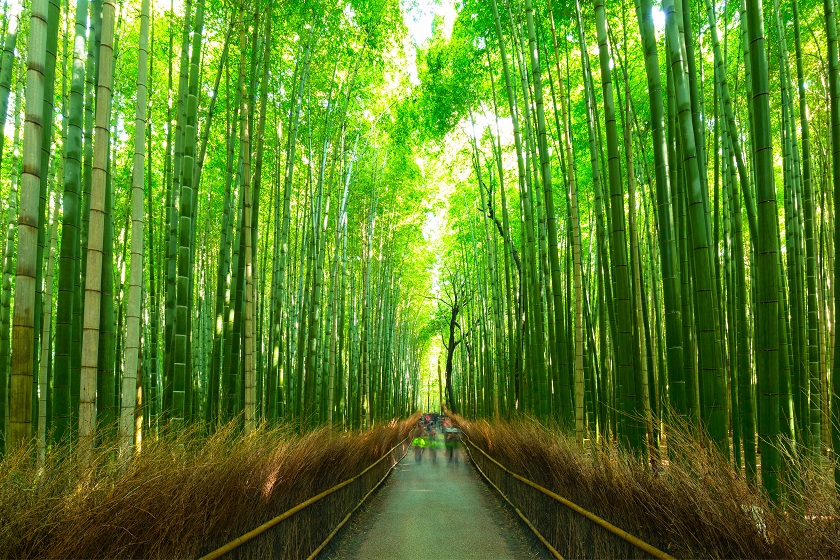 Arashiyama is one of the crown jewels of Kyoto and known for its scenic beauty. Highlights include the famous Arashiyama Bamboo Grove, Sagano Romantic railway, the river view from Togetsukyo bridge, the monkey park, Tenryuji Temple and many others. We have a special post on Arashiyama here. You could easily spend a full day at Arashiyama but for the sake of time we recommend picking the 3-5 activities that interest you the most.
Fushimi Inari Taisha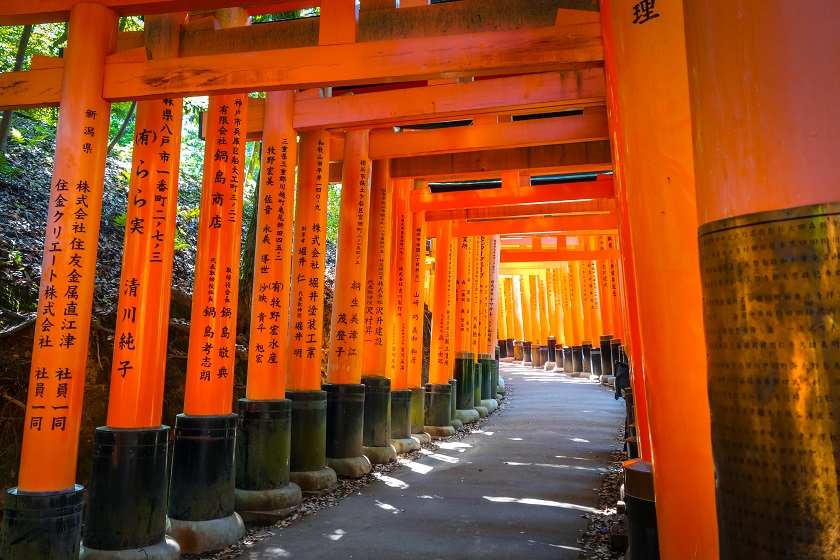 There's one last important stop left for today, Fushimi Inari Taisha (Fushimi Inari Shrine), famous for the endless Torii-gates that run up the hill. Access is easy with the JR, walk to JR Saga-Arashiyama station, from there take a local train bound for Kyoto station. At Kyoto station transfer to the JR Nara line, which will take you to Inari station in just 5 minutes.
With seemingly endless torii (shrine gates) spread across a thickly forested mountain, the shrine is popular among tourists, hikers and picnickers alike. We recommend arriving around 4 o'clock in the afternoon, bringing a visit to the shrine and then slowly hiking up Mt. Inari. You'll be able to see a fantastic sunset over Kyoto.
Once you've seen enough Torii gates, head down to Inari station area. Here are various small local restaurants that offer a wide range of options for dinner, from local soba noodles to sushi. Alternatively, head back to Kyoto station which has many restaurants of its own, both with a Japanese and Western selection.
Osaka Day 5.) A huge castle, Street Food, Shopping and lots of Fun
Today we're doing a day trip from Kyoto to Osaka, which are less than 30 minutes apart by JR. Much like Tokyo, Osaka is a modern metropolis and has since old been the business capital of Japan, yet it has its very own characteristics and unique ambience. From Kyoto station, (bullet-)trains run directly to Osaka.
Osaka castle, the first stop of the day.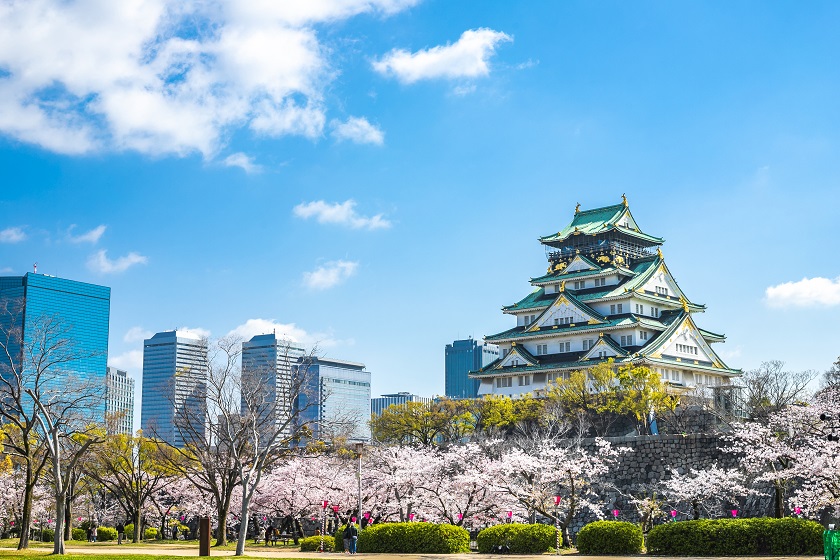 Visiting a Japanese castle is a minimum requirement for any first time trip to Japan. The castle is one of Japan's most famous landmarks and it played a major role in the unification of Japan during the sixteenth century. The whole castle complex is impressive, with high fortifications, turrets, lawn garden, walls and multiple citadels. Go up the main tower for a panoramic view of Osaka castle.
To get on the Osaka Loop line, get on at either Osaka or Shin-Osaka station, then get out at Osakajokoen Station. The castle is less than 10 minutes walk from here.
South Osaka: Shinsekai, then Namba, Shinsaibashi and Dotonbori.
We now move on to the south of Osaka, here's where all the fun is at! The first stop here will be Shinsekai.
Shinsekai (literally meaning "New World") is a very interesting place, originally built in the 1910s. It was meant as an example of what the modern future would be like, yet after completion, it was never updated. As a result, Shinsekai is now a place of nostalgic futurism. Today, it is the scene of low-cost restaurants, cheap clothing stores, cinemas and a famous place to try Fugu fish.
Shinsekai is about a 15 minutes walk from JR-Namba station, alternatively Shinsekai can be reached on the Osaka Subway, get off at Ebisucho station.
Namba!
The wider Namba area is a high-energy entertainment district frequented by commuters and visitors from further away. The shopping street of Shinsaibashi has many boutique stores, which intersect with the famous Dotonbori street, where all kinds of good local food are to be had. Ask a first time visitor what they think of the area and the answer is often: "this is exactly what I expected Japan to be like". Wherever you go, there's a hubbub of activity, with shopkeepers encouraging you to visit their shop and street food vendors everywhere. Be sure to try some of the local street foods like: takoyaki, kushikatsu and horumon.
It will be easy to spend several hours just walking around, exploring shops and soaking up the atmosphere. It's possible to walk to Namba from Shinsekai in about 20 minutes, or just use the metro or a taxi to save time.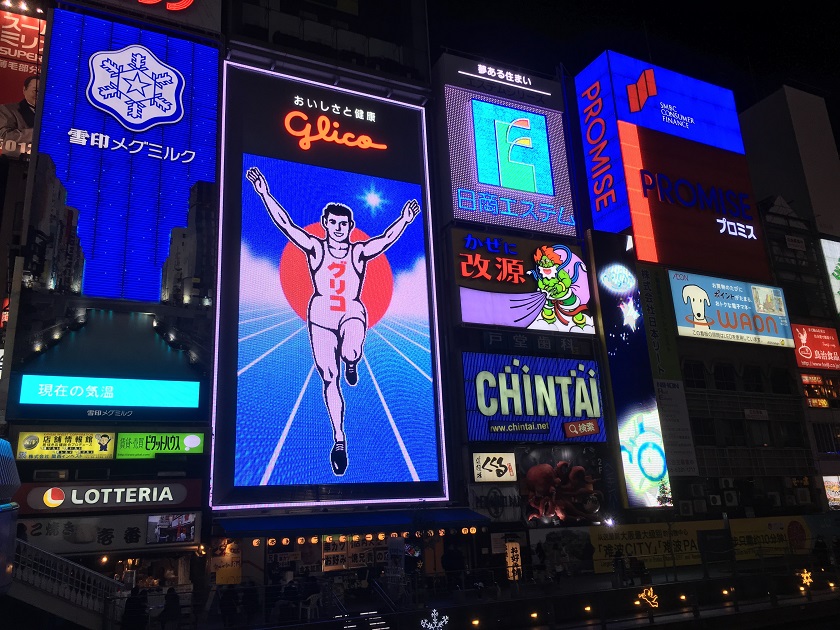 There's one last stop before returning to Kyoto, which is the Umeda Sky Building, located just behind Osaka station. It's the perfect place to finish the day with a beautiful and romantic view of the city skyline. Once you are done, return to Osaka station and take a direct train back to Kyoto station.
Tokyo Day 6.) Back to Tokyo and a taste for the modern.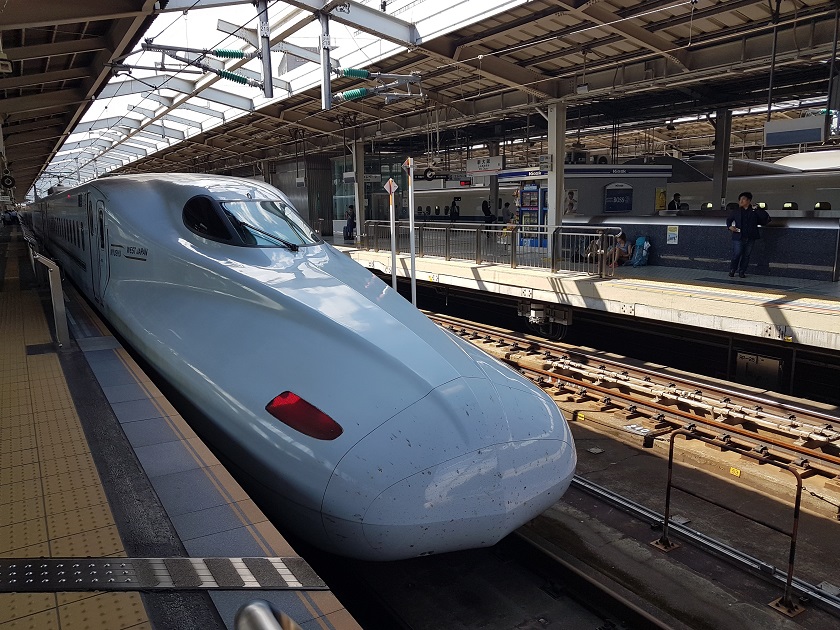 It's time to return to Tokyo today, the Shinkansen will take you directly back from Kyoto to Tokyo station. With the travel in mind, we plan to visit just one part of Tokyo, that also happens to be the newest. Welcome to Odaiba!
Tokyo bay, Odaiba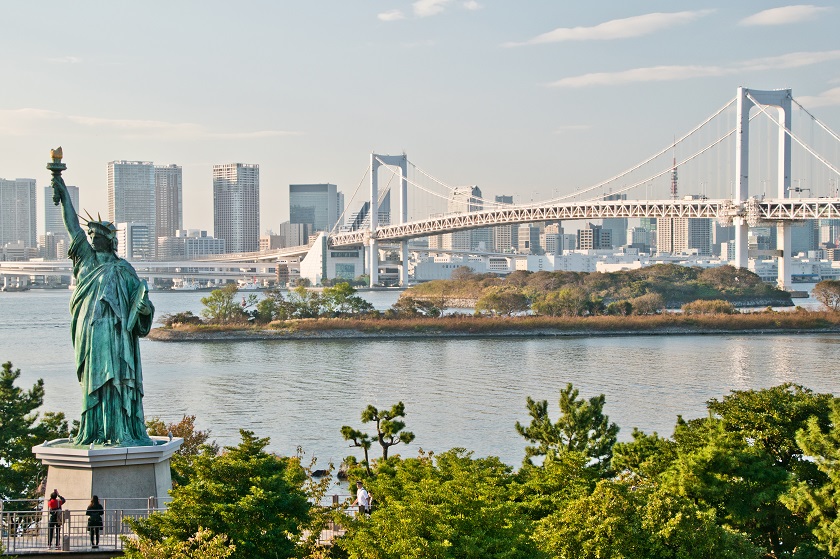 Odaiba is located in the bay of Tokyo and is built on an artificial island reclaimed from the sea. Just getting there is special with the futuristic Yurikamome train. Head to the beach at Seaside Park and interact with robots at the Miraikan science museum, there's also a 3 stories tall Gundan statue. As these are the last days of the trip, we highly recommend visiting Aqua City and the Venice-themed VenusFortYou for shopping, or if you're into a romantic mood hop on the Daikanransha Ferris wheel and enjoy a view of Mt. Fuji.
If you still feel energetic, walk back to Tokyo over the Rainbow bridge, there's an amazing view of the Tokyo Skyline and a great picture opportunity. Otherwise, ride the Yurikamome back across the bridge.
Day 7.) Tokyo, relax or perhaps a day trip?
Today is the last day of the itinerary already and we've left it somewhat open to fill with your own interests. Perhaps you want to see something not mentioned in the trip, or go souvenir hunting or just take it easy for a day.
If you feel adventurous, then you could also consider a day trip outside of Tokyo to places like Kamakura, Nikko or Nokogiri-Yama. Whatever the case may be, here are our recommendations for the last day in Tokyo.
Imperial Gardens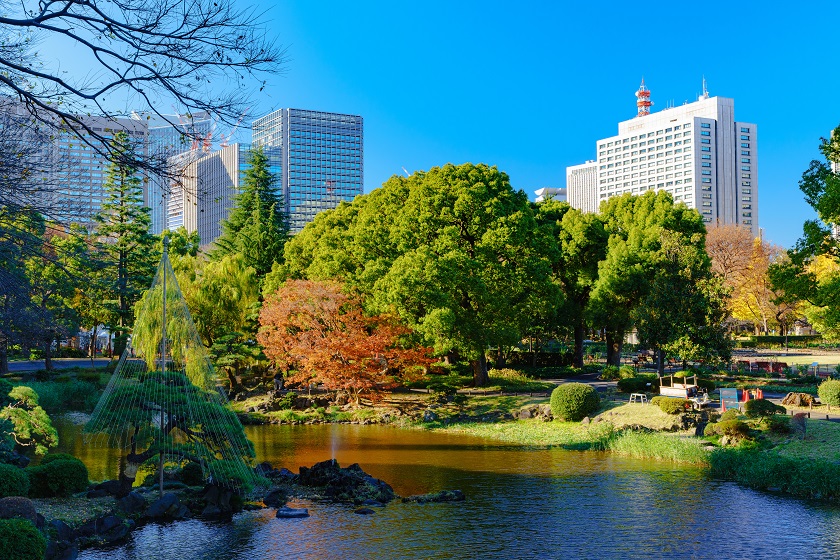 Visit the Imperial Gardens, part of the Imperial Palace, the gardens are right in the middle of Tokyo and can be reached on foot from Tokyo station. While the palace itself is off limits, the garden is a great way to get a sneak peek into the life of the imperial family and a good place to learn about history.
Tokyo Tower
Go up Tokyo Tower, which has dominated the Tokyo skyline for over 50 years, is a pure classic. While its broadcasting function now has largely been taken over by the Tokyo Sky Tree, it remains a must visit.
Roppongi, finish the trip with a bang!
Want to finish your trip with a good drink? Then head over to Roppongi, known as the most popular nightlife district among foreigners, it's a great place to finish your trip with a drink (maybe try a Japanese Whiskey) and go through all the good memories and impressions you've experienced in the last 7 days.