Looking to get away from the city life of Tokyo? Visit Nokogiri-yama (or Mount Nokogiri) to find your inner calm near the Big Buddha and hike along the mountains and beaches of Tokyo bay. Nokogiri-yama is easy to visit with the JR Pass and the trip is a scenic one to make.
Nokogiri-yama is one of the lesser known day trips from Tokyo. Ask anyone where to go and some of the common suggestions will be Kamakura, Nikko, Takao-san or Yokohama. All worth a visit but there's something special about Nokogiri-yama. Hidden away in the upper mountains around Tokyo bay, Nokogiri-yama harbours a feeling of remoteness and pure Zen. Be sure to visit the local Big Buddha and take a moment to reflect at one of the local temples.
Hiking or riding the ropeway of to Mt. Nokogiri?
There are different options for going to Nokogiri-yama. If you fancy a good hike, then going up to Nokogiri-yama is a rewarding hike through local forestation with panoramic views on the way. Come well prepared, the word Yama means mountain in Japanese and going up Mt. Nokogiri can be quite tough. The hike is a mix of walking through woodland and climbing stone stairs, there are rest points along the way but be sure to bring enough water. The hike up takes 1-2 hours, depending on route taken.
For those who want a bit more of a relaxed experience, take the Ropeway up to Nokogiri-yama. A round trip costs 930 Yen or 500 Yen one way. Note that the rope-way can close quite early during both winter (16:00) and summer (18:00), so be sure to get back on time or that hike down will no longer be optional!
There's also a road up to Mt. Nokogiri with parking spaces for those arriving by car.
What to do at Nokogiri-yama
The hike up is well rewarding by itself but it gets only better once you reach the top. Hikers will first be greeted by The Hyakushaku kannon, a 30M massive depiction of the Goddess of Mercy, carved in remembrance of those fallen in WWII.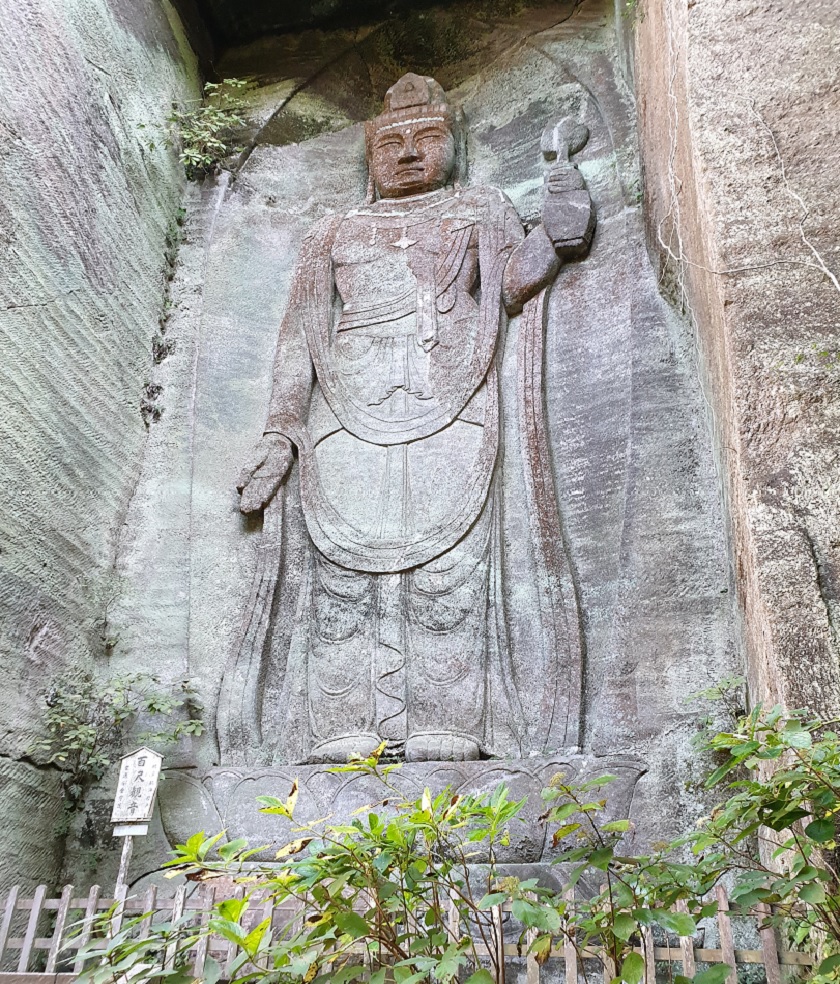 The Hyakushaku kannon
From here it is a short walk to Jigoku-nozoki (In Japanese: glimpse down into the abyss), an observatory point looking out over Tokyo Bay. You can even see Mt. Fuji from here on a clear day. It's a famous spot to take photos so you might have to queue up :)
Then, continue your way along local paths going to the Daibutsu (or simply Big Buddha). You thought the one in Kamakura was big? Well, this one is twice as big! On most weekdays there are not many people around and the area feels undisturbed and tranquil, just the perfect spot to sit down meditate and reflect on the beauty of life. On the weekend however, you might have to share the space with Millennials trying to get their next Instagram shoot done.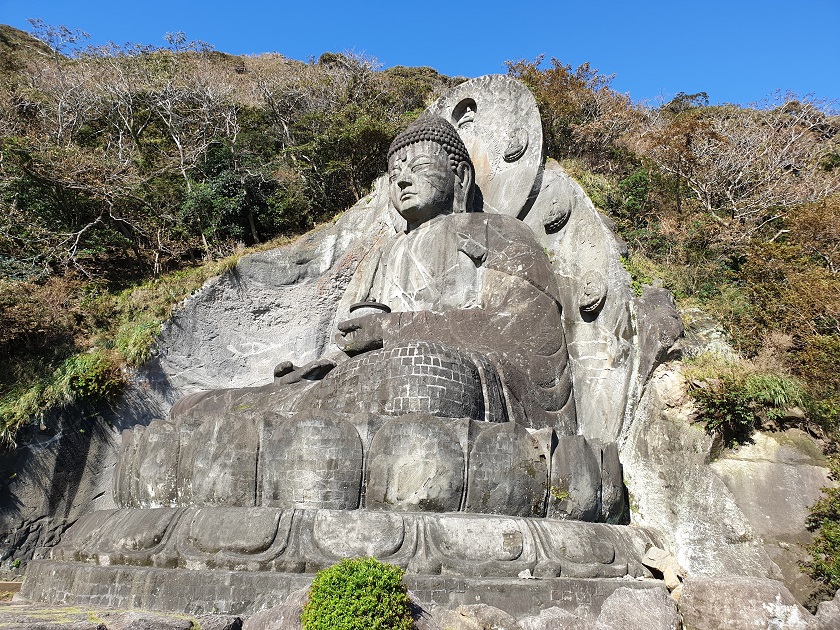 Once you feel it is time to continue from the Big Buddha, consider taking one of the hikes in the area. The hike down is much easier than up and can be completed in about 30 minutes. On the path down you'll find many small statues decorating the walking trail. Taking the path south ends near the Motoba coast beach. From there it is possible to take the bus back to the station or walk along the beach for about 30 minutes to Hota station. It's a perfect spot to finish the day with a beautiful sunset.
How to get to Nokogiri-yama with the Japan Rail Pass.
You can walk from either Hama-Kanaya (for the northern approach) or Hota (for the southern approach) to Nokogiri-yama. Both stations are on the JR Uchibo line and can be reached from Tokyo in less than 2 hours. The most comfortable way is to take a JR Ltd express service from Tokyo to Soga station, then transfer to a local service bound to Tateyama.
On some weekends, there's also the Seasonal Shinjuku Sazanami train. Running directly from Shinjuku and Akihabara to Hamakana-ya. The route is fully covered by the JR Pass.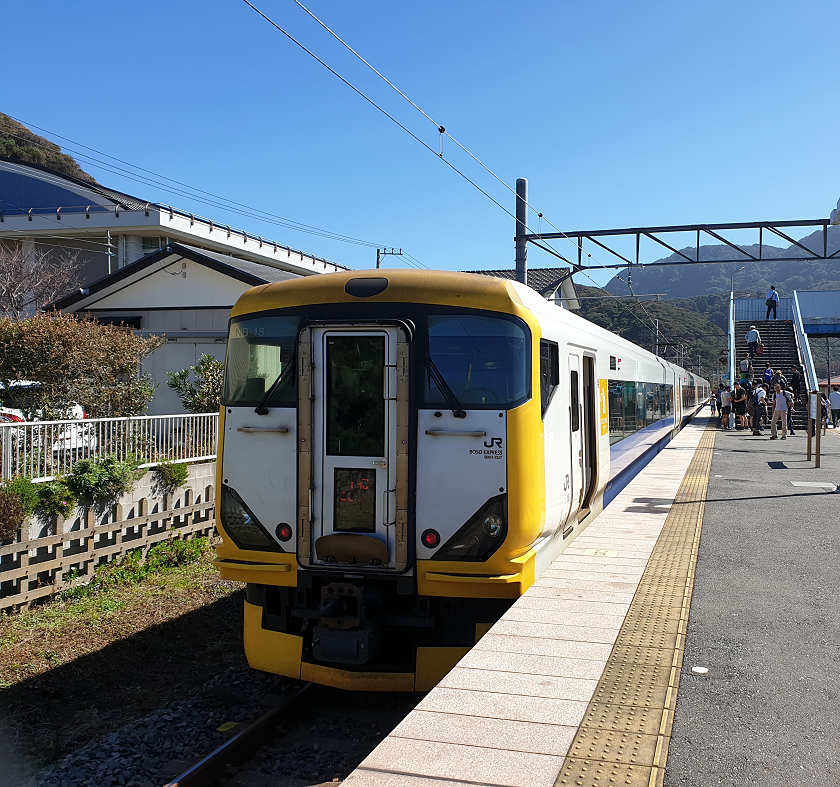 Shinjuku Sazanami train, free with the JR Pass
The official English brochure can be found here.