Table of contents:
Intro
Go Beyond Tokyo and Explore Japan
Where to stay during the Olympics
Summer 2020 in Japan
Don't Forget
Intro
Are you ready for the adventure of a lifetime? This year is set to be the biggest, best and most spectacular summer in Japan for more than 50 years. In 1964, the Olympic Games helped transform this beautiful and historic country and propel it into a bright and prosperous future. This July, the Olympics will return to Tokyo, and Japan will have the chance to show the entire world that the future is now. 
If you're travelling to Japan to enjoy the spectacle of the Olympic Games from 24 July to 9 August (and the Paralympic Games from August to September) you have a huge amount to look forward to, see, and do. In fact, there's almost too much, which is why it's so important to plan ahead and do your research to make the most out of your trip to Japan. This unique and unforgettable country is one of the world's most desirable and sought after destinations at any time of year, and for good reason. From futuristic cities to ancient culture and traditions, incredible food and drink, to spectacular and diverse scenery, Japan is simply one of the greatest places to visit anywhere on the planet.  
You may be travelling to Tokyo to enjoy the world's biggest athletic and sporting event, but why not use the opportunity to explore the rest of the country and experience its culture, history, and food away from the crowds? Temples and shrines, mountains and forests, onsen baths and ryokan inns – it's all just a train ride away thanks to Japan's super-efficient rail network. Follow our guide to getting the most out of your Japan Olympics trip with the JR Pass, for unlimited rail travel around this incredible country, and you'll not only have the best summer ever, but the holiday of a lifetime.
'Infinite Excitement' awaits this summer in Japan. This phrase is one of the many guiding principles behind the Tokyo 2020 Olympics, and the country's ambitious and visionary plans for this summer certainly seem to live up to the promise. This year's Olympic and Paralympic Games will be one of the biggest of all time and definitely the most innovative, with futuristic robot greeters and state-of-the-art technology behind the scenes. This was at the heart of the Tokyo 2020 organising committee's goals, and their vision of innovation rests on three themes to transform the world – striving for your personal best (achieving your personal best); accepting one another (unity in diversity); and passing on a legacy for the future (connecting to tomorrow). This year's spectacular opening and closing ceremonies will take place at a brand new, 68.000 seater National Stadium that is currently being built in Tokyo specifically for the 2020 Olympic Games. It promises to be one of the world's most impressive and state-of-art sporting and cultural arenas, and will be the focal point of a venue plan that includes two zones (the Heritage Zone and the Tokyo Bay Zone), which criss-cross to form an 'infinity' symbol. 
While travelling around Tokyo, we would recommend a prepaid travel card for the subway alongside a JRailPass for domestic trains. Your JR Pass already covers you for travel on the circular Tokyo subway JR Yamanote Line, but not the 13 subway lines which run off this, so a ICOCA, PASMO or Suica card may come in handy. However, to really make the most out of your trip, you should look beyond Tokyo to the rest of Japan and we'll have more on this below. There are also several high-profile events taking place across the rest of the country, including Olympic football and cycling that are definitely worth travelling for.
If you're a fan of a wide range of sports, then you're in for a treat. The biggest stars of the sporting world are coming to Japan this summer. From 20-time Grand Slam Tennis champion Roger Federer to seven-time surfing champion Stephanie Gilmore to the history-making Rugby Olympians (and more to be announced), all the leading names in sports and athletics will play a part in this year's Olympics. In total, the Tokyo 2020 Olympics will feature 55 sports, from aquatics to wrestling (and everything in-between!), with 33 sports currently scheduled for the Olympics and 22 for the Paralympics.
You can read much more about the Tokyo 2020 Olympic and Paralympic Games, including full information on the venues, events, and much more, in our dedicated and in-depth Tokyo 2020 and the Japan Rail Pass pages. 
Go beyond Tokyo and Explore Japan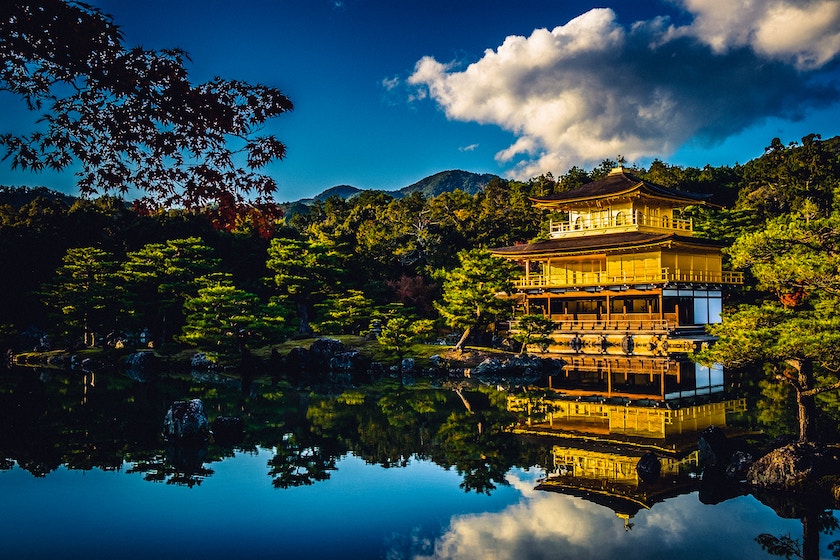 While Tokyo 2020 will undoubtedly be mind-blowing, it would be a missed opportunity to visit Japan during the Olympics and not explore the rest of this beautiful country. Historic Kyoto, known as 'the cultural heart of Japan', with its temples, shrines and famous Gion district; Osaka, known as 'Japan's kitchen', with its incredible seafood and neon nightlife, and many other fantastic cities are just a train ride away. Thanks to Japan's famous shinkansen or 'bullet trains', you can reach the country's other major cities (and get back again) in a flash from Tokyo. Of course, if you want to escape the cities and the Olympic-sized crowds then Japan has got you covered too. Beautiful and serene forests, rugged mountains, white-sand beaches, and picturesque rural towns and villages are also within easy reach thanks to Japan's excellent domestic rail network – and you can see it all without ever missing your favourite sporting or athletic event. All it takes is a little bit of planning, and there are some key events taking place around the country, such as sailing in Enoshima and football in Sapporo, which you won't want to miss either. Here are a few expert suggestions for where to go and what to do across Japan during the Tokyo 2020 Olympics, including some must-see and must-do activities (onsen, ryokan, Mt. Fuji, castles, temples and shrines, and food) that, in our opinion, are essential recommendations for anyone visiting the country.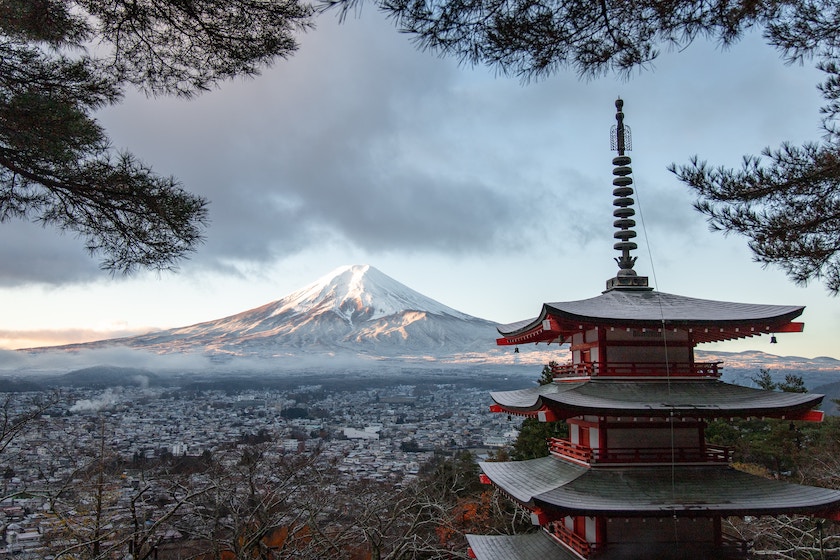 Olympic Football in Sapporo
In 2020, several Olympic football (or soccer as it's known in some countries) games will take place at the Sapporo Dome in Hokkaido, Japan's northernmost island. If you're a football fan (or even if you're not), this is all the excuse you need to jump on a train North to experience one of Japan's most sought-after regions. Hokkaido is known for its rugged landscape and cooler climate and boasts beautiful lavender fields in the summer months in the Furano area. Sapporo, the capital of Hokkaido, is both central and well connected using the JR rail network, making it the ideal place to explore this region. If you're interested in the Hokkaido region be sure to read our Five-Day Rail Itinerary for Hokkaido for a comprehensive guide to getting there and back using the Japan Rail Pass. Meanwhile, Olympic football is also taking place in Miyagi prefecture during Tokyo 2020.
Sailing in Enoshima
Enoshima yacht harbour in Kanagawa prefecture will be hosting the Olympic sailing at the 2020 games and provides a brilliant opportunity for visitors to escape Tokyo and take in some sea air. Kanagawa prefecture is also home to the famous Big Buddha – arguably one of the most iconic and must-see sights alongside Mt. Fuji. Kamakura was the old capital of Japan in the 12th Century and is famous for its temples, beaches, hiking and the Big Buddha (or Daibutsu in Japanese) which is part of Kotokuin Temple. Kamakura can be directly reached in less than one hour from Tokyo Station on the JR Yokosuka line (bound for Zushi) and is fully covered by the JR Pass with green seats (1st class) available. Alternatively, coming from Shinjuku the JR Shonan-Shinjuku Line takes you from Shinjuku station to Kamakura in little less than one hour. Green seats are available here too. 
Cycling in Shizuoka
Shizuoka is hosting many of this year's Olympic cycling events giving fans of cycling (and the rest of us) the perfect chance to enjoy views of nearby Mount Fuji while following these events. The area is also a great place to go cycling yourself around the beautiful Izu peninsula. Lake Yamanaka – the largest of the Fuji Five Lakes (see below) – is part of the official Olympic cycling course which will conclude at the Fuji International Speedway in Oyama. You can get to Oyama by using the Tohoku Shinkansen. 
Climb Mount Fuji and hike around Fuji Five Lakes
Summer is the best time to climb the iconic Mount Fuji (the mountain is actually closed to climbers during the winter months for safety) and given its proximity to Tokyo, it makes for an ideal day trip between Olympic events, especially if you're the outdoor type. You can find out everything you need to know in our Comprehensive Guide to Climbing and Hiking Mount Fuji. Of course, even if you're not into climbing, Mount Fuji is simply unmissable at any time of year. There are many different ways to view this breath-taking mountain, including through the window of a shinkansen train and given the proximity of Fuji to Tokyo, it makes complete sense to factor in a trip during the 2020 Olympics. You could even stay in accommodation near the base of Mount Fuji and travel back and forth into Tokyo on the shinkansen. The famous Chureito Pagoda – officially one of Japan's most Instagrammable spots – and Hitachi Seaside Park with its beautiful pink kochi shrubs – are both in the area too, and you could even plan a day trip to Hakone – a mountainous city in the Fuji-Hakone-Izu National Park just west of Tokyo, which offers a variety of activities, from hot spring resorts, to wondrous views of Mt. Fuji. Read our Guide to Hakone and how to get there with the JR Pass. It would be another ideal getaway during the Olympics. 
Baseball in Fukushima 
Baseball and softball have officially been added to the list of events for this year's Olympics and several games will be held at Fukushima Azuma baseball stadium. You can get from Tokyo to Fukushima directly on the shinkansen using the Japan Rail Pass.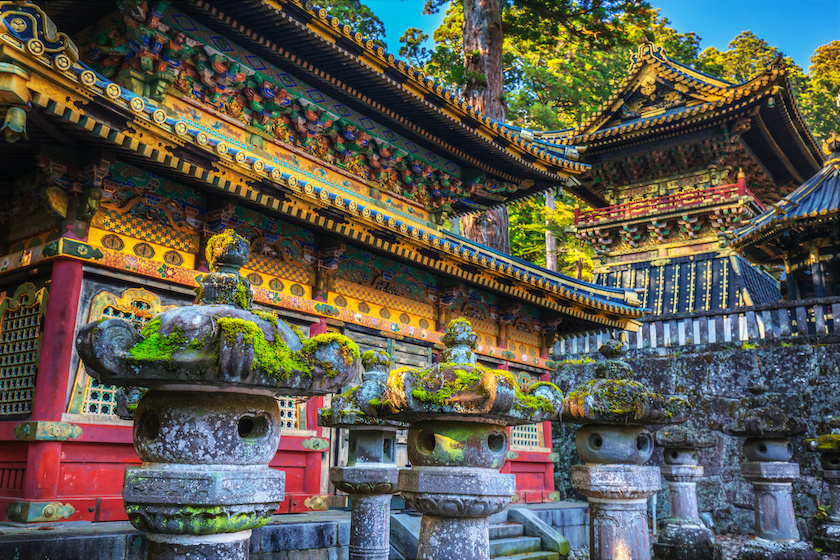 Take a break from the big city in Nikko or Nara
Nikko and Nara both make excellent day trips from Tokyo and offer a break from the urban sprawl. Both feature historic temples, shrines and parks, and Nara (while a little further away) has the added bonus of free-roaming deer. Nikko however is also to some of Japan's most beautiful shrines and is easily accessible from Tokyo – therefore it's the perfect day trip. Read our guide to Nikko: The Perfect Balance of Nature and Spirituality and you'll see why it's the ideal antidote to the hustle and bustle of Tokyo 2020. To get to Nikko from Tokyo, take the Tohoku Shinkansen to Utsunomiya station, where you'll transfer to the local JR Nikko line. The entire route is covered by the JR Pass and is a great day trip from Tokyo. The easiest way to visit Nara from Tokyo on the other hand is to take the shinkansen to Kyoto and then the JR Nara rapid line to Nara station.  
Attend a festival (matsuri)
We'll have more on the summer festivals and fireworks festivals below, but in short, going to Japan and not attending at least one festival is almost like visiting the country without seeing Mount Fuji or eating sushi. Look out for Gion Matsuri in Kyoto through the whole month of July and many more.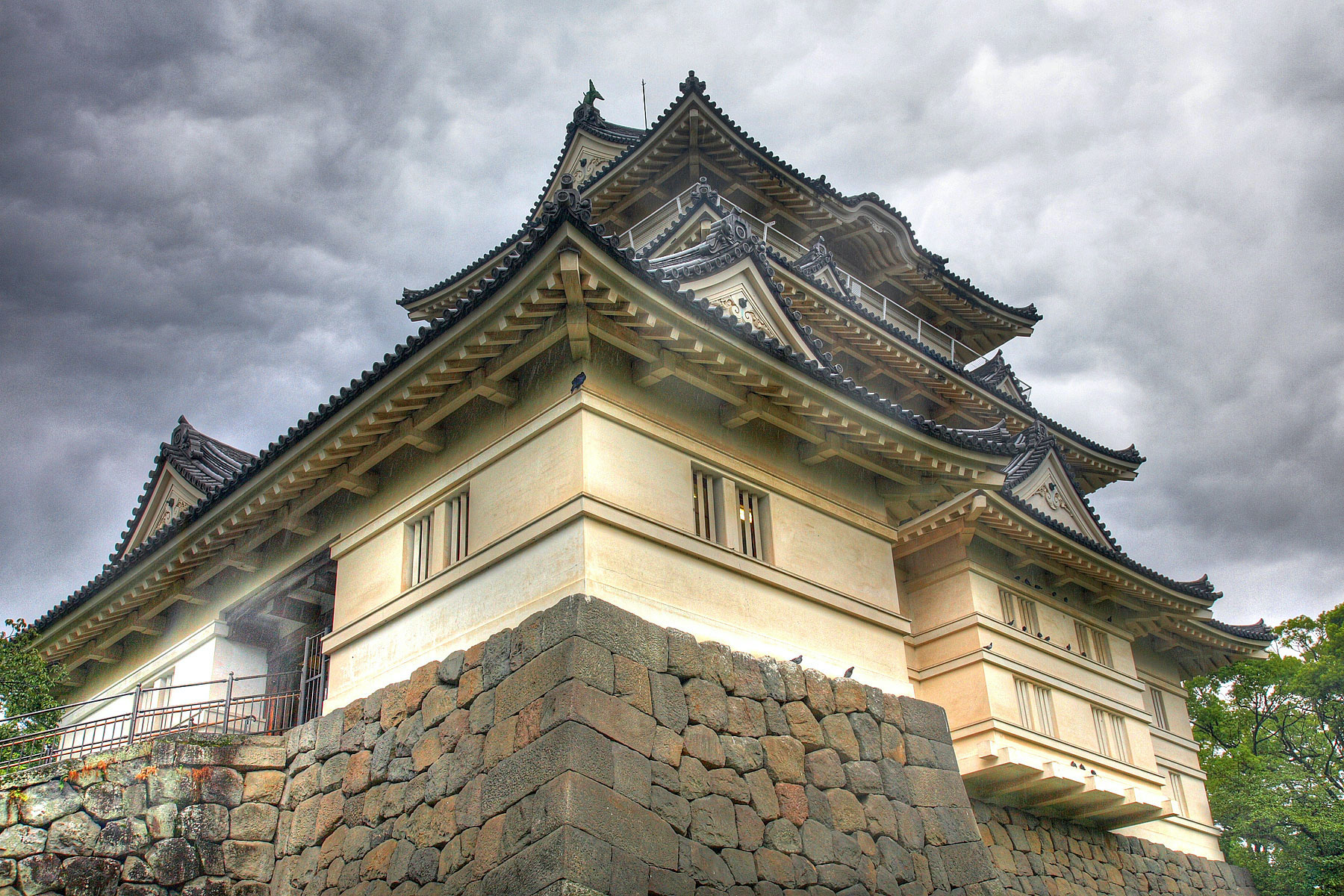 Visit a Japanese castle
Japan has some of the most unique and spectacular castles in the world and there are several within easy reach of Tokyo. Historic Odawara Castle for example, is just a 35 minute train ride from Tokyo on the Hikari and Odaba trains. Once you get off the train at Odawara station, the castle is a 10-minute walk. 
Relax in an onsen
Simply put, a Japanese onsen refers to a Japanese hot spring. The term sometimes extends out to encompass bathing facilities as well as hotels/inns, traditional ryokan, and spas that are built surrounding the landmark. While Tokyo itself has many onsen baths (hot springs), there's something about the traditional onsen resort towns of Japan that is extra special and truly magical. If you're visiting the Mount Fuji and Fuji Five Lakes area for Olympic cycling or to climb the mountain yourself, then why not visit the onsen town of Shuzenji for a picturesque alternative to city life? Other popular onsen towns include Kinosaki, which can be reached from Tokyo using the Japan Rail Pass by travelling via Kyoto or Shin-Osaka before taking a limited express train to Kinosaki-Onsen. You could even make time to visit the famous outdoor mountain onsen in Jigokudani where you may be able to see the Japanese snow monkey taking a bath! From Tokyo, take the Hokuriku Shinkansen to Nagano Station using your Japan Rail Pass, then take the Nagano-sen (Nagaden) train to Yudanaka Station, and it's a short bus ride from there to Jigokudani.
Stay in a traditional ryokan
Ryokan – traditional Japanese inns featuring tatami and shōji – can be found across the country and offer overseas visitors a great way to experience the country's most authentic accommodation. To find out more read our guide to The Best Ryokan in Japan and see the next section below for advice on where to stay during Tokyo 2020. 
Enjoy Japan's world-leading food and drink
If you're in Tokyo for the Olympics this summer, you'll be in one of the greatest cities in the world for food. However, the city will be especially busy with so many visitors for the Olympics so why not enjoy the amazing food outside of Tokyo too? Japan is home to some of the world's best food and hundreds of incredible regional dishes made with local produce. Sushi, ramen, noodles, gyoza, yakitori, takoyaki, unagi, nabe, Kobe beef – the list goes on and on and on. Whatever and wherever you choose to eat, you'll be tasting the real Japan through its lovingly-made food so make sure you try some authentic Japanese cuisine – it's a must-do in our opinion – and we would also highly recommend eating at a traditional izakaya restaurant. You can also read our in-depth introduction to Japanese Food and Regional Dishes for everything you need to know. 
Where to stay during the Olympics
While the majority of Olympic events are taking place in Tokyo, we would recommend considering a stay outside of the city during the games in order to get the best value for money accommodation. Cities like nearby Yokohama or Omiya (where the Tohoku, Joetsu, and Hokuriku Shinkansen lines all stop) for instance, are great alternatives place to stay, while there are a range of other cities connected to Tokyo by the Shinkansen 'bullet train' lines which will allow you to stay within an hour and a half of the capital (and all the main events) at any given time. These include Sendai, Nagoya, Nagano and Niigata. The Tokaido Shinkansen will also take you to major cities like Kyoto and Osaka and boasts stunning views of the iconic Mount Fuji on a clear day. Choosing accommodation outside of Tokyo during your Olympics trip will almost definitely save you money, it will help you to see more of this amazing and diverse country, and it will give you a chance to escape the crowds between key sporting and athletic events. You will also have a greater opportunity to experience an authentic ryokan, onsen resort town, or even stay in a Shingon Buddhist monastery, such as the legendary Koya-San, if you venture a little further afield.
  

Summer 2020 in Japan
This year might just be the biggest summer ever in Japan and it's not just because of the Tokyo 2020 Olympic and Paralympic Games. Summer is an amazing time of year to visit Japan generally and there is always a huge amount going on from traditional matsuri (festivals) such as and contemporary music festivals such as Fuji Rock, to stunning beaches, parks and forests to enjoy and explore, and mouth-watering summer foods. This year looks bigger and better than ever with the Tokyo 2020 games acting like a magnet to draw together and inspire a spectacular summer of events. We have picked out a few of our stand-out highlights to recommend: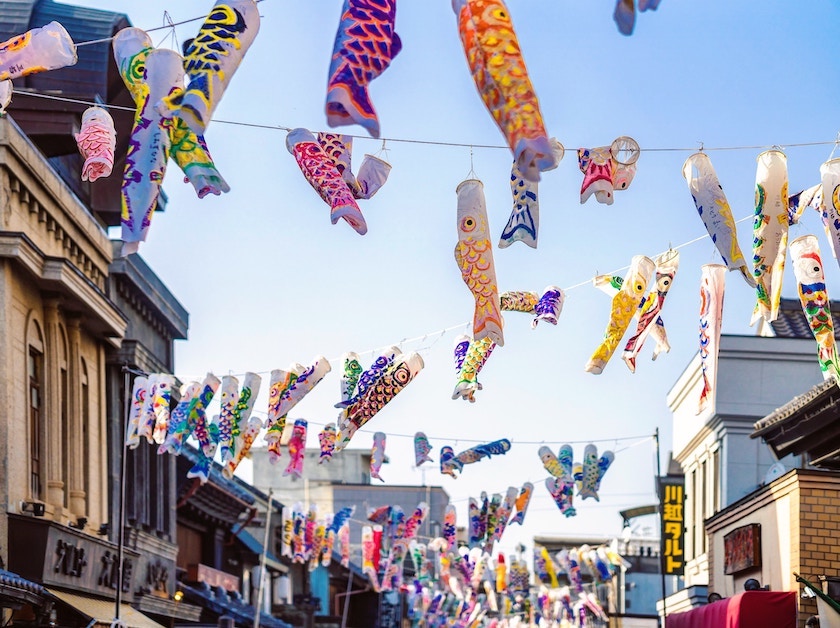 Summer Festivals
Japan is famous for its festivals and summer features some of its biggest and most famous. Three of the biggest summer festivals to mention are Gion Matsuri in Kyoto, which takes place throughout July, Tanabata (also known as the star festival) in mid-July, and Obon in August.
Kyoto Gion:  One of the oldest and most famous festivals in all of Japan, Gion Matsuri takes place throughout the entire month of July at Yasaka Shrine in Kyoto. The grand procession of floats – Yamaboko Junko – is so spectacular and so significant to the people of Kyoto and the rest of Japan that it has been registered with UNESCO as an Intangible Cultural Heritage of Humanity. 
Tanabata: The star festival celebrates star-crossed lovers separated by the Milky Way and is based on a Japanese folktale. Shonan Hiratsuka Tanabata Festival is one of the biggest and takes place between 3-5 July about an hour from Tokyo.
Obon: This festival has been taking place for more than 500 years in July and August and commemorates ancestors' spirits coming home to rest. The date of the three-day festival can vary because of the lunar cycle but in 2020, Obon will take place between August 8 and August 16. 
Fireworks
Japan loves summer fireworks almost as much as it loves winter lights and illuminations. There are major fireworks festivals in Japan each summer, and 2020 is no exception. Two of the many festivals to choose from include the famous Sumida River Fireworks display in Tokyo (which is likely to be extra busy during the Olympics) or Takasaki Fireworks festival in Gunma prefecture for a potentially quieter (but equally spectacular) display. Use the JR Takasaki Line to get to Takasaki from Tokyo's Ueno Station.
Surfing, diving and relaxing on the beach
It's something of a well-kept secret, but Japan boasts some of Asia's most stunning beaches. It's also a haven for divers and a magnet for water-sports enthusiasts. And of course, beaches are the perfect place to kick and relax to if you're feeling less than energetic. Read all about Japan's Best Beaches and Watersports Destinations.
 
h3. Grand Sumo Tournament
The grand sumo tournaments are held six times a year in Japan and the summer event will be held in Nagoya in July. This is an unmissable event for anyone fascinated by this unique and spectacular Japanese tradition. The quickest way to Nagoya from Tokyo is using the JR Tokaido Shinkansen. 
Summer foods
We all know that Japan is a paradise for food-lovers all year round – Tokyo, where the Games are held, has more Michelin-starred restaurants than anywhere else in the world – and the country even has its own specialities when it comes to summer foods that are perfect for cooling down after a hot and sweltering day watching frenetic Olympic events.
Kakigori (shaved ice)
Somen (cold noodles)
Hiyashi Chuku (cold ramen noodles)
Ayu (freshwater fish)
Unagi (freshwater eel)
Watermelon
Edamame (boiled green summer beans)
Ice candies (similar to ice lollies) 
Grilled corn on the cob 
Nebuta Matsuri
Nebuta are huge colourful floats made out of papier-mache in the shape of characters from Kabuki theatre, historical figures and mythological creatures, which are accompanied by hundreds of dancers known as Haneto, and the sound of Taiko drums and flute music. It is held annually during the month of August in Aomori, which is in the Tohoku region. To get there from Tokyo using your JR Rail Pass, take the JR Tohoku bullet train to Shin-Aomori station and then transfer to JR Aomori Station.
Fuji Rock 2020
The biggest outdoor rock festival in Japan, this will be taking place at Naeba Ski Resort over three days in August, further adding to this summer's spectacular calendar of events.
Of course, this is just a very small selection of the events and activities taking place this summer, alongside one of the biggest Olympic and Paralympic Games of all time. Surely there has never been a better time to visit the amazing country of Japan than in 2020? 
Don't Forget
For everything you need to know about this summer's Olympic Games, visit our extensive new web pages, Tokyo 2020 and the JR Pass


To get the most of your Japan trip, remember to look beyond Tokyo and the most cost-effective option for travellers to get around is definitely the JRailPass – one ticket for all of Japan at an unbeatable price.


Find out more about how the JR Pass works and the many reasons why it is so useful by reading, Is The Japan Rail Pass Worth It?


Alternatively, if you've got your heart set on a particular region of Japan, such as Hokkaido in the north where Olympic football is taking place, you might want to consider our Regional Passes.


For accommodation, remember to consider outside Tokyo to save money. It will also give you the opportunity to stay in the likes of a traditional ryokan or at an onsen resort, for a true taste of Japan.


If you want to tell your friends and family on the other side of the world about your country's latest gold medal victory (or post a photo on social media) then it's best to invest in PocketWifi to ensure you stay connected all the time at a reasonable price and avoid any unexpected charges. Read the Complete Guide to Portable Wifi for Travel in Japan for everything you need to know. 


You may want to consider our Meet and Greet service if it's your first-time in Japan, or if you're travelling with your family, and you require extra support and guidance – think of us as your personal assistant for your arrival in Japan. We'll even activate your Japan Rail Pass and help with your seat reservations.


Keep up to date with the latest Olympic news for all the breaking stories and updates about Tokyo 2020.