JR East has opened the Japan Rail Café in Tokyo Station. Drop in to get tips for rail travel around Japan, meet new people from all over the world, share your travel stories and enjoy meeting new people. All whilst sampling some of the best food Japan has to offer.
What is the JR-East Japan Rail Café?
Opened on March 5th, 2020. The JR East Railway café is the ideal stopping point to get info and plan your Japan Rail trip, meet fellow travellers, get a taste of Japan and relax for a moment before embarking on your journey.
The café comes with a range of guides, inspirational video's and locals (staff) to meet. It is the first such themed café in Japan. JR-East did open earlier in Singapore and Taipei.
Inside the café
There are different seating arrangements inside.
A bar area, sit round the bar with fellow travellers and enjoy a coffee or cocktail. The bar is an open area and easy to chat. Feel free to ask your bar man for serving tips, from traditional Japanese Green Tea, a sake tasting or world-class Japanese Whiskey.
Working area, need to get some work done before you get on the train. The café has several work area's with WiFi and power plugs.
Traditional sitting area, inspired by tea houses, this sitting area made to resemble a traditional sitting area on Japanese Tatami, where visitors can sit together and enjoy a high quality tea, or even partake in a mini tea ceremony.
Ticketing desk, there are ticketing counters in the same area as the café. Making seat reservations never was this easy.
Shop, inside the café is a shop selling local foods from around Tokyo and the Tohoku area. If you don't fancy eating in, then grab a ready-made Bento box to enjoy at a later point. On sale is also a range of items like: candy, curry, sweets, sake and more.
The café menu
A range of alcoholic and non-academic drinks are served. Like coffee, tea and yuzu drinks. The alcoholic variety includes cocktails, sake and whiskey.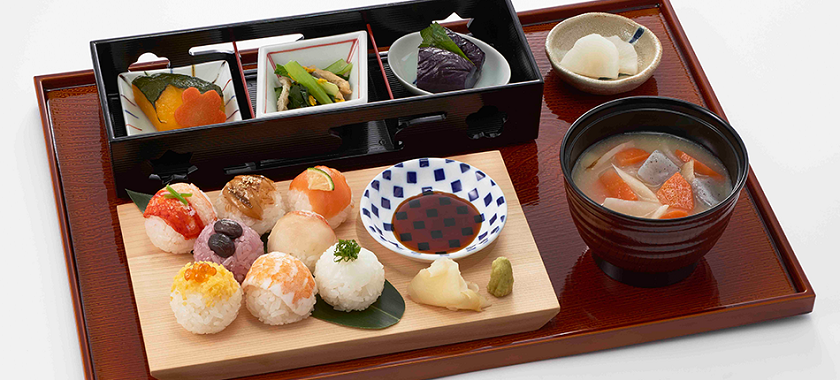 Picture courtesy by JR-East
The food menu includes a tapas style set of: Japanese Beef steak, Teriyaki-chcken, Edamame and French Fries with green tea taste, now that's novel!
The take out menu includes a set of different eki-bento boxes with different themes and taste (vegetarian options are available).
How to find the Railway café at Tokyo Station.
The Japan Rail Café is located at the Yaesu side of Tokyo station. Simply follow the signs with Yeasu (central gate) exit. The café is right opposite the gate in the Gran Tokyo North Tower.
Opening hours are as follows:
Weekdays: 8am to 10pm
Weekends & public holidays: 8am to 9pm
Find the restaurant on Google Maps.