They say timing is everything in life and this is certainly true of May in Japan. Perfectly positioned between Spring and Summer, May has a reputation for being one of the country's 'Goldilocks' months alongside March and April. Which of these months is best? It's very hard to say, but what is absolutely certain is that May is a marvellous time to visit Japan. Read on for our recommendations of what to do, where to go, and how to get there with the JR Pass – one ticket for Japan's world-class domestic rail network. From mountain adventures to seaside parks, green tea plantations to picturesque rice paddies, May has so much to offer visitors to Japan. 
Top 10 Things To Do in May in Japan
When it comes to May, it's not what to do, it's where to start, and how to fit it all in. There is a lot going on across Japan in May and the particularly pleasant weather makes a huge range of activities possible. We've put together a top ten below, but it's such a great month to visit we've included a bonus list of further ideas afterwards too. Get set for a marvellous May.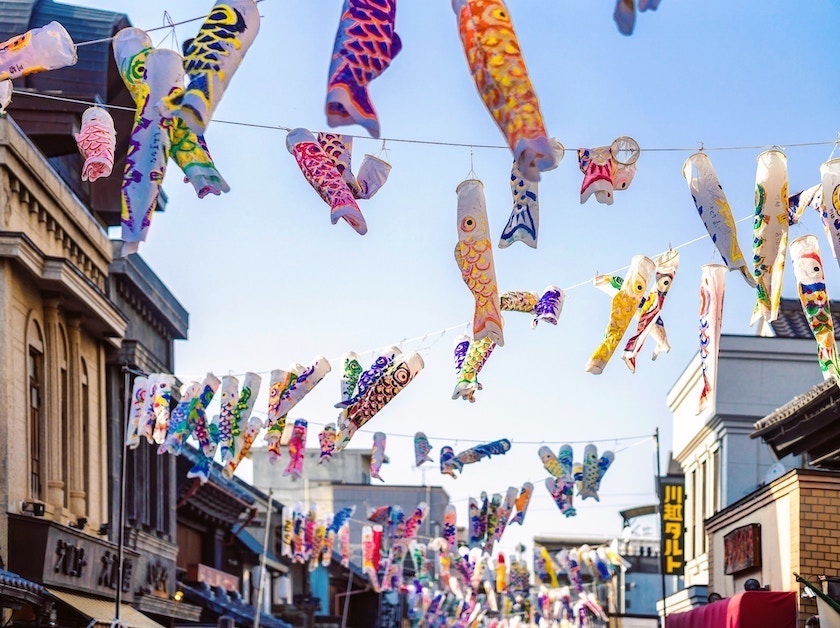 Children's Day
Officially part of Golden Week in Japan (more on this below), Children's Day celebrates exactly what you'd expect from the name – children! Previously known as Tango no Sekku (Boy's Day), this celebration historically honoured only the boys of Japan. Even today, many Japanese people still view the day as an occasion to primarily honour boys. Although the holiday was not established as an official holiday until 1948, the practice can be traced back to the Nara period (710-794 CE). In modern-day Japan, the festival is traditionally celebrated by raising koinobori (streamers shaped like koi fish), to represent each member of the family and to bring luck to their children. Inside Japanese homes, samurai helmets and dolls are displayed, as well as Iris flowers. Traditional snacks for the holiday include kashiwa-mochi and chimaki.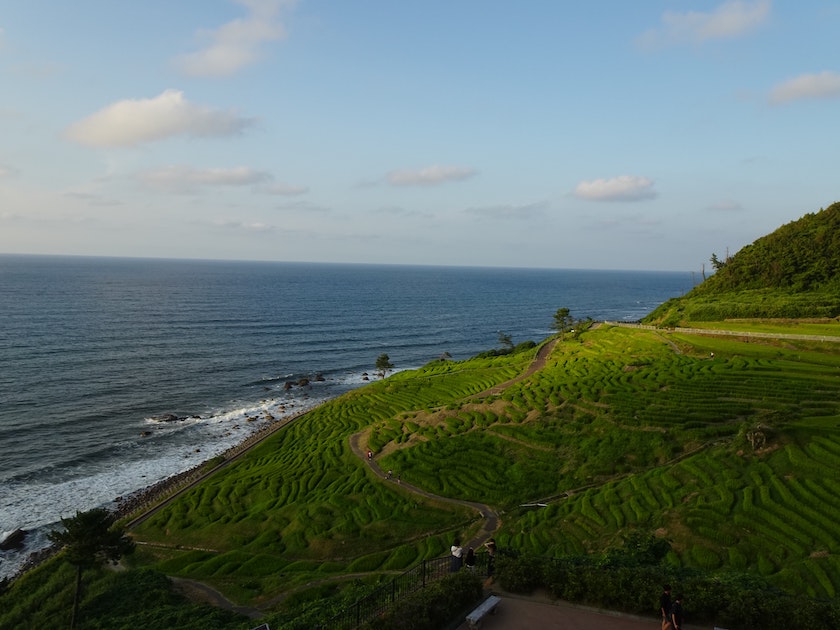 Shiroyone Senmaida
Japan loves rice and consumes a huge amount of it every year (up to 55kg of rice per person per year allegedly). As such, the country has an abundance of beautiful rice paddies and fields which can be visited all year round. One of the most famous and most beautiful is in Ishikawa Prefecture. A thousand terraced rice fields leading down to the sea, near Kanazawa city, Shiroyone Senmaida makes a beautiful place to visit in the month of May before the planting starts.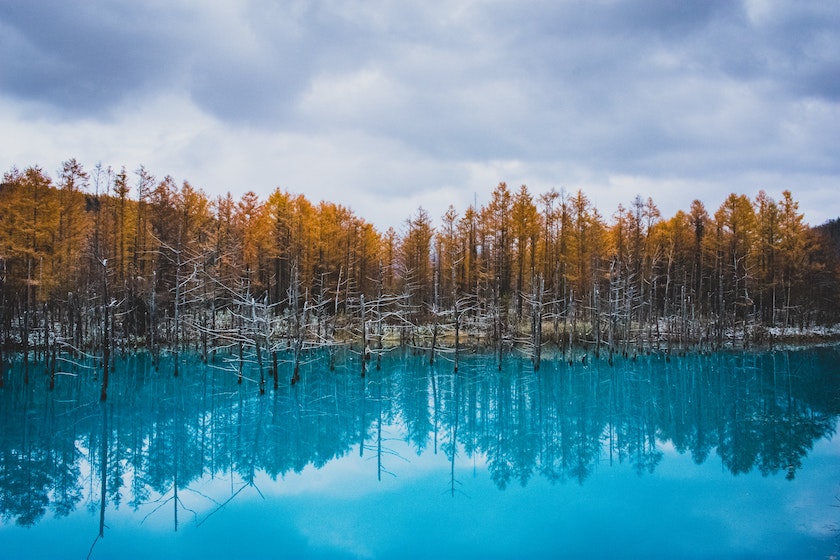 Blue Pond
May is reportedly the best time of year to view the famous 'Blue Pond' in Hokkaido, which is located near the Biei River. No one knows the exact reason for its incredible blue colouration (although it is apparently due to natural minerals dissolved in the water) but what's certain is that it makes for a beautiful and enigmatic location to visit during May. The pond was created as part of erosion control plans to protect Biei from Mount Tokachidake's eruptions, but unexpectedly became a tourist destination because of its unique colour. You can find it near the hot spring town of Shirogane Onsen. Hokkaido, where the 'Blue Pond' is located, is a great place to visit generally if you're interested in seeing a different and less touristy side of Japan. As the northernmost island, it boasts a diverse and rugged landscape, including some of the most breathtaking of Japan's national parks and unmissable wildlife, regional speciality food and drink, picturesque cities, towns and villages, ski slopes and resorts, and unique festivals. Check out our Five-Day Hokkaido Rail Itinerary with the JR Pass for more information and ideas.
Hitachi Seaside Park
A famous flower park in Ibaraki Prefecture, Hitachi Seaside Park is only two hours from Tokyo and makes for a magical May day out. The park is most famous for having more than four million iconic blue nemophila flowers (known as 'baby blue eyes') which cover Miharashi Hill in Spring, however there is much more, and many further flower varieties, including tulips, kokia, and narcissus, to enjoy during a day out here. There is also an amusement funfair with rides and stalls, walking trails, and you can rent bicycles to explore the full expanse of the park on two wheels. You can reach Hitachi Seaside Park via the JR Joban Line from Shinagawa, Tokyo or Ueno stations to Katsuta Station, using your JRailPass, followed by a short 15-minute bus ride.
Mt. Fuji and Green Tea 
Green tea is another of Japan's passions and the country has some stunningly beautiful plantations which can be visited for sightseeing and tasting. Some of the very best are in the Fuji Five Lakes area and offer gorgeous green fields and plantations to explore as well as the stunning and iconic Mt. Fuji in the background. Imamiya and Obuchi Sasaba in particular are both highly recommended and are easily accessible from Tokyo. The nearest train station is JR Fuji Station and there are buses available in the direction of both plantations. Of course, there's much more to green tea than just visiting the plantations. Green tea is deeply ingrained in the culture of Japan and has long been the most consumed beverage in the country. For much more on this, read our Getting Starting with Green Tea guide and our article about What It's Like To Take Part In a Tea Ceremony.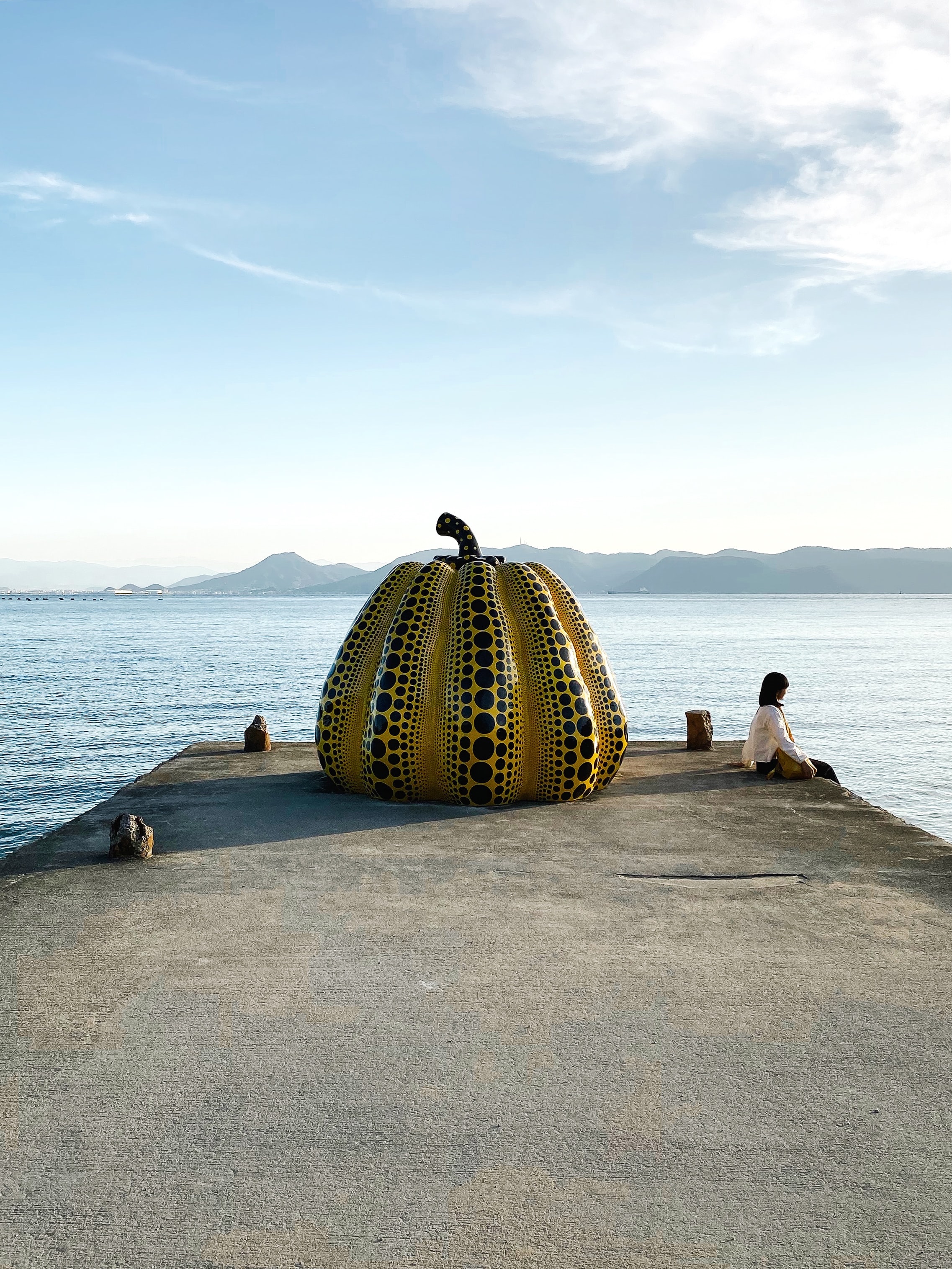 Visit Naoshima Art Island
Naoshima is one of the many smaller islands in the Seto inland sea and lies between Okayama and the main island of Shikoku. It's famous for both its modern indoor and outdoor art, sandy beaches, stunning panoramic views and sunny weather, and makes a great place to visit in May. The island is home to the iconic Yellow Pumpkin by Yayoi Kusama, as well as numerous open air-sculptures and installations, including works by Dan Graham, Shinro Otake and Karel Appel, that have made Naoshima a favourite destination for art lovers. Naoshima has two main ferry connections from its main port Miyanoura, that connect to Uno port (Okayama) and Takamatsu port (Shikoku). The Japan Rail Pass will bring you to either port for free, though the ferry itself is not included in the JR Pass. The first step is to get to Okayama, which can be reached from any direction on the JR Sanyo Shinkansen. From Okayama you can choose to go via Uno or Takamatsu. Find out more about the island in our guide to Visiting Naoshima with the JR Pass
Stop and smell the Roses
While not as famous or culturally significant as cherry blossoms in Japan, roses come into bloom during the month of May. One of the best places to view them is Kyu-Furukawa Teien garden near Komagome station in northern Tokyo. As well as roses, look out for wisteria, azalea and pink moss (Shibazakura) in May. For wisteria viewing, try Ashikaga Flower Park in Tochigi Prefecture and Kawachi Fujien Wisteria Garden in Fukuoka. For pink moss, check out Mt. Fuji shibazakura festival, which is also in May.   
May Festivals
May is another great month for festivals in Japan. There are thousands of festivals, or 'matsuri', throughout the country all year round, with many of the biggest in Spring. In May, there are several major matsuri to look out for across Japan. These include Kanda Matsuri in Tokyo, Sanja Matsuri, Mifune Matsuri, Ohara Matsuri, and Aoi Matsuri in Kyoto, among others. 
Kanda Matsuri honours three deities from the Kanda Myojin Shrine – Taira no Masakado, a 10th Century feudal lord who was deified, Ebisu, god of fishermen and luck, and Daikokuten, of the seven gods of good fortune.
Tokyo's Sanja Matsuri takes place annually over three days during the third weekend in May and features portable shrines known as Mikoshi. One of Japan's liveliest and most popular festivals, Sanja Matsuri is held at Sensoji Temple in Asakusa and was founded to honour the three men who established the temple, Hinokuma Hamanari, Hinokuma Takenari and Hajino Nakatomo. This popular festival regularly attracts more than one million people.
Aoi Matsuri in Kyoto reportedly originated in the 6th Century and is one of the city's three main festivals. It is focused around a traditional parade, carried out in a Heian era-style and features more than 500 people in traditional dress who journey from the Imperial Palace to the Kamo Shrines around 15 May each year.
Read about Japan's biggest and most popular matsuri in our Top Festivals to Visit in Japan guide
Golden Week
At the end of April and beginning of May, Japan celebrates four holidays within one week – Shōwa Day (29 April), Constitution Memorial Day (3 May), Greenery Day (May 4), and Children's Day (May 5) – formerly Tango no Sekku (Boy's Day). This special week of holidays, from 29 April to 5 May, is referred to as Golden Week, and most of Japan takes a well-deserved holiday due to the ongoing festivities. As such, it's quite a unique and special time to be visiting the country. You can find out much more, including a detailed guide to each of the holidays that make up Golden Week, in our dedicated guide, What Is Golden Week?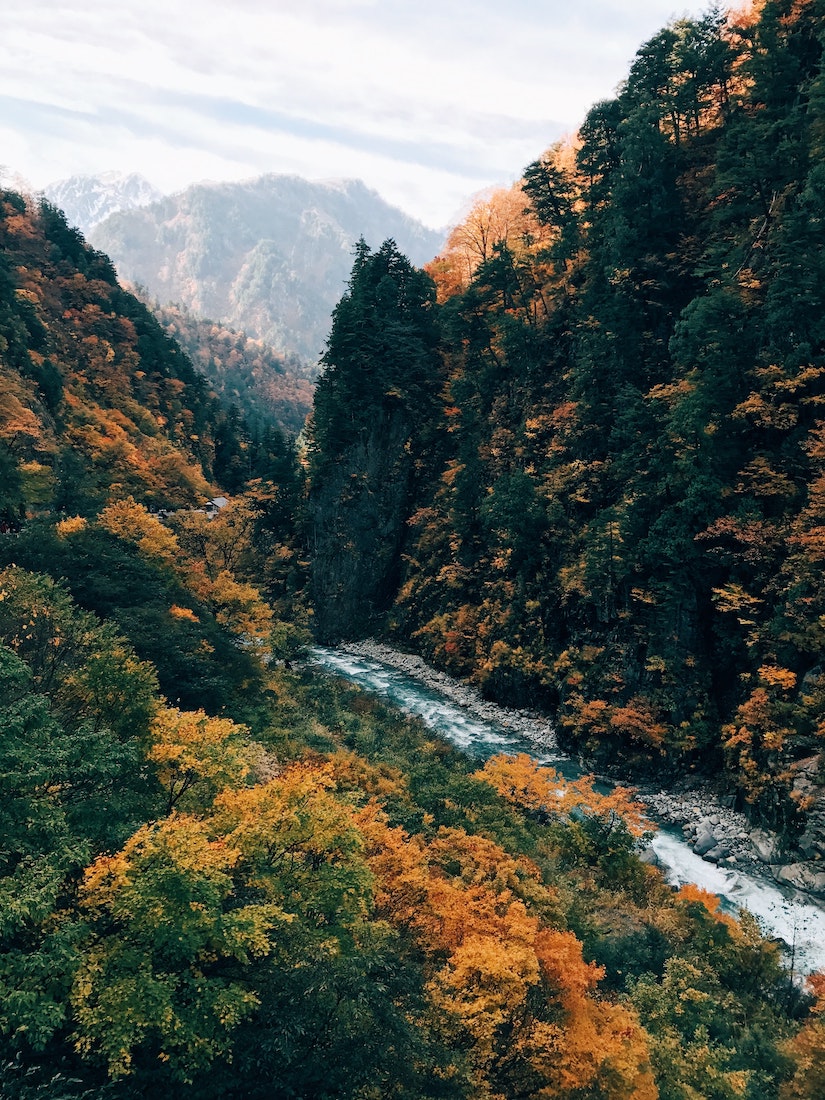 Explore Kurobe Gorge
One of the deepest gorges in Japan, Kurobe Gorge is a great place to explore and adventure off the beaten track. Located in the Northern Japanese Alps, this deep, forested ravine has much to offer including a picturesque railway journey over the bright red Shin Yamabiko Bridge, dense forests, outdoor hot springs, hiking routes and more. Kurobe Gorge is near the famous Tateyama-Kurobe Alpine Route, another route through the Alps, which is well known for its spectacular snow corridor (known as 'Yuki no Otani') which can be up to 20 metres high. If snow is your thing, why not fit in some later Spring skiing and snowboarding. Hokkaido, in the north of Japan, and the Japanese Alps in particular still have snow in May, and numerous ski resorts. Everything you need to know is right here in our Starting Guide to Skiing and Snowboarding in Japan
Don't Forget
May is also a good time to view the famous Cherry Blossom depending on where in Japan you're visiting – try Hokkaido and northern Tohoku for late blooming blossoms. For more on Cherry Blossom season, read our guide to Visiting Japan to View The Sakura in 2020.
Surprisingly, May is a great time to hit the beach as it's not as hot or as busy as during the summer months. Find out more about Japan's Best Beaches and Watersports Destinations.
And May is when one of the country's main sumo events takes place. In Tokyo in May, you can see the Sumo tournament over two weeks from May 13 to 27.
Whatever time of year you're visiting Japan, there are certain experiences we would always recommend trying. For example, can there be anything more relaxing than lowering yourself into a hot onsen bath? Discover the joys of a Japanese onsen in our guide to the Best Onsen in Tokyo or our guide to Visiting Kinosaki Onsen Town.
Or what about staying overnight in a traditional Japanese inn known as a Ryokan with its tatami mats and paper walls? Find out more in our guide to The Best Ryokan in Japan.
You simply have to eat in a Japanese restaurant known as an Izakaya too – it is another essential Japanese experience. Read Why You Should Eat at an Izakaya to find out why
And if you still can't decide which month to visit Japan, you should read our guide to Japan's Weather and Seasons: Deciding What Time To Visit