Kinosaki Onsen is a small and beautiful town centred around hot springs or in Japanese: Onsen!
It is a fantastic place to enjoy Japanese bathing culture and best combines with an overnight stay at one of the local Ryokan.
What to do in Kinosaki Onsen.
Kinosaki Onsen was discovered in the 8th century and quickly legends arose of the healing hot springs found around the area. Today there are 7 public bath houses and many more private baths. Every bath house has a local myth surrounding it and visiting one is considered to bring good luck in different aspects of life, such as business, marriage and school. Entrance generally costs between 600-800yen and visitors can stay until closing time, baths are shared but divided by gender. There is also a daily Yumepa ticket for 1,200yen that gives unlimited access to all public baths.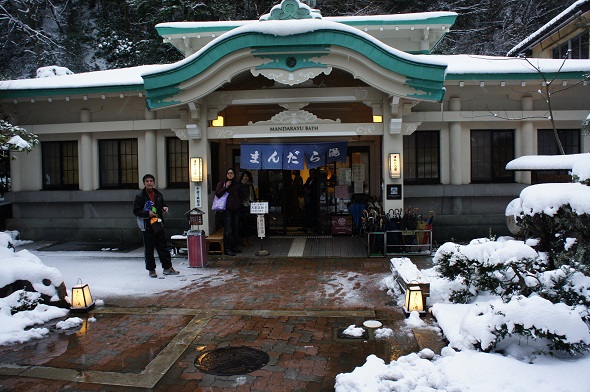 The Mandara-Yu public bath house.
Besides the public baths, there is a diverse selection of Ryokan (Japanese traditional inns) that have their own baths. The baths are generally included in an overnight stay or can be rented separately. While Kinosaki is a small town, it is a great experience to stay a night at one of the local Ryokan.
Kinosaki is also a pleasant town to just stroll around in. There are small shops around town that cater to visitors, selling local craft items, delicacies and souvenirs. Visitors can rent a Yukata (summer Kimono) to experience and walk around in. At the end of town there is a ropeway going up the Onsenji Temple (or just Onsen Temple). From here a panoramic view of the town and northern coastline can be seen.
Access
Kinosaki Onsen is located in the Kansai Area and is best visited from Kyoto or Osaka. There are different limited express services from both Kyoto and Osaka to Kinosaki Onsen, taking a little over 2 hours. Visitors, coming from Tokyo or other regions in Japan can use Bullet trains to travel to either Kyoto or Shin-Osaka stations and take a limited express train from there. Trains to Kinosaki-Onsen are covered by the JR Pass. It is recommended to make seat reservations in advance if you travel in the weekend, because Kinosaki Onsen is a popular weekend visit.
More information:
Official Kinosaki-Onsen webpage
Full map of local Ryokans