Table of contents:
Background to the Atami Onsen
Choosing an Atami Onsen
What to Do in Atami
Visiting Atami Onsen with the JR Pass
Tips for Visiting the Atami Hot Springs
Onsen, Japanese hot springs, offer a truly special experience for international visitors to Japan, which is why many try to include a visit to one as part of their Japan itinerary. The challenge though is that these onsen tend to be found in special resort towns way off in the country's mountainous regions. If you only have time to visit Tokyo and Kyoto, getting to the mountains and back probably isn't likely.
Luckily, the onsen resort town of Atami is one of the few onsen destinations near Tokyo that is super convenient to reach. So, whether you visit Atami Onsen as a day trip or stay a little longer, here's how to get there with your Japan Rail Pass.
Background to the Atami Onsen
Atami is a seaside city in Shizuoka Prefecture near the start of the Izu Peninsula. The city and surrounding region have been known for their mineral springs as far back as the Nara period a thousand years ago and were even a firm favourite of Shogun Tokugawa Ieyasu. This legacy of onsen has made Atami a leading hot spring in destination that has only been helped by its proximity to Tokyo, which is just 50 minutes away by train.
With many hot springs and onsen resorts in and around the city, this collection of establishments has become known as the Atami Onsen. The onsen in Atami are best known for their chloride springs that feel like hot seawater due to their heavy mineral content, although there are also some sulfur springs as well. Each type is known for providing different therapeutic properties. For instance, the chloride springs are meant to be especially good with easing muscle and joint pain.
Choosing an Atami Onsen
It should be pretty obvious that one of the best things to do in Atami is visit one of the Atami Onsen. Spending a few hours at one is a great way to have a relaxing day trip from Tokyo, while also being a cultural experience at the same time. The good news for day trippers is that there are several onsens close to Atami Station, making a visit not complicated at all.
That said, no two onsen spots are identical, so it does matter which establishment you choose. Each onsen comes with its own unique layout, style and number of baths. Some onsen have open-air baths while others are enclosed, each offering a different kind of experience. One common recommendation though is to choose an onsen that is directly sourced, as their water is fresh from the spring and not reused. Many establishments offer private baths as well if you want to go for a soak with your special someone.
The one other difference to keep in mind regarding onsens is that some are exclusive to a ryokan and its overnight guests. Because of that, our below recommendations are made with day trippers in mind and do not belong to a ryokan:


Ryori Ryokan Nagisa-kan: This facility boasts eight different kinds of baths, six of which are private baths. Its open-air bath enjoy some wonderful views of the ocean.
KKR Hotel Atami: This hotel has private baths that are directly-sourced from springs, plus its own outdoor baths with ocean views.
Nikko-tei O-Yu: Originally a ryokan, this is a traditional and historic onsen. Its indoor and partly outdoor baths are divided by gender and alternate daily.
What to Do in Atami
 ©JNTO
Stay at a Ryokan
If you plan on staying in Atami longer than a day trip, it's definitely worth spending one or several nights at a ryokan. These traditional inns allow travellers to experience Japanese customs, hospitality and cuisine that you can't fully find any other way. To find out what to expect from a ryokan and what you need to know in advance, see a dedicated ryokan guide.
Soak in the Public Foot Baths
If for whatever reason you don't wish to pay to visit an onsen, there is a free alternative that you should at least try. In several places around Atami there are public foot baths, where you can soak your feet in the town's famous spring water. Right in front of Atami Station you'll find the Ieyasu no Yu foot bath named after the shogun, while there's also one over in the pretty Atami Plum Garden.
Visit Atami Castle
As for sightseeing in Atami, one of the most popular tourist attractions is Atami Castle. While only built in 1959 as a tourist attraction, it's still quite a nice sight to see, especially when the plum blossoms bloom in early spring. What's more, to get to the castle, the best way up is via the ropeway near the ferry terminal. Both the ropeway and the castle offer some wonderful views that you won't want to miss.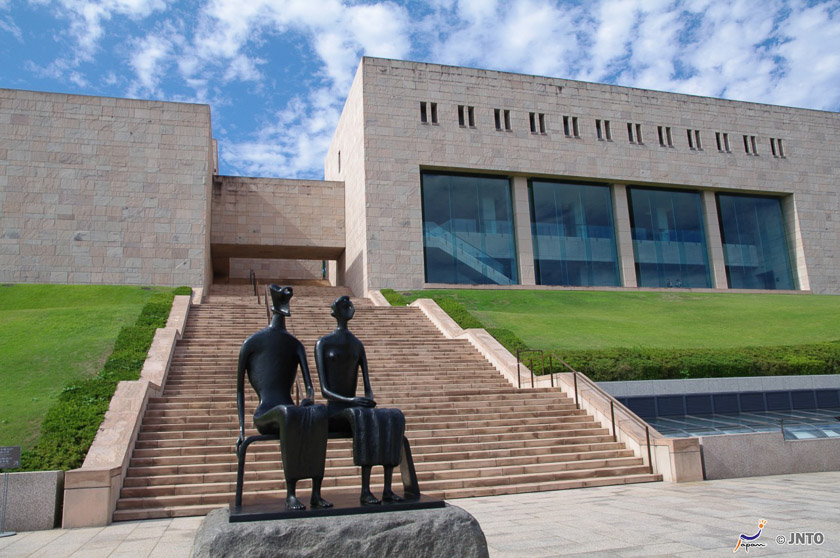 ©Yasufumi Nishi/©JNTO
On the culture front, Atami has the MOA Museum of Art to introduce visitors to a range of Japanese and Chinese art. The museum sits on a hilltop to the city's north and features a collection of art pieces from East Asia that include ceramics, calligraphy, paintings and much more.
Visiting Atami Onsen with the JR Pass
Part of the reason why Atami is so popular with day trippers from Tokyo is that it's super easy to get to with the Japan Rail Pass. All you need to do is hop aboard the Tokaido Shinkansen in Tokyo with your pass and it will take you right to Atami Station in less than an hour. Even better, you can also take the regular trains on the Tokaido line to get there if that works better for you.
Another option for taking the train to Atami is to travel in style with the Saphir Odoriko excursion train. This luxury train is what's considered a "Joyful Train" – one of the many types of train in Japan -and turns your journey there and back into an experience all on its own.
Tips for Visiting the Atami Hot Springs
Admission to onsens range wildly depending on their style and what's included, but you can expect standard prices to range between 1000 yen to 2000 yen, plus more for private rooms.
Each establishment has its own opening hours but typically run from late morning until around 8pm.
Be sure to familiarise yourself with the customs associated with Japanese onsens in order not to cause offense or embarrassment.
If you're staying at a ryokan, we recommend you arrive around 2-3pm, so you can check-in and get the full experience.
For travellers interested in experiencing other onsen resorts around Japan, we suggest you look at these articles on the Wakura Onsen and Kinosaki Onsen.