Intro
Rice has played an essential part in Japan's culture and history for more than 2,000 years. As such, there are few better ways to experience ancient Japan than by visiting its rice terraces, fields and paddies (known as 'Tanada') for yourself. Visiting the likes of Shiroyone Senmaida, with its 1,000 fields of rice leading down to the sea, or the beautiful Hoshitoge no Tanada, is truly breath-taking and feels like stepping back into the past of ancient, historic Japan. And of course, Shiroyone Senmaida and Hoshitoge no Tanada are not the only places to see. There are some amazing lesser known fields, terraces and paddies to discover all across Japan. You will gain an insight into Japan's agricultural history, take photographs of the incredible landscape, or just take in the stunning vistas – either way, it's a very special and unique way to experience the real Japan. And as always, we'll tell you exactly where to go for the best holiday and how to get there with the JR Pass – the best and most cost-effective way to travel around the beautiful country of Japan.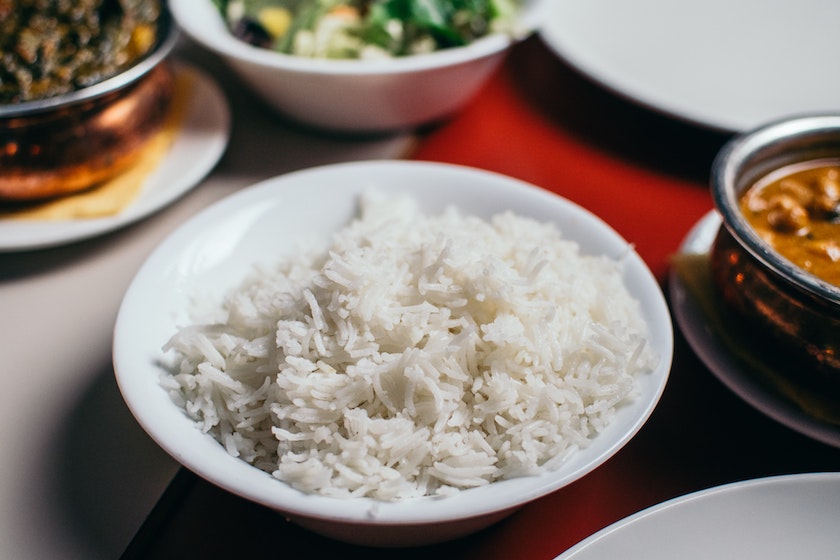 A Brief History of Rice in Japan
Rice has been cultivated in Japan for more than 2,000 years and is hugely important to the country's culture, identity, history, economy, religion, and of course, it's exceptional cuisine. Interestingly, while you might assume that rice has always been eaten across the country, it was once reserved for the warrior classes. In ancient times, rice was paid to warriors and noblemen as a kind of tax while peasants themselves ate barley and millet. Rice cultivation became more lucrative and more successful for the working classes during the Edo Period and farmers began to enjoy rice as part of their own meals, but it was not until the 20th Century that rice became a true staple of almost every Japanese person's diet. Despite its widespread availability in contemporary times, rice remains important and valued in Japanese culture, perhaps because of its former scarcity, high value, and its association with being the food of nobility, warrior classes, and spirits.
Rice's importance in Japan is heightened even further in Japan because of its place in both Shinto and Buddhist rituals and religious rites. In Buddhist homes, Japanese people place grains of rice on a saucer following a meal and place this on an altar to honour their ancestors. Rice is also eaten as a breakfast meal by Buddhist monks. In Shintoism, rice seedlings are believed to be a dwelling place of spirits (kami) who need to be worshipped in order for there to be a good harvest. This has led to many Shinto festivals and traditions relating to the harvest such as the Otaue Rice Planting Festival in Osaka (more on this further down).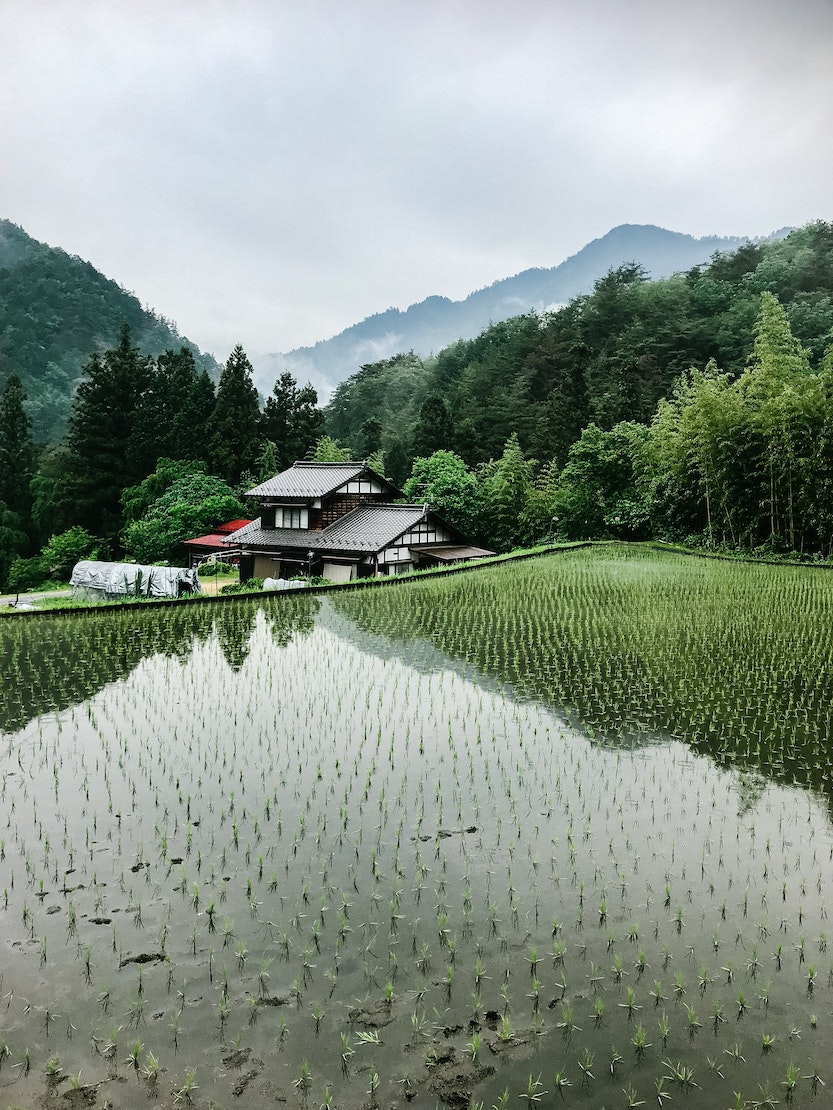 You'll regularly see the words 'tanada' and 'senmaida' used to describe rice fields. Tanada refers to 'terraced paddies' while Senmaida means 'a thousand terraced paddies'. Rice planting is always done in Spring or early Summer and harvesting takes place in Autumn. Japanese rice is a round grain variety and exists in two general and distinct forms – koshihikari and sasanishiki – which are grown and cultivated in different parts of Japan. The variety with longer grains is used for sushi. There are more than 100 kinds of rice in Japan and we'll cover a few of the best known types further below, but first, let's take a look at some of the country's most beautiful and historic rice paddies and terraces.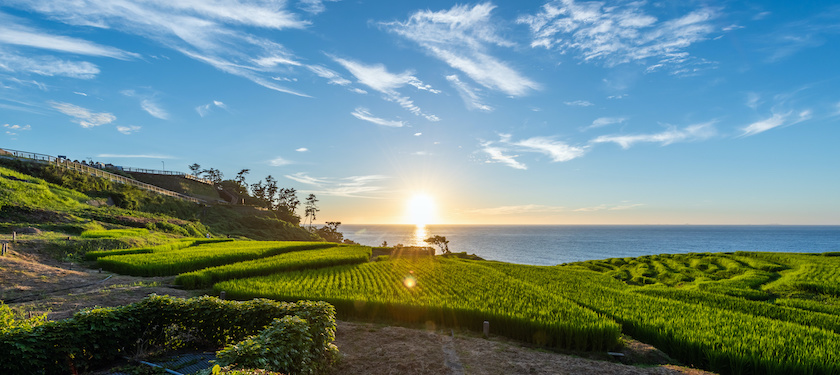 Japan's Most Beautiful Rice Fields
Shiroyone Senmaida
Famous for its 1,000 rice field terraces that descend to the sea, Shiroyone Senmaida is an incredibly beautiful and picturesque spot to behold, and location to explore. Shiroyone Senmaida was awarded a special status by the Food and Agriculture Organization of the United Nations for being a place of such scenic beauty. Between April and July, you can see beautiful sunsets, green fields, and stunning reflections in the sea and flooded paddies. In autumn, it is known for its amazing golden colours. And at night, the terraces are illuminated by 21,000 LED lights. The wider area is known for being excellent for walking, hiking and cycling too. Like many of Japan's stunning rice field terraces, Shiroyone Senmaida attracts huge numbers of photographers. It's highly Instagrammable (in the parlance of our times) and it would also make a very romantic marriage proposal location if you're thinking of saying Marry Me! to your partner. To visit this famous location, take the Hokutetsu Okunoto local bus on the 'Machino-sen' line from JR Wajima train station and get off at the bus stop marked 'Shiroyone'.
Hoshitoge Rice Terraces
Located in Niigata Prefecture, Hoshitoge no Tanada is regarded as one of Japan's most beautiful villages and rice terraces. It's fields, featuring more than 200 terraces, are arguably the prettiest in all of Japan, especially when the mist rolls in over the water-filled paddies in Autumn. To reach Hoshitoge no Tanada with a Japan Rail Pass, take the Shinkansen from Tokyo Station to Echigo-Yuzawa Station, transfer to the Hokuhoku Line in the direction of Saigata and disembark at Matsudai.
Hamanoura Senmaida
Overlooking the ocean, you'll find these stunning rice fields in Saga Prefecture. They say the best time to visit Hamanoura Senmaida is at sunset when the rice fields, terraces and paddies are tinted with a golden orange glow as the sun goes down over the ocean. To visit this beautiful spot, take the Showa Bus from JR Karatsu Station.
Oyama Senmaida
One of the many reasons to recommend Oyama Senmaida is because of its proximity to Tokyo. It is the closest to the capital so if you're visiting Tokyo and you don't have time to venture around the whole country, this could be the rice field terrace to see first-hand. It's also undeniably beautiful especially when the terraces fill up with rainwater during the Tsuyu (plum rain) season. You can reach Oyama from Ueno station in Tokyo using your JRailPass by travelling on the Tohoku Line.
Maruyama Senmaida
A picturesque and majestic rice field terrace set on a 160km slope, Maruyama Senmaida features views of seven hectares of land. It is considered to have one of the best views of all Japan's rice terraces (as seen in our main banner image) because of its steep incline. In the summer months at night, you can also see fireflies dancing over the fields. A stunning sight! Fireflies symbolise summer in Japan and there are several festivals and events to celebrate them. If you're intrigued, you could try Fussa Firefly Festival at Fussa City, which is on the outer edge of Tokyo. There are stalls selling food and drink, special events and activities, and most importantly more than 500 fireflies flying around overhead. From JR Kumanoshi Station, take the local bus to Senmaida/ Toritoge-Iriguchi bus stop and walk from there.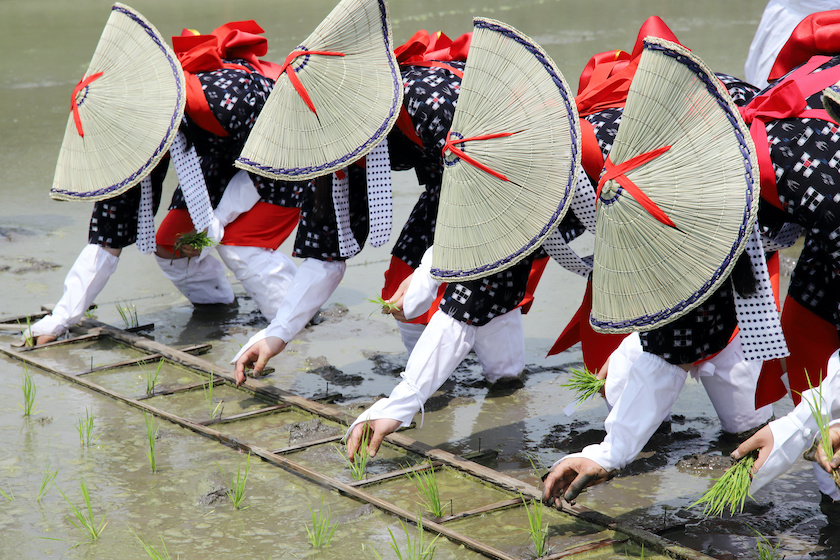 Visit Otaue Rice Planting Festival
It's not just about gazing at Japan's rice fields of course. You can also enjoy Japanese rice in many other ways, from eating and drinking it (more on this below), to celebrating it.
Otaue Rice Planting Festival is one of the country's most famous and historic rice festivals and has reportedly been celebrated every year in June since 211AD. The festival takes place in the Kansai region at the Sumiyoshi Taisha Shrine and it is believed the celebrations help improve the chances of a successful rice harvest. While there are many rice harvest festivals across Japan, Otaue Rice Planting Festival in Osaka at Sumiyoshi Taisha Shrine is the most famous in the whole country.
In Japan, 'otaue' is the process where rice seedlings are replanted in paddy fields. 'Ota' is one of the words for rice and 'ue' means 'to plant'. According to traditional Shinto beliefs, rice seedlings contain powerful spirits known as 'kami'. By performing ancient rituals, music, dancing, and special processions, the spirits are entertained and will grow strong until they are harvested in the autumn. For more on Japan's Shinto beliefs, read A Spiritual Tour of Japan (which also includes information on Buddhism, the other main religion in Japan). Other highlights from the Otaue Festival include a procession of Samurai warriors in full armour and the Sumiyoshi Dance performed by 150 girls from local schools. To reach Sumiyoshi Taisha Shrine in Osaka by train take the Nankai main line to Sumiyoshi Taisha station.
Japan loves festivals (or 'Matsuri' as they are known in the country) and there are literally thousands across Japan all year round, including some huge and historic events that attract millions of visitors. In many ways, if you haven't attended or experienced a matsuri then you haven't really seen Japan. We've put together a list of our Top 12 Festivals in Japan as a handy introductory guide and overview so you can find out more and see which matsuri is the one for you.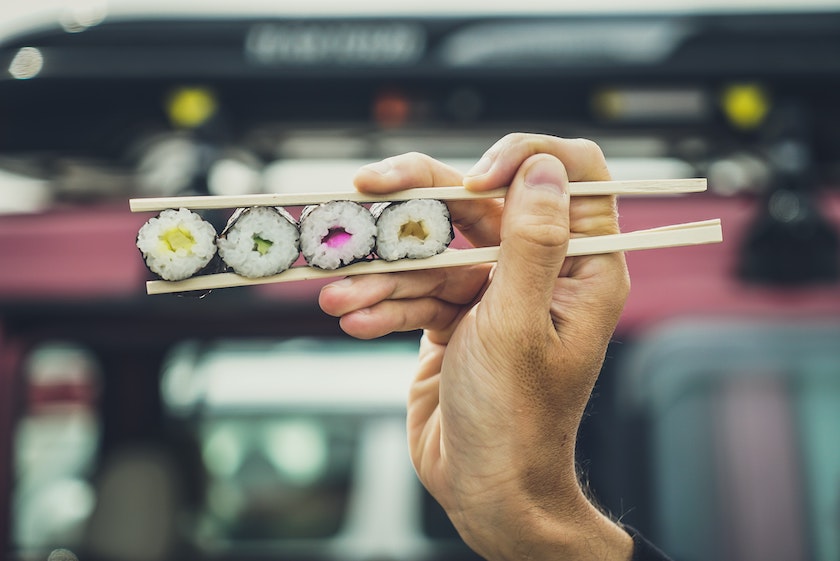 Rice Varieties and Products in Japan
There are a number of different varieties of rice in Japan – more than 100 in fact. Below is a quick introductory guide:
White rice (hakumai)
Brown rice (genmai)
Multigrain rice
Glutinous rice (also known as mochi rice or sticky rice)
As you would expect, rice is also used in a huge range of Japanese produce including some of the country's most famous products such as sushi and sake. Here are a few examples to look out for:
Sake (rice wine) – The iconic alcoholic drink of Japan made from fermented rice.
Also look out for mirin, a sweet rice wine used in cooking.
Rice vinegar – This is the famous vinegar used to prepare sushi rice and is also in dressings, marinades and pickles.
Nuka (rice bran) – The hard outer skin of the rice grain that is removed during the polishing process that turns brown rice into white rice.
Rice flour – Made from ground white or glutinous rice, this is used in sweets and crackers such as senbai.
And of course, many famous (and not so famous) culinary dishes and snacks involve rice, such as:
Gohan – A bowl of cooked rice.
Tamago Kake Gohan – A breakfast dish with a raw egg cracked into a bowl of cooked rice.
Mochi – Traditional rice cakes.
Onigiri – Rice balls.
Fried Rice – A bowl of fried rice.
Komepan – Rice bread.
Nukazuke – Rice bran pickles.
Chazuke – Hot water, tea, or warm fish stock poured over rice.
Kayu – Japanese rice porridge. Also known as 'okayu'.
Donburi – A dish where food (such as braised beef, chicken and egg, or raw seafood for example) is served on a bed of rice.
Sushi – One of Japan's most famous dishes, especially outside the country, sushi is a dish consisting of lightly vinegared rice topped or filled with other ingredients (fish, meat, vegetables), often wrapped in nori seaweed and served with wasabi and soy sauce. This is a major simplification of course as there are literally hundreds of varieties and combinations. You can find out more much in our guide to Japan for Sushi Lovers.
Senbei – Rice crackers.
Sweets – These include mochi and dango.
Omuraisu – A rice omelette often found in cafes..
You can find out much more about Japanese cuisine, rice-related and otherwise (and why the country is such a paradise for foodies) in our guide to Japanese Food and Regional Dishes. For drinks other than sake, try Japan for Whisky Lovers and Kanpai! A Craft Beer Tour of Japan.
Bonus Tips for Visiting Remote and Rural Japan
One of Japan's most famous rice terraces, Shiroyone Senmaida, is also a well-known favourite among cyclists. You can discover a list Japan's Best Cycle Routes in our guide, I Want To Ride My Bicycle.
They say the best time to visit the rice fields is in May or June although other times of year are also recommended as you will be able to view the paddies and terraces at different points in the harvesting cycle. For example, visit after June and the start of the rainy season you'll find the terraces flooded, which transforms the fields and captures beautiful reflections from the sky in the pools of water.
When it comes to rice eating etiquette, remember not to pour soy sauce over your rice in Japan or submerge it completely. In Japan, soy is for dipping fish, not rice.
Many rice terraces are privately owned or family businesses so if you're sightseeing or taking photographs, remember to be respectful to local people.
If you're interested in the cultural and historic past of Japan, you might find our Spiritual Tour of Japan or our guide to the country's Folktales and Mythology a worthwhile read.
Similarly, if nature is your passion why not consider adding in a visit to one of Japan's spectacular National Parks? The country has 34 with hugely diverse environments to explore, from dense forests and rugged mountains to white-sand beaches and sub-tropical islands.
And if it's remote, out of the way, and exclusive locations that you want to discover in Japan, look no further than our guide to The Most Remote Places in Japan.
Finally, if you're interested in exploring off the beaten track and having an adventure in remote and rural Japan, it would be recommended to invest in a PocketWifi device to ensure you stay connected wherever you go – just in case you take a round turn and need directions or a map.