Table of contents:
Intro
What is a Torii gate?
A Brief History of Torii gates
Top 10 Torii gates in Japan to visit
Expert tips on Torii-gates
Intro
Torii gates are one of the most iconic and instantly recognisable symbols of Japan. They're also a key part of the country's spiritual heritage and visually stunning landmarks in their own right. Visiting one of Japan's famous Torii gates is like seeing Mount Fuji when you're in Japan – it's simply a must-do – and we've put together a list of our top ten from across the country. We'll explain what Torii gates are, why they're important, which you should try and see while you're in Japan, and how to get there with the JR Pass – one ticket for Japan's excellent domestic rail network. Get set for a Torii Gate Tour of Japan.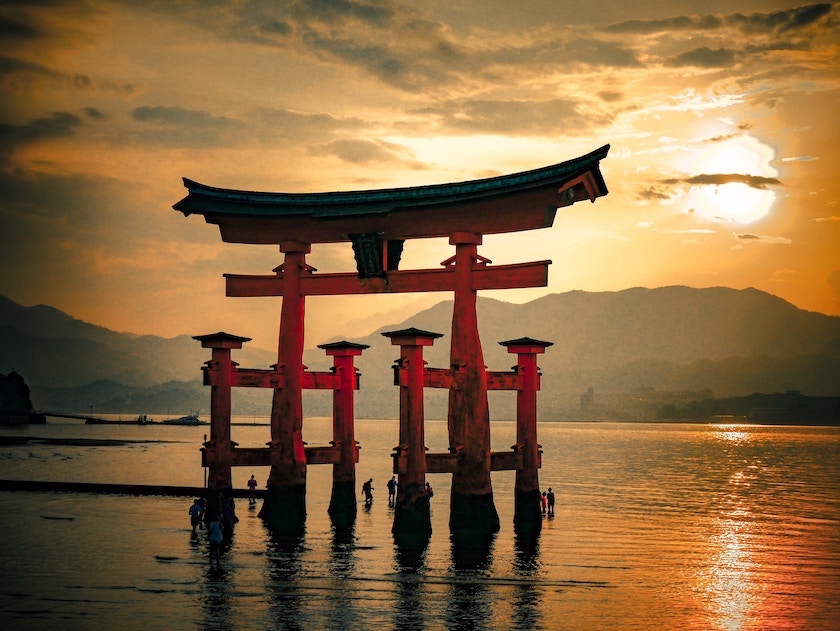 What is a Torii gate?
In essence, a Torii gate is the symbolic gateway between the spirit realm and the human world in Japan. They are part of the Shinto religion – one of the two main religious beliefs in Japan alongside Buddhism – and you will find a Torii gate at the entrance of Shinto shrines. There are an estimated 90,000 Shinto shrines in Japan and each one will have at least one Torii gate – that's a lot! Torii gates are effectively used to demarcate a place or location as being holy and act as a passageway into a shrine's sacred space. Torii are usually painted red (a particular shade of red known as vermillion) and are made of wood, stone or ferroconcrete, although there are different styles across the country, with some made of other materials (even ceramics). Different styles of Torii gate include Myojin (curved upper lintel), Ryobu (a sub-style of the former) and Shinmei (with a straight upper lintel). You may also see small Torii symbols (or printed signs) by the side of the road and at locations around city centres. The former are reminders not to drop litter and the latter are warnings against public urination. Originally Torii gates were white, but they are traditionally painted red because in Japan the colour red symbolises vitality and protection against evil. It is also said that because red paint contains mercury, it allows the gates to be preserved for longer – practical as well as spiritual.    
A Brief History of Torii gates
The origins of Torii gates go as far back as the origins of the Japanese people. As you may expect there are many competing stories and theories about their exact origin and whether they were indigenous or inspired by other gates from neighbouring countries and cultures. For instance, there are sacred gates in India (Torana), China (Pailou), and Korea (Hongsal-mun). However, regardless of whether they were partially inspired by gates elsewhere, they have become synonymous with Japan's spiritual and cultural heritage and history, as well as the Shinto religion.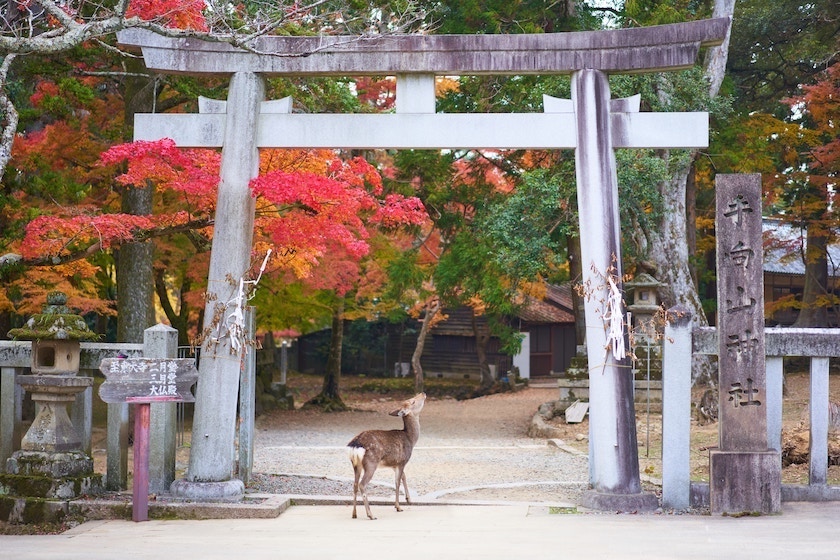 What is Shinto?
Shinto originated in Japan and is deeply woven into the fabric of Japanese culture and history. The Shinto religion involves the worship of multiple gods or spirits known as kami, who are said to inhabit all things. Purity is the big focus of Shinto and there are different rituals that involve the cleansing of worshippers. Since Shinto has evolved organically and has no single origin or sacred text, practices vary depending on the kami and the region of Japan in which they take place. You can learn much more about Shintoism (and Buddhism) in our Spiritual Guide to Japan
 

What is a Torii gate?
Top 10 Torii gates in Japan to visit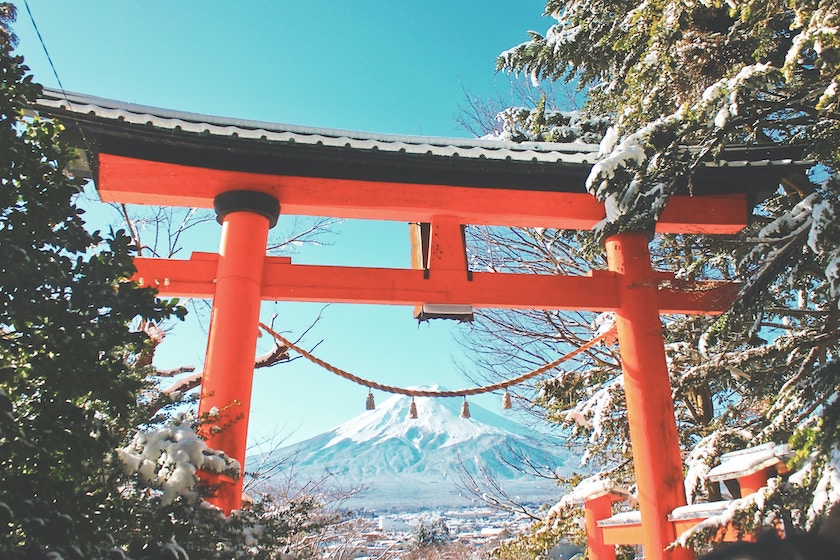 You will find Torii gates throughout Japan, but of course, there are some that are especially stunning and worth seeking out. Don't worry about trying to visit all 90,000 shrines though – we've compiled a list of our Top Ten Torii with advice on how best to get there using the Japan Rail Pass, as well as other helpful tips and advice for your visit.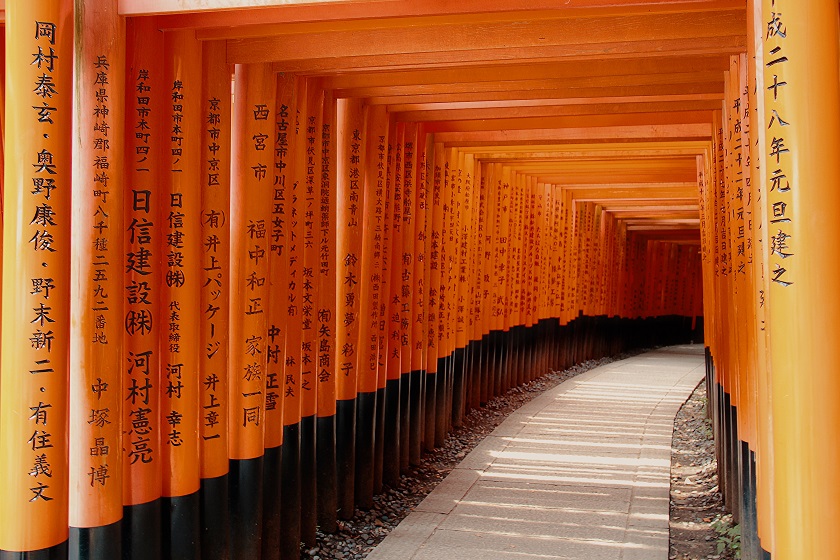 Fushimi Inari Shrine
Definitely one of the most famous Torii gates, Fushimi Inari Shrine in southern Kyoto actually features not one, but a long arcade of 5,000 red torii gates that link up buildings in the shrine complex. There are thousands of the gates here, meaning plenty of photo opportunities for visitors and they have also featured in famous films such as Memories of a Geisha. Foxes are the symbol of Inari, so you'll see many fox statues among the shrine grounds. Besides being a delight to see with your own eyes, one of the best things about the Fushimi Inari Shrine is that it's completely free to enter. The easiest way to visit is to first get to Kyoto and then head to the Inari station, easily done on the JR Nara line with the JRailPass.
Ishizukuri-myojin Torii
This ancient Torii is made from consolidated volcanic rock (a material also known as 'tuff) and while not especially big it is notable for being from the Heian period. This makes it one of the oldest Torii gates in Japan. To reach Ishizukuri-myojin Torii, take the shinkansen from Tokyo to Yamagata Station. It's a five-minute bus ride from there. 
Amanoyasu Gawara Torii
This Torii inside a cave relates to a very important legend from Japanese mythology. The sun goddess Amaterasu is said to have hidden in the cave, bringing darkness to the earth. She was only lured out by the other gods after a cockerel was placed on a perch outside to trick her into thinking that dawn had come without her. When she came out, the cave was sealed, and Torii gates were built to commemorate 'where the bird is'. Of course, that's just one story. Another suggests that the word has nothing to do with birds at all and in fact means 'to pass through and enter' which also makes sense. You can visit Amaterasu's cave for yourself in the grounds of Amanoyasu Gawara shrine. It is believed if you stack rocks inside, it will bring you good luck. You can get to the cave by taking the Tokaido-Sanyo Shinkansen from Tokyo to Kokura Station, followed by the Nippo limited express train to Nobeoka Station, and local buses from there. Amaterasu is one of the most important deities in Japanese mythology and one of the country's holiest shrines – the Grand Ise Shrine in Mie Prefecture region – is dedicated to her and includes Ise Jingu Shrine and Ishigami-san – the women's shrine. The coastal town of Toba, close to where these shrines are located, is the birthplace of Japan's ama divers (or women of the sea) who free dive for pearls and shellfish. The origins of this diving tradition are associated with Japanese mythology and creation myths, as well as the history of Amaterasu.  
Motonosumi Inari Torii
This unique and stunning set of Torii gates features a total of 123 gates overlooking the Sea of Japan and positioning to look like the curved body of a long dragon. Known as Motonosumi Inari Shrine and located in Yamaguchi Prefecture, these beautiful Torii in a genuinely spectacular location are 100% worth going on a pilgrimage to see in person. To reach Motonosumi Inari Shrine by train, take the shinkansen from Tokyo to Yamaguchi or Shimonoseki, switch to the San'in Main line, and get off at Nagato-Furuichi Station. It's a short taxi ride from there. 
 
Oyunohara Torii
Officially the biggest Torii gate in Japan at more than 33 metres tall, Oyunohara Torii is located on the former site of Kumano Hongu Taisha shrine. To visit, take the shinkansen from Tokyo Station or Shinagawa Station to Nagoya, before switching to the JR Kisei Main line to Shingu Station. You can take a bus from there to the location of the Torii gate and shrine. 
Meoto Iwa
Our next Torii gate stands on a pair of sacred rocks known as the 'wedded rocks' or sometimes the 'husband and wife' rocks. Standing together in the sea, these stacks of sacred rock are literally wedded together by shimenawa rope, which is believed to connect the spiritual and earthly realms. On a super clear day, you can even see Mt. Fuji in the background – making this beautiful location even more magical. A small Torii gate sits atop the 'husband' rock, who is known as Izanagi. Futami-Okitama Shrine and the Ryugu Shrine are also nearby and within walking distance if you want to explore. Meoto Iwa is located in Futami, near Ise City, and is around 10-15 minutes' walk from JR Futaminoura Station, which is a short journey from Iseshi Station using your Japan Rail Pass.  
Momo no Torii
This unusual and unique looking Torii (it is curved like a horseshoe and has a peach coloured hue rather than red) is located at Momotaro Shrine, Inuyama City, Aichi Prefecture. It is dedicated to the famous 'peach boy' of Japanese folktales and mythology who was supposedly born nearby. Momotarō is arguably the most famous Japanese folktale and tells the quirky story of a boy born from a peach. He was discovered by an old childless couple when they split the soft fruit open and was raised by them. Later, as a teenager he set off on a long and dangerous quest with a talking dog, monkey and pheasant to battle a legion of demons and claim their riches. You can visit Momotaro's shrine and this unique peach Torii gate by taking the shinkansen from Tokyo to Nagoya Station before changing to the Meitetsu Inuyama line to Inuyama-Yuen Station. It's possible to walk from there. You can read more about Momotarō and other famous stories from the country in Folktales of Japan.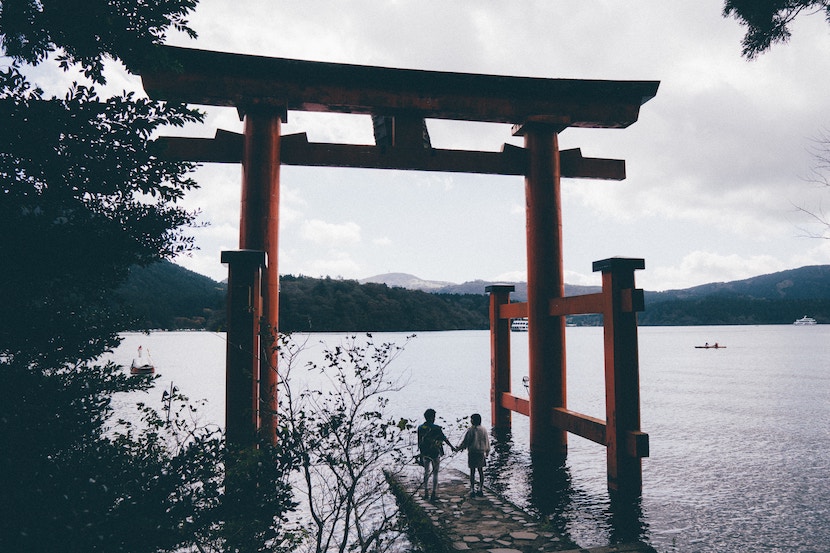 Heiwa-no-Torii (Torii of Peace)
Located at Hakone Shrine in Kanagawa Prefecture, this Torii boasts a truly beautiful water-side location at Lake Ashi, surrounded by Cedar trees and Mount Fuji in the distance. The forest and lake make for a particularly picturesque and enjoyable place to walk and there is a landing leading out over the water so that you can walk directly through and under the gate. To reach Hakone Shrine at Lake Ashi, use the Tokaido Shinkansen line and get off at either Mishima, Atami, or Odawara Station. You can get to the lake on the Numazu Tozan Tokai bus.
Meiji Shrine
This Torii bears the Emperor of Japan's seal and can be found in Shibuya, Tokyo. It is dedicated to the deified spirits of Emperor Meiji and his wife. You will find the large Torii at the entrance to the grounds of the shrine which features a large and tranquil forest that offers a leafy haven from the surrounding city. Meiji Jingu Museum is also worth a look and was designed by superstar architect Kengo Kuma. Remember, when travelling within Tokyo (or other major cities in Japan), you'll need a prepaid travel card such as a ICOCA, PASMO or Suica card, as well as your JR Pass. Meiji Shrine is located next to Yoyogi Park and the JR Yamanote Line's Harajuku Station.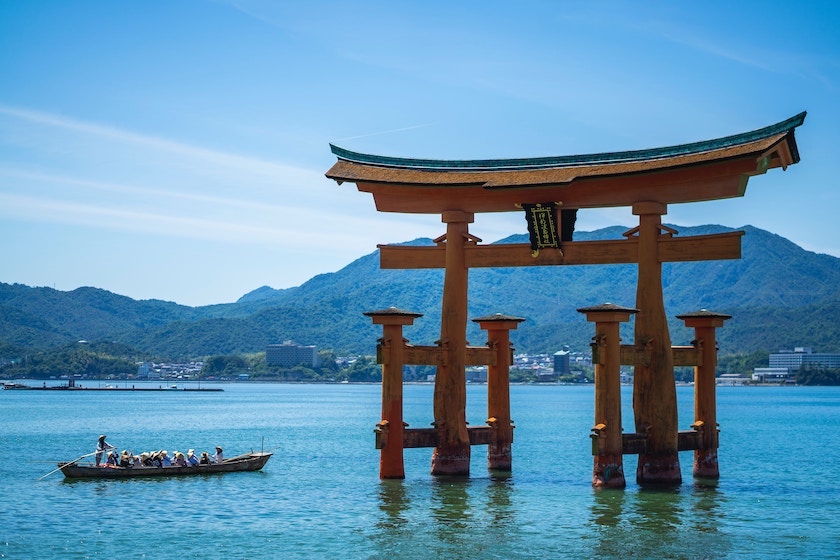 Itsukushima Shrine – 'The Great Floating Torii' 
We've saved one of the most famous Torii gates until last. Itsukushima Shrine and its famous 'floating' Torii gate is right up there with Japan's most famous and iconic images. This popular Shinto shrine sits on the island of Miyajima in Hiroshima Bay and is popular with tourists who come to admire its beautiful setting. The gate, which sits in the water and appears to be 'floating' at the right tide, is currently under renovation and is likely to be covered for much of 2020. However, there's more to the Itsukushima Shrine than its famous torii gate. The main buildings of the shrine were also constructed over water, with boardwalks taking you between its prayer hall, main hall and noh theater stage. The combination of its setting and its traditional architecture make this a memorable shrine to visit. To visit, first travel to the city of Hiroshima, from which you can take the ferry across to Miyajima for free, as it's included in the Japan Rail Pass. The 'floating' Torii is truly iconic, and you'll likely want to capture it on camera (it's definitely highly Instagrammable). Just remember if you're looking to post straight to social media, you'll need PocketWifi. This will not only help you stay online while you're out and about, but will save you unexpected date charges. Find out more by reading our Comprehensive Guide to Portable Wifi for Travel in Japan.
Expert tips on Torii-gates
Shrines with Torii gates are Shinto, temples with gates known as 'mon', belong to the Buddhist tradition.
Shinto shrines have a water basin where visitors wash their hands and mouth before entering. This is called harai. 
To find out more about Shintoism, read our guide to Important Shinto Shrines in Japan You Need To Visit. It also includes some excellent insights into Shinto etiquette when visiting shrines.
As explained in the main article above, Torii gates can be found at Shinto temples and shrines. However, Japan has an abundance of other temples, shrines, and monasteries, both shinto and Buddhist, that are highly recommended if you're interested in the country's spiritual heritage. For example, check out our list of the Best Buddhist Temples to Visit in Kyoto. 
If you'd like to know more about Spiritualism in Japan, including its two main religions, guides to some of the country's most famous shrines and temples, and information on where you can find retreats and courses, you should also read A Spiritual Guide to Japan.
On a similar note, you may also be interested in our guide to the Folktales of Japan, which explores more of the country's fascinating mythology and history. 
One of the central beliefs of both Shinto and Buddhism is an appreciation of nature. As a result, Japan is a great place to explore Eco-Tourism, and it also has some of the world's most beautiful and diverse National Parks and Unmissable Wildlife