Table of Contents:
Intro
A Brief Guide to Japan's Northern Alps
Visit the 'Roof of Japan': The Tateyama Kurobe Alpine Route
Sightseeing in Kurobe Gorge
Extra Tips for Kurobe Explorers
Intro
The Northern Japanese Alps offer some of the most spectacular experiences across the whole of the country. With the peaks of Mt. Tateyama and Mt. Akazawadake – known as the Roof of Japan -and its famous snow corridor on one side, and the deep, forested valley of Kurobe Gorge with its sightseeing railway on the other, the Kurobe area in Toyama has two incredible adventures for the price of one. Geographically close, but accessed from completely different directions, these experiences combine to create a once-in-a-lifetime experience. We'll tell you all about the Tateyama Kurobe Alpine Route and Kurobe Gorge, how to get there with the JR Pass, and more.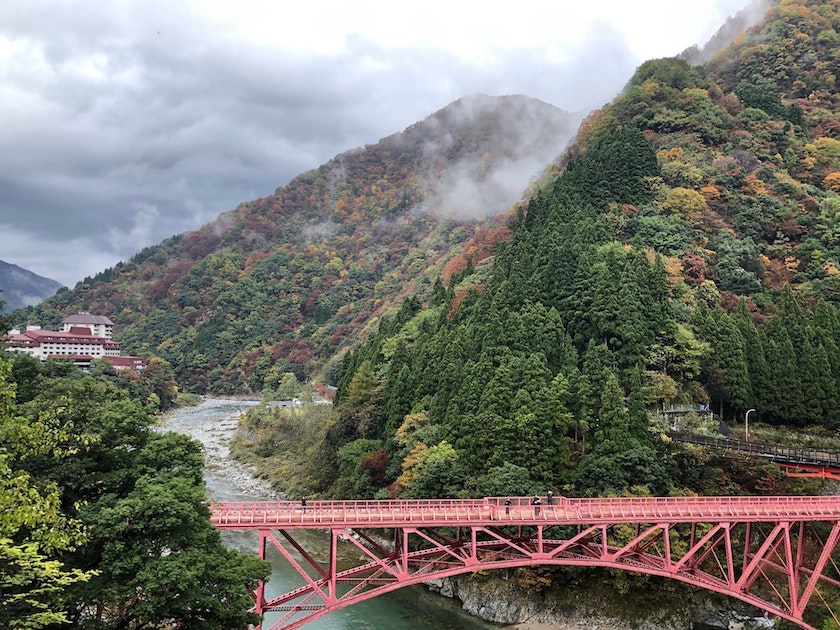 A Brief Guide to Japan's Northern Alps
The Northern Japan Alps are a volcanic mountain range that reaches across three prefectures, Toyama, Nagano, and Gifu. It is located within the Chubusangaku National Park and features spectacular peaks as high as 3,000 meters tall. As well as breath-taking vistas, rugged highland scenery, hot springs, forests, rivers, scenic railway journeys, climbing, hiking, and much more, the Northern Alps are also home to one of Japan's leading ski resorts, Hakubu. Japan is famous for the quality of its skiing and snowboarding and there are several world-leading ski resorts across the country. Read our Starting Guide to Skiing and Snowboarding in Japan to find out more. Interestingly, the Northern Japanese Alps were 'named' by a Victorian explorer called William Gowland, and his friend, Walter Weston, who helped popularise climbing and hiking in the region during the 19th Century. The pair used the term 'Alps' because they believed the mountain ranges in Japan to be similar to the European Alps. Before the 19th Century, walking the mountains was a practice undertaken by monks on pilgrimages across the country, and not for leisure. Today, climbing and hiking is a hugely popular pastime for both the Japanese and international visitors. Chubusangaku is known for its walking and climbing trails as well as snow valleys, alpine flowers, spectacular cliffs, camping spots and water sports. In spring, summer, and autumn, visitors can trek the 'Happo-One' around Kamikochi, while in winter you can put on your snowshoes and head off in search of the frozen Hirayu Otaki Waterfall and Zengoro Falls. Chubusangaku is just one of 34 National Parks across Japan. You can find out more and read our recommendations in Japan's National Parks.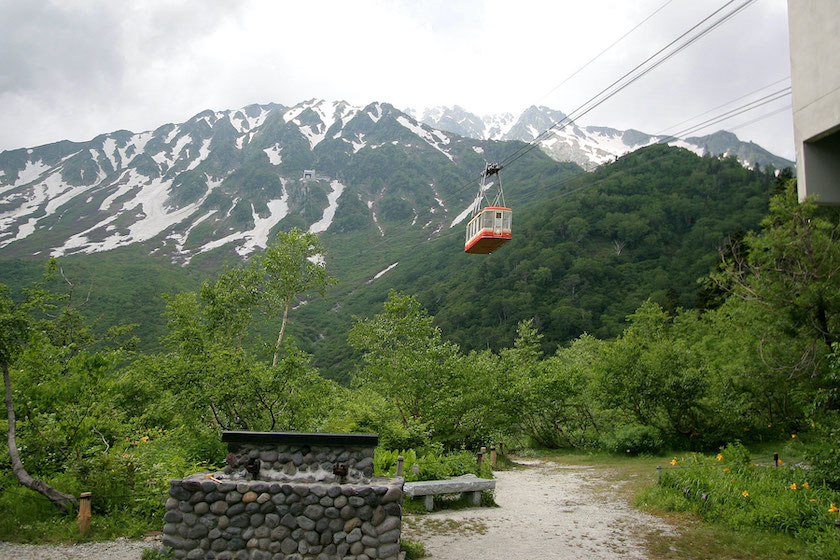 Visit the 'Roof of Japan': The Tateyama Kurobe Alpine Route
Known as the 'Roof of Japan', the Tateyama Kurobe Alpine Route is a unique route through the Northern Japanese Alps and Tateyama mountain range, which can only be travelled via a range of different transportation methods, including trains, buses, cable cars, trolley buses, and a ropeway. It was officially opened in 1971 and links Toyama City with Omachi in Nagano. The name 'Roof of Japan' comes from the views at the highest altitude along the route – an incredible 2,450 metres at Murodo Station and 3,015 metres from Mt. Tateyama – from where you can literally look out over the 'un-kai', or 'cloud sea'.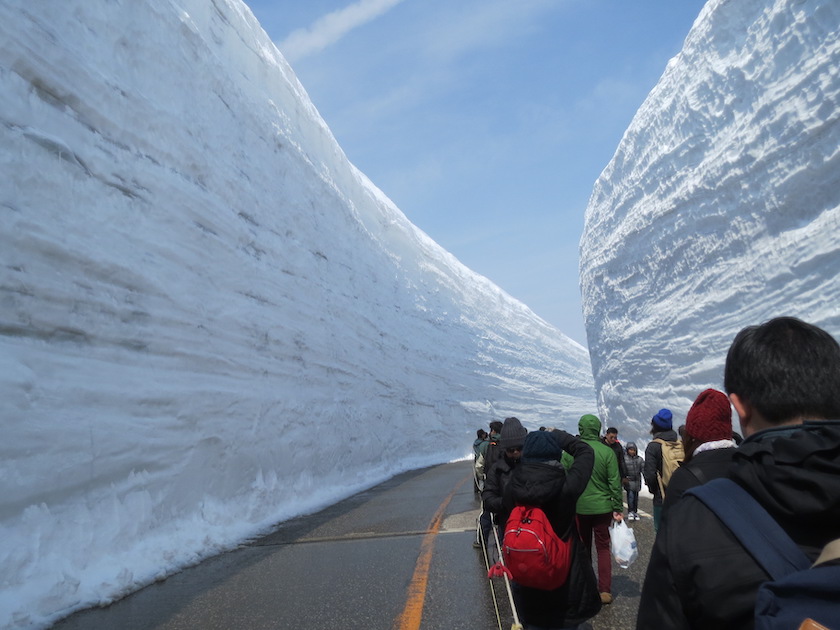 One of the most famous aspects of the route is a breath-taking snow corridor – literally walls of solid snow up to 15 metres high – which you travel between via highland bus. The corridor is formed by accumulated snow during winter and is located on the road from Bijodaira to Murudo. It opens from April until June when the ice melts. The entire Tateyama Kurobe Alpine Route is only open between April and December as it becomes inaccessible at the height of winter. This famous and spectacular route features many wonders, including:
Shomyo Falls
The highest waterfall in Japan at 350 metres.
Murodo Station
Japan's highest altitude mountain station at 2,450 metres.
Mikurigaike Hot Spring
You guessed it, this is the highest altitude hot spring in Japan.
Tateyama Murodo
The oldest mountain hut in Japan.
Trolley Bus
One of a kind in Japan.
Tateyama Ropeway
Japan's longest unsupported ropeway.
Kurobe Dam
The country's tallest dam.
Garube – Lake Kurobe Cruise
This ship sails at the highest altitudes in Japan.
There are several different ways to reach the beginning of the Tateyama Kurobe Alpine Route using the Japan Rail Pass, depending on whether you want to travel from Toyama or Nagano. Both begin in Tokyo and involve taking the JR Hokuriku Shinkansen to either Toyama or Nagano. From Nagano, you can get a bus directly to Ogizawa along the Alpine Route. International visitors can take advantage of a special 'Tateyama Kurobe Option Ticket'. An alternative route via Shinano-Omachi involves taking the JR Azusa limited express from Tokyo to Matsumoto and transferring to the JR Oito Line to Shinano-Omachi using the JR Pass and JR East Nagano Niigata Area Pass. For more about the JR East Nagano Niigata Area Pass visit our page on Regional Passes.
Sightseeing in Kurobe Gorge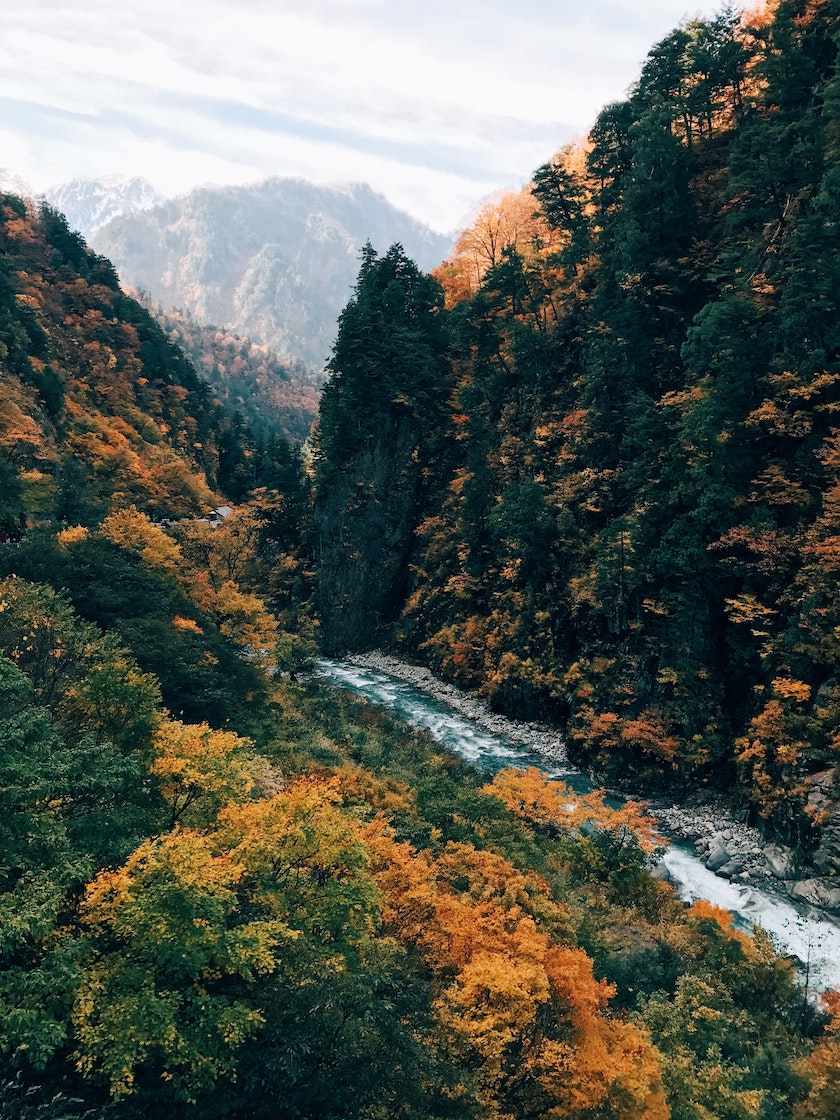 The Kurobe Gorge has become one of Japan's most celebrated destinations for lovers of nature, unspoilt forests, and picturesque natural beauty. Divided by the Kurobe River, Kurobe is one of the deepest gorges in Japan. The entrance to the gorge is marked by the famous red Shin Yamabiko Bridge, which is 166 meters long – the longest of the many bridges spanning Kurobe Gorge – and an attraction in its own right. As well as its untouched forests, spectacular and rugged cliffs, and natural volcanic hot springs, Kurobe Gorge is arguably most famous for Kurobe Gorge Railway – a beautifully scenic sightseeing rail journey with some open-sided carriages to appreciate the full splendour of the incredible views. Kurobe Gorge Railway was originally built to help with the construction of Kurobe Dam but has become a major tourist attraction in recent years. The journey runs from April through to November and is famous for offering travellers incredible views of the red, gold, orange, and brown foliage of Kurobe Gorge.
This gorgeous journey is one of the most picturesque in Japan and covers more than 20km of scenery on a winding route between Unazuki Station and Keyakidaira Station, which includes more than 40 tunnels and bridges. Unazuki, where Kurobe Gorge Railways departs from, is a famous hot spring town and you can even bathe in an outdoor onsen with unique views of the gorge and trains rumbling past. There are also several stops along this remarkable railway journey, where travellers can disembark and see the sights, including at Kanetsuri Station, which features 'Mannen Yuki' (the 'ten thousand year old snow') – a compacted wall of snow that lasts even during the summer, and which can be viewed from an observation deck at the station. For other magical railway journeys read our guides to Japan's Steam Trains and Trainspotting in Japan.
Naturally, Kurobe Gorge is also famous for its climbing, hiking, and walking trails, river rafting, gorge scrambling, and simply exploring the wilderness. If you love rivers, mountains, forests, and the majesty of nature, this is the place for you. It's perfect for the Japanese art of 'Forest Bathing' and a spot of eco-tourism. Other highlights to look out for include Sarutibikyo Gorge, otherwise known as 'Jumping Monkey Gorge', Selene Museum of Art, and Kurobe River Electric Memorial Hall.
You can reach Kurobe Gorge with the JR Pass from both Tokyo and Kyoto/Osaka using different routes. From Tokyo, take the JR Hokuriku Shinkansen to Kurobe Unazuki onsen. The famous sightseeing train departs from a separate station a short walk away. From Kyoto or Osaka, take the JR Thunderbird limited express before transferring to the JR Hokuriku Shinkansen and following the same route as above.
The Castle in the Alps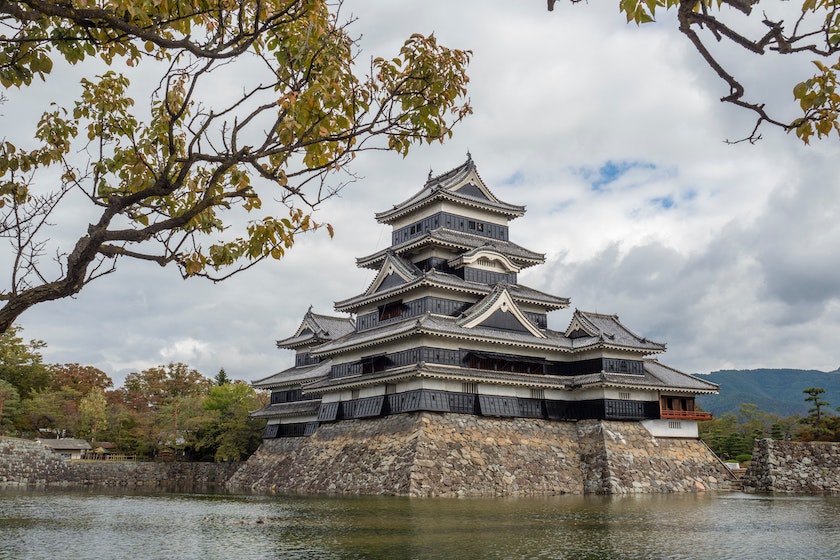 Also, in this region is the mountain city of Matsumoto, which is famous for having one of Japan's most impressive and well-preserved castles. This striking landmark is one of Japan's best castles, both in terms of beauty but also in how well it has survived over the centuries. The main parts of the castle date from the end of the 16th century and unlike many Japanese castles, are still made from their original wood. Thanks to its picturesque black exterior, the castle has long been nicknamed 'Crow Castle'. Visiting Matsumoto Castle you'll be able to admire the authentic wooden interior, as well as the view from the sixth floor observation deck. Matsumoto is also known for its Edo Period Nakamachi district and its Wasabi farms. You can reach Matsumoto using the JR Pass from Tokyo by taking the Chuo Line. Or, if you're already travelling through this part of Honshu by train, you could also take the Shinano Line from Nagano or Nagoya. Each of these journeys are included by the Japan Rail Pass. If you're interested in visiting Matsumoto and its stunning castle, you should read our guide to Visit Matsumoto, The Castle City in the Japanese Alps.
Exploring Japan's Remote Corners
As well as spectacular tourist destinations above, the Northern Japanese Alps include some of the country's most remote and inaccessible sights. One of those is the neighbouring Kita Alps. These mountains sit on the western edge of nearby Nagano Prefecture and are home to Japan's third highest peak, Mount Hotaka, at 3,190 metres. Because of the terrain in the region, even just reaching the towns of Kamikochi or Shinhotaka at the foot of the Alps can take some time. With ample mountain scenery, it shouldn't come as much surprise what there is to do in the Kita Alps. Hiking, trekking and mountaineering are popular pastimes here and there are plenty of mountain huts to support those doing longer trips through the mountains. Down below at Kamikochi, the river valley offers nice scenery thanks to spots like Kappa Bridge, as well as being a great spot for rafting. If you're interested in finding out more about off the beaten track adventures, read our guide to The Most Remote Places in Japan.
Bonus Tips for Kurobe Explorers