Nakano Broadway (中野ブロードウェイ) is a famous Anime and Manga shopping complex, located in western Tokyo and well-loved by locals and tourists alike.
Table of contents:
What is Nakano Broadway?
Inside Nakano Broadway
Outside Nakano Broadway
How to get to Nakano Broadway
Tips for visiting Nakano Broadway
What is Nakano Broadway?
The in-door shopping complex is a collection of many smaller stores, that each specialise in goods related to anime & manga, idols, action figures, watches and general electronics. With both new and second-hand items.
Founded in 1966, Nakano Broadway initially was conceived as a luxury shopping centre and designed as a self-contained living and entertainment complex typical of that time. In the 1980s the complex lost its glamour and became overshadowed by the larger and newly built districts of Shibuya and Roppongi. As a result, retail space became cheaper and starting entrepreneurs moved in and overtime more and more smaller shops specializing in Otaku culture arrived.
One of the stores founded there was the now famous Mandrake, a shop that started as a small second-hand manga shop, and today is the largest second-hand otaku style shop of its kind in Japan, with multiple stores in major cities around the country.
While similar in assortment to places like Akihabara and Ikebukuro, Nakano Broadway remains a beloved otaku destination both with locals and tourists due to its low-key accessibility, organic feel and largely unchanged design from the 1960s.
Inside Nakano Broadway
The complex has a total of 4 flours in addition to one basement level. Most anime, manga and otaku shops are located on the second and third floor. Those looking to find a niche publication, unique figurine, magazine or collector's items will be right at home, in general it's a great spot for souvenir hunting. The fourth floor stores are more specialised in old electronics and music, like vinyl records and players, vintage Hi-fi and instruments.
The first floor retains some of its original feel, where you'll find the boutiques that mainly sell clothes, shoes, household items and second hand goods.
The basement level of Nakano Broadway is a food and drink marketplace and is where the locals love to hang out. Much like a traditional market, items like fruits and vegetables, meat, fish and flowers are on sale. With a range small restaurants selling cheap meals and drinks.
Outside Nakano Broadway
The area around Nakano Broadway is of interest as well, especially the shopping promenade towards the complex.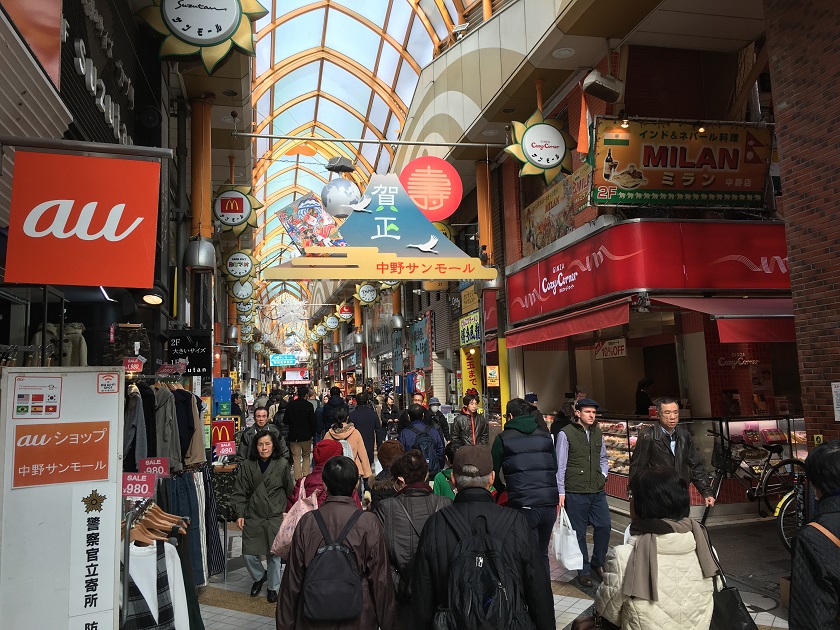 Named Nakano Sunmall, the 225-metre-long street is covered with many smaller shops specialising in a wide variety of items. Including apparel, jewellery, (video-)games, books, street food among others. Branching off from Nakano Sunmall are smaller streets full Izakaya's, drinking and entertainment venues. Be sure to explore the outer area too, there are many good places to go for lunch or dinner.
How to get to Nakano Broadway
Nakano Broadway can be reached in about 5 minutes on foot from Nakano station, on the JR Chuo line, and can thus be reached using the Japan Rail Pass. Take the north exit and you'll walk right into Nakano Sunmall, keep going straight to reach the Nakano Broadway.
Tips for visiting Nakano Broadway
The area can be quite busy during the weekend, with lots of shoppers coming from all over Tokyo. Come during weekdays for a more relaxed experience.
Nakano broadway is just a couple of stations away from Shimo-kitazawa, a great alternative to Harajuku.