Table of contents:
Intro
Visiting Japan to view the autumn leaves (koyo)
A Brief History of Koyo viewing
The Koyo Forecast – tracking the changing of the leaves in Japan
Types of Japanese Autumn foliage
Autumn's Appetite
Best places to view the Autumn leaves in Japan
Don't Forget
Intro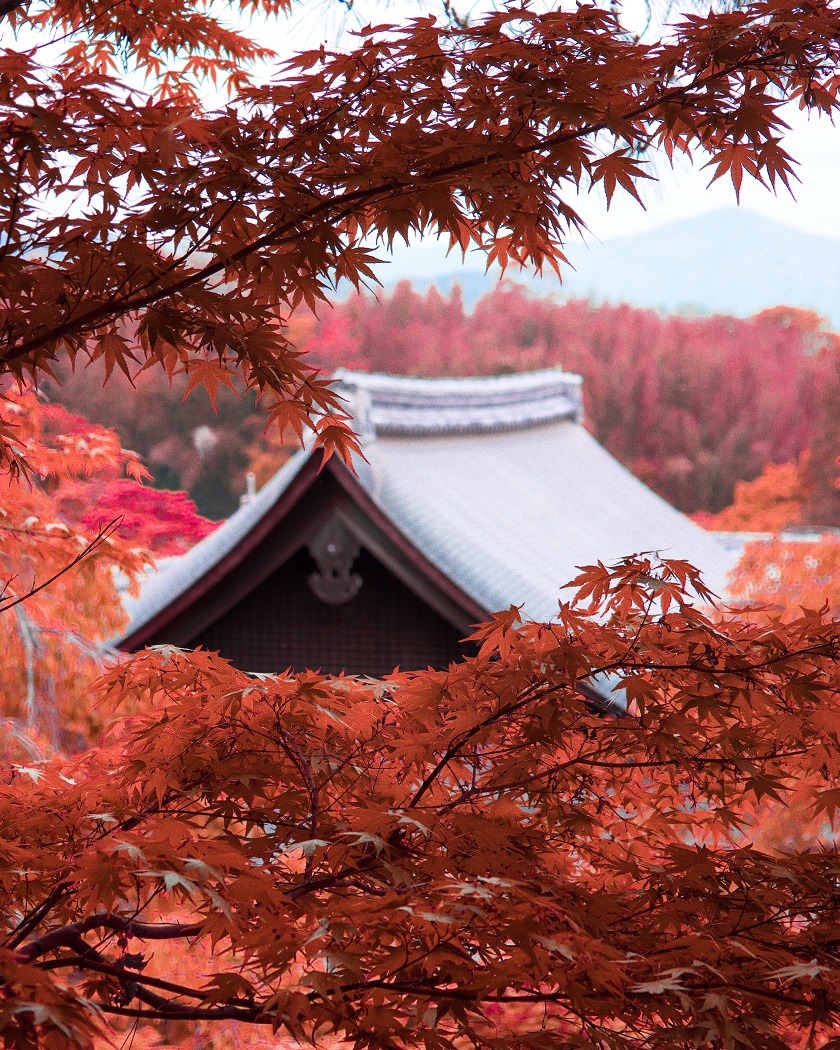 If strolling through a Japanese garden surrounded by leaves of burnished gold, red and yellow sounds like your idea of heaven – read on. Anyone planning a trip to Japan will likely already know about the country's famous cherry blossom season each year (and if you don't, try reading our comprehensive guide to Visiting Japan to View the Sakura). But did you know that some experts believe the most beautiful time to visit Japan is actually during Autumn? Japan in Autumn is both an aesthetic and a spiritual experience. Like Japan's cherry blossoms and plum blossoms, the country's autumnal foliage has inspired and attracted 'leaf chasers' who follow the changing of the leaves from northeast to southwest, often using a JRail Pass and the excellent domestic rail system. This time of year also means relatively mild weather – ideal for travelling around, special events and delicious seasonal food. If Autumn has always been your favourite season, then there is no better time to visit this incredible country.
Visiting Japan to view the Autumn leaves (koyo)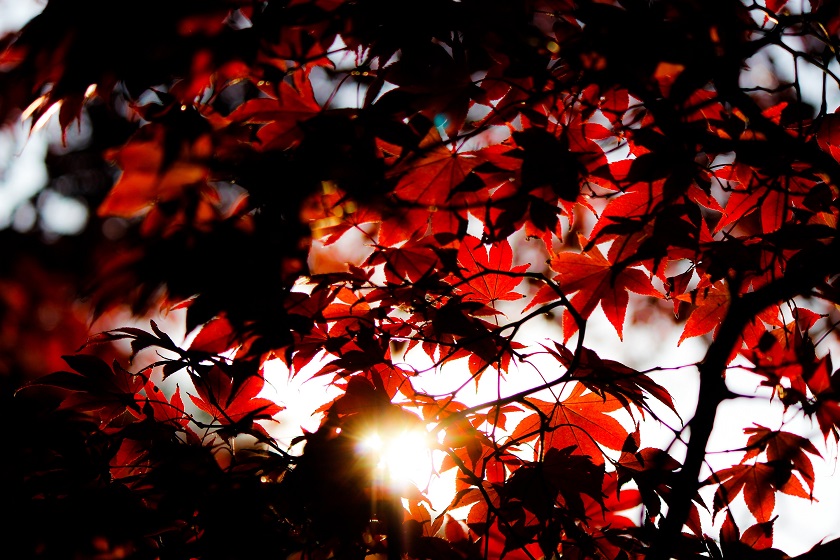 Koyo means 'red leaves' but is used to describe all colourful leaves during autumn in Japan. The word has also become somewhat interchangeable with momiji-gari or 'red leaf hunting', which is the term used for the custom of viewing the autumn leaves or koyo. Momiji is the word generally used to describe the Japanese maple whose five-pointed leaves have been synonymous with the season and its traditions. Often, the most famous koyo viewing locations are spread across the country in parks, temples and mountainous areas.
A Brief History of Koyo viewing
The custom of viewing the autumn leaves in Japan can be traced as far back as the ancient collection of Manyoshu poetry from 8th Century. Later examples of hunting for autumn foliage can also be seen in the classic 11th Century text, The Tale of Genji, which is acclaimed as the world's first ever novel. You can read more about this book and its significance, as well as more about Japan's literary heritage, in our special Literary Tour of Japan. The Kokin Wakashu poetry collection, written in Heian times, also features many poems dedicated to autumn leaves. Over the centuries, koyo viewing and momiji-gari have become deeply ingrained in Japanese culture. In Japan, just as the cherry blossom is the symbol of spring, the momiji is the symbol of autumn.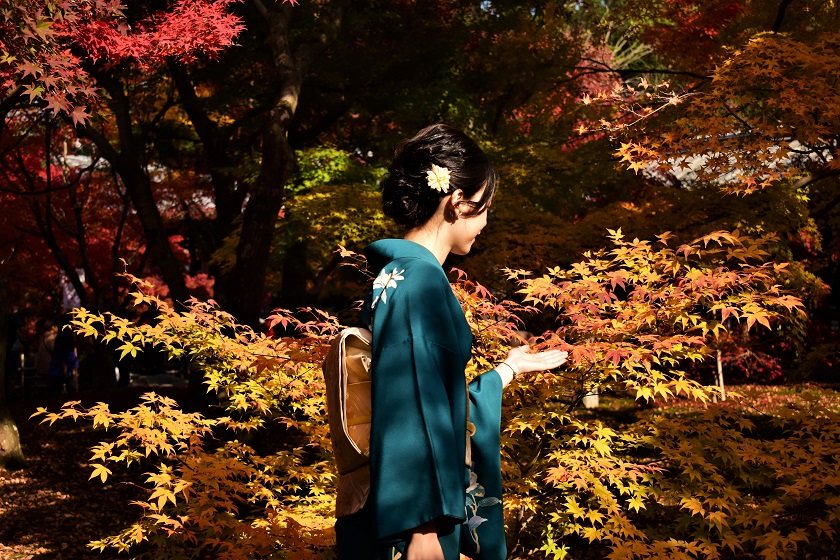 The tradition of momiji-gari
Momiji-gari or 'red leaf hunting' is associated with the fleeting nature of life in Buddhism and, like cherry blossom season, there are specific ways to appreciate its special beauty. From 'slowing down' to truly notice the changing colours to immersing yourself in the wonder of the natural world, momiji-gari is more spiritual than just taking a stroll through the autumnal leaves and yet it is also something everyone can enjoy and participate in.
Autumn is also associated with physical activity and hiking is a hugely popular pastime at this time of year, particularly as it allows you to combine a bit of exercise and fresh air with viewing the koyo. A dip in the onsen (hot springs) is also recommended during Autumn to warm yourself once the air takes on an extra chill, or to refresh your body after a vigorous hike through the golden woods.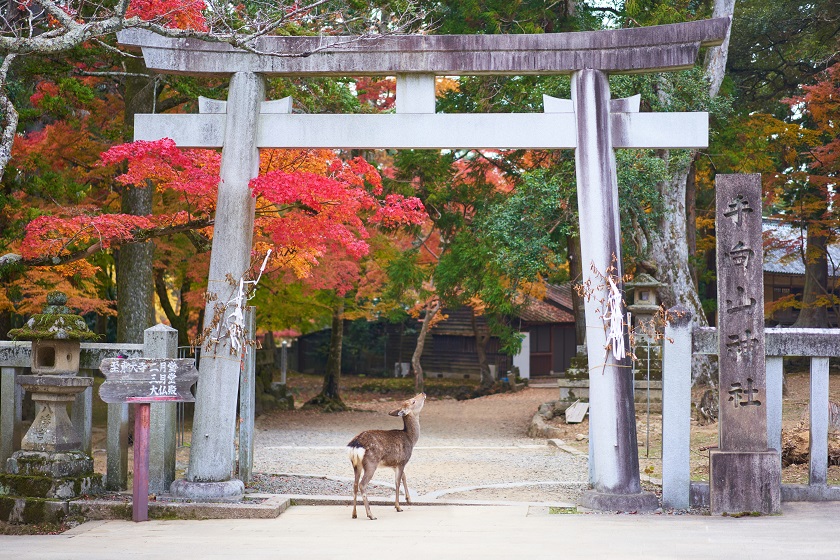 The Koyo Forecast – tracking the changing of the leaves in Japan
Autumn in Japan sees this beautiful country transformed into a sea of red, brown, yellow and golden leaves. Generally, koyo begins in late September and early October in the North (Hokkaido) and continues through to the end of November and early December in the South (Kyushu and Okinawa). Of course, the exact dates can vary year on year, so be sure to check in advance and prepare to be flexible. Thankfully there are numerous websites dedicated to predicting the koyo forecast, and most accommodation will also provide a koyo forecast for you during this period. However, unlike cherry blossom season which can be relatively brief, the changing of the leaves into their autumnal shades usually takes place over a longer period, generally hitting its peak in November, which gives visitors from overseas much more flexibility in booking trips to view the koyo.
Types of Japanese foliage
Momiji-gari and koyo does not just refer to maple leaves, but to viewing the fall colours more broadly. Autumn in Japan sees a huge variety of flowers, plants and trees changing colour and generally being beautiful, including orange osmanthus, blood-red spider lilies, and chrysanthemums. Also, while koyo is often used as a catch-all term to describe all coloured leaves, it actually refers to the colour red while oyo means yellow and katsuyo means brown.
Red – Full-moon, Japanese trident maples, Japanese sumac, wax tree, Japanese rowan, burning bush, rhododendron.
Yellow – Painted and linden-leaved maples, ginkgo, poplar, plane tree, Japanese elm.
Brown – Japanese oaks (Quercus crispula, daimyo, sawtooth, konara), chestnut, birches, Japanese zelkova, Japanese horse chestnut, bigleaf magnolia, Japanese beech.
Also look out for Kochia (bassia scoparia) – a different type of autumn leaves which bloom on the ground like bushes. You can visit the Kochia Carnival on Miharashi Hill at Hitachi Seaside Park. You can reach the park via the JR Joban Line from Shinagawa, Tokyo or Ueno stations to Katsuta Station, using your Japan Rail Pass, followed by a short 15-minute bus ride.
Autumn's Appetite
There is a phrase in Japan at this time of year called 'Autumn's Appetite' and it is certainly a special time of year for food lovers with a host of unique seasonal dishes on offer and a number of special food events and festivals across the country. Autumn is the season which brings dishes and flavours such as hearty and warming Ramen, persimmons (Kaki), pine mushroom broth, pumpkin soup, chestnuts, Kyoho grapes, sweet potato, comforting Pacific mackerel and Sanma fish, and many others, to the forefront of menus. Look out for Tokyo Ramen Show, Hokkaido Food Festival and Tokyo Wagyu Show to name just three of many festivals you'll have a chance to attend if you love your food. There is even such a thing as 'Maple Tempura', which sees fresh leaves salted or sugared and then fried in tempura batter as a snack.
Best places to see the Autumn leaves in Japan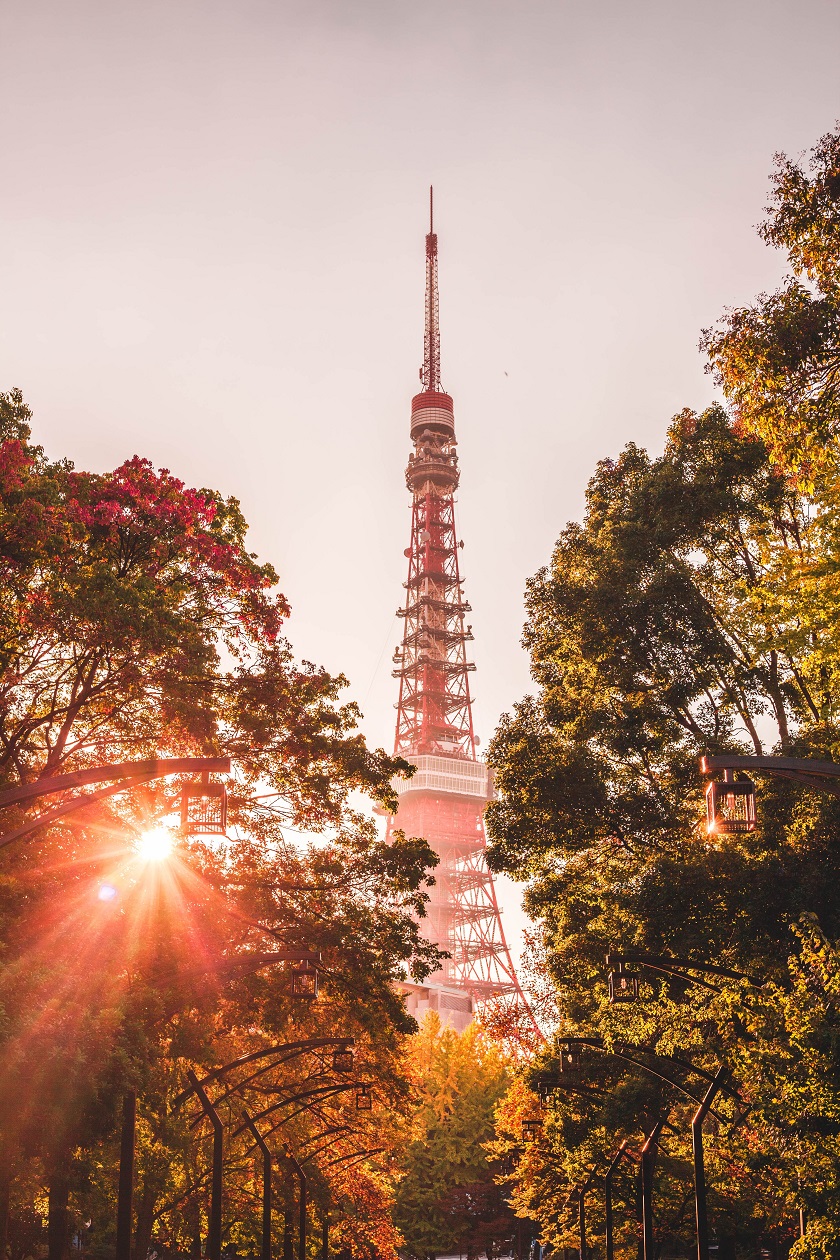 Unsurprisingly, Tokyo and Kyoto boast some magnificent places to view the Koyo. However, many of the most beautiful locations are across the rest of the country. The best way to reach these destinations is using Japan's domestic rail system and your JR Rail Pass for unlimited travel. Starting with Tokyo and Kyoto and then working our way further out, here are a selection of koyo viewing locations to look out for:
Autumn in Tokyo
Icho Namiki is one of Tokyo's most iconic autumn destinations. The city's most popular autumn leaves event, the Meiji Jingu Gaien Ginkgo Festival is also held at Meiji Jingu Gaien each year and features the iconic Ginkgo avenue of trees.
Rikugien Garden – this Edo-Period strolling garden was built in the 1700s for the Tokugawa Shogun and boasts a huge variety of maples that bring the garden to life each autumn.
Shinjuku Gyoen in the heart of Tokyo is a great choice for enjoying some beautiful autumn colours while in the city.
Koyo viewing in Kyoto
Tenryu-Ji – A UNESCO World Heritage Site in the Arashiyama district, Tenryu-Ji is hugely popular amongst photographers for its incredibly beautiful gardens filled with maple trees.
Nanzen-Ji – One of the filming locations for Lost in Translation starring Bill Murray and Scarlett Johansson, Nanzen-Ji was featured in the film when the character of Charlotte escapes Tokyo in search of ancient Japan, and walks up the steps of this iconic temple at the peak of Autumn. You can follow in her footsteps by visiting Nanzen-Ji this autumn. For more on Japan's many iconic film locations read our guide to Japan on Film.
Daigo-Ji – You'll find this beautiful location about half an hour walk from Kyoto Station.
Kyoto Botanical Gardens – well worth a visit for its huge variety of plants, flowers and trees.
Autumn leaves across Japan
Mt Takao, Hachioji – This stunning beautiful maple covered mountain is about 50 minutes by train from central Tokyo using your Japan Rail Pass. Get off at Takaosanguchi Station at the foot of the mountain.
Nikko – Often referred to as 'Shogun Country' for its traditional architecture, shrines and the stunning Toshogu mausoleum, Nikko is also home to a beautiful array of autumn trees, plants and flowers. Check out Ryuzu Waterfall or Shoyoen Gardens.
Oze National Park – A day trip from Tokyo, this national park features a different kind of koyo in the form of 'autumn grass' which gives the area a unique landscape. To reach Oze, take the JR Joetsu Shinkansen to Jomo Kogen Station.
Ibaraki – Red maple leaves surround the spectacular Fukuroda Falls, Mt. Yamizo, Mt. Nantai, and Okukuji Valley. From Tokyo, use the JR Joban Line from Ueno Station. You can access major Ibaraki stations from Narita using the JR Narita Line.
Daisetsuzan National Park, Hokkaido – Located in the North of Japan, this beautiful national park is one of the areas where the koyo will begin each year so you'll need to move quick to catch it.
Yoro Valley, Chiba – Yoro Valley is ideal for viewing the autumn leaves while hiking with several excellent trails and is a straightforward day trip from Tokyo. To get there, take the Keiyo Line from Tokyo to Soga. Change at Soga to the Uchibo Line and change to the Kominato Line at Goi Station.
Don't forget
Viewing the koyo is so popular in Japan that most hotels will offer guests a koyo forecast if you're staying with them during this time of year.
Your JR Pass will be the best way to see the whole of the country from North to South if you're following the progress of the koyo forecast.
Remember that Autumn in Japan lasts from mid-to-late October to December, so if you're looking to view the momiji in 2019 you'll need to move quickly.
Buy PocketWifi to ensure you're always connected to the Internet while on the move.
Top tips for your first time in Japan.
Don't forget your camera as you're likely to see some of Japan's most beautiful sights during Autumn.
Immerse yourself in nature by enjoying a hike or slow walk through the autumn woods. This is a very popular pastime among the Japanese during koyo season.
Read up on specific regions of Japan with our super useful guide. You can also buy specific regional train passes if you plan to visit just one or two regions.
Get your very own tour guide by arranging for a meet and greet at the airport when you arrive via Explore Japan.