JR-West has a total of 11 regional passes on sale, each with its own coverage area and usage conditions. Finding the right JR West pass for your travel plans can seem like a formidable task, so we're here to help you find the right JR West Pass for you. First off, if you are looking for JR Regional passes in general, read our Expert Guide on Regional Passes.
What is a JR West Pass?
JR West is one of the 6 railway operators in Japan and part of the Japan Railways Group (JR Group). It operates trains in the regions of Kansai, western Honshu and Chugoku. That includes cities like Kyoto, Osaka, Kobe, Hiroshima. It runs both the Sanyo Shinkansen bullet train line between Shin-Osaka and Fukuoka, as well as all conventional JR lines in the JR West area.
Most popular JR West passes
These are the JR West regional passes most asked about, have great use in general and will be relevant for most visitors.
This pass is good for exploring the main cities of Kansai, think of Kyoto, Osaka, Kobe, Wakayama, Himeji and everything in between. We have a detailed blog post on this pass here called: the Kansai Area Pass explained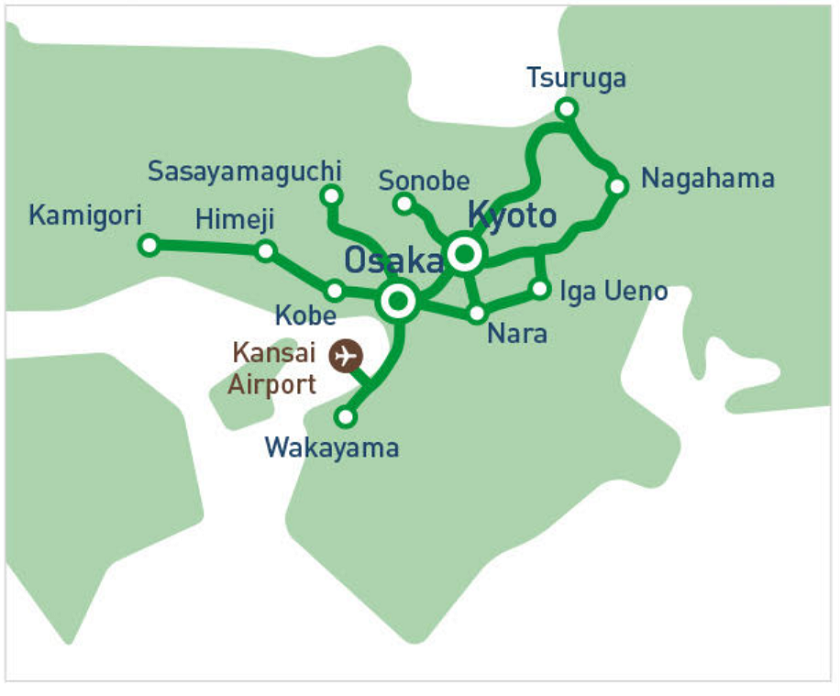 Why get the Kansai Area Pass: For economic travel around the Kansai Area, especially to Himeji and for the Haruka Express to Kansai Airport.
It includes all the cities that the Kansai Area Pass covers and then some. Valid for 5 consecutive days it is well positioned for making longer trips outside of cities like Kyoto and Osaka. Places especially worth visiting with this pass include: Tottori, Kinosaki-Onsen, Kii-Katsura & Shingu, riding the Shinkansen to Okayama and a visit to Takamatsu, Shikoku! The pass provides excellent value when used to travel to any of the above cities.
Why get the Kansai WIDE Area Pass: When you want to see more in Kansai than just Kyoto and Osaka, think of day trips or even longer trips.
This pass offers a very economic option to travel between Kyoto/Osaka and Hiroshima city. A return Shinkansen fare Osaka – Hiroshima is priced at about ¥ 21,280. The price of the Kansai – Hiroshima Area Pass is only ¥ 13,500. Add to that the many other places you can visit with this pass and it is a bargain. Outside of a visit of Hiroshima, we recommend using this pass for a visit to Iwakuni, Himeji and Amano-hashidate.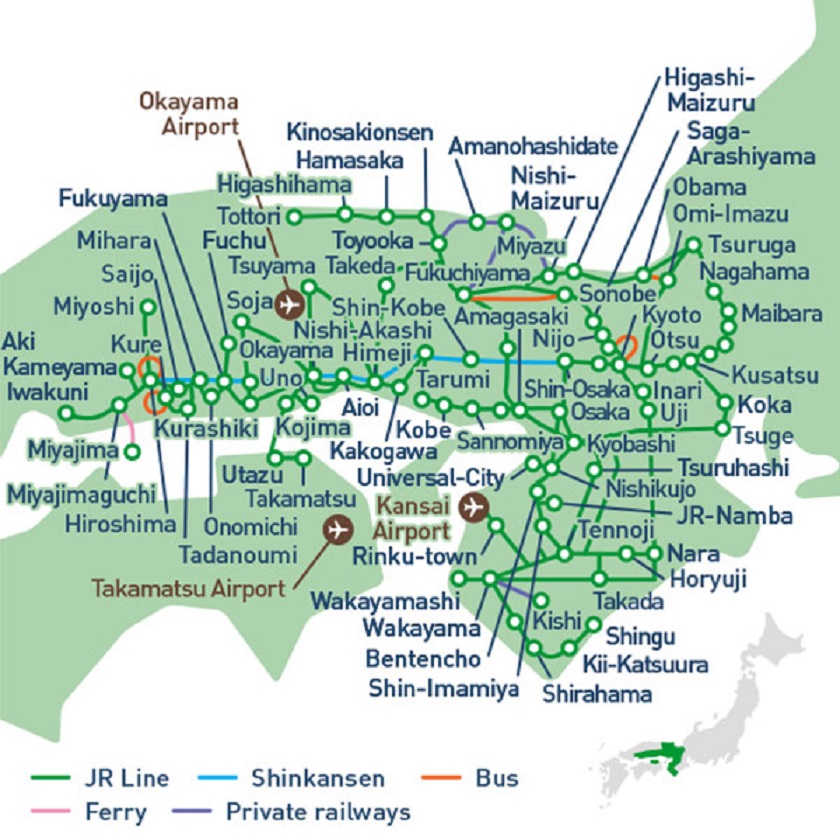 Why get the Kansai – Hiroshima Area Pass:
To visit Hiroshima from the Kansai area and make fantastic savings at the same time, add a day trip or two for an even better value.
Great value passes
These are passes well worth their money, offer great flexibility and are useful for visitors who'd like to see multiple regions in Japan.
This pass is a hidden gem among the JR West passes and is special for two reasons: 1.) The pass includes the entire Sanyo Shinkansen line from Shin-Osaka to Hakata station. That means you can use the pass all the way to Fukuoka in Kyushu! 2.) The Sanyo-San'in includes a number of ferries and buses along the Seto inland sea, connecting the mainland to Shikoku and several small islands. This perk is unique to this pass, even the Japan Rail Pass does not include these. It's an amazing pass to explore islands like Shodoshima.
Why get the JR Setouchi Area Pass: For exploring the many small towns, islands and coastlines along the Seto inland sea. Or as the most economic pass for a return trip Kansai – Fukuoka.
This pass might as well be called "The JR West Pass", as the validity area encompasses the entire JR West service area and a couple extra lines, the JR Sanyo-San'in Area Pass.
Is valid for 7 days and is valid for the entire Sanyo-Shinkansen, additionally the pass includes free seat reservations, most other JR West passes only allow users to take non-reserved seats or make reservations at an extra fee. This pass is recommended for those who want the maximum flexibility and comfort travelling on the JR West network.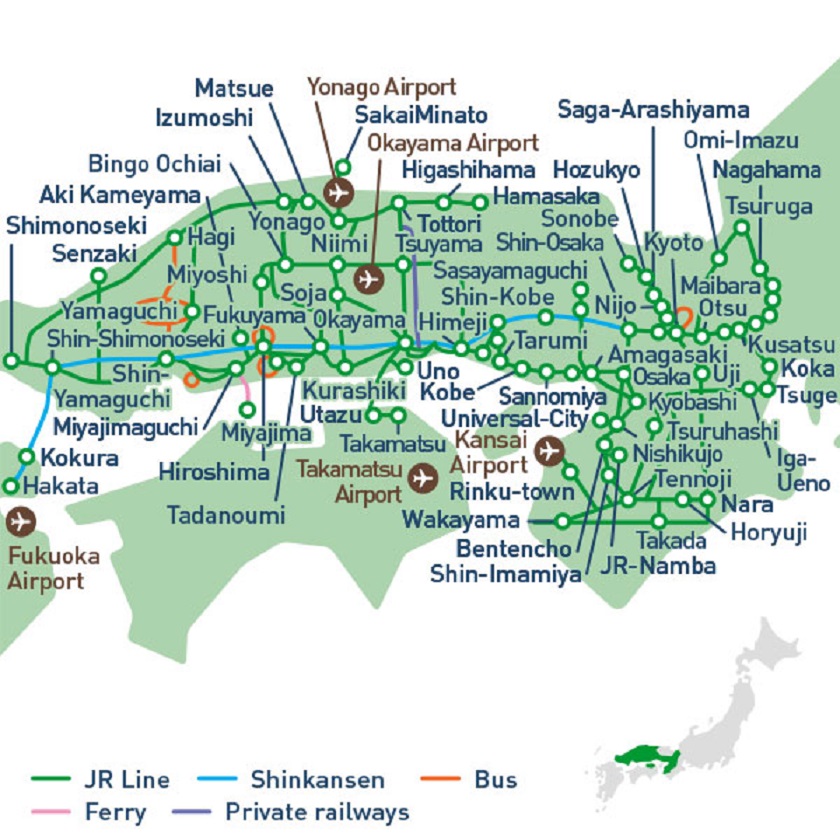 Why get the Sanyo-San'in Area Pass: For maximum flexibility on the JR West network, free seat reservations and maximum length of use for any JR West pass.
This is the same as the Sanyo-San'in Area Pass with the northern part of Kyushu added. Consider this pass if you want to include a quick visit to Kyushu. It's a good option for only a small extra amount if you want to include a visit to Beppu, Yufuin or Kumamoto.
Why get the Sanyo-San'in – northern Kyushu Pass area Pass: When the Sanyo-San'in Area Pass simply won't do and you need that trip into Kyushu.
This pass is a bit of an odd one but nevertheless should not be overlooked. It is basically a Kansai WIDE area Pass and also includes travel up the Hokuriku route to Kanazawa, Toyama and even Joetsu Myoko (but not Takayama). The value proposition is quite good for this pass when used to make a visit to Kanazawa and/or Toyama, together with travel around the Kansai area.
Why get the Kansai – Hokuriku Area Pass
When you want to explore Kansai and do a trip in the directions of Kanazawa/Toyama.
Niche passes
These passes each fulfil a small niche but offer great value within their validity area/period. Due to their nature, they come with a limited validity area and we only recommend them for travellers who already know that they are useful for their plans.
This pass covers travel between Fukuoka (Hakata station) and Hiroshima. This pass is a good option for those who arrive/depart from Hakata and want to travel up to Hiroshima, Onomichi or Hagi.
Why get the Hiroshima – Yamaguchi area pass: You are looking for an economic transport option between Fukuoka and Hiroshima / Sanin area.
This pass covers travel from Okayama up to San'in area of Japan and is good for travel to towns like Hagi, Izumoshi and Matsue. These places are far out for most visitors to Japan, that said the pass offers a good bang-for-buck for those who travel this specific route up from Okayama.
Why get the Sanin-Okayama area Pass:
You are staying in or already have transport to Okayama and want to travel up into the San'in area.
This pass only covers travel in the Hokuriku area and does not connect to any important places, it can be used in ad-junction with a Kansai Area Pass or Kansai area Wide pass. It's a good option if you are already in the Hokuriku Area and want to visit different towns in the area. Like Kanazawa, Tsuruga or Wakura Onsen.
Why get the Hokuriku Area Pass: You have a couple days to spend in the Hokuriku area and are looking for a cost effective way of travelling by rail.
That's all the JR West passes! We hope this post helped you find your way through the myriad of passes offered by JR West. If you do have any questions about any JR West Passes or travel in general, connect with us at the JR Pass Forum.