What's it like to travel First Class on the the best rail network in the world, what are the advantages and is it worth the extra money? Today we take a detailed look into the different travel classes of trains in Japan, from the essentials of economy to the luxury of First Class travel.
Economy class – the ordinary way of getting around
The standard class (2nd class) of travel in Japan is called ordinary. Seats are good and can recline on most Shinkansen and ltd. express trains. Shinkansen seats are comparable to economy seats on airlines but are softer and have slightly more space. On local trains seats are usually sideways, similar as on subway systems. The rail system in Japan is the best in the world and ordinary cars are a solid product. On longer distance trains, snacks and drinks can be purchased on board.
1st Class – More than just a better seat
First class, called Green Class in Japan (find out why here) marked by the four star clover symbolizing a blessed and exclusive way of travel. It's not just your seat that's better but also the amenities and extras that come with it. Depending on the train, what you can expect is an oshibori hand towel, sweets, electric sockets, newspapers and complimentary drinks.
So what about seating?
Shinkansen bullet trains operate a 2×2 seating arrangement, instead of the customary 2×3 in Ordinary class. Seats can also be turned around to accommodate a party of four sitting together. Green Seats on average have about 160mm more space, a wider reclining angle and better headrest.
Ltd express high speed intercity trains operate Green Class in a 2×2 with wider seating, more luxurious seat padding and other extra perks depending on the train. Green class is often located at the most convenient part of the train and has the best views with wider windows.
Local trains usually do not have Green Seats but have been introduced on certain lines within the greater Tokyo area, such as on the Tokaido and Joban lines. These seats are forward facing, instead of sideways seats, have a personal cabin attendant selling snacks and drinks and are a great way to secure seating during rush hour.
Train specifics:
There are many different trains in Japan each with their own style of Green Class. Here are some notable examples: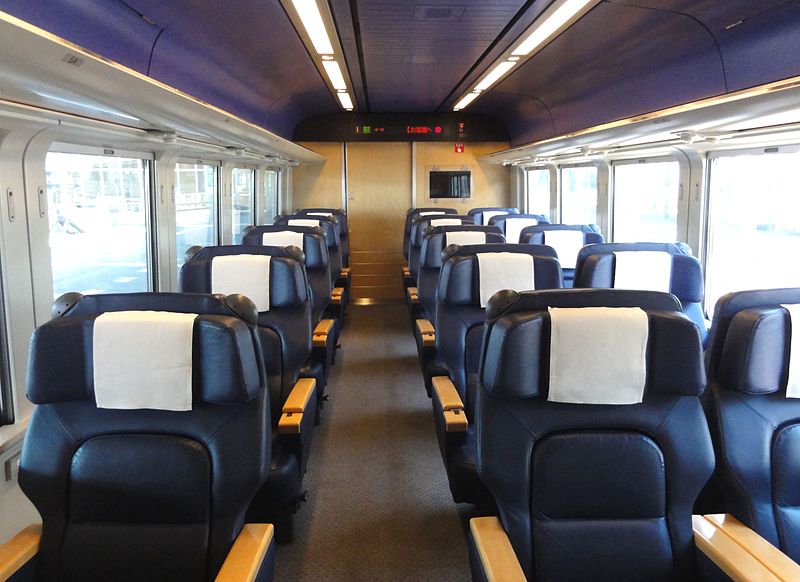 In Hokkaido Ltd. express trains operate a 1×2 seating layout in Green Class. Ideal for individual travels and adding even more to a relaxing atmosphere.
The Komachi Shinkansen also known as the Super Komachi, this new state of the art technology comes with high quality designer leather seats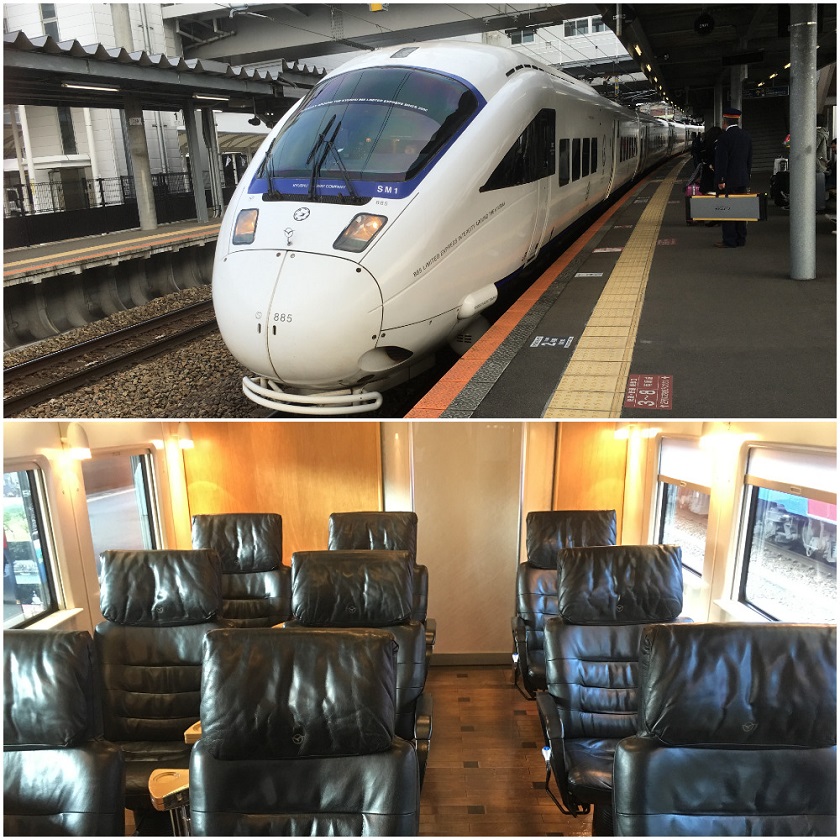 The Sonic Express, operating on different routes within Kyushu, the Sonic express operates 1×2 seats in green class with special leather seats located in front of the train that allow full view of train operator and upcoming view.
Super Odoriko Express, operating out of Tokyo to Atami and the Izu peninsula, the Green Class upper deck seats provide an amazing view of the local coastline.
What about pricing? Can the average person afford first class?
On average, using a green car costs 40-50% more than it's ordinary counterpart. As fares in Japan are high to start with, this can be quite a difference. Going from Tokyo to Hiroshima using ordinary class costs ¥ 19,080 (~$175), while Green Class will set you back ¥ 26,210 (~$240). That's a significant difference, just think about how that adds up traveling between different cities. This is why most common travelers will use ordinary class.
What about the Japan Rail Pass, is it worth upgrading?
Subject to your budget a Japan Rail Pass can be considerable investment upfront, one that easily pays for itself but still can take a good chunk out of your travel budget. That said, the price of a Green Pass is surprisingly accessible. Upgrading a 7 day JR Pass is just ¥ 9.770 (~$89) for which you get a full week of unlimited travel in 1st class. It's money well spend if you plan on traveling a lot!
Naming: the term 1st class train travel in this article is as 1st class travel is called in different countries that have an extensive train network like Germany, Swiss and the UK. JR East also operates a class called Gran Class, which is more comparable to 1st Class on Airplanes.