Start your engines and get ready to plan the trip of a lifetime as F1 Racing returns to Japan's famous Suzuka circuit in 2021.
Table of contents:
Intro
A Brief History of the Japanese Grand Prix
The Suzuka Circuit
Top Tips for F1 in Japan
Nearby Attractions
Bonus Tips for Sports Fans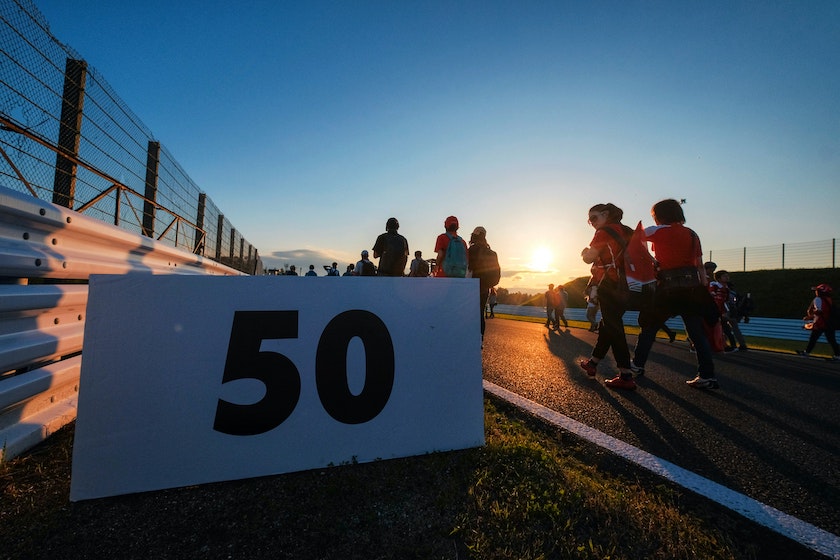 Intro
F1 Racing is one of the most exhilarating sports on the planet and Japan is one of the most beautiful, exciting, and spectacular countries in the world. Together, they're a marriage made in heaven and the holiday of a lifetime. Japan also happens to be home to one of F1's most celebrated and popular tracks, the famous Suzuka circuit. F1 Racing will return to Japan in 2021 and you can already start planning your trip. We'll tell you how to get to Suzuka with the JR Pass, expert tips and information to get the most out of your F1 experience, and what to do nearby in our guide to the high-speed thrills of F1 in Japan 2021.
A Brief History of the Japanese Grand Prix
The Japanese Grand Prix has a long and exciting history. As the race usually takes place in October towards the end of the F1 season, it has often been the location of a number of memorable championship deciders. Japan holds the record for the most championships being decided with 13 champions crowned in the country over the year (11 at Suzuka). Perhaps most famously, it was where James Hunt was crowned world champion in 1976 over his rival Niki Lauda as dramatized in the film Rush starring Chris Hemsworth and Daniel Brühl. Since 1987, the Japanese Grand Prix has taken place at the famous Suzuka circuit for all but two years. On the other two occasions it was staged at Fuji Speedway. Japan is a great place to watch F1, thanks both to the fantastic Suzuka circuit (more on this below), the beauty and diversity of the country itself, which has so much to offer international visitors, and the fun factor from Japan's F1 fans. The people of Japan are fanatical about the sports they love, hugely knowledgeable, and throw themselves into being the very best and most enthusiastic spectators they can be. It truly is a fun and unforgettable place to enjoy F1.
The Suzuka Circuit
The famous circuit was originally built in 1962 by Honda with the first non-championship race being staged there in 1963. It is located in Mie Prefecture, around 50 kilometres south of Nagoya. Since 1987 the Japanese Grand Prix has been held annually at Suzuka (other than on just two occasions when it was staged at Fuji Speedway in Shizuoka Prefecture). Suzuka is famous among F1 fans for its figure-eight shape, challenging bends and legendary 130R corner. It has a colourful track history and boasts some of the F1's most exciting moments, such as:
The rivalry between ace drivers Ayrton Senna and Alain Prost. In 1989 at Suzuka, Senna and Prost crashed, and Senna was disqualified during one of the most controversial events in F1. That year saw Prost win his third World Championship. The following year in 1990, the rivals crashed again, this time during the first lap, but it was Senna who won this year.
Legendary driver Michael Schumacher historically won his first title for Ferrari at the 2000 Japanese Grand Prix. To this date, Schumacher holds the most victories at Suzuka with six wins between 1995-2004. Ferrari and McLaren are the joint most successful teams.
In 2005, Kimi Raikkonen took the victory after starting in 17th place at Suzuka in what was arguably the finest win of his career.
Suzuka is south of Nagoya and can be reached using the JRailPass. The nearest station to the race circuit is Suzuka Circuit Ino Station, which is just 20-minutes from the track on foot. You can use the JR Pass for most of this journey,
although a small supplement is needed for a section of track owned by a non-JR company. A second train station close to the circuit, Shiroko Station, is also accessible via an alternative route from Nagoya. Generally, Nagoya is easily reachable by major cities (the nearest being Kyoto and Osaka, but also Tokyo) thanks to the JR Tokaido Shinkansen. F1 fans often try to stay alongside the famous Suzuka circuit, at hotels in Suzuka, or in nearby Nagoya during the championship, but there are a few other options when it comes to accommodation. For more on this see our top tips below.
Top Tips for F1 in Japan 2021 at Suzuka
Whether you're a seasoned F1 fan or a beginner travelling to watch this fast-paced sport for the first time, there are a number of expert tips for enjoying F1 racing at Suzuka, Japan, in 2021.
When To Book: Dates for the 2021 Japanese Grand Prix have yet to be officially announced (although it usually takes place in October each year) but you may be able to book tickets through officially accredited F1 ticket sellers. At the very least, you can make enquiries and get prepped. It's never too early to start planning your trip to Japan – just remember your JR Pass too for travel.
Latest News: Keep checking the official Formula One website for the latest ticket news and announcements for both the 2021 season and dates for the Japanese Grand Prix in Suzuka.
Manga Kissa: If campsites at Suzuka and hotels in Nagoya are sold out, another accommodation option is 'Manga kissa' – 24-hour internet cafes, which offer a sleeping cubicle to sleep plus amenities. It certainly makes for a unique experience!
Suzuka Ferris Wheel: Suzuka is known for its famous Ferris wheel overlooking the circuit. The queues may be long, but the reward is an amazing view over the iconic figure-eight Suzuka circuit.
Amusement Park: As well as the Ferris wheel there is also an amusement park alongside the circuit to keep visitors entertained between races.
Bento: Japanese is famous for its amazing food and while there are plenty of food stalls at campsite Suzuka, they can be in high demand. Bento are the equivalent of Japanese lunch boxes, but unlike the lunchboxes you find elsewhere in the world, Bento are an art form and feature delicious handmade Japanese food. Bento can be purchased across Japan and you can take them wherever you go so you're never without a tasty lunch.
Special Trains: During the Japanese Grand Prix weekend, a special limited train named 'Suzuka Grand Prix' runs between Nagoya Station and Suzuka Circuit Ino Station.
Best Seats in the House: Suzuka's main straight grandstands are the most expensive seats, but look out for tickets offering views of the famous 130R corner, hairpin curve and 'spoon corner' – all highly recommended spots. You can also purchase general admission tickets which allow you to seek out your preferred seat.
Nearby Towns: The surrounding towns of Yokkaichi, Tsu or Shiroko are popular among tourists visiting Suzuka, thanks to their proximity to the famous circuit.
More high speed thrills: After you've seen Suzuka, you could also visit Fuji Speedway in Shizuoka or Motegi, which is east of Tokyo. You'll also find a Honda museum at this location.
Nearby Attractions
Although Suzuka city itself is notable mostly for its F1 circuit there is a huge amount to see and do nearby in the Kansai Region and further afield in Japan. Here's a selection of recommendations.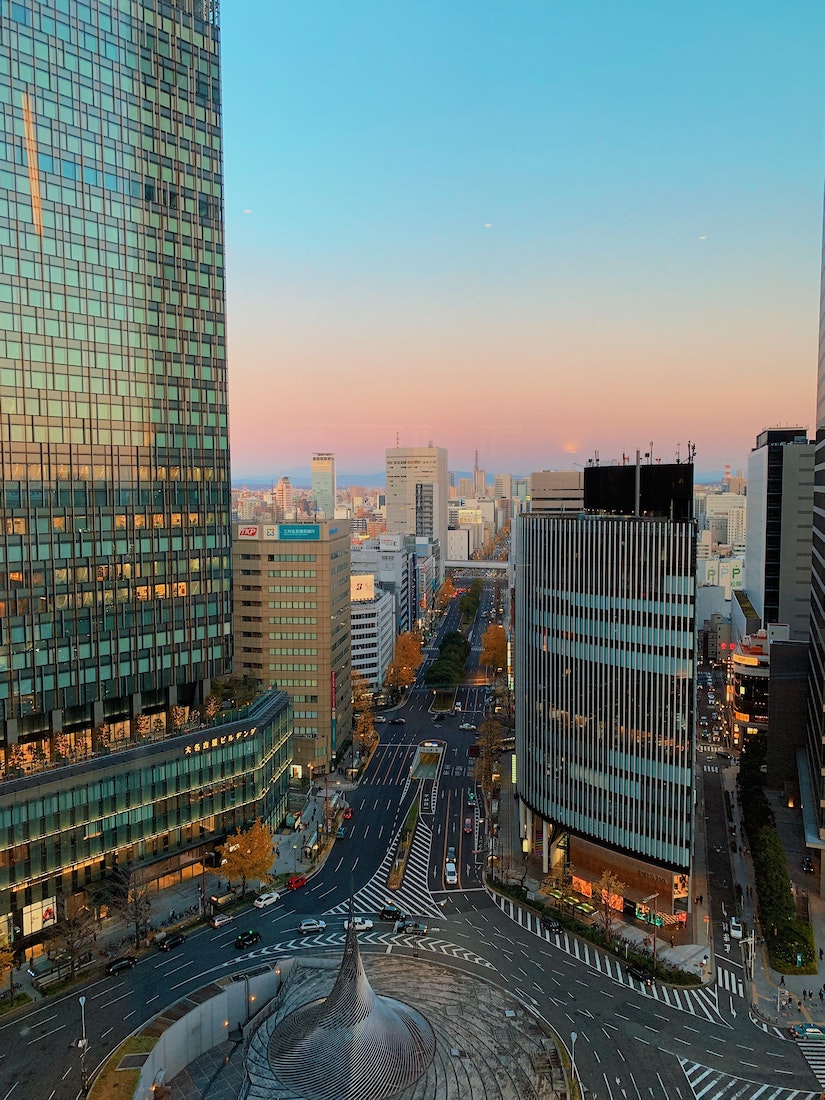 Nagoya
The city of Nagoya is the nearest major city to the Suzuka circuit. A large, modern city with some older wards (such as the traditional wooden houses pictured below), Nagoya is mostly famous for its association with F1 and convenience for race fans although it does have its own attractions. Nagoya is easily accessible by train from either Tokyo, Osaka, or Kyoto, thanks to the JR Tokaido Shinkansen.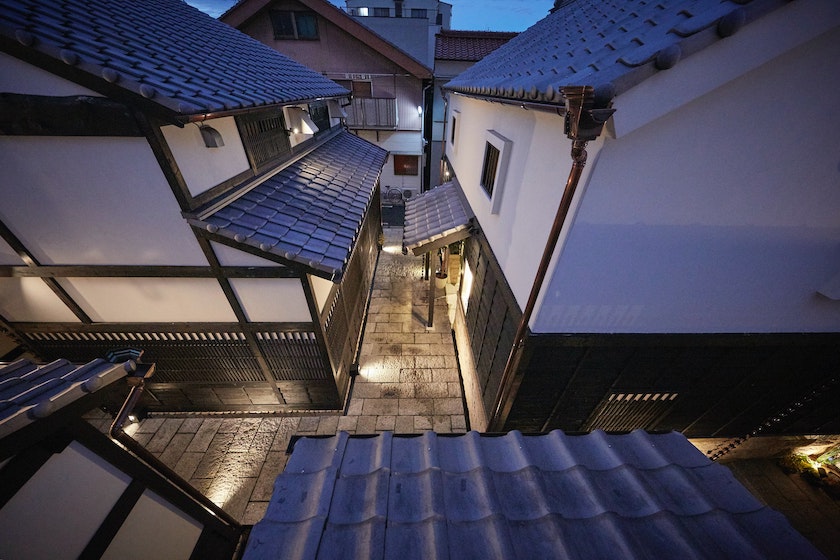 Toyota Museums
The area features not one, but two Toyota museums for car fanatics to get their fix. If you love cars then it's likely you'll be fascinated by this incredible insight into car manufacturing and the history of Toyota – one of the world's biggest car companies. The Toyota Kaikan Museum is dedicated to concept cars and new tech (even robots!) while the Toyota Techno Museum will give you a behind the scenes tour of the car manufacturing plant.
Visit Kyoto
Regarded as the cultural heart of Japan, Kyoto is often described as the Japan of our imagination. It is undoubtedly the place to go if you're looking to experience the authentic 'old Japan' of temples, shrines, geisha and tea ceremonies. You can reach Kyoto easily from Nagoya on the JR Tokaido Shinkansen high speed bullet train in less than an hour.
Discover Osaka
Japan's kitchen, Osaka is famous for its seafood, ramen restaurants, and its neon nightlife. Just like Kyoto, you can get from Nagoya to Osaka easily using the JR Tokaido Shinkansen. It's about 50 minutes from Nagoya station to Shin-Osaka station.
Explore Japan with the Japan Rail Pass
One ticket for all of Japan. Thanks to Japan's exceptional and super-efficient high-speed rail domestic network, the Japan Rail Pass is simply the best and most cost-effective way to navigate this beautiful and diverse country. With one ticket, you'll have the whole of Japan at your fingertips. Once you've experienced the exhilaration and excitement of F1, why not head out and explore the rest of Japan? From Tokyo – one of the biggest and most spectacular cities in the world to samurai castles and tiny rural villages that feel like stepping back in time to the snowy north of Hokkaido and the subtropical south of Okinawa, Japan has so much to discover and the country's trains are the very best way to see it. Find out more in Why The Japan Rail Pass Is Worth It.
Bonus Advice for Sports Fans
If your F1 2021 holiday is your first time in Japan, why not use our