The Tokyo Monorail is included in the Japan Rail Pass. Find out how to ride the Tokyo Monorail, station information and timetable details.
Intro
The Tokyo Monorail runs for 17.8-kilometer (11.1 mi) from Haneda Airport into Tokyo, where it terminates at Hamamatsucho station. The monorail runs along Tokyo bay for most of the line.
For arrivals at Haneda Airport, the Tokyo Monorail is one of the options to travel on, as it has convenient transfer options to the Yamanote line at Hamamatsucho station. Even better is that the Tokyo Monorail is covered by the Japan Rail Pass, and thus the preferred way of travel by JR Pass users.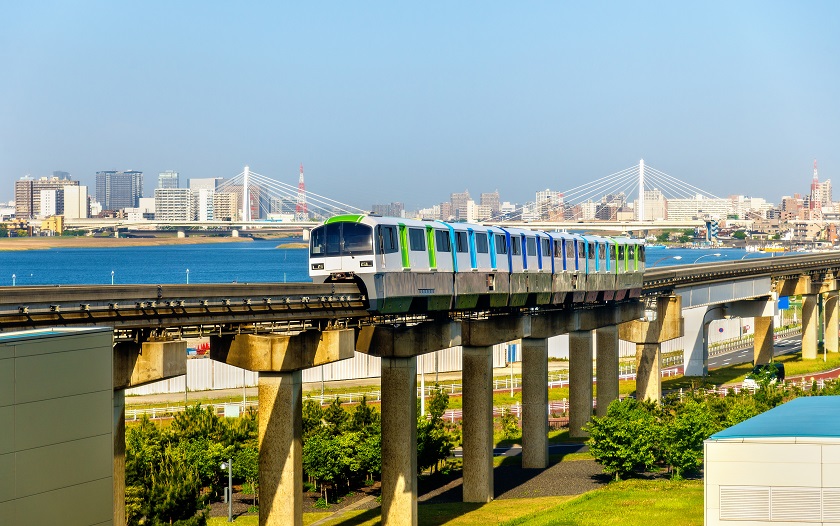 Riding the Tokyo Monorail
The Tokyo Monorail can be accessed using u normal tickets, an IC card like Suica, or – as already mentioned – the JR Pass. Using normal tickets or an IC card, simply use the ticket gate and insert your ticket. With the JR Pass, go to the manned ticket gate, show your pass and hop on. There are no reserved seats on the train, the best seats are without a doubt at the front or back of the train, with good views of Tokyo.
Then when you exit the train, show your JR Pass again at the manned gate to exit the station.
Types of train services
There are three service types on the Tokyo Monorail, the main difference is speed and amount of stops along the way.
Haneda Express: The fastest service that stops only at Hamamatsucho and the stations of Haneda Terminal 1, 2 and 3.
Rapid train service
 This service stops only at the most important stations, including Hamamatsucho, Tennozu Isle, Oi Keibajou Mae, Kyutsu centre, Tenkubashi and the stations of Haneda Terminal 1, 2 and 3.
Local service
 The train stops at every station along the route.
Tokyo Monorail Map
Here is a map with all stations on the Tokyo Monorail.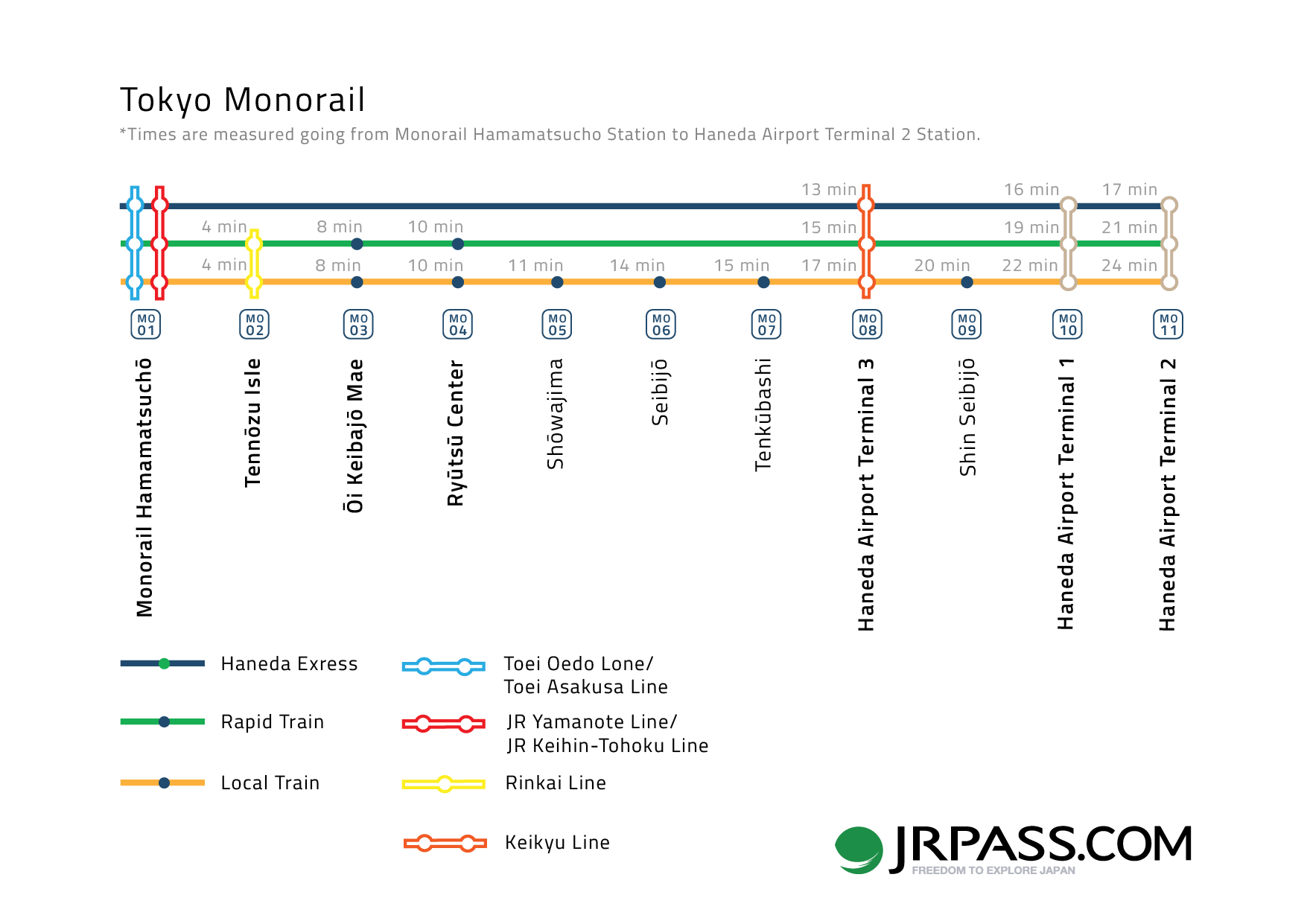 Travelling onwards
The Tokyo Monorail has a couple of handy transfer options the most useful being the JR Yamanote loop line at Hamamatsucho. With the JR Yamanote line it's possible to travel directly to major stations around Tokyo, such as Ikebukuro, Shibuya, Shinjuku at the most important station in Japan, Tokyo station. From here, Shinkansen bullet train travelling directly to cities like Kyoto, Osaka and Hiroshima.
In addition, the Tokyo Monorail connects to the JR Keihin-Tohoku line and Toei Oedo Line and Toei Asakusa Line (metro) at Hamamatsucho station, these are all handy for further travel into Tokyo.
Tips for riding the Tokyo Monorail
The JR Pass can be activated at Haneda Airport but take note of the openinghours.
The monorail operated between 6am and midnight, outside these hours, use a taxi or night bus into Tokyo.