The JR Keihin-Tohoku line( 京浜東北線), is one of the most important railway lines crossing through Tokyo. The line runs from Yokohama station to Omiya, important stations include: Kawasaki, Shinagawa, Hamamatsucho, Shimbashi, Tokyo station, Akihabara, Ueno and Nippori.
The line runs parallel to the JR Yamanote line between Shinagawa and Tabata stations.
There are both local and rapid services operating on the line, as a result the Keihin-Tohoku line is one of the fastest options to get around Tokyo.
What is the JR Keihin-Tohoku line?
The Keihin-Tohoku line is a 59.1km railway line that runs through greater Tokyo. It's been in service since 1914 and has a total of 41 stations. With a daily ridership of over 3 million passengers, it is one of the busiest commuter lines in Japan. Also, for tourism the line is important due to the quick connection between major stations in Tokyo and Yokohama. During rush hour trains depart as frequent as every 3 minutes, and every 10 minutes during off-peak times.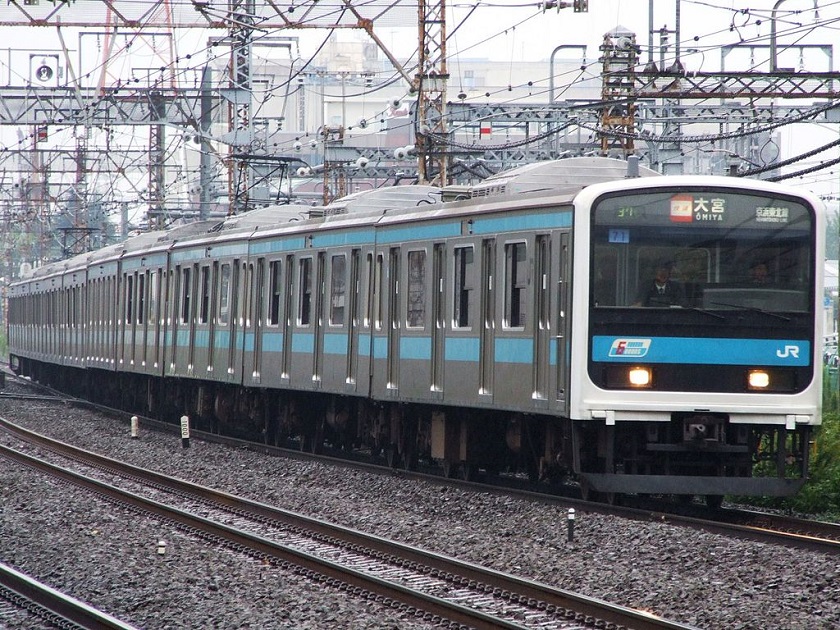 South of Yokohama the line continues to Ofuna, from where it is also called the JR Negishi Line.
Like every line in Tokyo, The Keihin-Tohoku has its own iconic sky blue livery. That makes it easy to recognize, both on a map and the platform.
Train services on the JR Keihin-Tohoku line.
The Keihin Tohoku line has both a local and rapid service. The local service stops at every station while rapid services only stop at the most important stations. For a full list of the most important station see below.
Map of the JR Keihin Tohoku line
Below is a map of the JR Keihin Tohoku line. A simplified version with only the most important stations is also available.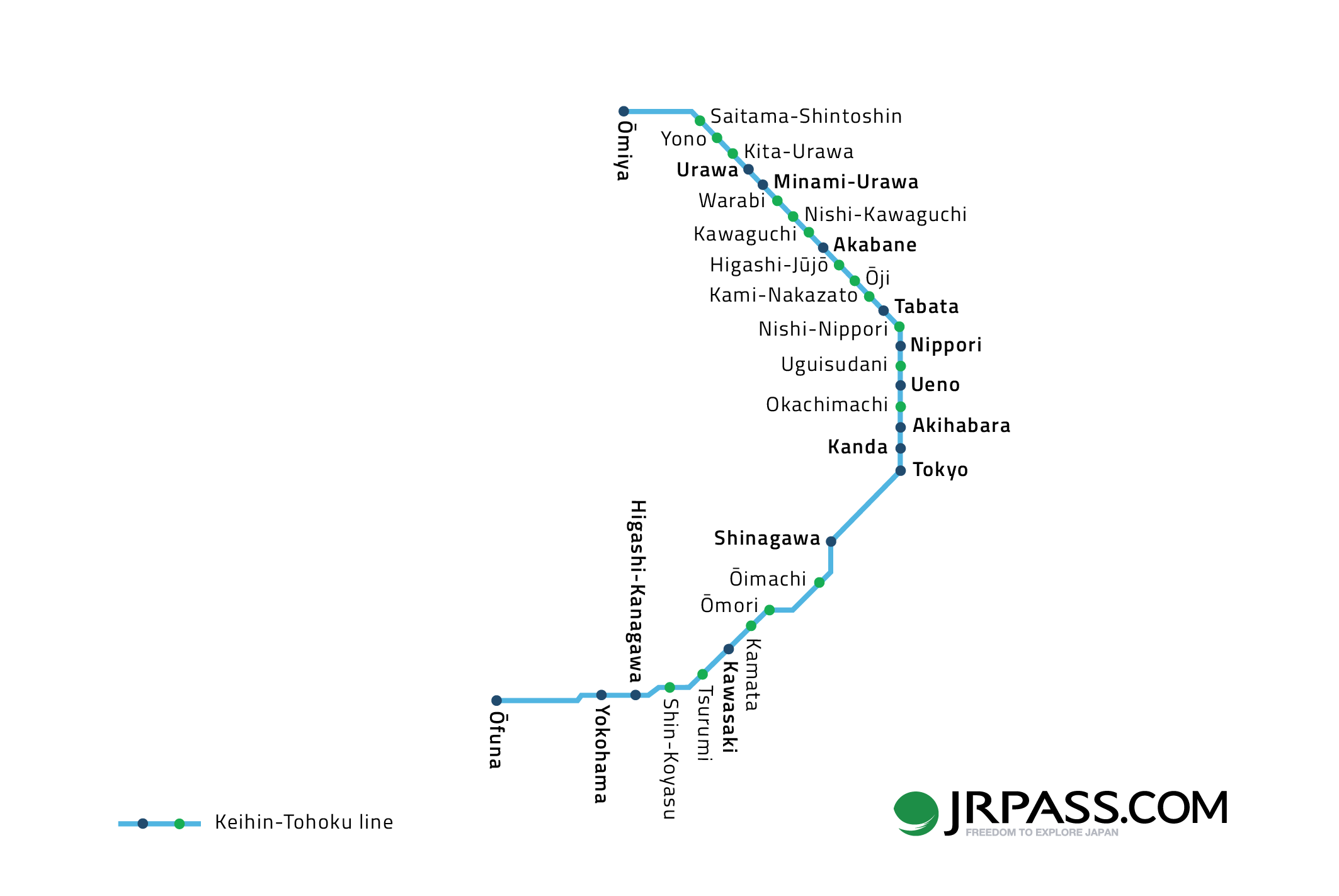 JR Keihin Tohoku line in Tokyo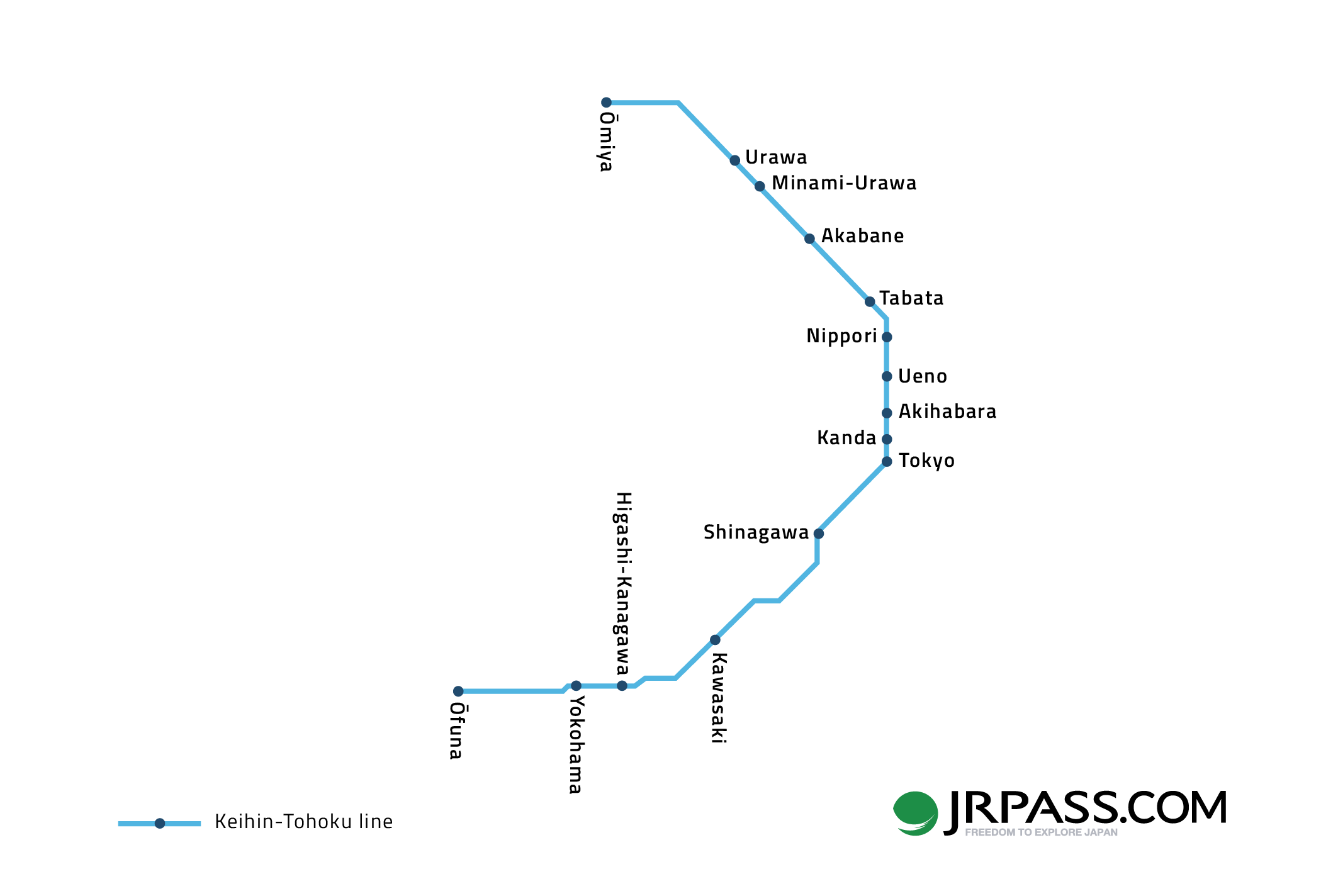 JR Keihin Tohoku line in Tokyo simplified
Feel free to download a copy for offline use when travelling. You never know when you might need them. For further map resources see our Japan National railway map.
Note that these maps are copyrighted by JRPass.com and any commercial is not allowed without any prior written permission.
Can the Japan Rail Pass be used on the JR Keihin-Tohoku line?
Yes, the line is fully operated by JR East and as such entirely covered by the JR Pass. There are no reserved seats, so just show your pass when entering and exiting the station and hop on any train you wish.
Stations on the JR Keihin-Tohoku line
The most important stations on the JR Keihin-Tohoku line include:
Omiya Station
Tabata Station
Ueno Station
Okachimachi Station
Akihabara Station
Tokyo Station
Yurakucho Station
Shimbashi Station
Hamamatsucho Station
Shinagawa Station
Kawasaki Station
Yokohama Station
Photo © Wiki Commons / Lover of Romance under CC 3.0