'One who never climbs Mount Fuji is a fool, and one who climbs twice is twice the fool.'
At 3776m high, Fuji-san(Mt. Fuji) is one of the most famous symbols of Japan. Rising high out of the plains of central Honshū, 60 miles southwest of Tokyo, this dormant volcano is climbed by around 300,000 energetic people a year with many thousands more enjoying the majestic view. Mount Fuji or Fuji-san as it fondly called in Japan, is the most iconic image of Japan and not to be missed on any visit to Japan.
What to do at at Fuji: Climbing, Viewing or even Shopping?
The first order is business is to decide on what the trip to Fuji will look like. The area around Fuji-san is quite large and there are different things to do and see. We made a small guide on what to see and do around Fuji. The content table below can be used for quick reference, if you already have a plan.
Table of Contents
Access to Kawaguchiko and Fuji five lakes
A preview of Fuji with Google Street View
Viewing the Majestic up close: Fuji Five Lakes.
The most popular area the visit for viewing is around the Fuji Five Lakes and the Hakone area. The Fuji Five Lakes area, of which the first is Kawaguchi-ko is great for viewing Fuji up close, the area also is a popular base climbing, hiking, fishing and camping and also makes for a great day trip from Tokyo.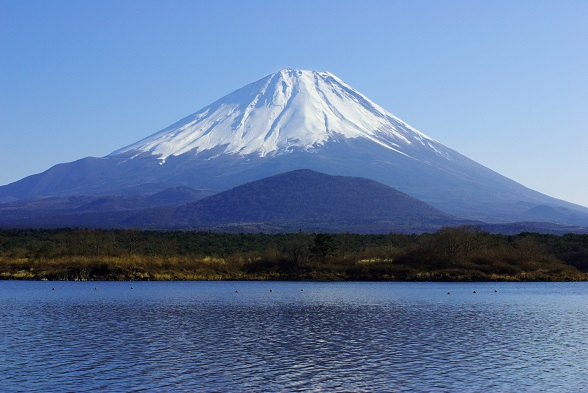 Fuji from Kawaguchiko.
Access to Kawaguchiko:
From Tokyo Station, take the JR Chuo line to Mitaka station and transfer to the Kaiji ltd. express train to Otsuki. It is also possible to take the Kaiji ltd. express directly from Shinjuku station. At Otsuki, transfer to the Fujikyu line. This is a privately held railway and the JR Pass is can't be used on this line. The fare from Otsuki to Kawaguchiko is ¥ 1,440 by limited express or ¥ 1,140 by local service.
Kawaguchiko is best visited from Tokyo. Coming from the south (Osaka and Kyoto), takes a lot longer and basically means traveling to Otsuki via Tokyo or Yokohama. Instead it is recommended to visit Hakone instead, as it is much easier to access.
The scenic area of Hakone
Hakone is located on the south west side of Fuji-san, famous for its beautiful scenery, onsen hot springs, historical importance and its beautiful view of Fuji. The area offers a lot to see and do, such as cruising over lake Ashino, visiting the volcanic crater of O-waku-dani, visiting the Hakone Open Air Museum and course Onsen! It is well recommended to stay at one of the local Ryokan for a night where you can enjoy a hot spring bath, with a glass of sake and view Fuji at the same time.
Access to Hakone
Getting to Hakone is easy, because it is has its own Shinkansen station, called Odawara. Odawara is directly on the route between Tokyo <→ Nagoya, Kyoto and Osaka and can be accessed from either side. From Tokyo take the Shinkansen (just 36 minutes) or JR Tokaido line / from Shinjuku (about 90 minutes) → Odawara with your Japan Rail Pass. From here change to local trains or buses in to the Hakone region. Local travel within Hakone is not covered by the JR Pass and a Hakone Free: Pass makes for a good companion to your Japan Rail Pass.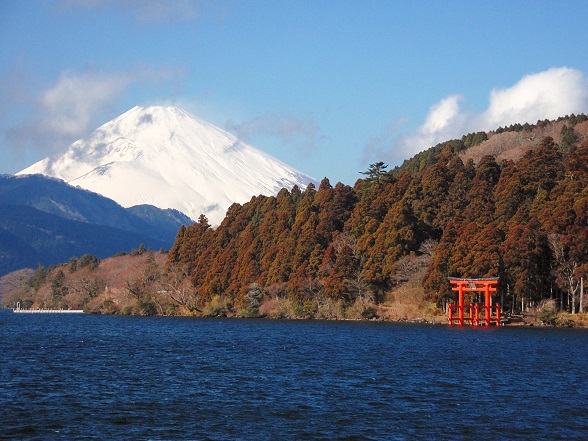 Fuji as seen from Lake Ashi, Hakone.
Viewing Fuji from the train!
We would not be JRPass.com if we did not include this section. You can enjoy the view of Fuji, even if you don't have time to include it as a visit. Fuji can be seen from the Shinkansen between Tokyo – Nagoya. Ask for a D or E seat when making your seat reservations and it is possible to enjoy the view of Fuji from the train.
Alternatively, on the limited express train between Nagano and Matsumoto, just when the train makes a turn near Kofu, a beautiful view of Fuji can be seen.
Climbing Mt. Fuji
The official climbing season is from July 1st to August 31st, outside these months the mountain huts are closed and the lack of shelter means tackling this difficult climb should be left to the very experienced only. Within the climbing season you're able to join the scores of people scaling Mt. Fuji to witness the sun rising over the Honshū plains, there are different paths up, a full guide by JNTO can be found here. The most popular path is via Kawaguchi-ko 5th station (this is not a train station, just a stop before going up). Something really cool is that there's a post-office on the top of Fuji-San, it is possible to send postcards from there all over the world!
Word to the wise: It can take 7+ hours each way to climb, conditions are very rocky and cold at night so come prepared, your normal trainers and sweater will not do!
Shopping! at Gotemba
This may sound strange at first but viewing Fuji and shopping goes perfectly together hand-in-hand. Visit the premium outlets of Gotemba. Here different brand stores can be found selling mainly clothing and accessories, in addition to household appliances, tech and food items. It makes for a good day trip from Tokyo and is accessible with the Japan Rail Pass.
Access to Gotemba:
Coming either from Tokyo, Kyoto or Osaka, take the Shinkansen to Atami or Mishima stations and from there a local service via Numazu to Gotemba station. There's a free shuttle bus from the back side of the station to the premium outlets. The best route depends on what time of day you travel, be sure to check Hyperdia beforehand.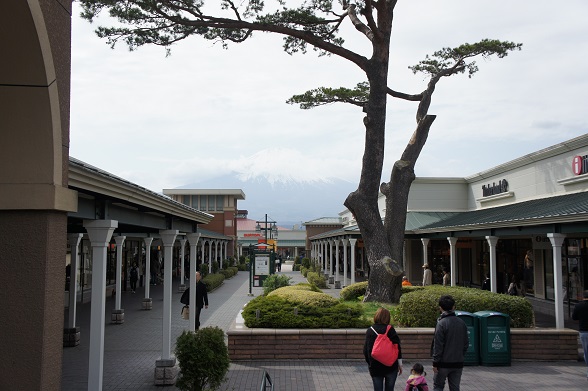 Gotemba premium outlets with Fuji in the distance.
When to visit
This volcano is notoriously shy, hiding away from view behind mist and clouds for a lot of the year. The best time to catch a glimpse is early in the morning, in the less hazy spring and autumn seasons.
Want a preview of what Fuji is like?
You can view and even climb Fuji using Google Street View.
Also good to know:
-There's is a Shinkansen station called Shin-Fuji, don't let the name fool you. It is in the middle of an industry terrain and there's nothing to do there.
-The Japanese word for lake is -ko, such as in Kawaguchi-ko or Ashino-ko. This leads to different forms of writings. Such as Kawaguchi-ko, lake Kawaguchi or even lake Kawaguchi-ko, all meaning the same.
Further Reading:
Hakone on the JNTO website
Hakone example itinery from Odakyu.
photos by:
Kazuhiko Teramoto & Raneko
"FujiSunriseKawaguchiko2025WP". Licensed under Public Domain via Wikimedia Commons.
"LakeAshi and MtFuji Hakone" by Kentagon
Gotemba by Daniel-San
Written by Daniel-san.