Kuromon market (黒門市場), or Kuromon Ichiba is the largest public market hall in Osaka, open daily for shopping and some of the best street food in Kansai.
Table of contents:
The origin of Kuromon Market
Street food to try
What to do at Kuromon market
How to access Kuromon Market
Tips for visiting
Located in the Namba area of Osaka, Kuromon market is loved by locals, professional buyers and visitors alike. Located in a 600 metre indoor market hall, Kuromon Ichiba is home to about 170 shops, selling a wide variety of fresh produce, fish, meat and local sweets. What makes the market so beloved, is that shops cater to both, local restaurants, consumers and visitors who wish to try the local street food right on the spot.
The origin of Kuromon Market
Kuromon market dates back to the Edo period (1603 and 1868), making it one of the oldest markets in Japan. It's original name was Emmeiji Market, as there used to be a large temple close by called Emmeiji temple. While the temple no longer remains, the large black gate in front of the entrance remains. In Japanese the word for black is Kuro (黒) and gate is Mon (門), and so the market was renamed to Kuromon Market.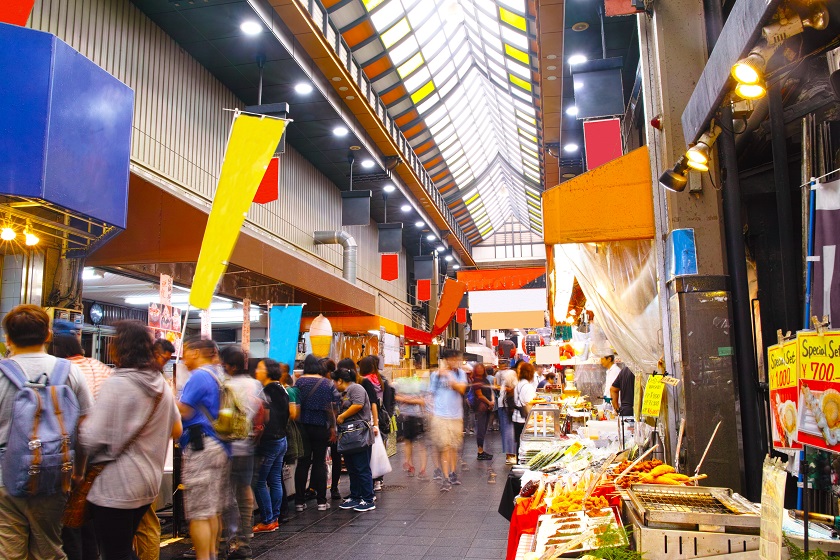 Ever since its founding the market has been a staple for shopping, from local restaurant owners to housewives looking for the best fish, meat, poultry, and cooking ingredients. As such, it has become known as "Osaka's kitchen".
In recent decades Kuromon market has only kept growing in popularity, both with locals and tourists, averaging about 25.000 visitors on a single day in 2018. As a result, more and more small Izakaya-like restaurants are opening that specialize in seafood and cooked meat, all sourced from the market itself.
Street food to try
Unless you're an Izakaya owner or local, the main reason to come to Kuromon is taste the street food and enjoy the atmosphere. Here's what kind of street food you can expect, and should definitely try!
Unagi – Baked eel Kuromon is well known for its freshly caught fish and the Unagi laced in Mirin sauce (made from sweet rice wine) is simply the best.
Kani no Ashi – Cooked crab legs. One of the most authentic tastes to try, crab legs are juicy and full of flavour.
Kaki – Oysters While the best Oysters in Japan come are caught in Hiroshima, the ones in Osaka are nearly as good at a fraction of the price. Eat them fresh, boiled, or deep-fried.
Uni – Sea urchin Best enjoyed freshly as Sashimi, Uni will taste like the sea but should never taste like fish. Get it at market rate and enjoy it right away.
Sushi and Sashimi – The fresher the better when it comes to raw fish.
Takoyaki – The street food for any festival, Takoyaki are small savoury ball-shaped pancakes containing octopus and sprinkled with different toppings. At Kuromon you can be sure that the octopus was caught the same day.
Yakitori – Skewered BBQ chicken Classical street food that should not be missed at any occasion.
Shun no furutsu – Seasonal fruits and vegetables Often slowly cooked, these change by the season. Great to eat on their own, or when you're not into fish and meat.
What to do at Kuromon market
In addition to wandering around and enjoying the street food, there's plenty else to do. Here are some recommendations.
Hamato, the original pufferfish restaurant
Almost in business for 100 years, the Hamato restaurant started as a shop selling pufferfish, also known as blowfish (fugu in Japanese). Later it became the first of its kind on Kuromon market. It's crown dish is the torafugu, or tiger puffer, which is considered one of the highest quality pufferfish on the market. Part of the allure of pufferfish is that some parts are highly poisonous, but there is nothing to worry as the restaurant has a perfect safety record since its opening.
Shop for kitchenware
There is a wide range of shops specialized in kitchenware and restaurant paraphernalia. Catering to the many restaurant owners and chefs passing by on a daily basis. This also makes for a great shopping opportunity to buy kitchenware for personal use, or an authentic souvenir.
Browse pottery
In addition to the kitchenware, there's a large section of pottery and lacquerware on sale. This proves yet another good opportunity to bring something home. Think of chinaware, tea sets and sake mugs, all at prices aimed at locals.
Taste local snacks, or take them with you for later
Different stores around Kuromon market sell local sweets and confectionery items. Try some mochi, senbei or cake. One of the oldest shops is called Naniwa-ya.
How to access Kuromon Market
Using the JR Pass, the best way to get to Kuromon Market without any additional cost is to use local JR lines to JR-Namba station. From there Kuromon market is just two blocks west.
Coming from Osaka station, take the JR Yamatoji line to Shin-Imamiya, there transfer for a local train bound to JR Namba station. The full route including transfer takes about 22 minutes.
Tips for visiting
Due to its location, Kuromon market can easily be slotted in with other highlights in the area. Think of Shinsaibashi, Dotonbori, Shinsekai and the Namba area in general.
Food can be had all day at Kuromon market but it is recommended to come early to taste the fresh fish.
Many stores are cash based, so be sure to have enough currency on hand.