Met the all brand N700S Shinkansen, the fastest and most modern bullet train by JR-Central. With a top speed of 362 km/h (225mp/h).
Table of contents:
Introduction of the N700S Shinkansen
What's new
Riding the N700S Shinkansen
Extra tips for travelling
Introduction of the N700S Shinkansen
The N700S "Supreme" Shinkansen is the latest 700 series Shinkansen operated by JR Central, running on the Tokaido and Sanyo Shinkansen lines. The train runs at a new top speed of 362 km/h (225mp/h), full active suspension, and an all new ATC braking systems for safety stops during earthquakes and other emergencies. Let's have a closer look at what the latest technology and improvements are on-board the N700S.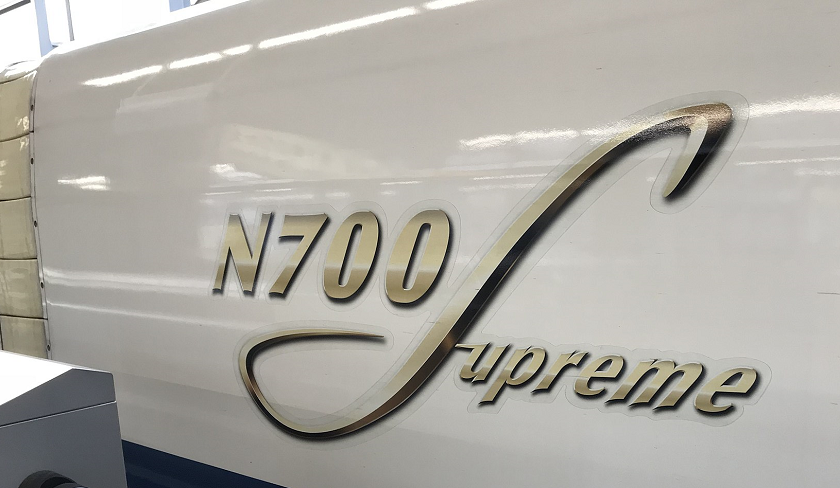 What's new
Improvements have been made to train operation, safety and passenger comfort.
Higher top speed reaching 362 km/h – The N700S comes with a new top speed of 362 km/h, that's 28 km/h faster than before. Making the journey faster than it has ever been, and saving valuable time for the business traveller.
New

ATC

and braking systems – A new Automatic train control (

ATC

) and breaking system is in place in case of emergency and earthquakes. Safety on the Shinkansen is the highest priority, with the new systems a train will automatically slowdown or stop in case of an unexpected occurrence. This makes the N700S Shinkansen nearly earthquake proof.
Batteries for self propulsion – Trains are equipped with a set up accu batteries in case over an overhead power interruption. This means the train can move on its own power to the next station without being stranded.
AC power outlets for each seat – All seats come with individual power sockets for charging phones and using laptops in the train.
New Green car layout – Green Class has been fitted with new comfortable seats and up to 15% more space compared to the older green class.
Full active suspension – specially developed for the Green Cars, active suspension adds to passenger comfort during the train ride. Making it feel like the train is moving through air rather than riding on rails.
Extra space for luggage storage – Room has been made to store larger sized luggage, to accommodate suitcases. Safety locks are added for extra security as well.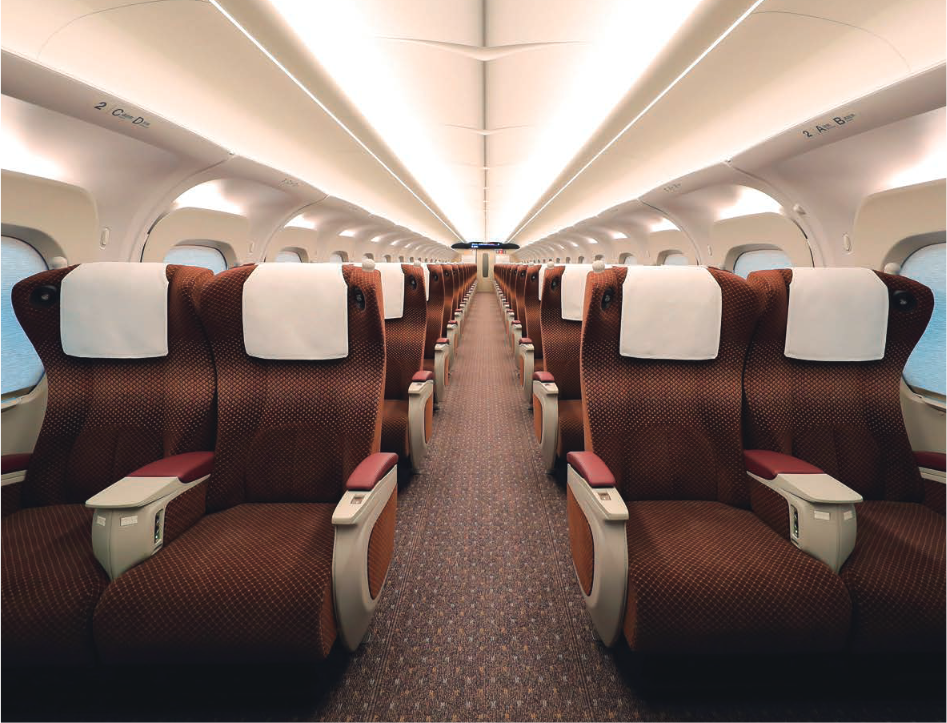 New Green Car layout and seats
Riding the N700S Shinkansen
The N700S Shinkansen will be used for Nozomi, Hikari and Kodama services on the between on the Tokaido line (running from Tokyo to Shin-Osaka) and Sanyo line (running from Shin-Osaka to Hakata). This means that the N700S Shinkansen can be used with the Japan Rail Pass. While the Nozomi is not included, the Hikari and Kodama are.
With the introductions of the N700S, older trains will slowly be phased out. However, this will be a gradual process. In case you want to make sure to be on the Supreme, ask a JR Staff member when booking your tickets what train type will be used, and they can book you on the correct train service for any given day.
Extra tips for travelling
It's possible to view Mt. Fuji from the Shinkansen, coming from Tokyo, Mt. Fuji will be on the right side of the train. Book a seat number with D in Green Class or E in Ordinary to sit at the window.
There are special bento boxes (eki-ben) themed after the N700 Shinkansen both on-board and at some stations. They make for a good meal!
For railway enthusiasts, JR Central opens their train depots to the public on different days throughout the year. It's a great way to learn more about the train and visit the driver cabin.
Photo © Hahifuheho, CC0, via Wikimedia Commons