The Hikari Shinkansen is the train that brings JR Pass users between Tokyo and Shin-Osaka, stopping at important stops like Nagoya, Shizuoka and – of course – Kyoto!
What is the Hikari Shinkansen and why is it important?
The Hikari Shinkansen is arguably the most important train for Japan Rail Pass users. This is because it is the highest speed train that can be used with the pass on the Tokaido Shinkansen line, between the cities of Tokyo, Kyoto and Osaka.
Important to understand here is that the Hikari is a train service, that basically means how many, and where the train will stop along the route. The Hikari service stops at most important station along the route. Other train services on the Tokaido Shinkansen are the Nozomi and Kodama services. The Nozomi being the fastest, as it stops at the least stations and Kodama the slowest, as it stops at (nearly) every station.
As mentioned, the JR Pass is valid on the Hikari Shinkansen and Kodama services but not the Nozomi train, so be careful to board the right train.
Using the JR Pass on the Hikari Shinkansen
Using the JR Pass there are two ways to ride the Hikari Shinkansen, either just hop on and take a non-reserved seat, or go to the ticket window and reserve your seat in advance, both options are free. Taking a non-reserved seat is nice when you are short on time and during off-peak times when trains are quiet. Seat reservations are recommended if you want to secure seating, or are travelling during busy times like rush hour or during national holidays.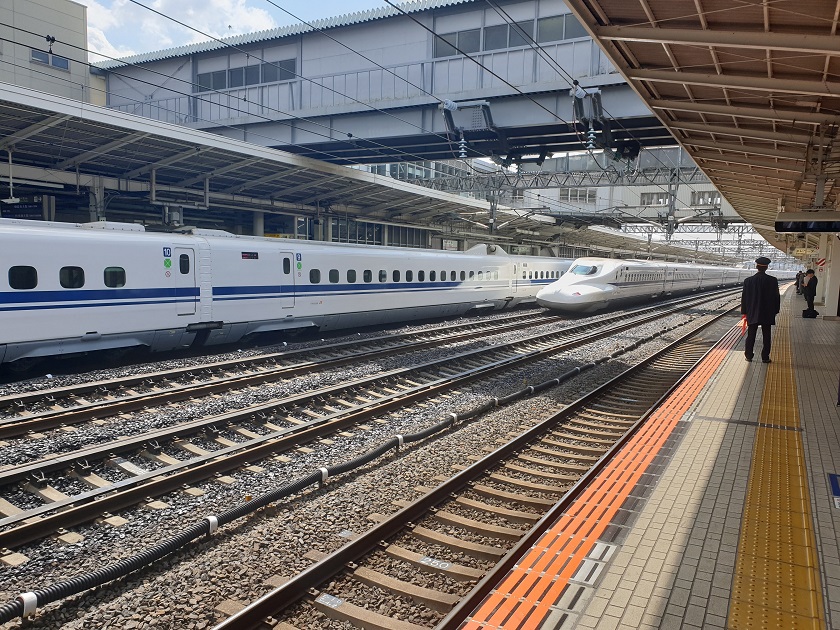 In general, we recommend using a reserved seat, as it will secure you of seating and it will also be easier to sit together when travelling in a group.
Hikari Shinkansen Timetable
The timetable can depend on day of travel, time of year and other factors. The timetable for the Hikari Shinkansen can be found here on the official website of JR-Central. Alternatively, we recommend Hyperdia for planning your trip around Japan.
On average at Hikari Shinkansen service will depart at least every 30 minutes during daytime, so you never have to wait long for the next train.