Japan is a great for those looking for outdoor activities. Climbing in particular is upcoming. Today we lay out the basics for climbing in Japan.

Table of contents:
Things to Know When Climbing in Japan
Climbing and Bouldering Gyms in Japan
Climbing Destinations in Japan
Japan is a great for those looking for outdoor activities. Not only can you find incredible landscapes across Japan's islands, but there is a culture there of making the most of the surrounding nature. People may already be familiar with the many possibilities for hiking in Japan, but another outdoor sport with lots of opportunities is climbing.
It seems like the sport of rock climbing is having its moment in the limelight right now. Movies like Free Solo and Meru have made a huge impact on people's interest in climbing and that is sure to only grow now that sport climbing is soon to be an event for the first time ever in the upcoming Tokyo 2020 Olympics.
Now, Japan may not be generally well-known as a climbing destination, but you'd be surprised just what you can find there. So, whether you're new to climbing, or super into bouldering, sport climbing or trad climbing, we think you're going to really enjoy climbing in Japan.
Things to Know When Climbing in Japan
Before we get into where to climb in Japan, it's worthwhile running through some things you might want to know before going. Just to be clear here, we're talking about rock climbing and sport climbing, rather than mountain climbing like the way you hike up Mt Fuji.
1.) Information Online:
There's not a great amount of information online about climbing in Japan in English. That can make it hard when trying to plan a trip there. Like other regions around the world, the Crag is a useful place to start, as is All Trails. To really get the most current and helpful information though, you need to find local climbers or associations in Japan who can help you out. There are also guide services for climbers as well if you don't mind paying for the convenience.
2.) Best Time to Visit:
No matter where you're climbing, the time of year is going to impact outdoor climbing opportunities. Thankfully, Japan has a solid variety of locations with different climbs for summer and winter. Generally speaking, summer from July through September is a good pick as many spots are at high altitude. Oh, and try to avoid weekends when you can, as local climbers almost exclusively head out then, leaving outdoor climbs on weekdays nice and quiet.
3.) Grading System:
Just to add a little complexity to your planning, climbs in Japan tend to use a different grading system than you're probably used to. Rather than the familiar V-scale, Japan uses a grading system taken from martial arts known as dankyu. There's no exact conversion from one to the other, but people will give you an approximate equivalent if you ask.
4.) Getting About:
Most outdoor climbing spots in Japan aren't going to be right in a city somewhere. No, you're going to need to head out into the countryside, either as day trips or overnight stays. To make that side of things easier, it's best to use a Japan Rail Pass so that you can freely move about and save money at the same time. A pocket Wi-Fi can also be very useful for helping you find spots and navigating while out and about.
Climbing and Bouldering Gyms in Japan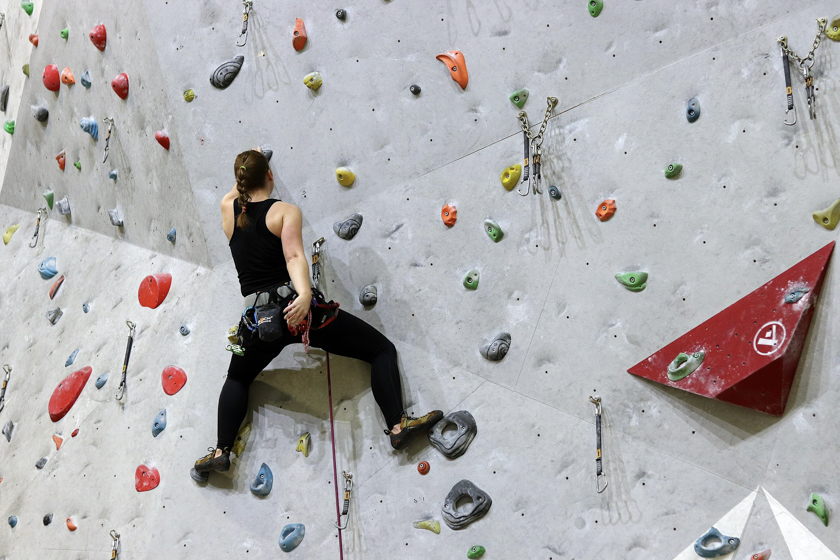 If you're just starting out with climbing or bouldering, then a gym is the smart place to start. Naturally, they're also ideal if you don't have time to venture out to a popular spot somewhere in a national park.
The good news is that you shouldn't have any problem finding somewhere to climb, especially in Tokyo with its many great bouldering gyms. Most bouldering gyms have multiple walls with ever-changing routes and some, like Headrock Climbing Gym, even offer beginners classes. You will likely need to pay a one-time sign-up fee when trying out a new gym though. While you're spoilt for choice in Tokyo, don't be surprised if options in smaller Japanese cities are a bit more limited.
Climbing Destinations in Japan
Ogawayama
Starting with one of the best climbing spots in Japan we have Ogawayama, a mountain in the Chichibu Tama Kai National Park. Measuring at 2,418 metres-high, the huge granite rocks that cover this mountainside make it a great place for bouldering and sport climbing. Ideal for people all abilities, most of the climbs here are single pitch with a nice variety of orientations. For bouldering, head down near the camp site for mostly slab climbs but also some roofs. 
Because of the altitude at Ogawayama, this is mostly a summer climbing spot. Fair warning, this is a popular spot and can get busy over the weekend. For more information on Ogawayama, take a look at this resource.
Mt Mizugaki
Not far away in Chichibu Tama Kai you find another popular climbing spot on Mt Mizugaki. Roughly 3 hours from Tokyo, Mizugaki offers up plenty of bouldering problems but also has trad climbing routes as well. In the forest at the Mizugaki Bouldering Area you'll find some good highball bouldering, including some really challenging problems. Much like Ogawayama, it's a summer spot and one that can get busy due to its popularity. Another popular bouldering option in Chichibu Tama Kai worth mentioning is Mount Mitake as it's on the near side of the national park to Tokyo making it a bit more convenient. 
Maku Iwa
Not all good outdoor climbing spots are up in the mountains, with Makuyama Park near Hakone a perfect example. Another possibility as a day trip from Tokyo or Yokohama, this park boasts both great bouldering and sport climbing spots. The sport climbing there features mostly short routes and slabby climbs with well-maintained bolts making it quite a reliable place to visit. Because of its lower altitude than the above climbs here, Maku Iwa is still good in winter which is nice for those travelling in the off season.
Mt. Fuji
Mt. Fuji is the most iconic climb in Japan, read all about it in our special post Climbing and Hiking Mt Fuji: The Comprehensive Guide.