japan_newbie
almost 11 years ago
7 responses
Can I reserve aisle seat(s) when getting ticket through the ticket machine myself ? Thanks!
1950 posts
1603 likes
almost 11 years ago
Hi there,
With a Japan Rail Pass you can get free seat reservations by visiting the JR ticket counter and speaking with the clerk. JR staff at all major stations will be able to speak english so you should have no problems!
As you must present your japan rail pass in order to qualify for a free reservation, you will need to visit the JR ticket counter in person. Ticket machines will not be able to provide free reservations.
Hope this helps!
---
Looking for more information? Search the forum
Instant Quote
Starting from $236.00 for 7 days of unlimited Japan Rail travel
Can't find the answer?
Learn from over 15386 questions about the Japan Rail Pass, or ask our Japan Rail travel experts
Ask Question
---
Get pocket Wifi in Japan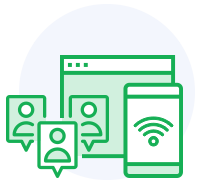 Get inspired for your visit to Japan by following us on Instagram and don't forget your own shots once you are there.