Yufuin no Mori is a luxurious express train that travels in Kyushu between Fukuoka (Hakata station) – Yufuin and Beppu. The train ride is well worth making on its own but best combined with an Onsen stay at Yufuin or Beppu. The Japan Rail Pass and JR Kyushu Passes completely cover the train ride.
Getting your tickets, Yufuin no Mori makes 3 daily trips from Hakata – Yufuin and 2 trips back from Yufuin to Hakata. The train is very popular and we recommended reserving seats at least a couple of days in advance. There are no non-reserved seats, so reservations beforehand are mandatory.
Yufuin no Mori service 1 – 3 – 5 travel from Hakata – Yufuin
Yufuin no Mori service 2 – 4 travel from Yufuin to Hakata
Route:
The train starts at Hakata station, this is also the Shinkansen station for Fukuoka. Most passengers will arrive here coming from Tokyo or Kansai. From there it stops at bigger stations like Tosu, Kurume, Hira and completes the trip to Yufuin in a little over 2 hours.
On board
The interior of the train is mostly decorated in a traditional wooden style with green carpet and seats, to reflect the relaxing nature of Yufuin and the surrounding mountain forests. There's a lounge and bar on board, where you can enjoy viewing the landscape pass by or try one of the exclusive drinks and snacks sold on the train. For those who fancy a larger meal, Yufuin themed Bento boxes are sold on board as well.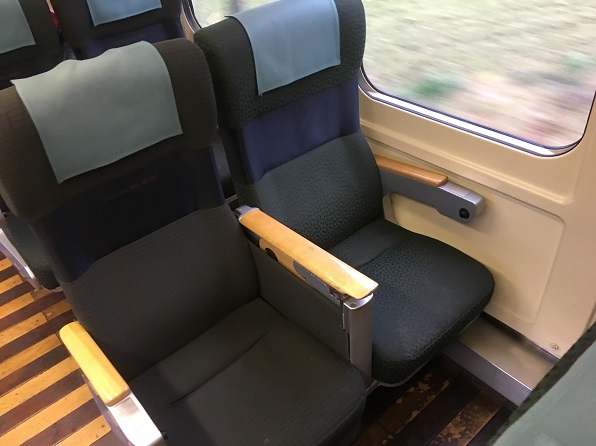 The train operates a 2×2 seating row. Seats can be turned around to make 4 seats facing each other, perfect for travelling families.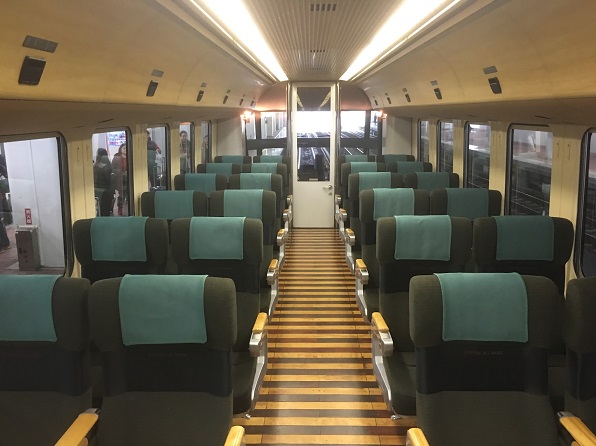 Wooden interior of the train, made to feel like you are already in an Onsen resort. Passengers in the front car can have a look in the operator's cabin.

Onboard bar with special snacks and drinks. Try the Yufuin green tea!
The view of the Kyushu landscape is wonderful. Once the train is past Kurume station, the landscape becomes a background of rolling hills that turn into the blue Minou Mountains. Once the train enters mountainous terrain, it follows a riverbed that provides many scenic views, including the Jion-no-taki Waterfalls. Keep your camera ready!
Arrival at Yufuin
Yufuin station is very small but centrally located at the southern part of town. Many Ryokan and local accommodations offer free pick-up from the station. There are also taxis and a limited bus service available. For those who can't wait to try an Onsen, the station also has its own foot onsen.
Getting to Beppu
Yufuin no Mori service 3 is the only Yufuin no Mori service that travels onto Beppu. Passengers on the other services can use a local train from Yufuin to Beppu or use the Yufu ltd. train service instead. We do recommend using the Yufuin no Mori train, because it simply is much better experience all round.
Google maps
Walk around the train using google maps.
Official website and timetables:
Yufuin no Mori – JR Kyushu