Table of contents
Intro
A Brief History of Japanese Railways
Japan: A Country of Train Lovers
Japan's Best Train Stations to Visit
Special Rail Journeys in Japan
Tokyo for Trainspotters
Don't Forget 
Intro
There are few absolutes in life, but if you love trains, surely there is no better place in the whole world for you to visit than Japan. The country's domestic rail system is world-famous and its amazing trains are world-renowned for their exceptional quality, ingenuity and efficiency. Of course, they are more than just technological marvels – they are beautiful, charming and in some cases nostalgic and completely unique. And it's not just international visitors who love Japanese trains, Japan is a nation of train lovers (they geek out for their own trains more than anyone!) so if they are your passion too you will feel right at home. Using your JR Pass for unlimited train travel, you'll be able… From unmissable train stations to the most spectacular rail journeys (and of course, spotting your favourite trains along the way), a trainspotting tour of Japan will be a once in a lifetime holiday for train lovers.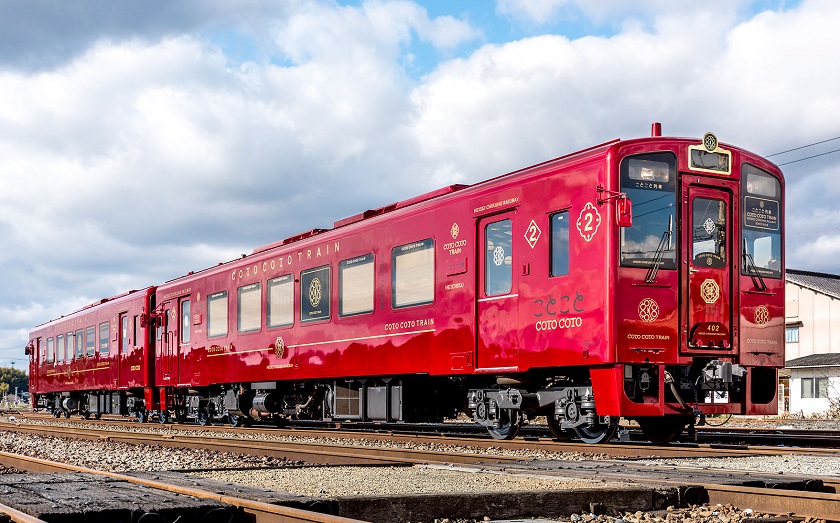 A Brief History of Japanese Railways
The story of Japan's trains began in the late 1800s after the country ended its self-imposed 250-year isolation from the world. Eager to catch up with the West, Japan launched into a period of rapid modernisation which included a new and passionate interest in building railways across the country. After witnessing a demonstration of a train known as the 'Iron Duke', the Japanese government decided to build a railway from the new capital of Tokyo to the busy port of Yokohama. This line was opened in 1871, and over the next two decades the network rapidly expanded across Japan, until the system was nationalised in 1906. After this, Japan began to build its own locomotives rather than importing them. Sadly, the devastation of the Second World War brought the country's progress to a sudden halt and in many ways the real story of the nation's rail network begins post-1945.
Following the war, Japan's rail network was rebuilt under the control of Japan National Railways (JNR) and over the next 20 years, new trains, including limited expresses and night trains, and new routes were introduced as well as a programme of electrification. However, it was the 1964 Tokyo Olympics that proved the catalyst for Japan's revolution in rail travel that would see it become a world-leader in trains with the opening of the Shinkansen – the world's first high speed train to coincide with the games. This 'bullet train' became synonymous with Japan and ushered in a golden age for the country's trains over the course of the next decade. Today the Shinkansen carries more than 150 million passengers every year.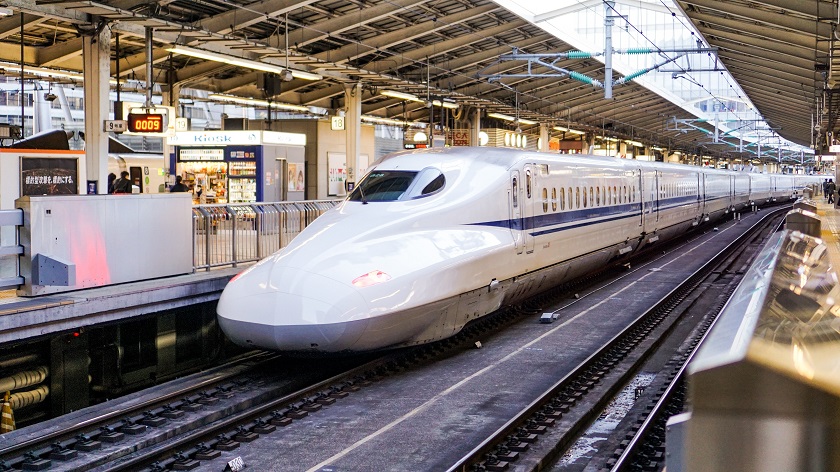 Japan has continued to build on its legacy with new innovations and achievements year after year. These included the world's longest undersea train tunnel (until 2016) and the world's first maglev (magnetic levitation) metro train. The country's trains are not just futuristic and technical marvels however, there are also hundreds of beautifully designed vintage trains, as well as quirky and colourfully decorated carriages that look like something out of Studio Ghibli (not to mention Hello Kitty and Pokémon trains!).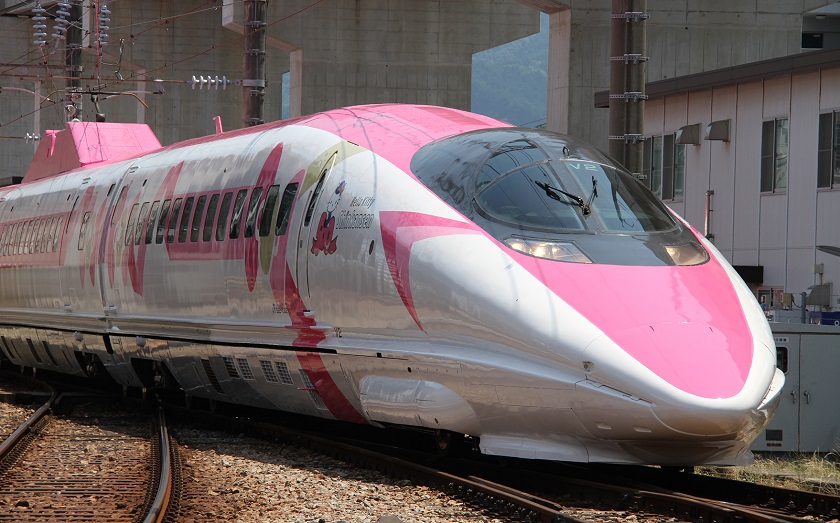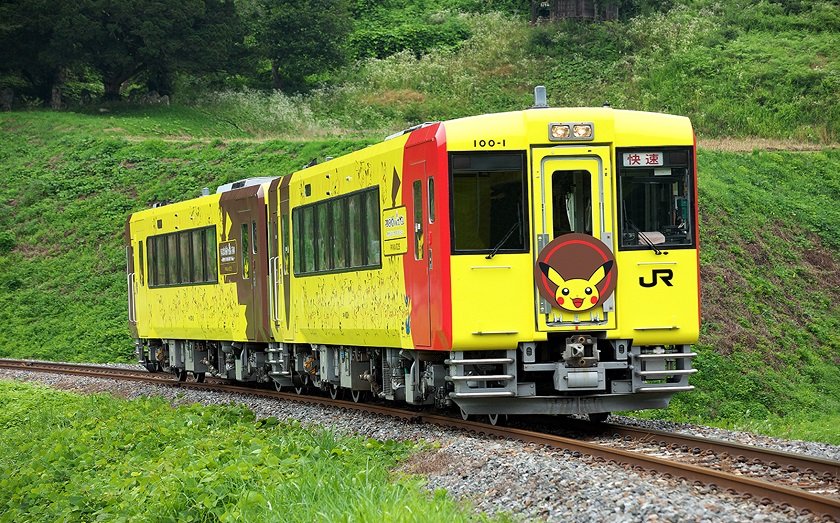 Japan's trains have the unique ability to transport to you both the future and the past! For a wonderful gallery of train carriage photographs visit Japan National Tourism Organisation's page on scenic railways.
Japan: A country of train lovers
Japan loves trains. It loves them so much it doesn't just have one word for its trainspotters, but dozens. The general word for trainspotters or people who take photos of trains is tori-tetsu. However, this being Japan there are also nori-tetsu (people who love train journeys), eki-tetsu (those who love train stations), oto-tetsu (trainspotters who record the sound of trains), sharyo-tetsu (lovers of train design), yomi-tetsu (those who love reading about trains) and even ekiben-tetsu (fans of the bento lunch boxes sold at train stations). Needless to say, if you love trains, railway journeys and train stations, you've come to the right country.
Japan's Best Train Stations to Visit
From huge and futuristic architectural wonders, to more traditional and nostalgic train stations, to picturesque and unique railway stops, Japan has a train station for every inclination. And with your JRail Pass for unlimited travel you will be able to visit as many as you want. We've put together a selection of stations from across Japan that are worth seeking out during your visit to the country:
Kanazawa Train Station
One of Japan's most beautiful train stations, Kanazawa combines contemporary architecture with tradition in the form of a futuristic glass and metal roof supported by an imposing and impressive red torii gate (the 'Tsuzumi-mon' or 'Wooden Drum' gate). Since the opening of the Hokuriku Shinkansen a few years ago, Kanazawa can now be easily reached from Tokyo. 
Kyoto Train Station
 



 
This huge and modern architectural masterpiece features a skywalk with stunning views of Kyoto and looks more like a space station than a train station. It is beautiful in its own right however, with a huge amount going on, including lots of excellent places to eat. Don't miss Kyoto Ramen Street which is located on the tenth floor of Kyoto Station, to the south of the Daikaidan Grand Stairway. 
Tokyo
Unlike Kyoto's futuristic station, Tokyo Station is a much more traditional red brick building which wouldn't look out of place in London. A five-minute walk from the Imperial Palace and home to the luxurious Tokyo Station Hotel, this industrial era landmark is well worth a visit for trainspotters with a love of tradition as well as international tourists with a taste for history. While there, check out Ekiben ya Matsuri, a shop in the station's main passage which sells more than 200 types of ekiben (packed lunches for train journeys) from across Japan.
Maihama Station
Maihama Station in Chiba Prefecture is the gateway to Disneyland Japan and DisneySea and is decorated in Disney artwork making this unmissable and magical for fans.
Manseibashi Station
This station may have closed in 1944, but visitors to Tokyo today can still enjoy it by booking a table at the restaurant, Platinum Fish, which is now based there. And there is even better news for trainspotters as trains still run right past the restaurant providing a unique and unforgettable viewpoint. 
Shimonada Station



This beautiful and isolated station has become popular with train lovers …
Special Rail Journeys in Japan
Japan's beautiful, diverse and unique landscape – cities, forests, mountains, volcanoes, hot springs, beaches, lakes and more – mean that no two train journeys are quite the same. The country features some of the world's greatest train journeys and we've put together a small selection below:
Fujisan View Express





The Fujikyu Railway will take you from Otsuki station to Kawaguchiko station at an altitude of 500 metres with incredible views of Mt Fuji.
Mitake Tozan Railway
Mitake Tozan Railway runs a traditional cable car line built in 1927, which takes visitors to the top of Mt. Mitake. Mitake is 90 minutes away from Tokyo by train. From Shinjuku Station, take the JR Chuo Line train bound for Ome. Change to the Ome Line at Ome Station bound for Okutama, and get off at Mitake Station. 
Tango Akamatsu
One of the 'Three Views of Japan', this train runs between Amanohashidate and Nishimaizuru, along the scenic Nagu coastline and across the Yuragawa Bridge, where you'll enjoy wonderful ocean views.
Alps Express




 
The Alps Express journeys along the Toyama Chihou Railway, from the wide-open Toyama Plain to the magnificent Tateyama Mountain range, Toyama Bay and its famous mirages, and Unazuki Hot Springs. 
Twilight Express Mizukaze
A luxury hotel in a train, the Twilight Express Mizukaze is not cheap, but it might just be the most exclusive train experience you'll find anywhere, with guest rooms, suites that span an entire carriage, an all-inclusive restaurant and lounge, and more. Routes include Sanyo (including Kurashiki and Iwakuni) or Shikoku (through Tottori and Izumo). 
For a comprehensive list of scenic railway journeys across Japan check out the official website of the Japan National Tourism Organisation.
Tokyo for Trainspotters
Tokyo alone has a lot to offer trainspotters from around the world. Here are a few selected highlights for all tastes: 


Kiha in Nihonbashi is a bar whose second floor has been refurbished to look exactly like a Tokyo subway carriage. It is very popular with train lovers as a result! 
The Railway Museum in Omiya. Featuring 140 years of railway history and more than 30 real-life train carriages to explore, this is a full day out for train lovers just 45 minutes from Tokyo in Omiya.
Train Hostel Hokutosei in Bakurocho. A completely unique hostel, which can be accessed directly from JR Bakurocho Station, this was named after the defunct Hokutosei sleeper train, which operated between Tokyo and Sapporo for 27 years. Each of the hostel's rooms feature interiors recreated from the train's cabins. Unmissable for enthusiasts!


Fifty-Two Seats of Happiness. This brilliantly named four-car train carriage and fine-dining restaurant experience runs from Ikebukuro (or Seibu-Shinjuku Station) to Seibu-Chichibu Station out in Saitama prefecture. Travellers can enjoy brunch or dinner during their return journey in a beautiful carriage whose exterior and interiors were designed by Japanese architect Kengo Kuma. 


Tokyo Metro Museum.
Located directly under the Tozai line's railway tracks, this interactive museum features real carriage and train simulators. The museum gift shop is also highly recommended for train-related memorabilia. 
And remember if you're travelling around Tokyo itself, don't forget to invest in a prepaid travel card as well as you JR Pass for getting around the rest of the country.
Don't Forget