In a previous post we covered the Tokyo Olympics Torch Relay and how it will travel through Japan. Last week, the arrival agenda for the Olympic Flame was announced, together with a special air plane to delivery the Olympic fire to Japan. JAL and ANA, the two major airlines of Japan, will fly an aircraft in special livery from Greece to bring the Olympic flame to Japan.
Lighting the Olympic fire for the 2020 Tokyo Olympics.
The Olympic Flame will be lit at Ancient Olympia on March 12, with a week-long Torch Relay ceremony held in Greece. Followed by a flame handover ceremony at the Panathenaic Stadium in Athens on 19 March 2020.
After which a special aircraft will take the Olympic fire to Japan. The aircraft will land at the JASDF Matsushima Air Base in Miyagi Prefecture on March 20. Tadahiro Nomura and Saori Yoshida, who are both prior gold medalists, have been given the honour to deliver the flame.
Tokyo 2020 Olympic Torch Relay Aircraft
The aircraft will be a Boeing 787-8 Dreamliner wearing a special livery named simply "TOKYO 2020." It features a runner with the torch at the front of the fuselage and red strokes representing the Olympic flame.
The livery fill feature the words: "Tokyo 2020 Go" representing the concept of the torch relay and the saying: "Hope Lights Our Way."
Explained by the Tokyo Olympic committee:
The name of the aircraft ⎼ TOKYO 2020 Go ⎼ incorporates the Japanese word "号", the suffix used for the numbering of trains, buses and aircraft. This also has a similar pronunciation to the English "Go!", implying the start of a journey. The overall name is intended to reflect the plane's mission to deliver the flame to the Olympic Games and the sense of anticipation as the Games near.
ギリシャ➡️✈️➡️日本
オリンピック聖火を運ぶ特別輸送機「TOKYO 2020号」のデザインが発表🥳✨#Tokyo2020 #聖火リレー #TorchRelayANA_travel_info</a> <a href="https://twitter.com/JAL_Official_jp?ref_src=twsrc%5Etfw">JAL_Official_jp pic.twitter.com/Ifw8pD3WQR

— 東京2020聖火リレー (@tokyo2020seika) October 25, 2019
Tokyo 2020 Aircraft liveries:
It's not the first Tokyo 2020 aircraft livery, last year ANA announced a special HELLO TOKYO 2020 Jet. Which already is on service for domestic flights in Japan.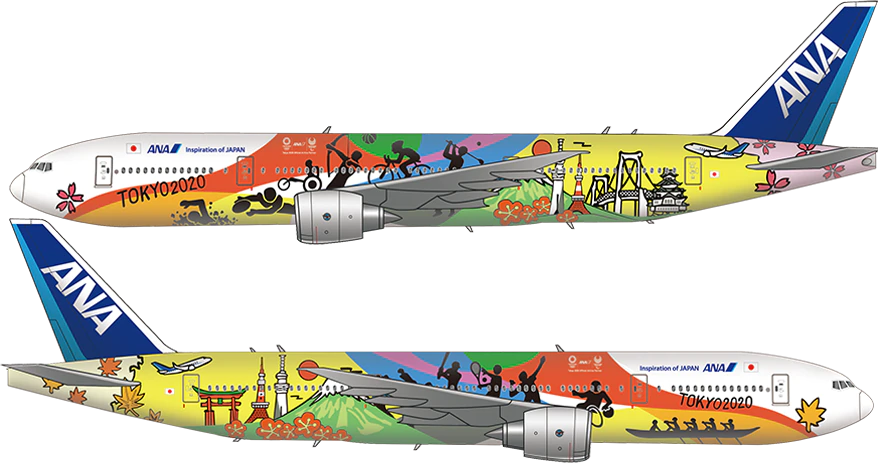 Meanwhile, JAL has launched its own Olympic themed aircraft called: "Everyone's JAL 2020 Jet", bearing the official Tokyo 2020 mascots, Miraitowa and Someity. Also in service on domestic routes.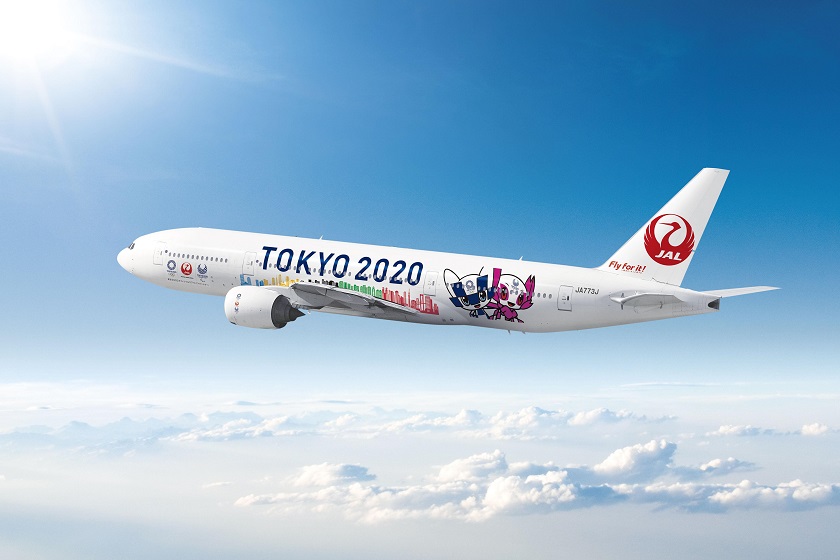 Special trains for the Tokyo 2020 Olympics.
As of writing, no special train liveries have been announced. However, there will be extra train services and a complete new Shinkansen in service. More about those in our: Tokyo 2020 Olympics introductory guide. A special Yamanote line train is expected later this year.
For more information see our mini Tokyo 2020 Olympics website