At a height of 333 meters Tokyo Tower has been the most iconic sight of the Tokyo skyline for over 60 years, and standing strong Tokyo.
With the founding of NHK in 1953 (Japan's national broadcasting organization), Japan required a better way to broadcast across the country. At the time Japan did not have many tall buildings, to solve for this, Tokyo Tower was founded.
Completed in 1958, Tokyo Tower was build to symbolize the country's postwar economic boom. The design was heavily influenced from the Eiffel Tower and build just 9 meters taller. At the time of completion it was the tallest tower structure in the world and remained the tallest structure in Japan, until the Tokyo Sky tree bypassed it in 2010.
Since its construction Tokyo Tower has been an active radio broadcasting tower, reaching all of Japan and many other countries. In addition to providing a spectacular view over the greater Tokyo area. There are two observatory decks, one at 150 meters high and the top deck at 250 meters.
Visiting Tokyo Tower
Tokyo Tower is a well-loved tourist spot and recommended for anyone wishing to see the Tokyo Skyline. Because of its central location, the Tokyo gives provides an interesting perspective into the inner workings of Tokyo.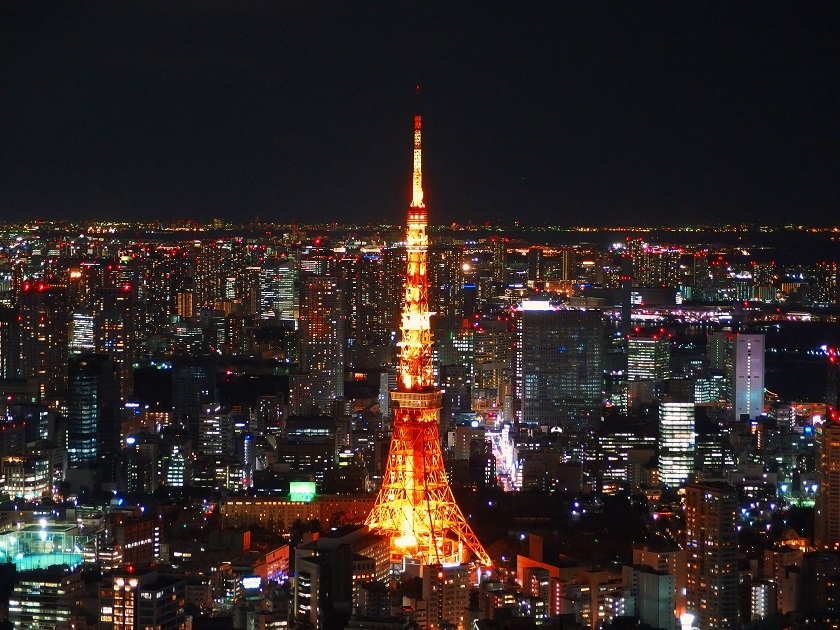 The main deck stands at 150 meters high, and can be reached by elevator or a 600-step staircase. The observation deck has a special glass floor called "Skywalk Window", though which you can see the dazzling view of Tokyo beneath your own feet.
Going up further at 250 meters is the top deck, given a birds eye of the greater Tokyo area and bay, on a clear day it is even possible to see Fuji-san! The best time to visit is a little before sunset, this way you get both the day and night view of Tokyo. There's also something magical about seeing the sky turn dark and lights around Tokyo slowly turning on one-by-one.
Once you go down, there is a souvenir shop and food court in the basement (BF2 floor) and a little museum that tells the story of how Tokyo Tower was build.
Tickets for Tokyo Tower
Tickets to enter Tokyo Tower can be bought upon arrival or online. A slight discount is given to online purchases. Ticket prices are as follows:
Main Deck
Adult 1200 yen
Student 700 yen
Child (4-6) 500 yen
Main Deck + Topdeck (tour included)
Adult 2800yen (3000yen at ticket counter)
Student 1800yen (2000yen at ticket counter)
Child (4-6) 1200yen (1400yen at ticket counter)
Tokyo Tower access
Coming by JR, the closest station is Hamamatsucho station, and about 1.1k (15min walk) away. Hamamatsucho station is on the JR Kehin-Tohoku line and JR Yamanote line, in addition to the Tokyo Monorail. All of these are included in the JR Pass.
Using the Tokyo Metro, the closest station is Akebanebashi on the Oedo subway line.