With a visit to Ashikaga Flower Park you can see some incredible flower displays including a world-class wisteria season.
Table of contents:
Ashikaga Flower Park
When to Visit Ashikaga Flower Park
The Great Wisteria Festival
Ashikaga Flower Fantasy Winter Illuminations
Tips for Visitors to Ashikaga Flower Park
With a visit to Ashikaga Flower Park you can see some incredible flower displays including a world-class wisteria season.
Seeing flowers bloom in Japan is one of the most adored activities for tourists looking to see the country at its prettiest. And while cherry blossoms always receive the most attention, there are plenty of other flower experiences in Japan worthy of tourists' notice. Ashikaga Flower Park, a couple hours north of Tokyo, is one such experience that has been made famous thanks to its flower displays.
Trust us, you'll never see a more magical sight than this flower park when its wisteria are in full bloom. Here's how to visit Ashikaga Flower Park with your Japan Rail Pass in hand.
Ashikaga Flower Park
First opened in 1968, Ashikaga Flower Park has grown to become an immensely popular tourist destination in Japan for those hoping to see gorgeous Japanese flowers. The park has expanded and relocated over the years and now covers 23 acres on the outskirts of the city of Ashikaga in Tochigi Prefecture. While most people associate Ashikaga with its white, pink, purple and blue wisteria trees, you can also see azaleas, tulips and even lavender there.
When to Visit Ashikaga Flower Park
It should be no surprise that timing is very important when considering an Ashikaga Flower Park visit. After all, flower parks are normally very seasonal and the best time to visit depends on when the flowers and trees are in bloom. What's so great about Ashikaga is that has many different floral seasons, making it a great destination year-round. You can even plan return visits here as the park will look mightily different depending on what's in bloom.
The most popular flower seasons are:



April: Spring flowers like Tulips


May around Golden Week: Blooming Wisteria


June: Blue and White Hydrangeas


October: Fields of Lavender
The Great Wisteria Festival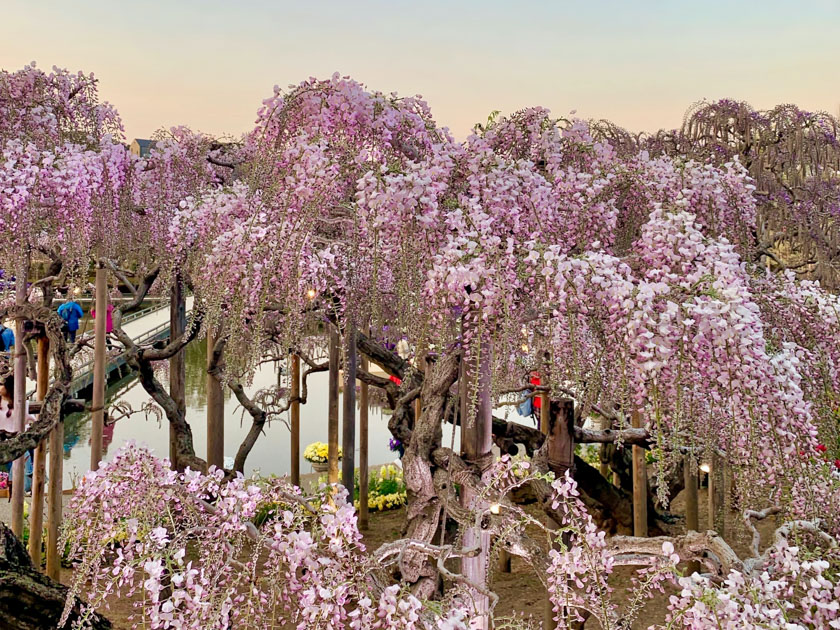 While we may have talked about some of the most popular times to visit Ashikaga Flower Park, in truth the wisteria season is by far the most popular. Wisteria are known as fuji in Japan, and Ashikaga is possibly the best place in Japan to see fuji flowers. That's because when these flowers reach full bloom, usually around Golden Week, the sight of the vibrant fuji is simply overwhelming.
Ashikaga Flower Park is home to more than 350 wisteria trees, with its oldest said to be well over a hundred years old. And not only is it really old, this one tree creates a massive umbrella of purple fuji flowers when it reaches full bloom. The other most impressive attractions during the wisteria season dubbed the "Great Wisteria Festival" are an 80-metre-long tunnel covered in white fuji flowers and a second tunnel covered in yellow laburnum flowers.
You can even see what the fuji look like illuminated at night as the park allows special evening admissions during these short few weeks. Really, the only downside to this spellbinding scene is that you'll have to share it with a lot of people as it's the busiest time at the park thanks to the holidays of Golden Week.
Ashikaga Flower Fantasy Winter Illuminations
Visiting a flower park during winter may not seem like a great use of your time, but it's actually a great time to visit Ashikaga. Winter illuminations are extremely beloved in Japan and the illuminations at the flower park are one of the country's most celebrated.
During the colder months hundreds of thousands of multi-coloured lights are set up around the park on a scale that's hard to imagine. From lining garden beds and walkways to chains of lights hanging like fuji along a tunnel, you're surrounded by light once night falls. There are even light shows with music and art installations created using the lights, making Ashikaga just as worthwhile to visit in winter.
Tips for Visitors to Ashikaga Flower Park
To reach Ashikaga Flower Park from Tokyo, first take a Shinkansen to Oyama station, making sure you take a service that stops there. Then you need to transfer to the JR Ryomo Line and travel to Ashikaga Flower Park Station just outside the park. All of this journey is covered with your JR Pass.
Most of the year, the opening hours of the park are from 9:00 to 18:00. However during winter hours are reduced to 10:00 to 17:00 and during the Great Wisteria Festival they're extended to 7:00 to 21:00.
Just as opening hours vary during the year, so too do the entry fees to the park. In fact, the admission fees can even differ from one week to the next and range from 300 to 1800 yen depending on season.
If you're not content with just looking at the wisteria, you can even see what it tastes like by buying a purple Fuji Ice Cream flavoured with the flower.
Those interested in seeing flowers in Japan should read our articles on similar attractions like the Furano's Lavender Fields and Hanami Cherry Blossom Festivals.