Table of contents
Intro
Japan and Food: A Brief History
Japan's Best Regional dishes (and Where to Find Them)
Fine Dining in Japan
Japanese Table Manners
Don't Forget
Intro
Sushi. Ramen. Sashimi. Gyoza dumplings. Yakisoba noodles. Miso soup. Yakitori. Kobe beef. Tempura. Takoyaki. Okonomiyaki. The list goes on and on. Japan is a paradise for food lovers, but it has so much to offer it could be overwhelming for first-time visitors to the country, or those less familiar with its delicacies, its many regional specialities, and its subtle dining etiquette and customs. We'll take you around this breath-taking country to discover Japan's must-eat dishes, mouth-watering regional variations you have to try, where you can find them, and of course, how to get there with your JR Pass, in this special beginner's guide.
Japan and Food: A Brief History
Japan's love affair with food goes back thousands of years and finds its origins in the wet-rice cultivation methods imported around 2,000 years ago, the plentiful seafood, and also the introduction of Buddhism to Japan in the 6th century. The latter led to laws and edicts preventing animals from being eaten and, combined with the rice-based cuisine, inspired a vegetarian style of cooking known as shojin ryori. By the 15th century, many of the foods and ingredients eaten by Japanese people today had become a key part of the country's food culture. These included soy sauce, miso, tofu, and other products made from soybeans. Also, at this time, a formal and elaborate style of banquet cooking developed that was derived from the cuisine of the court aristocracy. This was known as honzen ryori and is one of the three basic styles of Japanese cooking along with chakaiseki ryori (cuisine of the tea ceremony) and kaiseki ryori. At the end of the Edo period, when Japan ended its self-imposed isolation, it opened its doors to Western influences and techniques (the British allegedly introduced the Japanese to curry for example) and it shared many of its own dishes with the wider world (many of which have gone on to become world-famous), but it also maintained its own unique culinary identity.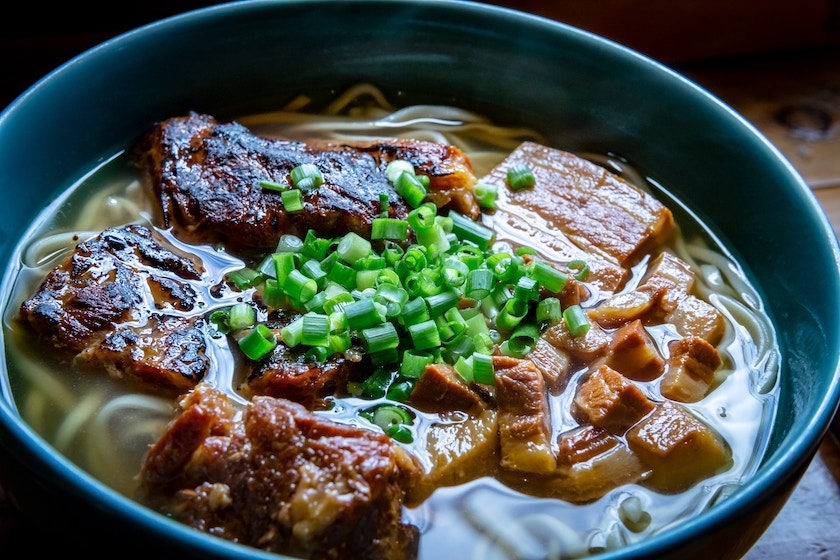 Today, Japanese cuisine or 'Washoku', which means 'food of Japan' is known for its individuality and exceptional quality. Chefs spend years learning their craft and often focus on mastering a single dish or culinary speciality, elevating it to new standards over years of intense practice.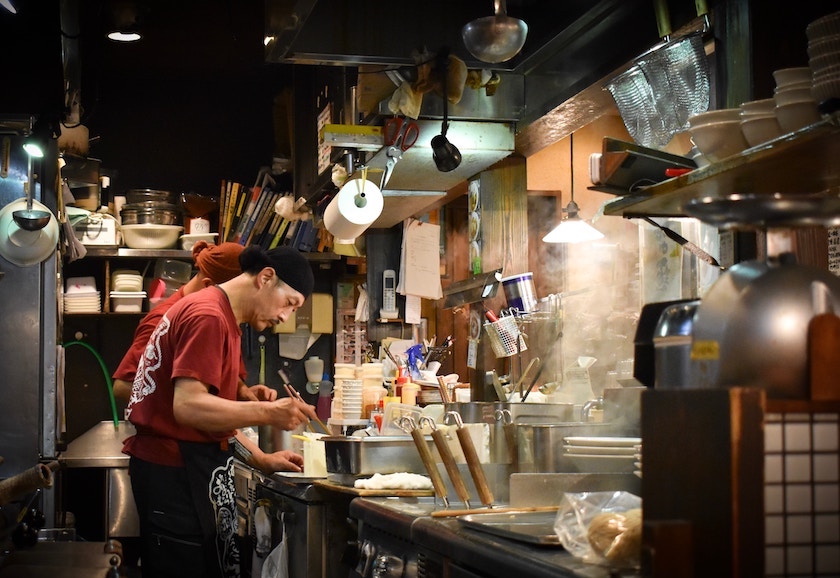 This approach has led to the exceptionally high-standard of culinary excellence in restaurants across Japan, which is reflected in the incredible number of Michelin stars awarded to chefs from the country. Even foods not traditionally associated with fine dining such as ramen and sushi have become gourmet specialities at the very highest level due to Japan's focus on quality, technique, tradition, and innovation. In the case of sushi for example, the preparation may take decades to master, from making and shaping rice, to perfecting the flavour of fish through aging, massaging, temperature control, and precision of cut.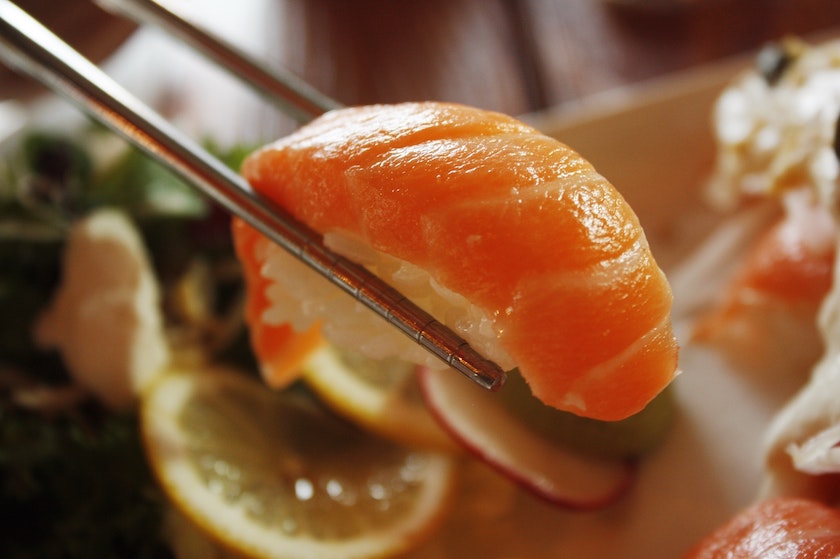 Foodies from all over the world travel to Japan's Michelin-starred restaurants in Tokyo, Osaka, Kyoto and Hiroshima. However, Japan's legendary cuisine is not restricted to its major cities, but is spread right across the entirety of the country. And it's not all fine dining either. Japan is full of small, local producers, street food vendors and stalls, and family-run restaurants. This is a country where regional flavours, locally-sourced ingredients, and ancient culinary traditions come together to create a quality and diversity which has to be tasted to be believed, and that can only be experienced if the whole island is explored.
Japan's Best Regional dishes (and Where to Find Them)
Thankfully, as well as boasting some of the world's greatest dishes and culinary experiences, Japan also has a world-leading domestic rail system to connect the length and breadth of the country and transport you from A to B in your Japanese food adventure. A Japan Rail Pass gives you unlimited rail travel and is a smart investment if you want to save time and money on train tickets while sampling Japan's best regional dishes. You'll find Tokyo, Kyoto and Osaka easily accessible and well-connected by train, but your pass will also help you reach rural locations more off the beaten track, such as traditional post-town of Tsumago in the Kiso Valley which is famous for its fresh regional food. But with so much to choose from and so many places to go, what regional speciality dishes should try and where can you find them? Here is a list of our recommendations:
Yakisoba Noodles – Egg noodles fried with mixed vegetables and served in gently sweet and savoury Yakisoba sauce, along with meat or vegetables – ideal for newcomers to Japanese cuisine.
Gyoza Dumplings – Japanese dumplings made from a thin dough filled with shredded vegetables and meat, served with dipping sauces.
Yakitori – Skewered meat grilled over charcoal.

Takoyaki – Diced octopus encased in a light batter and rolled into a ball with spring onion and ginger and topped with green seaweed, sauce, sliced and dried bonito, and sometimes drizzled with mayonnaise. This delicious dish is famously a speciality of Osaka – a city known as Japan's kitchen. You can reach Osaka from Tokyo on the Hikari and Kodama trains on the Tokaido Shinkansen lines using the Japan Rail Pass.




Okonomiyaki – Another specialty of Osaka, Okonomiyaki is essentially a savoury pancake packed with cabbage, egg, seafood and noodles. However, you should definitely check out Hiroshima's layered twist of this famous dish, which has an equally great reputation. Get to Hiroshima from Osaka using JR Pass by taking the Sakura bullet train on the Sanyo line.

Nabe – Japan is famous for its use of crab and one of the many dishes it is used in is Nabe. Hokkaido in northern Japan is famous for the quality of its crab and Nabe – a traditional Japanese style hotpot – is known as a warming winter dish and often uses the island's exceptional crab including king crab, snow crab, hairy crab, and thorny crab. Hokkaido is also famous for Ishikari nabe – a miso-based hotpot filled with a generous amount of salmon, stewed vegetables, and tofu.
Jingisukan – The famous 'Genghis Khan barbeque', this dish is another of Hokkaido's specialities and features thin slices of lamb or mutton broiled with vegetables on a warrior's helmet-shaped grill. You can find out more about visiting Japan's northernmost island and its many regional attractions and specialities in our dedicated Itinerary Tip: A Five-Day Visit to Hokkaido.

Fugu – The notorious (and highly poisonous) Japanese pufferfish, which contains neurotoxin 1,200 times stronger than cyanide. It can be served a variety of ways by expert and licenced chefs and Fugu capital is the city of Shimonoseki in Yamaguchi.
Chawanmushi – A savoury egg custard dish served hot in winter and chilled in summer which can include ingredients such as shiitake mushroom, parsley, ginkgo, lily, chestnut, chicken, and seafood. This originated in Nagasaki. You can reach Nagasaki using your JRail Pass by taking the JR Tokaido/Sanyo Shinkansen from Tokyo to Fukuoka's Hakata Station and transferring to the JR Kamome limited express train to Nagasaki.
Korokke – The Japanese version of a croquette, the filling (which can be meat, seafood or vegetables) is rolled in wheat flour, eggs, then panko breadcrumbs before being deep-fried to a golden brown.
Ikasumi Jiru – This is squid ink soup and is a speciality from Okinawa, which is also known for Gooya Chanpuruu (stir fry with bitter melon).
Unagi – This is freshwater eel. Nagasaki is famous for unagi and boasts a 160-year-old restaurant called Izumiya, which specialises is using this ingredient.
Zuke – Fish fillets preserved in a soy sauce mixture.

Kobe beef – Japanese Wagyu beef from Kobe (aka Kobe beef) is regarded as the best in the entire world. Naturally, the best place to try this incredibly tender and marbled beef (if you can afford it!) is the city of Kobe. You can visit Kobe from Tokyo using the JR Pass by taking the JR Tokaido Shinkansen / Sanyo Shinkansen Line to Shin-Kobe Station by Hikari Shinkansen.
Karaage – Deep-fried meat (often chicken) in a thick, crunchy coating.

Tempura – Tempura originated in Portugal. It is similar to karaage, but uses a lighter batter made of cold water and soft cake flour and is only fried for a few seconds before being served with a dipping sauce or soup stock.
Udon – Thick noodles made with wheat flour. Udon noodles can be used in a wide range of dishes.
Soba – Thin noodles made from buckwheat flour. Similar to above, you'll find a number of dishes using soba noodles.

Japanese curry – Reportedly introduced to Japan by the British in the Meiji period, the curry has become one of the country's most popular and loved dishes. There are many variations, but today the famous Katsu chicken curry is almost as quintessentially Japanese as sushi or ramen.
Monjayaki – A speciality of the Tsukishima area of Tokyo, Monjayaki translates as 'cook it yourself' and is basically a quick and easy mix of available ingredients which could include dried squid, sweetcorn and cabbage which are thrown together and cooked on the hotplate, with a runny batter poured over. When in Tokyo, look out for Tsukishima Monjya Street – an alley dedicated to this dish.

Sashimi – sliced raw fish such as salmon or tuna. This is distinct from sushi because it is not served with rice.
Miso Soup – A traditional Japanese soup containing stock mixed with miso paste that is often used as a base or combined with other ingredients such as chicken, tofu, shrimp, seaweed, mushrooms and potatoes.
Yudofu – A hotpot dish using tofu as the main ingredient, boiled in a kelp-based soup, this vegetarian meal was developed by Buddhist priests in Kyoto who couldn't eat meat because of their religion.
Matcha – Matcha green tea powder is a very fashionable ingredient worldwide at the moment thanks to its distinctive flavour and green colouring. Look out for Kyoto's matcha parfaits and different varieties of wagashi – a traditional Japanese confectionery usually served with matcha. Varieties include youkan – sweet jelly cubes made from bean paste, agar and sugar, and mochi – a Japanese rice cake made from mochigome, a glutinous short-grain rice.
Kaiseki – Last on the list is not actually a single dish, but a traditional multi-course dining experience with its origins in Kyoto. Take the Shinkansen Hikari bullet train from either Tokyo Station or Shinagawa Station in central Tokyo to reach Kyoto.
Although this is a relatively long list, it's still only scratching the surface of the hundreds of regional variations and specialities you'll find right across Japan. We even left sushi and ramen intentionally off the list as we have covered those famous dishes in detail elsewhere. Needless to say, if you are able to work your way through this incredible list of regional specialities above, it will definitely be an amazing introduction to the diversity and genius of Japanese cuisine.
Fine Dining in Japan
Alongside its extraordinary street food, local produce, and regional dishes, Japan is also world-famous as a centre of fine-dining with one of the highest concentrations of Michelin-starred restaurants anywhere in the world. In fact, Tokyo is the No.1 city in the world when it comes to having the highest number of Michelin-starred restaurants. Osaka is also internationally renowned as a world-leading culinary destination for food lovers. Remarkably, many of these restaurants are incredibly affordable too. Here are a few examples:
Sushi Masuda, Tokyo – Awarded two Michelin Stars, this high-end and high-class sushi restaurant is an exclusive dining experience with just six seats and exceptional food. If you're lucky enough to get a reservation look out for specialities such as shirako with white truffles, sayori (needlefish), hirame (flounder), and surume ika (Pacific squid).
Sukiyabashi Jiro Honten, Tokyo – Thanks to a visit from President Obama and the successful documentary film, Jiro Dreams of Sushi, this exclusive and high-end Tokyo sushi restaurant, run by 93-year-old three Michelin star chef Jiro Ono, has becoming even more exclusive. It is so renowned however, we just couldn't miss it off the list.
Ajikitcho Horienten – Taste Japan's history and tradition through Naniwa vegetables (distinct vegetables revived to savour Osaka's cultural and food history), and fresh fish bought from the hands of the fishermen. Relax at this two-star Michelin sanctuary of tradition, with sukiya architecture and natural gardens, nestled in the city.
Ichiju Nisai Ueno Minoten – Dine amidst the scenic beauty and elegance of Mt. Mino while savouring authentic Japanese cuisine in multi-course kaiseki means, artfully presented, and paired with sake. This restaurant boasts two Michelin stars, and a vibrant and picturesque backdrop that changes with the seasons.
Chiso Sottaku Ito – A true taste of Japan may be found here, where flavours from all over the country are used to create exquisite dishes, and are enhanced by aging techniques. The shop boasts a freshness of spring water and kelp that are used to make soup stock unique to this location.
To find out more about the Michelin Star rating system and for a comprehensive guide to these restaurants across this incredible country, read A Guide To Japan's Michelin-starred Restaurants.
Japanese Table Manners
Japan's customs and etiquette may seem daunting if you've never been to the country before, but knowing a few simple rules will make navigating the country a breeze. Naturally, there are lots of customs and etiquette around dining given Japan's reputation for culinary excellence and the nation's love affair with food. Here are a few top tips for Japanese table manners for beginners:
Greeting – Bowing is customary when greeting people.
Ordering – Remember to say 'kudasai' or 'please' when ordering. If you're not sure what to order, try using the word 'Osusume', which means 'recommendation', and 'Omakase' which is the 'chef's choice'. It can be seen as respectful to ask the chef and most restaurants offer a menu of chef's recommendations.
Oshibori – This is a towel specifically for cleaning your hands during a meal and is not for your face, neck or mouth. Using it for the latter is considered a faux pas.
Chopsticks – They should be used to pass food into your mouth without touching the inside of your mouth. Do not point at food or people with them. Do not stab food with them. If you place them on the table to the side of your dish it signifies you're still eating, but if you place them together and sideways across the plate or bowl then this means you are finished.
Eating – Start a meal by saying 'Itadaki-masu' which means 'I gratefully receive' before you begin. Remember not to put too much on your plate as anything you leave uneaten could be seen as a sign of impoliteness.
Drinking – The number one rule is to never drink alone. Always wait until all of your guests have a drink before drinking yourself, then say 'kanpai' or 'cheers'.
Paying – You can end a meal by saying 'gochisōsama deshita', which means 'Thank you for the feast'. Crossing one finger over the other to create an 'X' can then also be used to signify you are ready for the bill.
Tipping – Tipping is not common, necessary or expected in Japan. Leaving money on the table could cause confusion.
Of course, don't worry if you don't get everything perfectly right on the first try. The Japanese are known for their hospitality and gratitude, and are often forgiving of travellers who aren't accustomed to their ways. For a more detailed guide read A Guide to Japanese Table Manners and for more general advice on customs and etiquette check out A Guide to Japanese Etiquette.
Don't Forget