Hokkaidō (北海道) is Japan's northernmost island, best known for its unspoiled nature and breathtaking scenery. The landscape of Hokkaido is everchanging by the season, from the snowy landscapes in winter to the mild outdoor temperatures in summer, Hokkaido makes for a fantastic visit year round. This Hokkaido 5 days itinerary will go over a trip that includes a wide variety of highlights, including the lively city life of Sapporo, the fish markets of Hakodate, zoological garden of Asahikawa and finally a moment to unwind in the volcanic onsen of Noboribetsu. All while using the Hokkaido rail network, we either recommend using the Japan Rail Pass or a 5-day Hokkaido Rail Pass for this itinerary.
Where to visit in Hokkaido?
Sapporo
(suggested 1-2 days)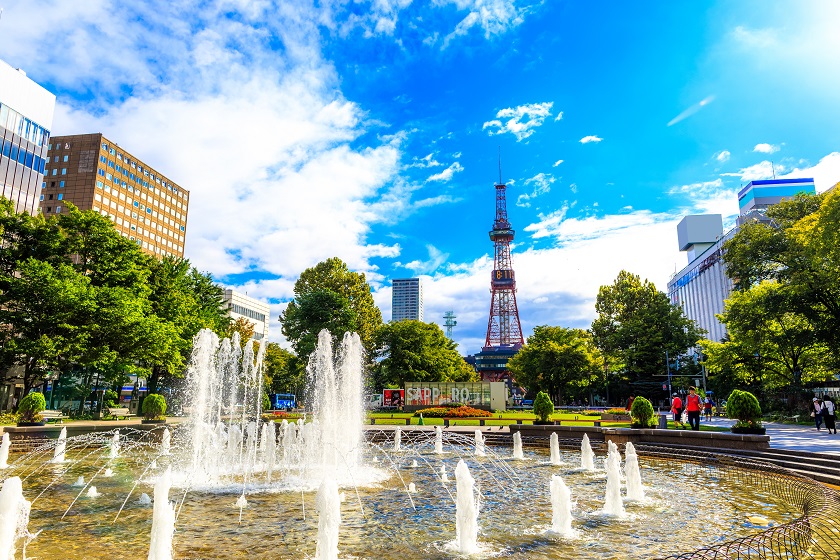 The capital of Hokkaido is both central and well connected in Hokkaido using the JR network. Whether you come in by air or rail, Sapporo makes for a great base to explore Hokkaido from. Like any capital, it's the wide variety of things that make Sapporo worth visiting. During winter the "Sapporo "Yuki Matsuri Snow festival is amazing.
Once you're done sightseeing for the day, head to Susukino to experience some of the best nightlife Japan has to offer. From drinking with locals, to eating local foods, or seeing night entertainment, you'll find it all around the Susukino district.
Otaru
(suggested half-a-day)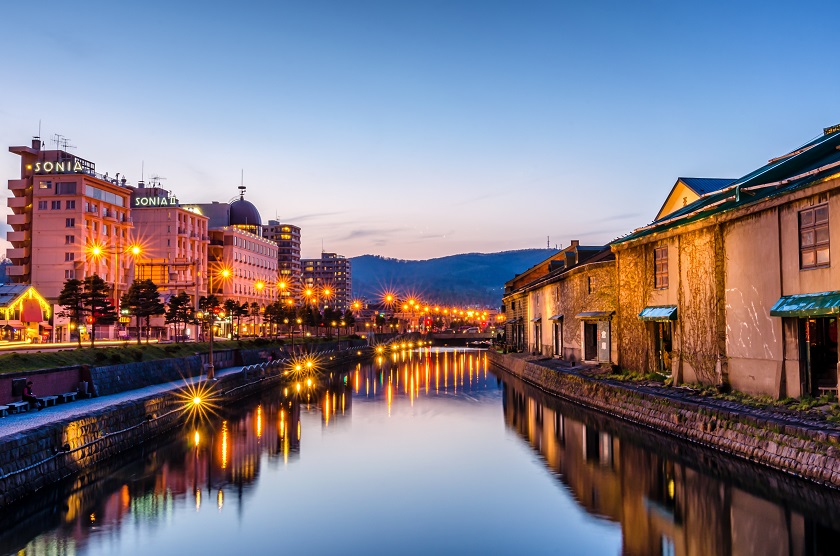 The small harbour city of Otaru, is just a 30 minute train ride away on the JR from Sapporo and makes for a fantastic (half) day trip. It is famous for its old channel district and traditional structures. Otaru's atmosphere is reminiscent about times past. Once you arrive at Otaru station, walk down Sakaimachi Street for local arts and crafts. Then visit a local restaurant for a very affordable and fresh Sashimi lunch, starting as low as ¥ 800 (~$7.00). Afterwards, visit the Otaru City Museum to get an idea of what life was like in the old days. Adjacent to the museum is the Otaru Railway museum, especially fun for kids and those interested in trains.
Hakodate
(suggested 1-day)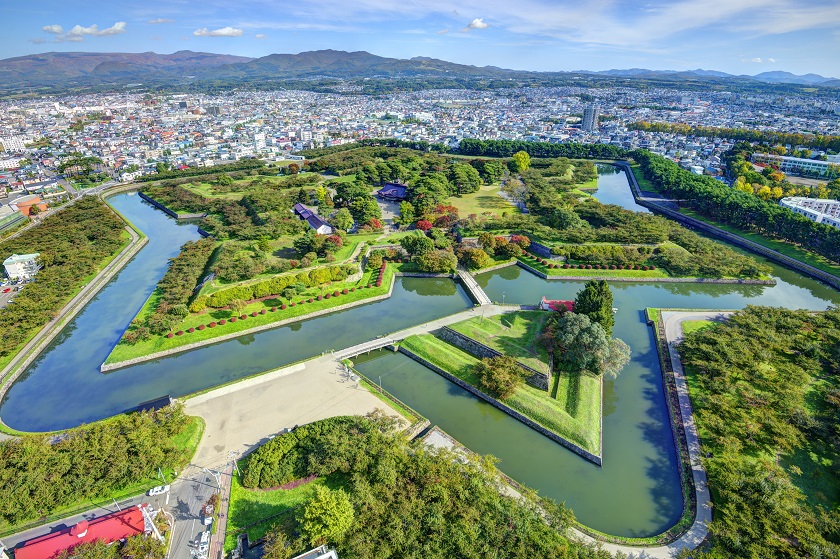 Hakodate is since old times the gateway city into Hokkaido and one of the oldest settlements of the island. A typical day in Hakodate starts with a visit to the local fish market, the market and fish auctions start at 6.00 am, so come early. The market has been around for over a 100 years and more-or-less functions the same as when it started. It's open for locals and tourists alike and a more authentic experience then say Tsukiji fish market in Tokyo.
A visit to Hakodate is not complete without visiting Fort Goryokaku, which is a huge 5-star shaped citadel. Built near the end of the Edo period, it served to protect the access routes into Hokkaido. It was turned into a public park in the 20th century and over 1.200 cherry trees were planted, making it especially scenic during the Sakura period.
To finish the day in Hokkaido, we highly recommend going up to Mt. Hakodate, for a truly gorgeous view over Hakodate bay and surrounding area. The best time to go up is just before sunset, then see Hakodate slowly light up. Mt. Hakodate is considered one of the 3 most beautiful night views in Japan, together with Mt. Inasa overlooking Nagasaki and Roppongi Hills in Tokyo.
Asahikawa
(suggested 1-day)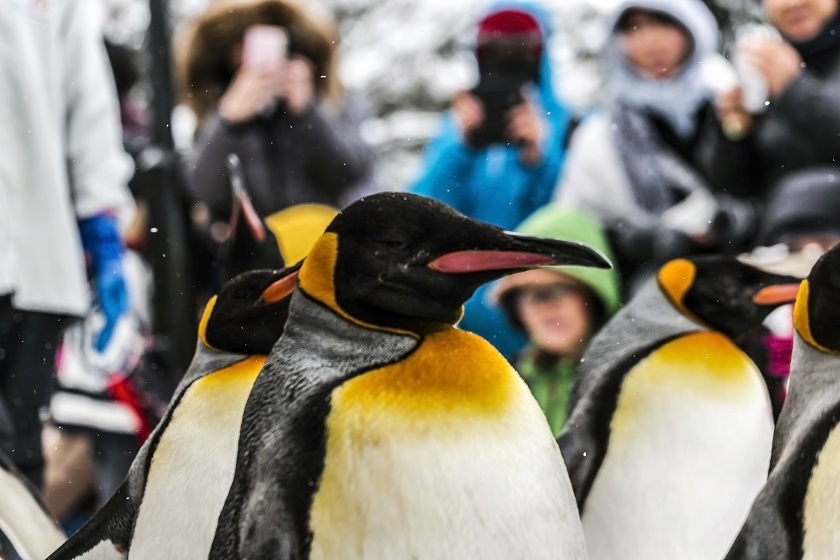 Asahikawa is the 2nd largest city of Hokkaido, most famous for its zoological garden. It's a very interesting place to learn about the native wildlife from Hokkaido and arctic animals, including a great penguin enclosure, polar bear ground and eagle pen. Additionally, different kinds of animals from around the world can be marvelled at. The zoo is especially recommended for couples and families travelling with children.
If you come during winter, be sure to check out the Asahikawa Snow festivals. Giant sculptures made from snow and ice are on display. Featuring characters from the popular anime, movies and pop-culture.
If you come during the other parts of the year, consider a side trip from Asahikawa to the lavender fields of Furano or the national park of Daisetsuzan. Both can be reached in under 30 minutes by bus/train from Asahikawa.
Noboribetsu Onsen
(suggested 1-day)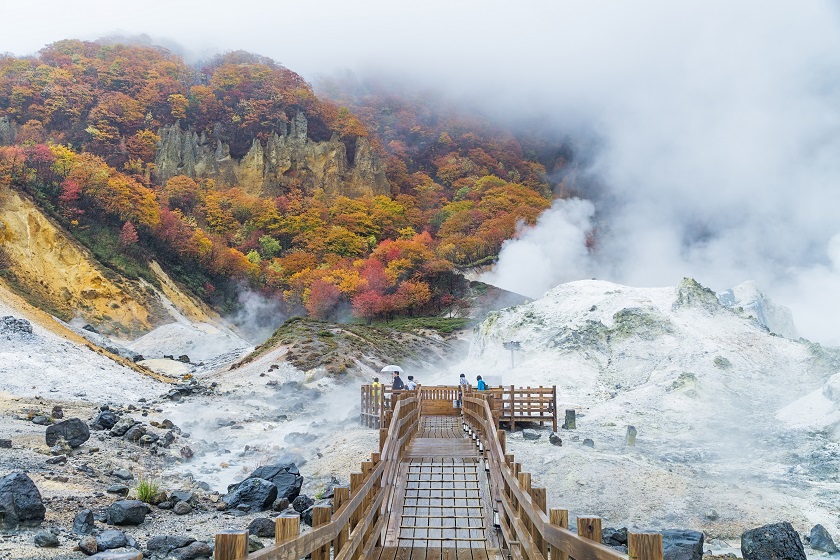 Noboribetsu the most famous hot spring resort in Hokkaido. The hot springs are naturally powered by volcanic activity and is the perfect place to unwind and finish your Hokkaido trip, before having to go back to daily life.
The most spectacular sight of Noboribetsu is Jigokudani (roughly translated as Hell's Valley). A volcanic valley just above the down, where hot steam vents, warm water springs and an almost alien landscape can be seen. The river running through the valley has a pleasantly hot temperature and there are different spots where visitors can enjoy a footbath. The valley is an amazing hike outside of the winter season.
Different Ryokan (Traditional Japanese Inns) around Noboribetsu offer private bath and accommodation, including traditional meals. A half board stay will cost around ¥ 10.000 (~$90.00) per night, though lower cost options are available.
How to access Hokkaido
Hokkaido can be reached directly by rail from Tokyo, a one way trip takes roughly 4 hours using the Hokkaido Shinkansen. The trip is fully covered by the JR Pass. Alternatively, Hokkaido can be reached by air through the easily accessible Chitose (CTS) Airport, Sapporo.