Ah, the Shibuya Crossing. A visit to Tokyo simply wouldn't be complete without ducking and weaving through its oncoming foot traffic at least a few times. As one of the world's busiest intersections, it transports thousands of people in all directions at a time in a wonderful, chaotic pulse. There's no doubt that walking it is a remarkable experience, but so is photographing it! Read on for some of the best spots to try for that perfect photo or time lapse video of Tokyo's most exciting intersection! 
On the ground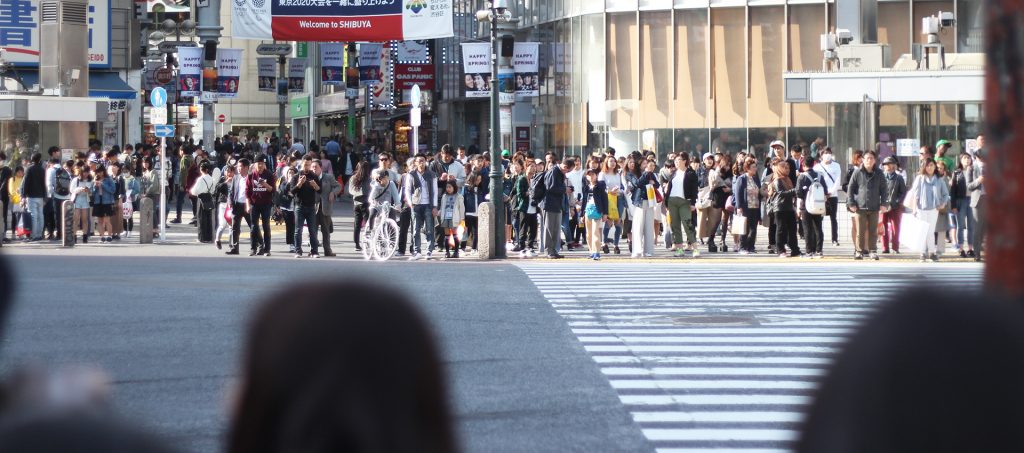 The first photo op should definitely be at ground level, in amongst the chaos. From wherever you are, simply pick your end point and try to get there before the lights change. There is no rhyme or reason to making it across smoothly; people and bikes and prams all converge in a series of unpredictable angles and movements. If you want to stop for a photo in the middle, you wouldn't be the only one—in fact, many people on the crossing can be seen filming their experience. Just make sure you clear off before the lights change as the local drivers don't like to wait for daredevil photographers. 
For those who arrive at Shibuya Station, head to exit 8 (Hachiko Square)—a good starting point. Once you've done a few crossings, it's time to head for slightly higher ground.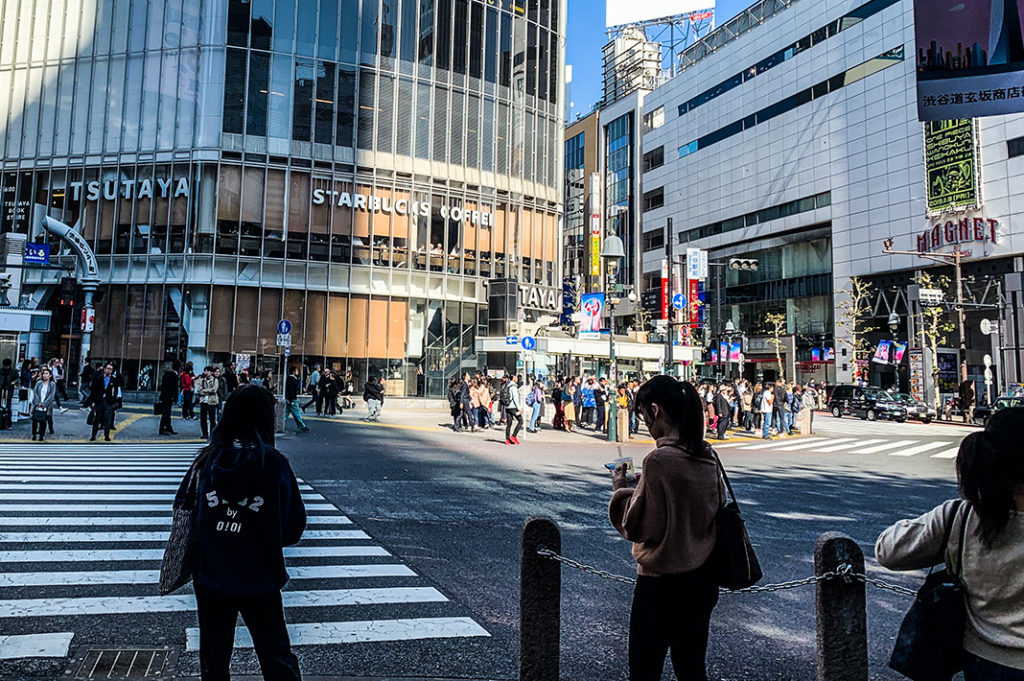 Head up one level via the escalators 
Starbucks 
Enter the Tsutaya Bookstore on the ground floor and take the escalator up one level to Starbucks. When you arrive, you'll quickly notice the large window curving right around the front of the building, offering plenty of great angles of the crossing. The walkway between the escalator and the register is all window, so usually quite crowded with people vying for a window counter seat or leaning across for photos. Wait your turn and sooner or later you'll get a nice position from which to shoot.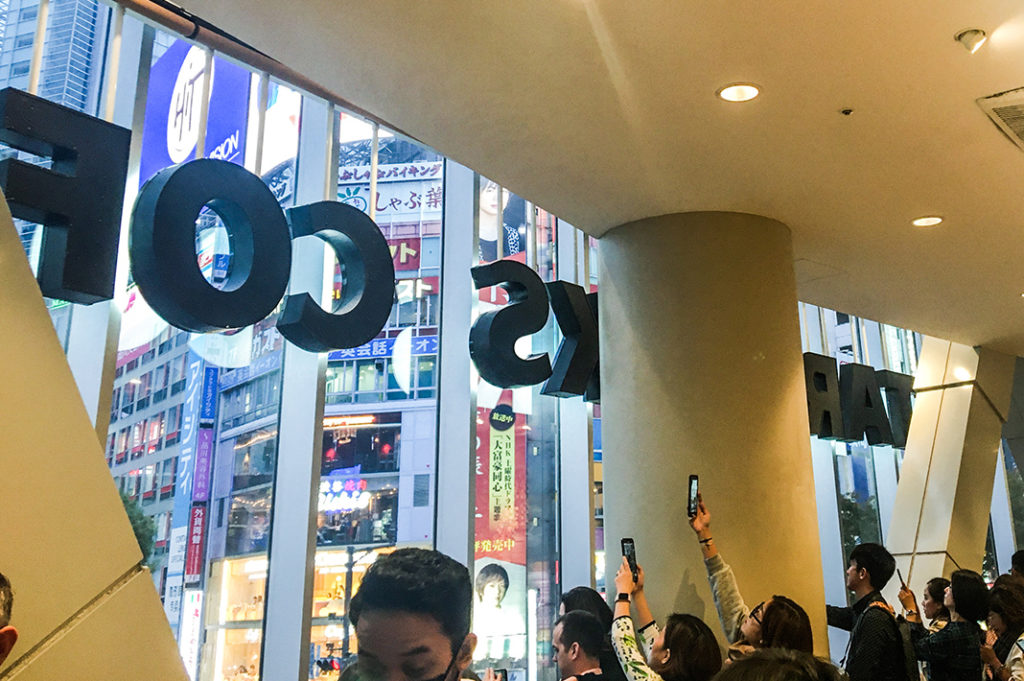 You may find yourself having to take turns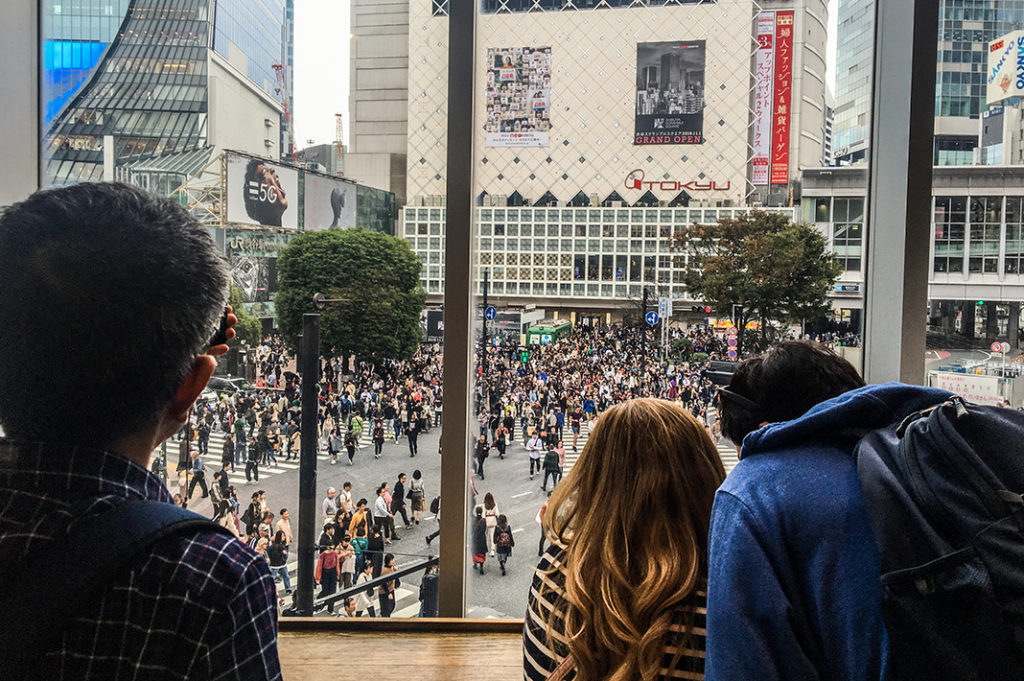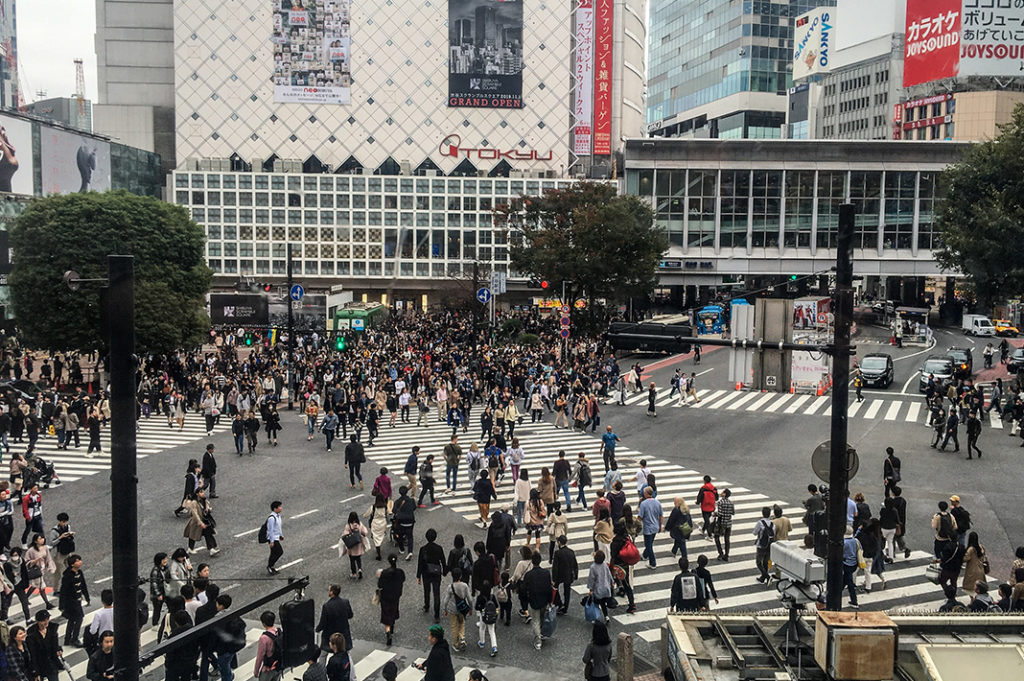 As it's fairly low to the ground, you can get some great perspective shots and shadows depending on the time of day. It's also close enough for individuals to stand out, like the lone stragglers or the bike riders zipping ahead of the crowds. This is another free view, though it is a business, so if you're going to be there for a while, a coffee would make the perfect companion. 
Magnet / Mag's Park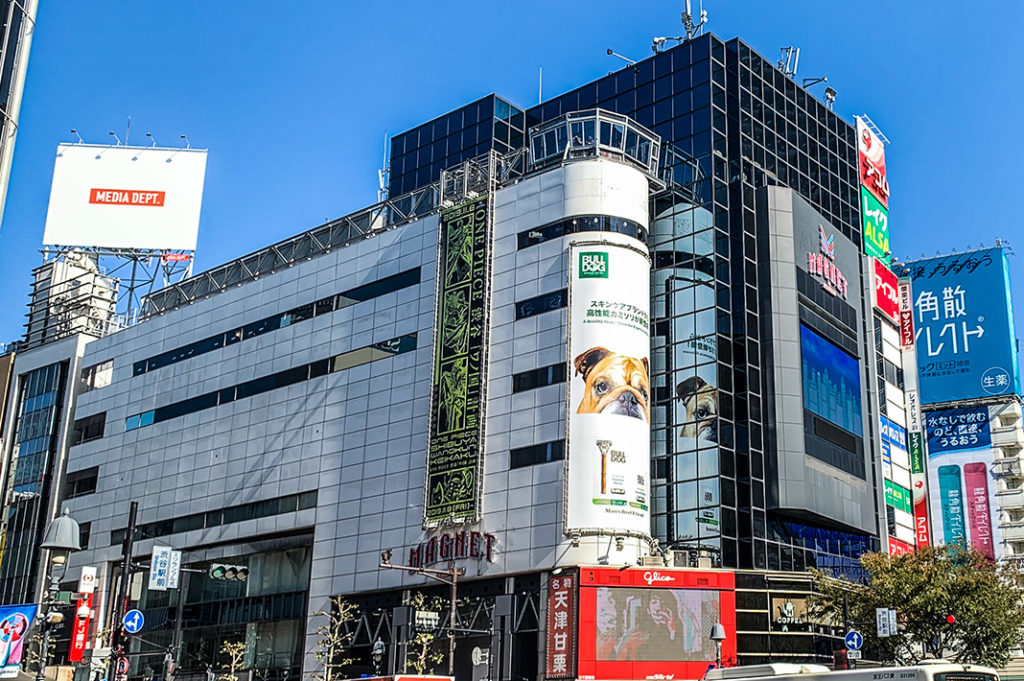 Notice the viewing platform at the top of the building with the bulldog poster? 
Just across from Tsutaya/Starbucks is the Magnet 109 Building. Enter on the ground floor and take the elevator to the rooftop, otherwise known as Mag's Park. There will be a staff member at the entrance who will direct you to buy your entry ticket from the machine at ¥600 per person before you can head out to the viewing platform. This space is right on the corner of the building, 8 storeys up. Obviously, you're shooting through glass again, but it's a great vantage point for a time lapse video of the many pulses of the crossing.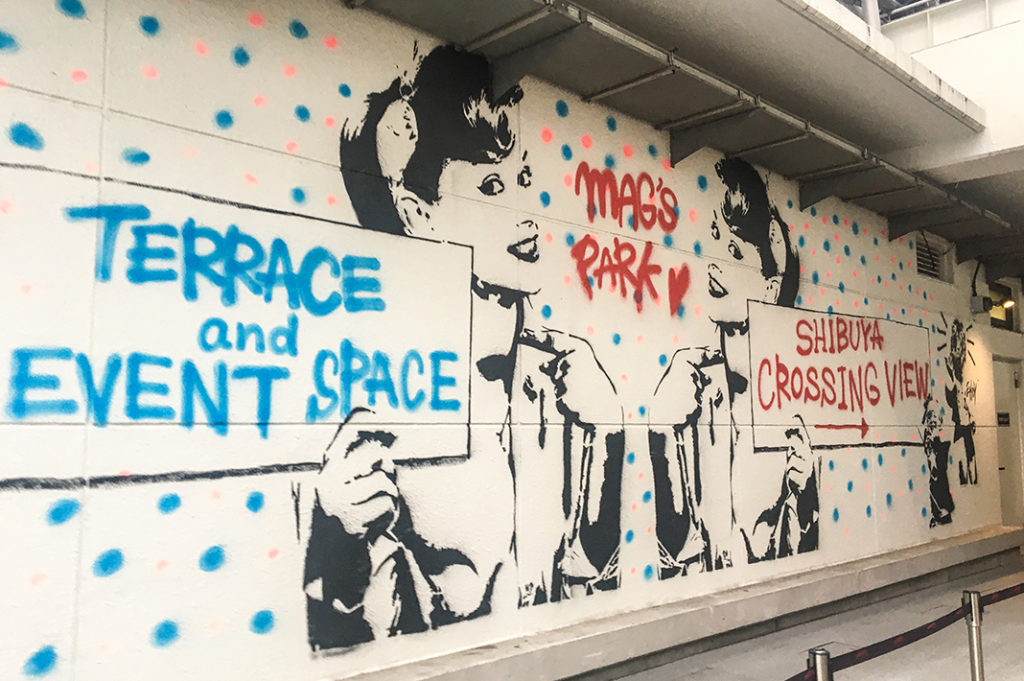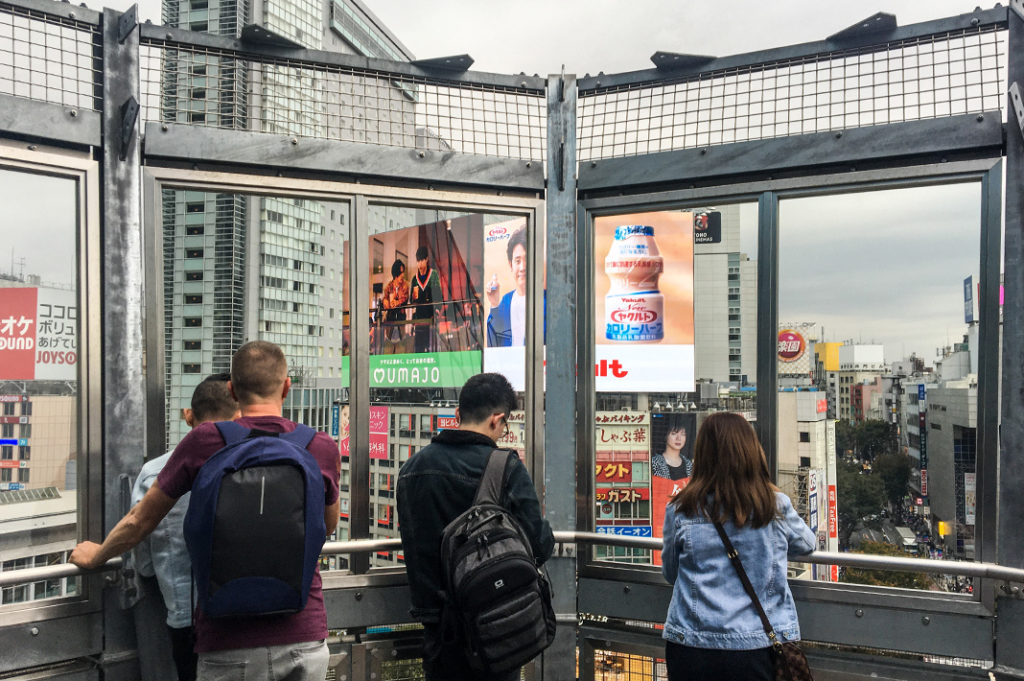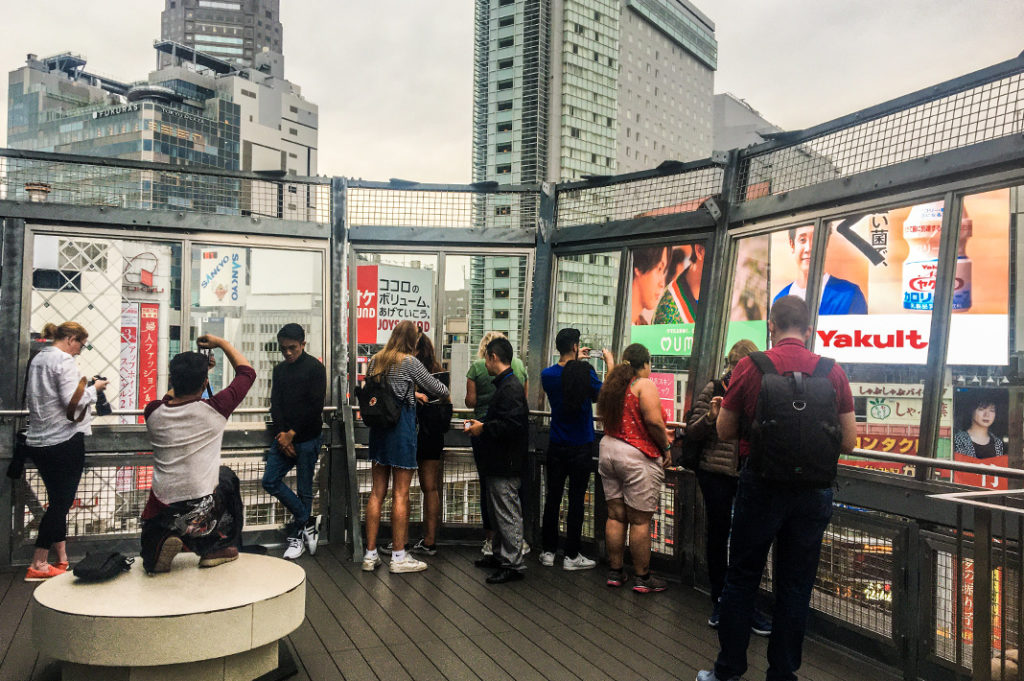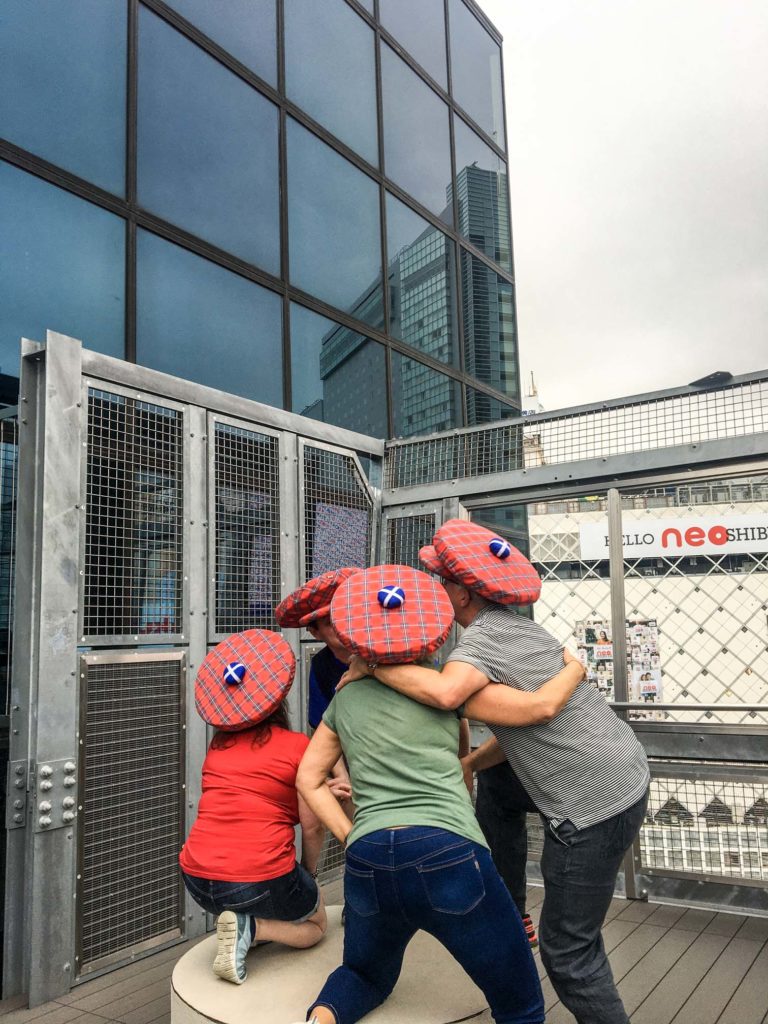 Aside from the viewing windows, there is another attraction here. For an extra ¥1,000 you can get a "photo shoot" session taken by an overhead camera which captures you next to the crossing. The staff member who controls the camera will direct you to the round platform and guide you through the shots bellowing "Hai, change! Hai, next pose!". Get some poses ready ahead of time as there are a lot of photos taken and everyone who did it seemed to run out of ideas. If the weather is good, Mag's Park is open 11:00–23:00 (last admission 22:30).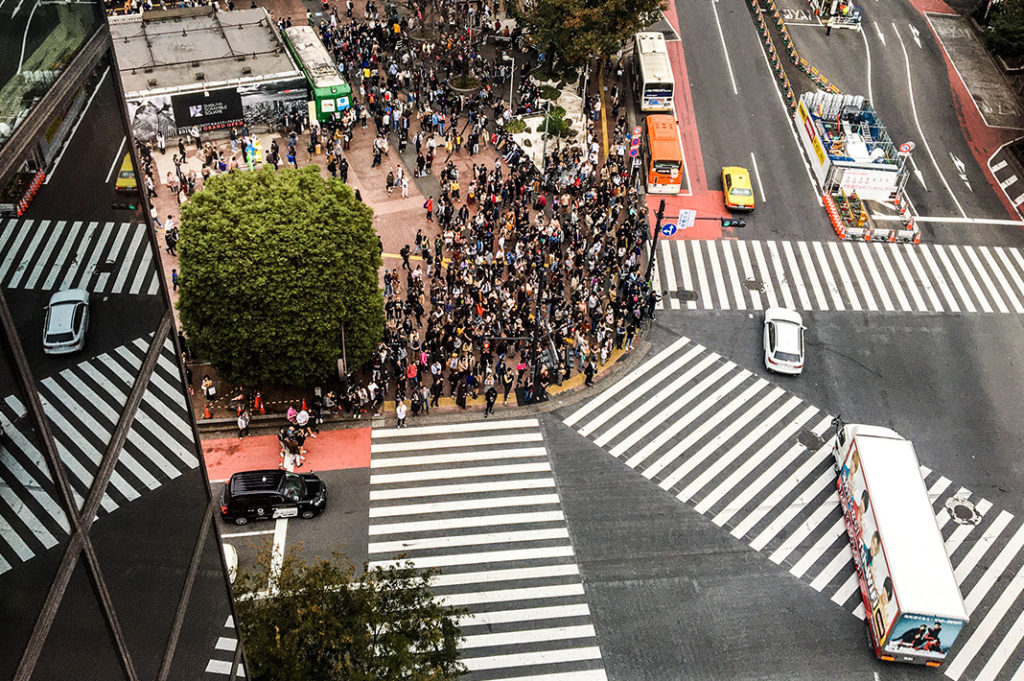 Great reflections of the Shibuya Crossing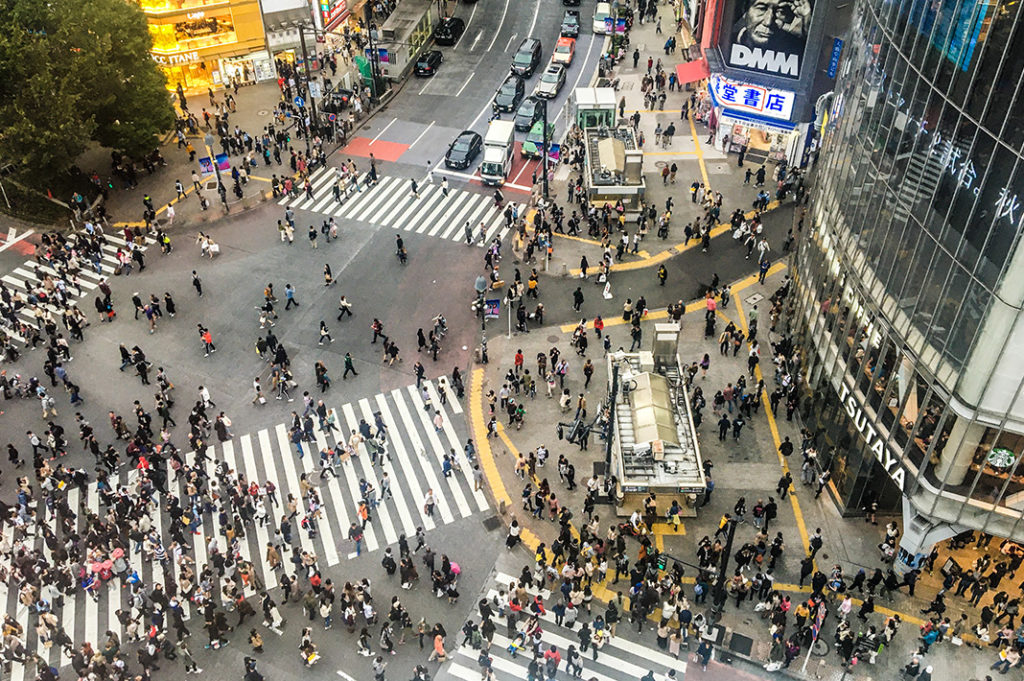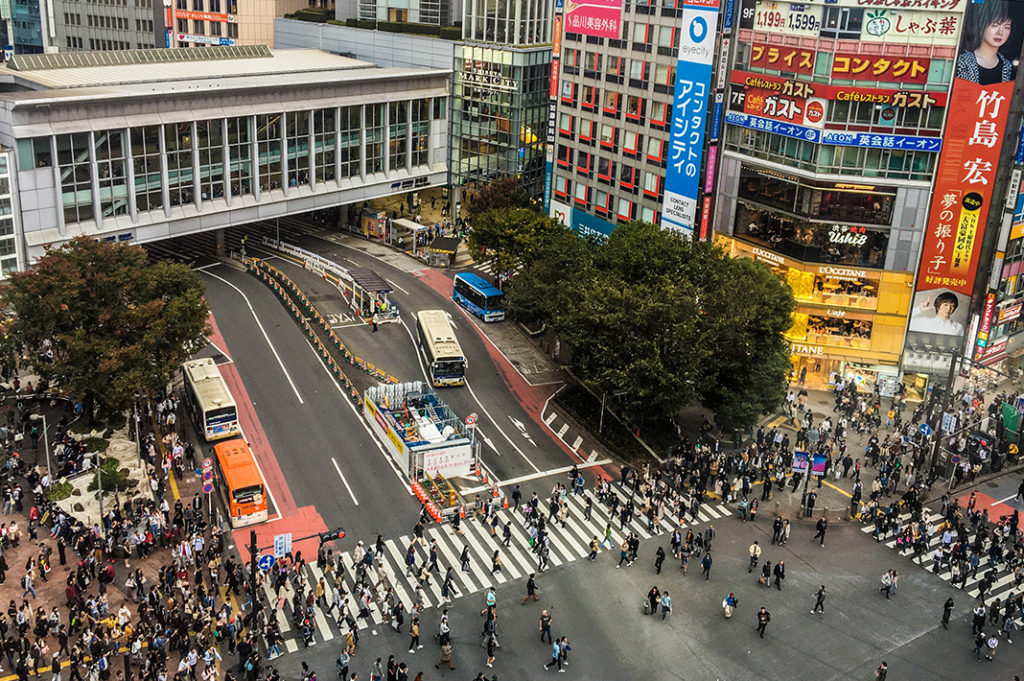 From Magnet we can see our next two destinations! The glass walkway (left) and corner building (right) 
View from Shibuya Station 
Many of those coming to see the crossing will no doubt arrive via Shibuya Station. But don't rush out so soon; there are great views to be had from right inside the building! After getting off your train, you'll want to follow signs for Shibuya Mark City as the viewpoint is actually in the overhead passage connecting Shibuya Station to the Shibuya Mark City building. Though, for anyone who got lost or is coming from the streets, just head to Exit 8 and the Hachiko Statue. Look up and behind the statue and you'll see the overhead passage. Take the escalators up into Shibuya Mark City and make a U-turn.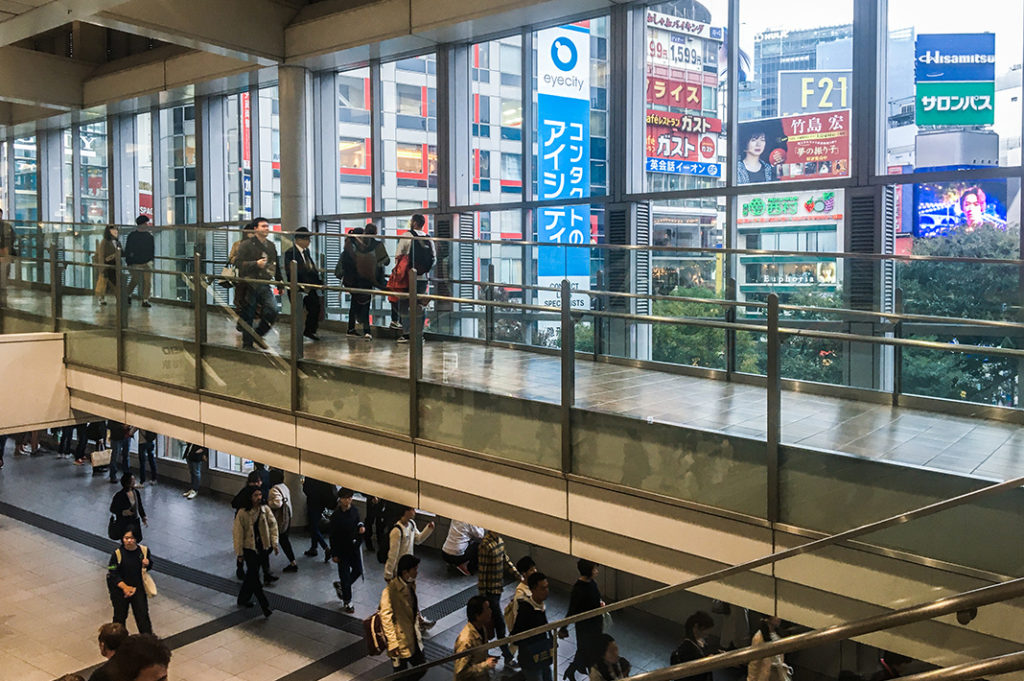 When you spot the giant 'Myth of Tomorrow' mural depicting the Hiroshima atomic bomb blast, you've arrived. Head over to the windows for a free view of the crossing below; there are actually two levels so you can check out two slightly different perspectives. It's not the best angle, but hey—it's free! The one downside to this view is the meshed safety glass; you need to position your lens just right to shoot through it.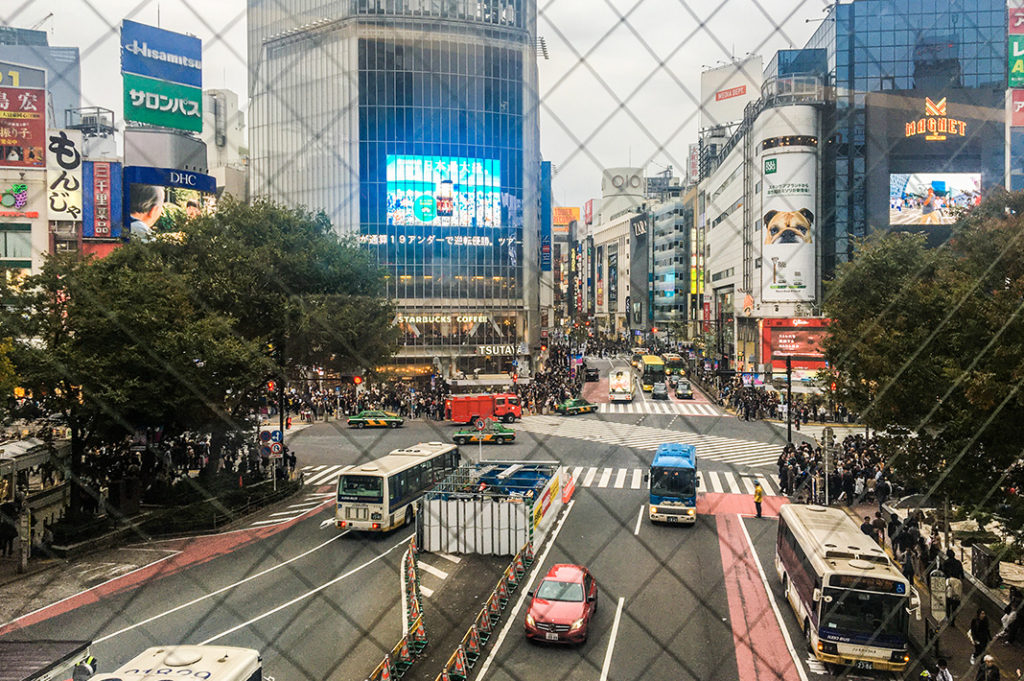 L'Occitane Café / Building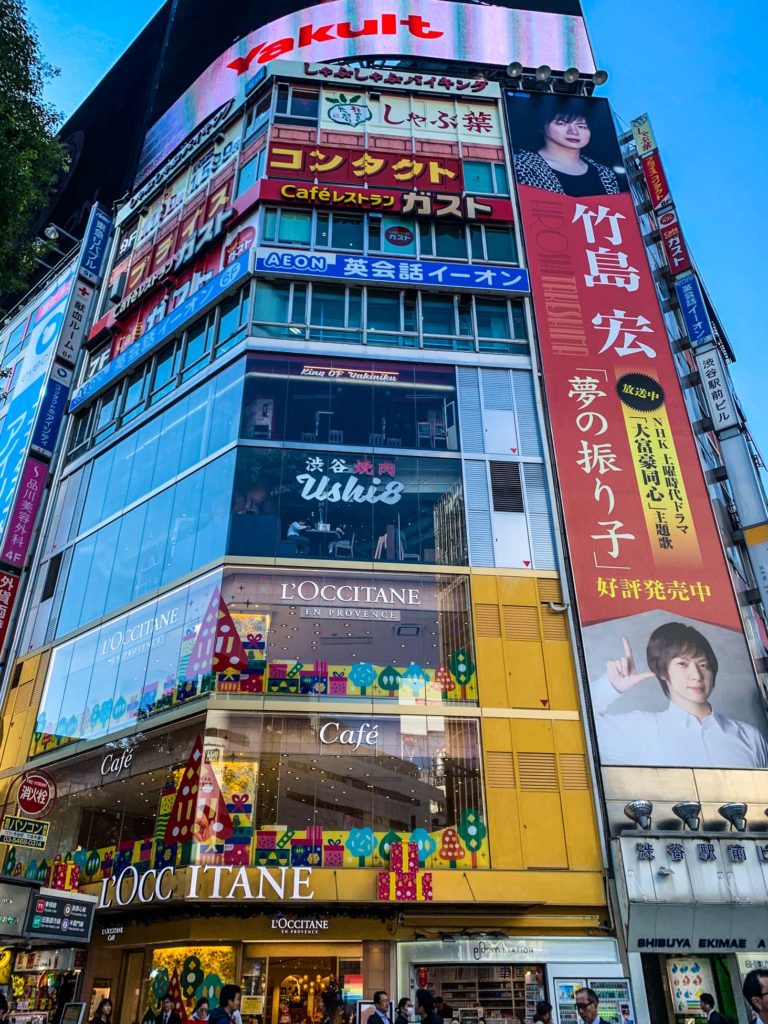 This building has a few restaurants with window seats, allowing great views of the Shibuya Crossing. 
This building sits on another corner of the scramble and houses various businesses and restaurants with prime corner views. The most advertised view is that from the L'Occitane Café. Though the ground floor stocks all the usual L'Occitane cosmetics, head upstairs and you'll find a fancy two level French-inspired café with plenty of window seats. My expedition occurred during a weekend rush period with a queue trailing down the stairs, so unfortunately we couldn't even get close. Instead, we rode the elevator up to the Gusto Restaurant on Level 7 to see what views were possible from there. Unfortunately, there are only a handful of window counter seats, with the main seating area further back in the building. If you're in the mood for Yakiniku (grilled beef), head to Ushihachi on level 4 where there are plenty of window seats.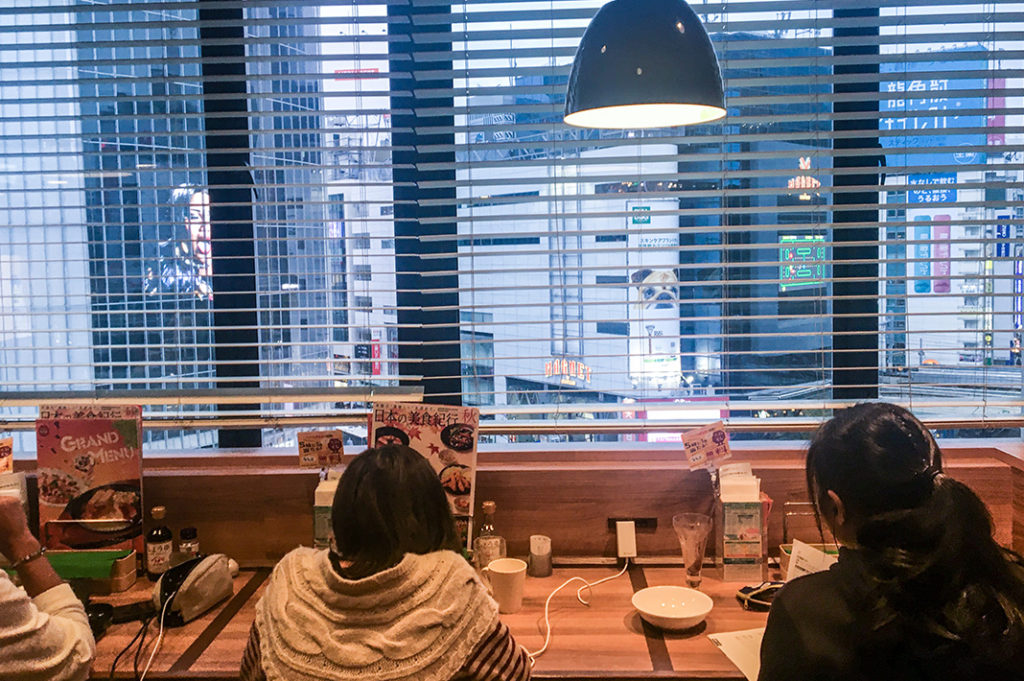 Photos are possible from inside Gusto (Level 7) for a select few.
Shibuya Scramble Square Rooftop View
This is the newest addition to the ever-changing Shibuya skyline, opened November 2019. The 47-storey 'Shibuya Scramble Square' building houses shops, offices and a breathtaking 360 degree view on the rooftop viewing area, Shibuya Sky.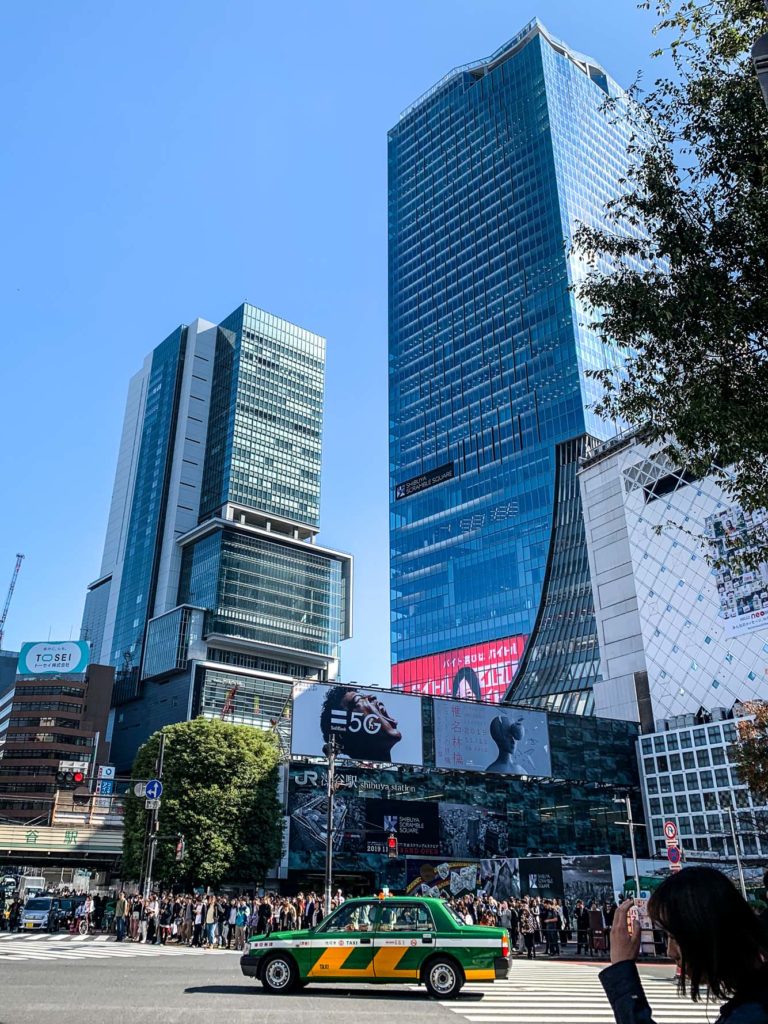 The newest viewpoint of the Shibuya Crossing is at Shibuya Scramble Square
From here, you can get a near-bird's eye view of the scramble crossing, but may need a zoom lens if you plan on shooting it. That said, it's hard to focus on one little crossing when you have the entire sprawl before your very eyes. You can watch the never-ending trains and traffic moving silently below and even see all the way to Mt. Fuji on a clear day. There is more to do here besides the view, though; the rooftop has plenty else in store, like the spectacular evening light show. Inside you'll find more views, digital art, food and beverages and even a DJ in a very chic and surprising space. But of course, this great experience doesn't come cheap. Shibuya Sky is the most expensive on our list, at ¥2,000 per adult for entry. If you can afford it, give it a shot. More information can be found on their website.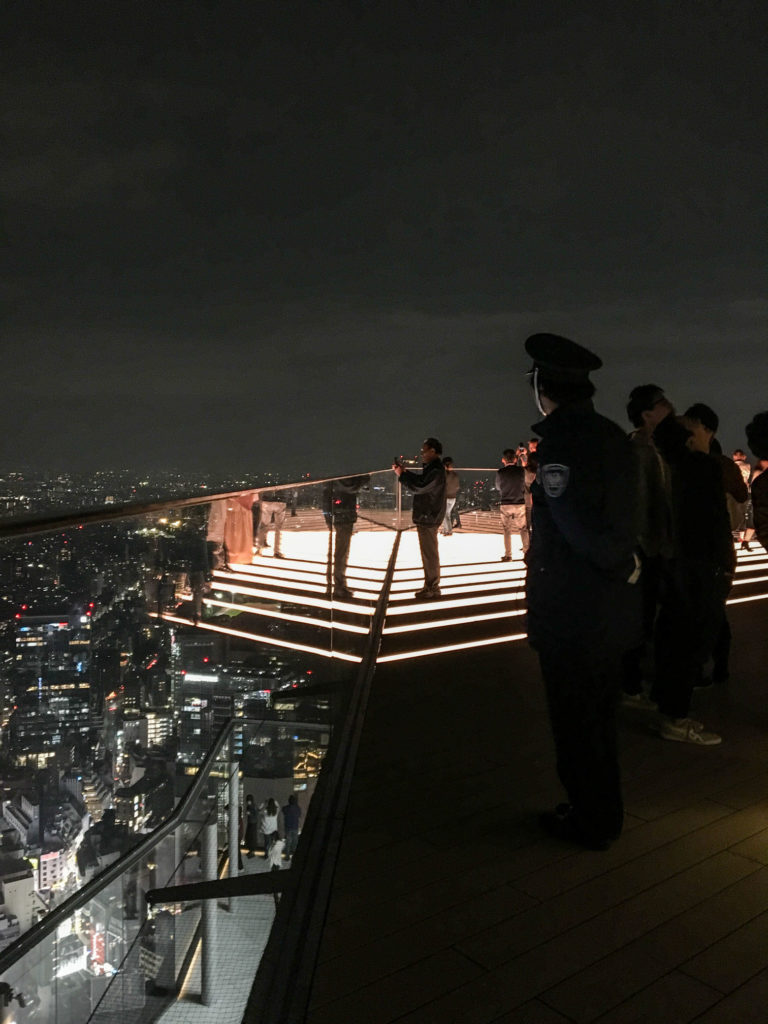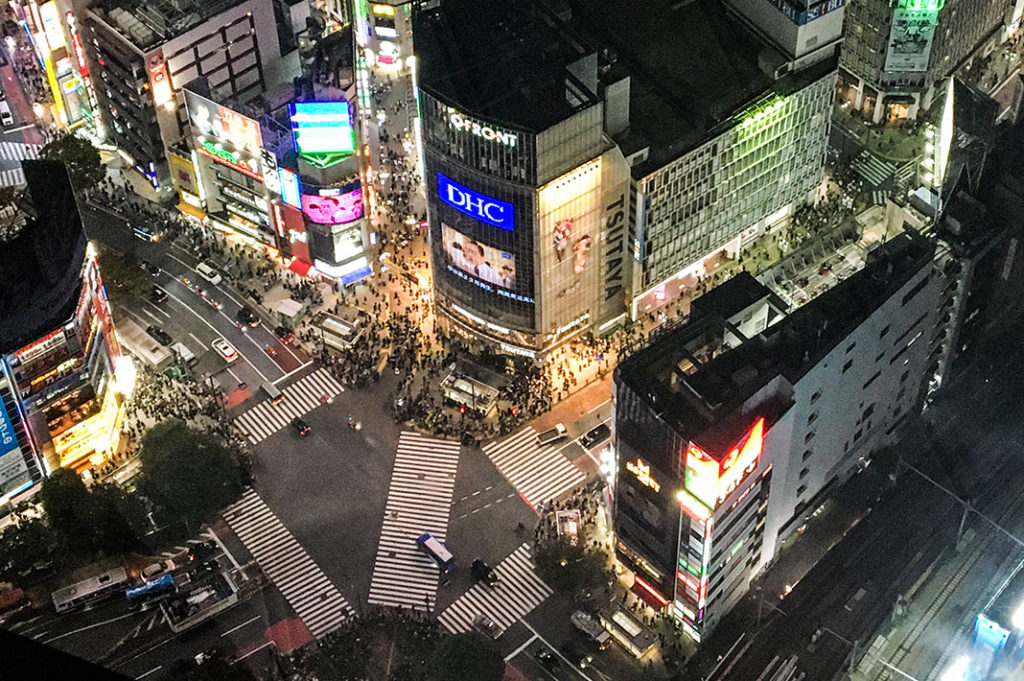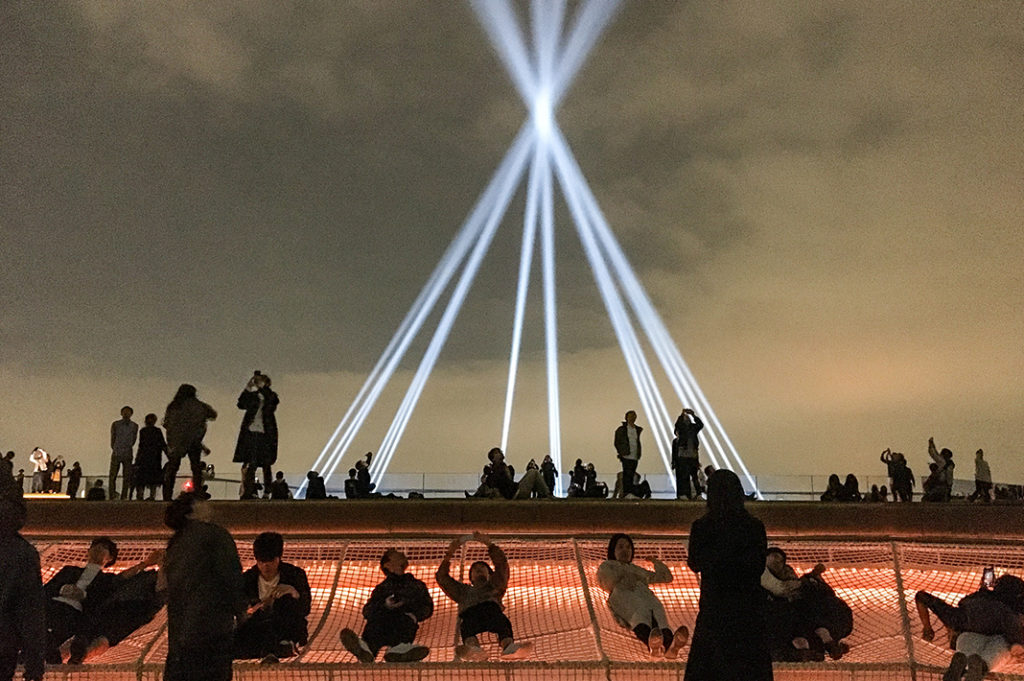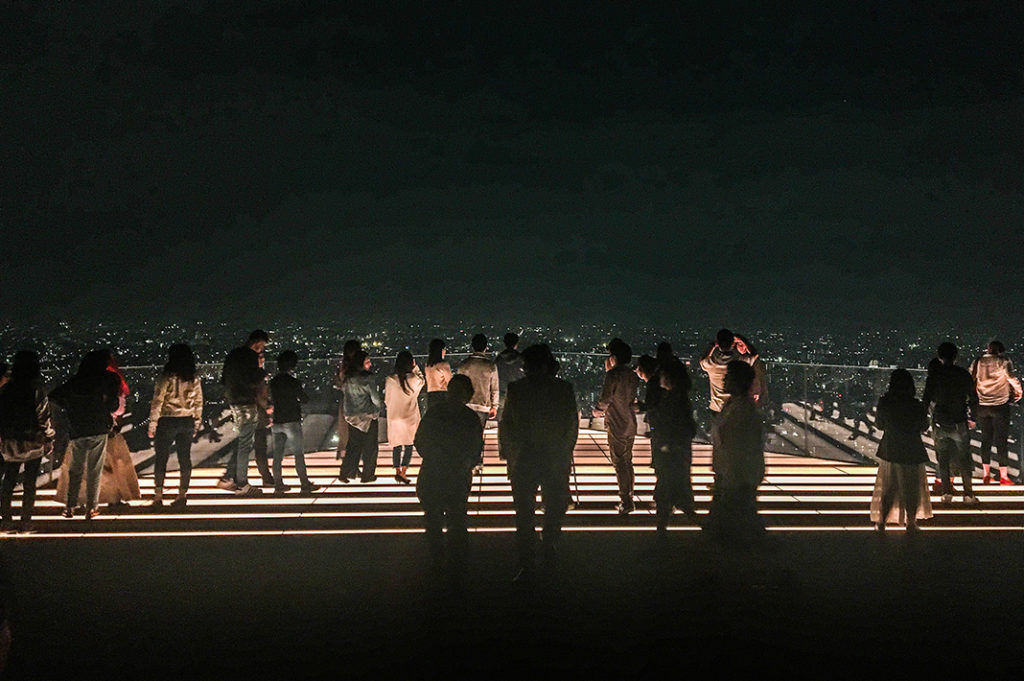 So in conclusion, there are plenty of ways to see and experience the Shibuya crossing no matter your budget or time constraints. You could combine it with a coffee or lunch, get up so high that the people look like ants or throw yourself right into the mix. All that matters is that you give it a go.  
This article was first published by Japan Journeys. Check Japan Journeys for deeper and unique insights into visiting Japan, including wellness, travel, cuisine and more. Follow on Instagram @japanjourneys.jp, and on Facebook at this link!