Kyoto is the gently lit canal to Tokyo's fit-inducing neon—part of its charm for many. As such, once the sun goes down and the monks close the temple gates, many visitors are left wondering what's next. If you still have energy for more exploration, the good news is that there are plenty of things to do at night in Kyoto! Think after-work shopping, wining and dining and even some late night shrine visits. That's right! It's a big city, so here's one walking route that will give you a taste of the charm Kyoto has to offer night owls. 
Teramachi Shopping Area
Start at the Teramachi Shopping area, near Kyoto-Kawaramachi Station. This undercover shopping street stretches in all directions with many stores open late to capitalise on that after-work shopping yen. There are clothes, souvenirs, entertainment and dining options to suit any taste. Though prices tend to be higher than other places in town, it's certainly got that one-stop shop kind of convenience that keeps the people coming.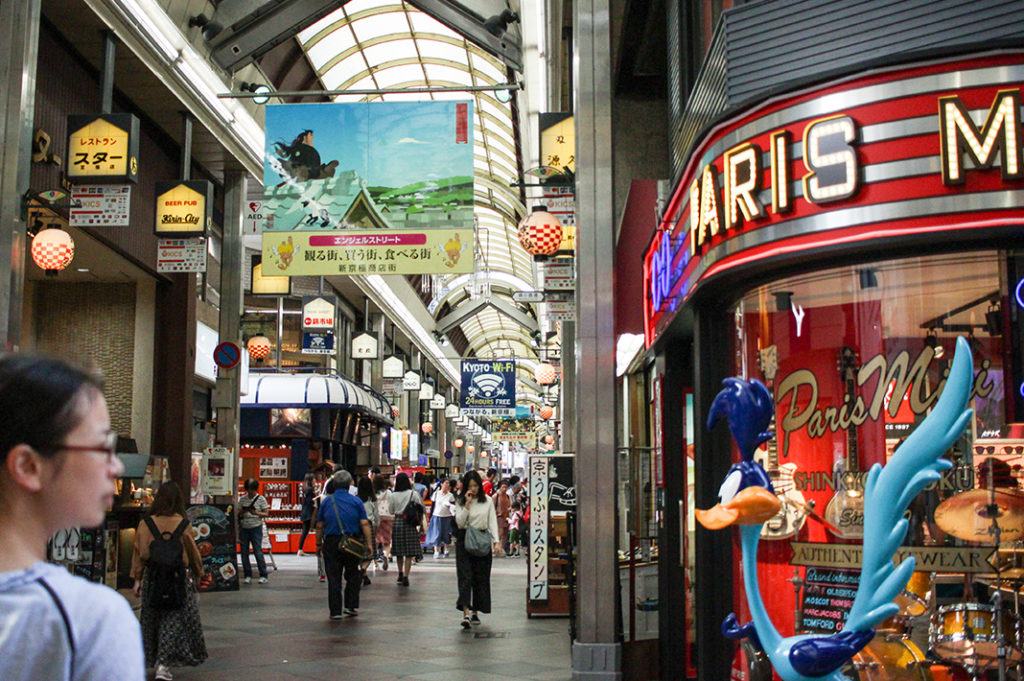 Shopping in Teramachi – one of the many things to do at night in Kyoto. 
If you're already in need of an imbibement, check out Sour. Open 3pm–midnight, this standing bar uses fresh fruit to blend up a range of zingy cocktails. It's a fun take on the classic sour that sees locals and tourists flocking there night after night. 
Pontocho Area 
Make your way back down to the main Shijo-dori and head left, crossing Kawaramachi-dori. For those in need of a little more retail therapy, there are plenty of great shops around this intersection. If you'd rather keep your wallet closed for the time being, continue on. Follow Shijo-dori until you almost reach the bridge and take a left just before the police box. This magical street is the historic Pontocho Alley, one of Kyoto's go-to spots for food, drink and a dose of traditional Japanese aesthetic.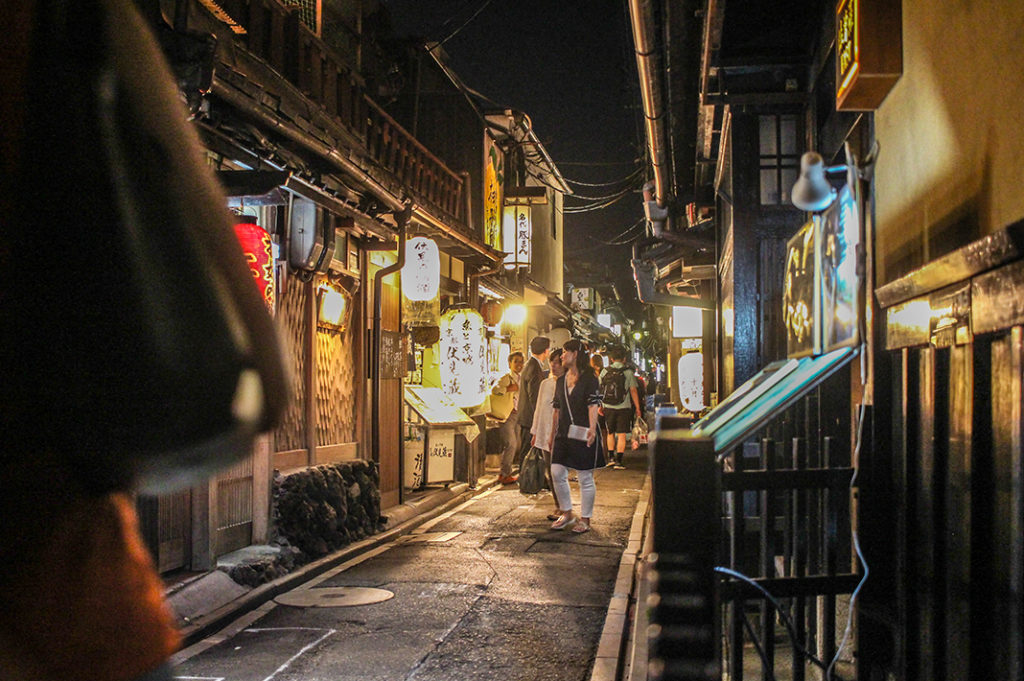 Things spring to life here at 5:00pm with the turning on of the lanterns and the rolling up of the shutters. It's the kind of street where all walks of life gather; thirsty tourists, local businessmen and even geiko (geisha) and maiko (apprentice geisha) hurrying between appointments.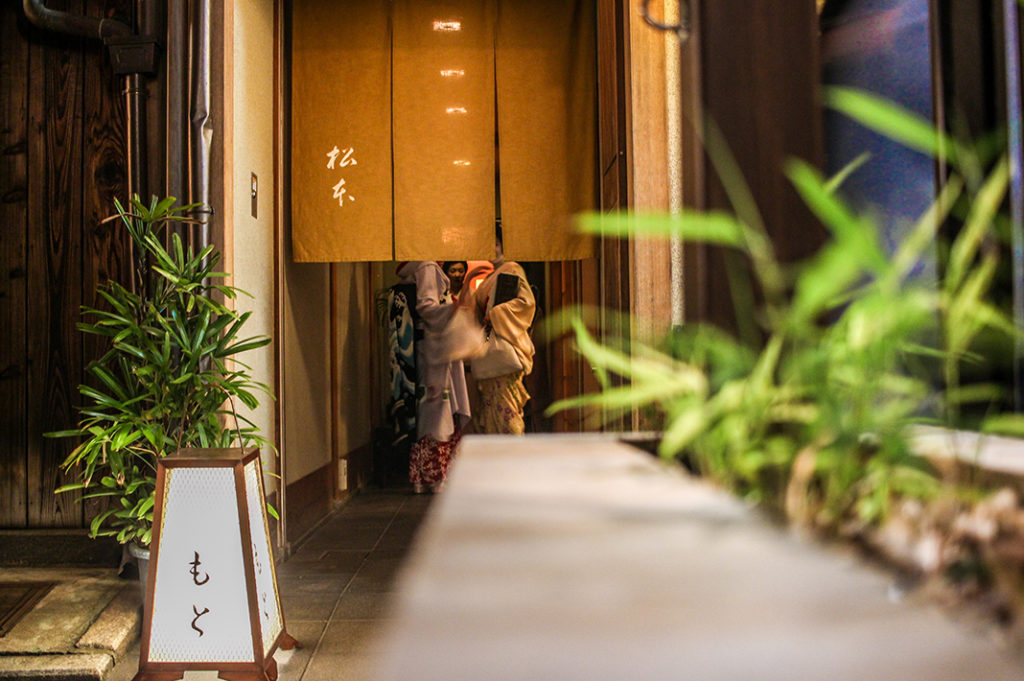 Spotted! Geiko/Maiko about to leave
While there are quite a few tourist-friendly bars and restaurants, Pontocho is known for its exclusive members only clubs. As you walk along, take note of the establishments on your right-hand side—these back onto the Kamogawa River and many set up al fresco dining areas in warmer months. This kawadoko style of dining is a great way to keep cool in summer.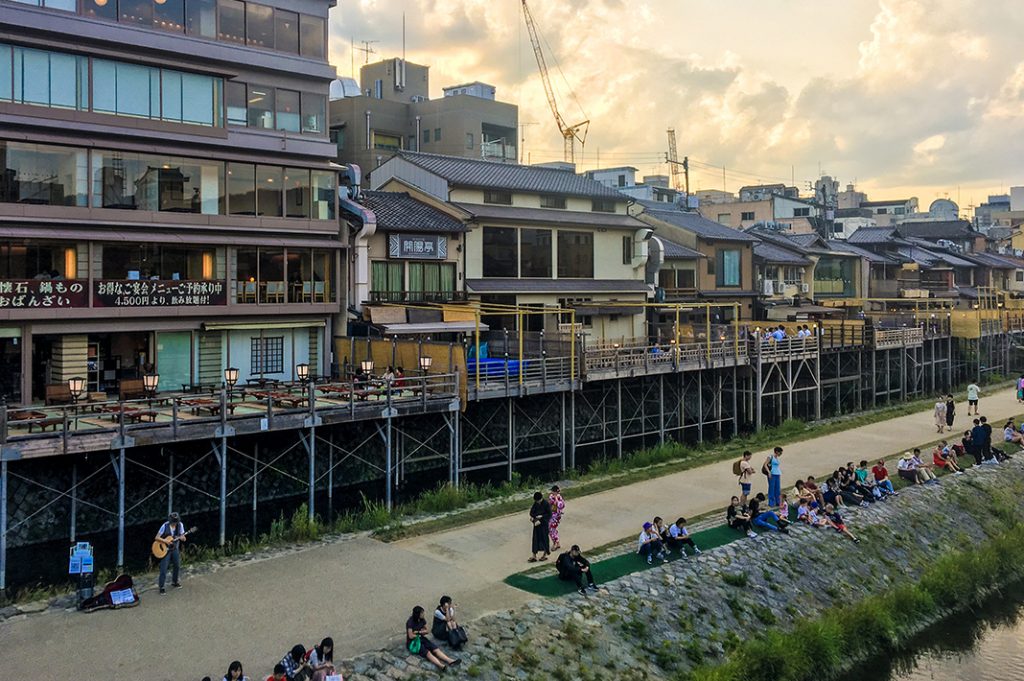 A view of the al fresco platforms in summer.
When you're ready for a slight change of scenery, take a left and you'll find yourself in another charming street (Kiyamachi-dori)—this time with a romantic canal! This area has another whole set of bars, restaurants and things to see along the Takase River, too. If you are yet to eat and feeling the hanger rising, try your luck at the nearby Yakiniku restaurant Hiro Beef. It's quite popular though, so you may need to reserve ahead.  
Head Over To Gion
Cross the Sanjo-dori bridge and you'll find yourself on the other side of the Kamogawa River, the Gion side. This is Japan's most exclusive geisha district and is positively full of history and charm. Part of the area is, in fact, a national preservation district, so you'll see plenty of traditional architecture and old machiya townhouses. Follow my map directions through the quaint backstreets and along the lovely Shirakawa River until you reach the Gion Tatsumi Bridge.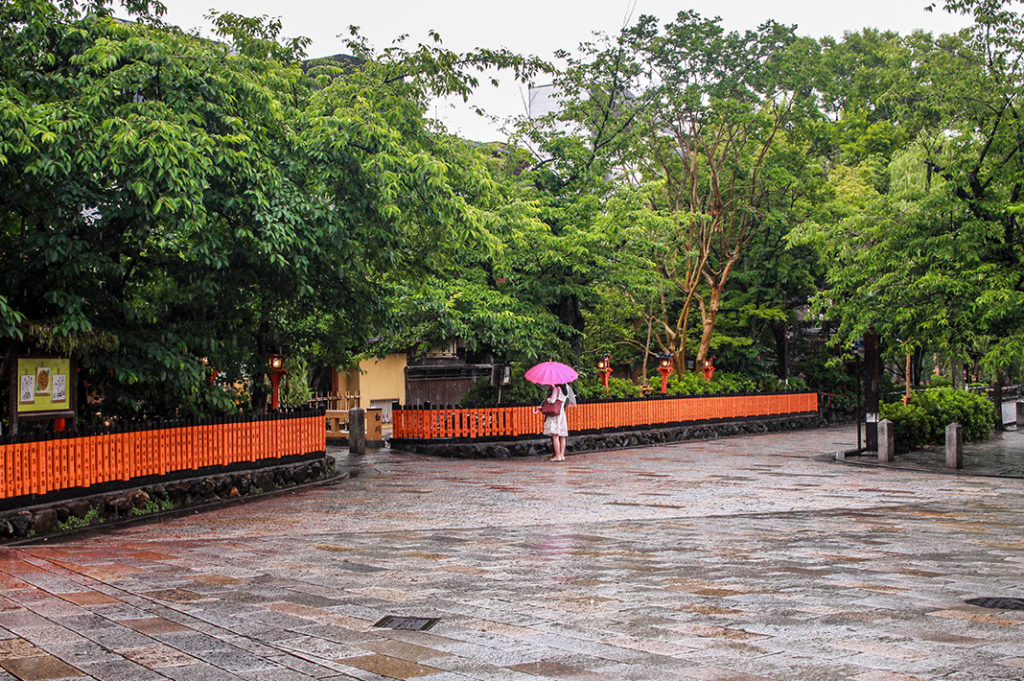 Said to be the most picturesque bridge in Gion, this spot is never without a scattered gathering of people trying for photos. But, there's certainly no denying its charm!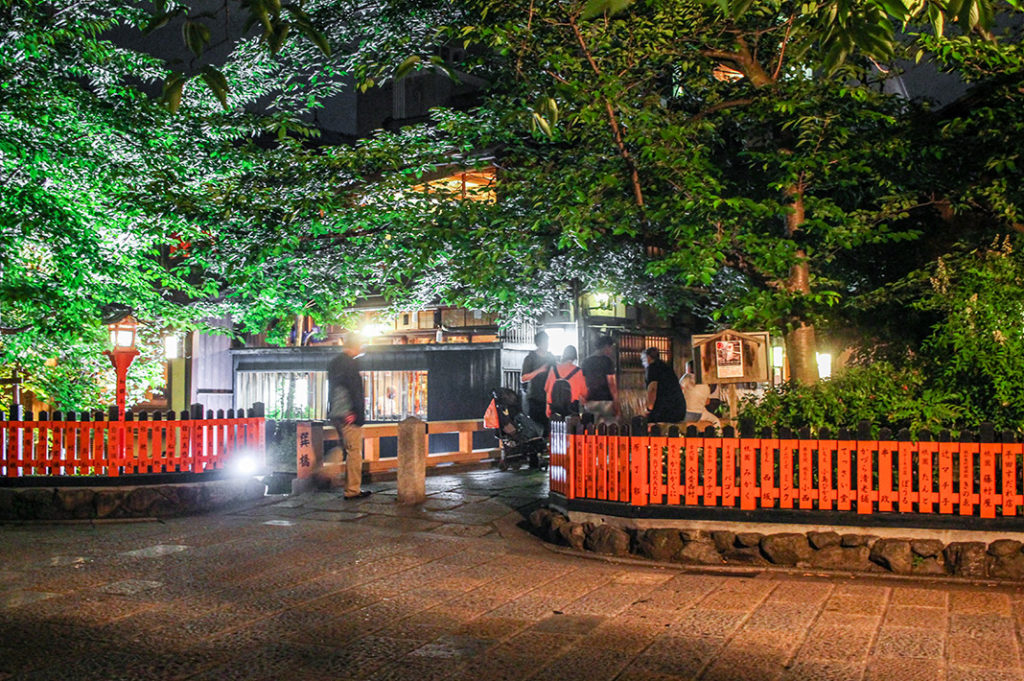 If you're looking for food in this area, head to the popular Gion Tanto Okonomiyaki or delicious Sola Spanish Restaurant. 
Explore the Yasaka Shrine…at night
Head down a few blocks to the main drag of Gion (Shijo-dori) and turn left. You'll soon see the magnificent Yasaka Shrine standing proudly at the end of the street. At night, it is illuminated beautifully and the best part, it's open 24hours for explorers such as yourself.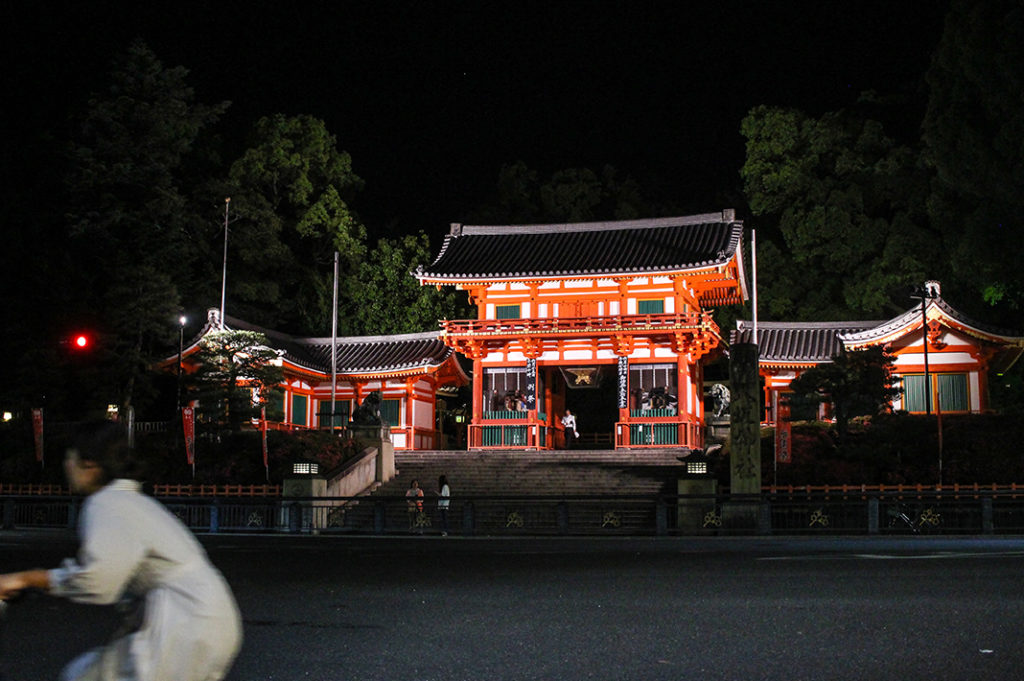 This is one of the most beloved temples in Kyoto—nay, Japan—and a hub of activity during the annual Gion Matsuri (Festival). In fact, people have been travelling from far and wide to visit Yasaka shrine for over a thousand years. And this is how the surrounding area came to exist; the influx of worshippers lead to the construction of hospitality and accommodation businesses, and the rest is history.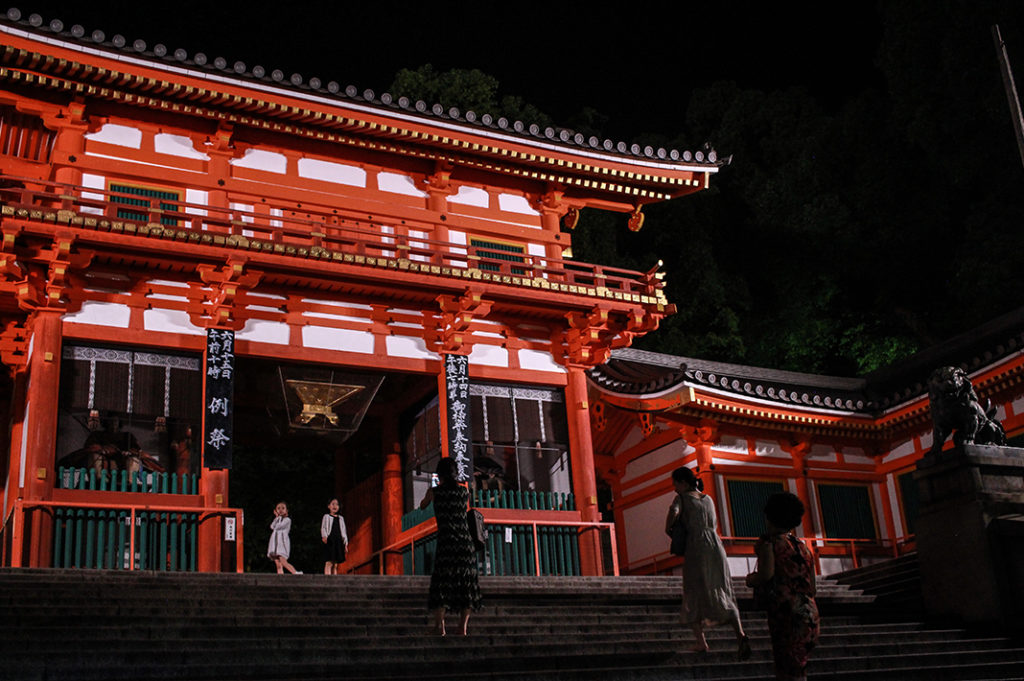 The main gate looks beautiful from the street, make sure you get a picture! Next, head on through and watch the traffic flow by from the other side.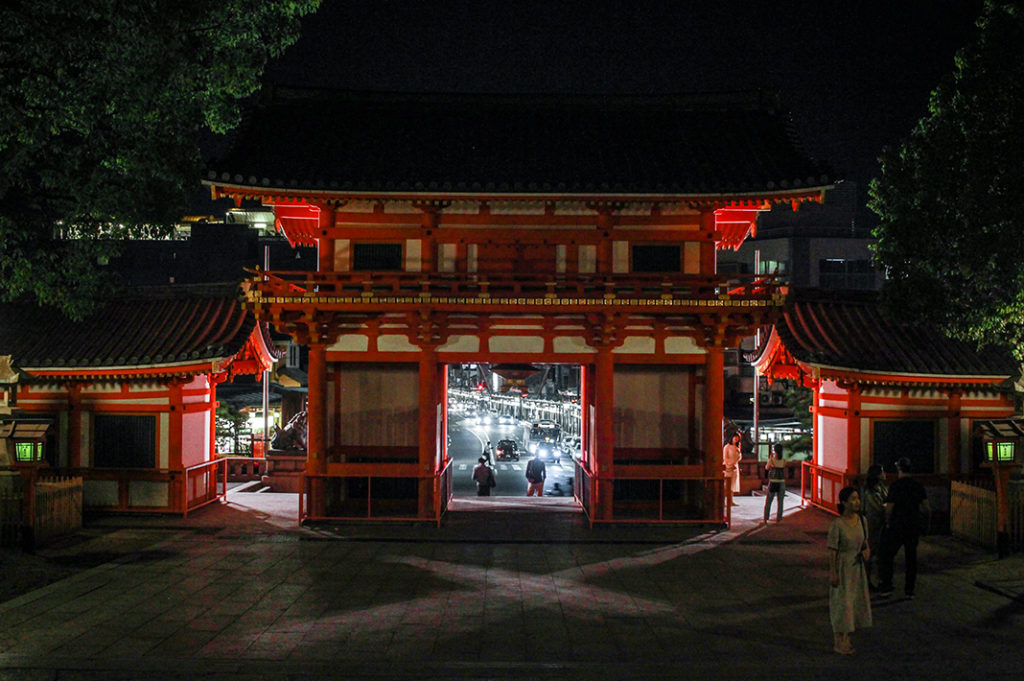 Things to do at night in Kyoto: explore Yasaka Shrine
But don't stop there. The grounds are open too, so feel free to walk around and visit some of the other buildings and structures within. 
Exploring Gion Kobu and Hanamikoji
Once you've revelled in the temple grounds long enough, head toward Gion Corner. This classical theatre is a point of interest as it has cultural performances nightly at 6:00pm and 7:00pm. If you're interested, reserve ahead and re-jig the walking tour to suit. Or, if you time it just right, you may be lucky and see some maiko (geishas in training) leaving after their live performance.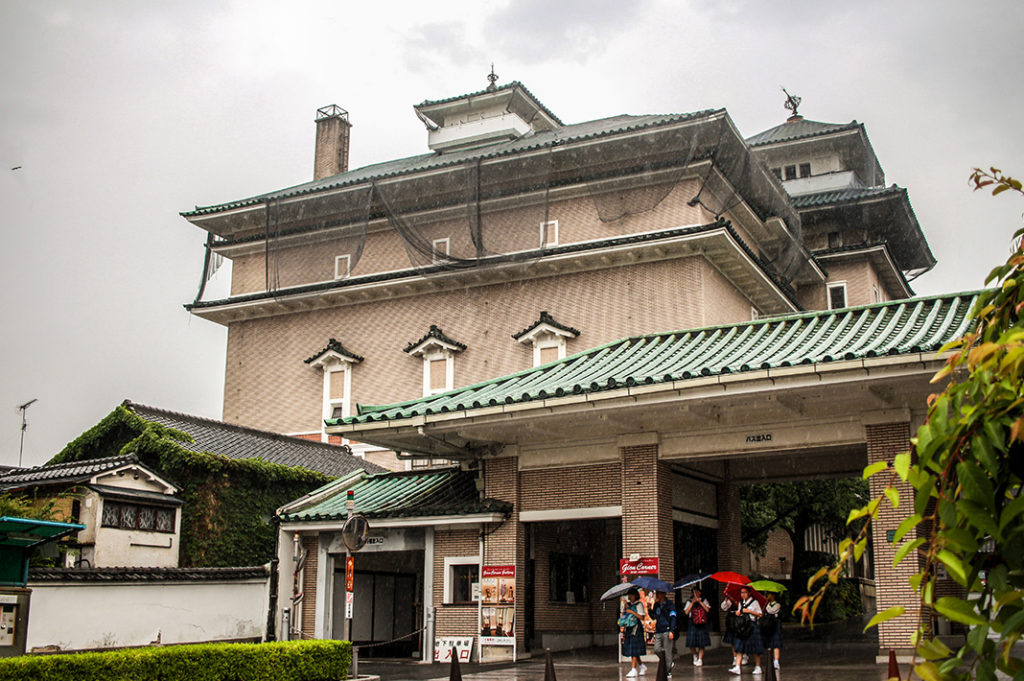 Gion Corner performance hall during the day
A stroll through this part of town is equal parts calming and exciting. The dreamy traditional architecture and myriad lantern serve to transport you back in time to the height of geisha and samurai activity.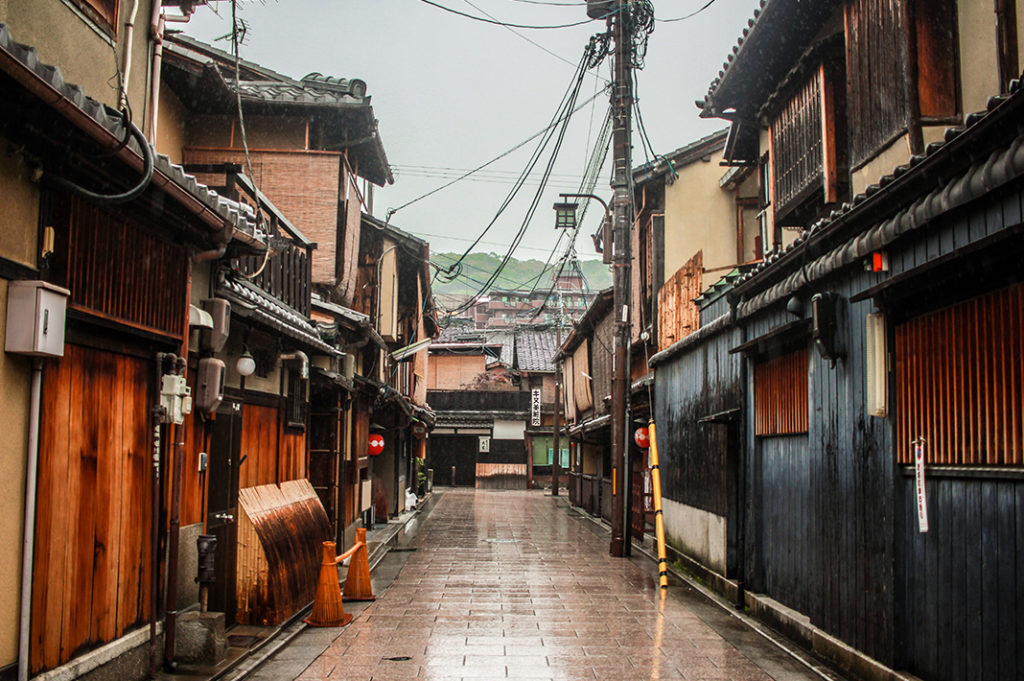 Make your way towards Hanamikoji street and stop by Finlandia for a fancy cocktail nightcap. This chic space is home to various flavoured Finnish vodkas and known to entertain the local geisha. Who knows, you may end up rubbing shoulders with Gion royalty. 
Take me to the River
Wind your way through a few more quaint backstreets toward the river. Take a moment to appreciate the magnificent Minami-za Theatre, home of traditional Kabuki performances. If you've had enough fun, you are now close to Gion-Shijo Station and Kyoto-Kawaramachi Stations to make your way back to your accommodation. 
If you still have a little steam, wander along the river some more or see what's happening back in Pontocho! Happy walking! 

This article was first published by Japan Journeys. Check Japan Journeys for deeper and unique insights into visiting Japan, including wellness, travel, cuisine and more. Follow on Instagram @japanjourneys.jp, and on Facebook at this link!