Looking for an escape from the busy metropolitan life in Tokyo? Visit Takao-san to find your inner Zen while hiking the sacred Japanese inland mountains.
Takao-san, or Mount Takao has been a place of worship for over a thousand years. Walking the mountain trails, you'll find countless small shrines, statues of gods and tori gates. Near the summit, you'll find the Buddhist temple of Yakuoin, an impressive complex built in centuries past. There's a scenic observation plateau once you reach the summit from where you can view the majestic Fuji-san on a clear day. It is also possible to ascend Takao-san by ropeway or cable car for those who don't like long hikes.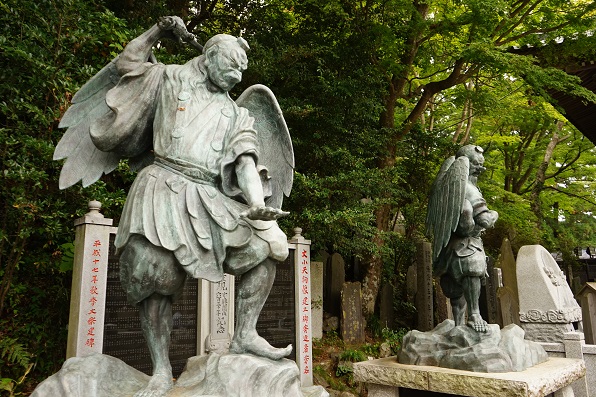 Two of the many statuses along the way displaying Tengu, or mountain gods and devils.
Takao is a popular day trip from Tokyo and can be busy during national holidays and during the weekend. The best experience is to go on weekdays when the crowds are less, especially in the early hours just after daybreak.
What to do:
The main attraction is hiking up Takao-san, there is the main path but don't shy away from taking one of smaller hiking trails trailing along the mountain. These are much quieter and adventurous, you'll find countless small shrines and photo opportunities.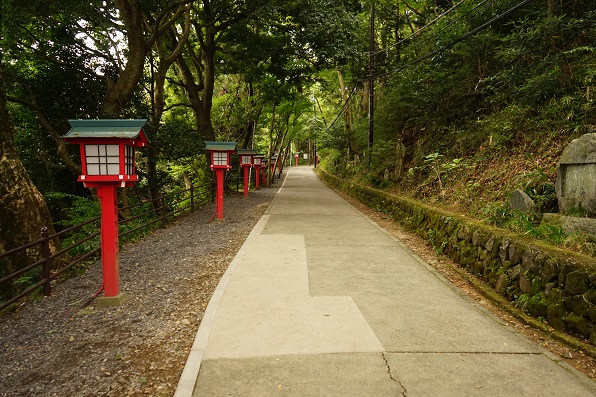 One of the many hiking trails, some or paved for an easy walk.
Visit the Monkey Park, about halfway up the mountain, it's small but rather nice. It also has a flower garden with over 500 different plants. Both can visit with the same ticket (400 yen entrance fee).
Make a stop over at the Takao 599 Museum, the museum displays the ecosystem, history and cultures surrounding Takao-san, in a variety of visual and novel ways. The building itself is interesting from an artistic point of view, combining the futuristic with traditional design. The best part is that entrance is free!
Getting there:
Takao-san is located one hour to the west of Tokyo by train and makes for an excellent day trip from Tokyo.
Using the Japan Rail Pass you can use the JR Chuo Line from JR Shinjuku station to Takao Station. From there use the Keio Line to Takaosanguchi Station for 130 yen, just 1 stop away. It is also possible to walk to Takaosanguchi Station in about 25 minutes.
PS: Ever wondered why every mountain in Japan is called san? Like Fuji-san and Takao-san. This comes from the Chinese character for mountain 山, pronounced as san. Basically Takao-san just means Mt. Takao in Japanese. Another cool fact about the charter 山 is that is actually resembles a mountain.