Table of contents:
Intro
A Brief Cultural History of Diving in Japan
Japan's Islands and Underwaters Worlds
When and where to Dive?
Best Diving Spots in Japan
Japan's Unmissable Sea Life
Don't Forget
Intro
Imagine swimming past sunken World War Two wrecks and hammerhead sharks, cuttlefish and coral reefs, before taking a train journey north for an icy dip and a spot of whale watching. All this and more is possible when you take a deep dive into Japan. The country has been described as the best kept secret in diving. An island nation made up of more than 6,000 islands and 21,000 miles of coastline, Japan offers some of the best diving locations in the world. But what makes Japan's diving extra special?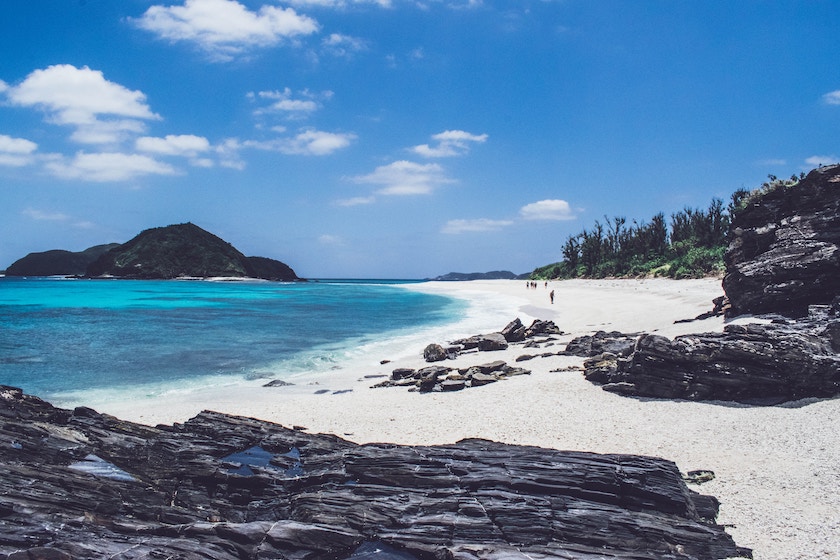 From crystal-clear subtropical seas and white-sand beaches in the south to the magical ice flows in the far north, the wide range of temperatures in Japan's waters means there is an extraordinary diversity and variety to the country's marine wildlife, its coastal geography and its underwater ecosystems. With 3,000 different types of fish alone, not to mention a huge range of other marine life and exotic wildlife to encounter, the country is perfect for nature lovers, and a paradise for diving enthusiasts. As ever, Japan's domestic rail system is the best way to travel using your JR Rail Pass, and with our helpful guide, you will know exactly where to go for some of the best diving in the world. 
A Brief Cultural History of Diving in Japan
Diving occupies a small, but fascinating place in Japan's unique cultural history – in particular the 2,000-year-old tradition of ama, which continues to this day. Ama literally means 'women of the sea' and refers to an incredible community of Japanese women from coastal areas who free-dive for oysters, pearls, abalone, seaweed and shellfish, traditionally wearing nothing but a loin cloth and goggles. No oxygen, no diving equipment – just skill, determination, hard work and tradition.  
Historical records of ama divers can be traced back centuries, with written accounts of these 'women of the sea' appearing as early as 750 AD in the oldest Japanese anthology of poetry, the Man'yoshu. One story about the origin of the tradition claims it began when a young woman dove into the ocean and retrieved an abalone for the Sun Goddess, Amaterasu. It was so delicious that the god chose the coastal city of Ise as their home, and ama became a tradition for women in the region and, subsequently, throughout the rest of Japan's coastal communities. Today, the Grand Ise Shrine is considered to be one of Japan's most sacred Shinto shrines and there is an annual tribute of abalone each year. Another story describes ama divers as seafaring 'mermaids' of the Asian seas who chose Japan to settle. It has also been said that ama are women for two reasons – the extra layer of subcutaneous fat on their bodies insulates them to the sea better than men and perhaps more importantly, they're more suited to the hard-work and often solitary lifestyle.
Either way, ama divers are truly remarkable women. They can dive to depths of 30 metres and hold their breath for more than two minutes using a special technique called 'isobue' or sea whistle. Perhaps even more remarkably, many ama divers continue diving into their 80s. Since the 1960s, ama divers have worn diving suits or other clothing rather than swimming semi-nude, but otherwise the tradition continues as it has for centuries. However, it is gradually declining. Where Japan's ama divers once numbered more than 10,000, today there are less than a quarter of that number left. 
Around half of Japan's remaining ama population can be found in the coastal city of Toba and the surrounding islands of Tōshijima and Kamishima, and you can visit these special communities using your Japan Rail Pass. From Tokyo, take the JR Tokaido Shinkansen Line to Nagoya, using either the Hikari or Kodama trains. Continue through to Iseshi Station before arriving at Toba. 
The Mie Prefecture region is home to the Grand Ise Shrine as well as many other attractions including Miyamoto Pearl Island, Ise Jingu Shrine, Toba Aquarium, Ishigami-san – the women's shrine, Toba Sea Folk Museum, and more. You can also experience ama culture first-hand by booking an ama hut experience where ama divers come together in huts called amagoya to share stories and talk about their work while sharing locally-caught seafood grilled over coals. 
Whether you have come to Japan to learn about the ama divers or to enjoy some scuba diving, drift diving, shore diving, or wreck diving for yourself, you'll discover that the beautiful and varied country isn't called the hidden gem of the diving world for nothing. 
Japan's Islands and Underwater Worlds
Japan is a stratovolcanic archipelago (a chain of islands scattered across a body of water) that extends over 3,000 km from the Sea of Okhotsk northeast to the Philippine Sea, south along the northeastern coast of the Eurasia continent. While Japan consists of thousands of islands – an amazing 6,982 to be exact – the country is largely made up of five main island areas – Hokkaido, Honshu, Kyushu, Shikoku and Okinawa. Each island has its own unique fauna, flora and coastal ecosystems for you to discover. Your JR Pass will allow you to travel nationwide via Japan's rail network, but if you want to focus on just one or two of the regions be sure to read our Experts Guide to Regional Train Passes. When it comes to scuba diving, visitors often focus on the south – Okinawa in particular – but almost every mile of Japan's 21,000 miles of coastline has something to offer.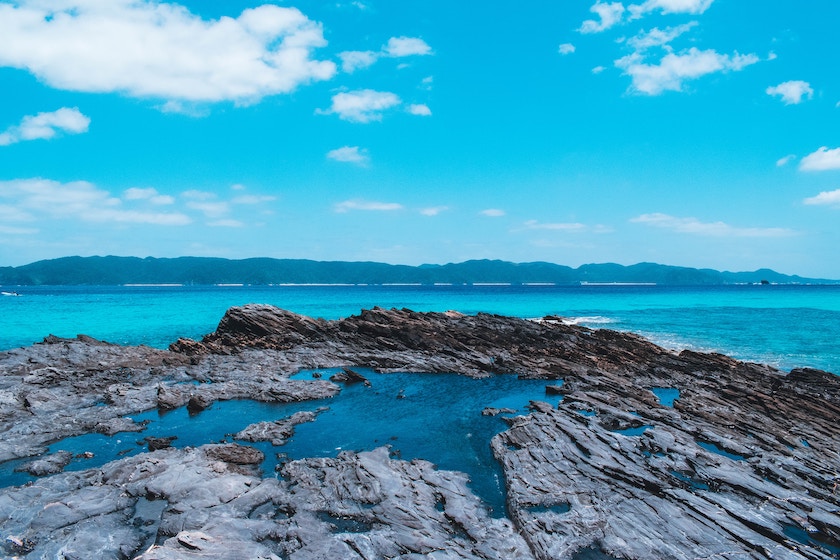 When is best to go Diving?
Thanks to Japan's climate, you can dive all year round. This is one of the many reasons why it is such a hidden gem for diving enthusiasts. The north is generally cool and temperate whereas the south is subtropical. August to November are the busiest and most popular months due to ideal temperatures for diving, while from October to April, a wetsuit and hood is usually recommended, and finally, if you're looking to do some whale-spotting while you dive, try November to March when humpbacks usually migrate. 
Best Diving Spots in Japan
Japan has a wealth of diving spots for enthusiasts and experts right through to beginners and first-timers. Some of the country's islands have more than 100 diving spots each, so you will be spoilt for choice. Using your Japan Rail Pass for unlimited rail travel, you'll be able to travel the length and breadth of the country in search of the best spots. Here is a small selection of the best from across Japan: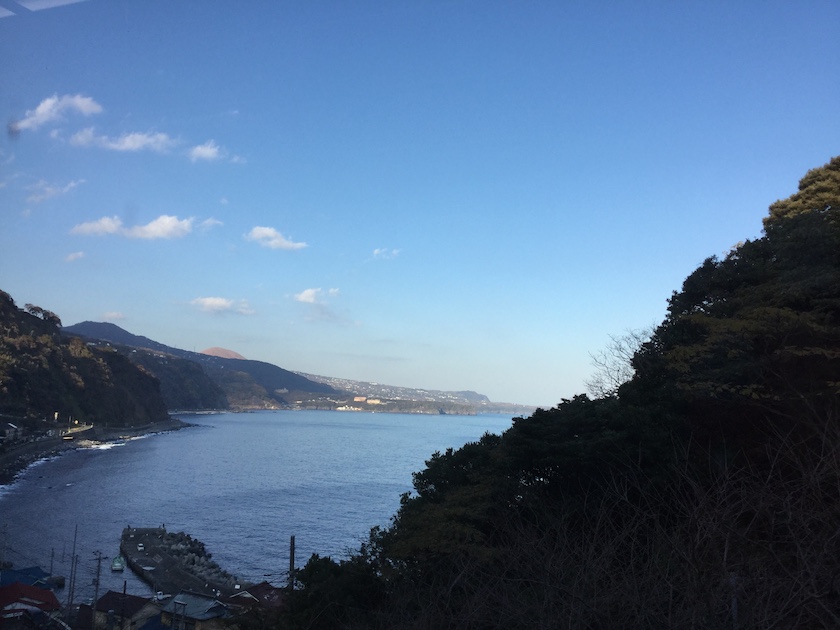 Izu Peninsula (Tokyo)
You may not associate Tokyo with diving, but the Izu Islands technically belong to Tokyo Prefecture and offer some of the best diving in Japan. Popular sites include Hachijojima island and spots such as Nazumado, Akinohama, and Keikai, where you'll find warm tropical waters, reefs formed by volcanoes and clouds of colourful fish shimmering by. 
Oki Islands (Shimane)
An archipelago in the Sea of Japan, Oki Islands feature the country's highest sea cliffs and crystal clear waters that are ideal for diving. Also look out for the underwater forests dense with sea bream, yellowtail, sea bass and more – a fisherman's dream as well as a diver's!
Ogasawara Islands
Discovered in 1538, the amazing Ogasawara Islands (also known as the Bonin Islands which means 'no people' is often called the 'Galapagos' of Japan. The reason? It was never connected to any continents and its animal, plant and marine life all evolved independently resulting in a number of endemic species, just like the Galapagos.  

Yonaguni (Okinawa)
The westernmost island of Japan, Yonaguni is world-famous for sunken wrecks, incredible undersea ruins and, of course, amazing seal life including hammerhead sharks. The mysterious pyramid-like underwater structures are a wonder to behold and remain unexplained. Are they man-made or natural? You might just think you're swimming past the lost city of Atlantis! 
Ishigaki (Okinawa)
One of Japan's most famous and highly recommended diving locations, Ishigaki is known as one of the country's underwater gems and features beautiful tropical waters, coral reefs and an abundance of sea life including angelfish, manta rays, and butterfly fish. 
Yakushima (Kagoshima)
Arguably Japan's most famous diving destination for seeing sea turtles, Yakushima is the place to go for turtle lovers. Being on the north coast, it also boasts a number of unique species including Scorpionfish, lionfish and Moorish idols. You can reach Yakushima Island by Shinkansen to Kagoshima, using your JR Rail Pass, and then transferring to a ferry, jetfoil, or plane.
Okinawa (which comes up a couple of times on our list above) is one of Japan's most popular diving destinations. If you're considering just visiting this Prefecture then you might want to consider one of our regional passes
Japan's Unmissable Sea Life
Thanks to Japan's marine biodiversity, the country boasts some of the world's most spectacular ocean life for you to get up close and personal with (although we wouldn't recommend getting too close to certain creatures!). From sea turtles, cuttlefish, hammerhead sharks and dolphins, to mobula and eagle rays, moray eels, sea snakes, barracuda, pygmy seahorses, crabs, shrimps, tuna salamanders, nudibranchs and much more, there's an amazing amount to see. Below is a small selection to look out for: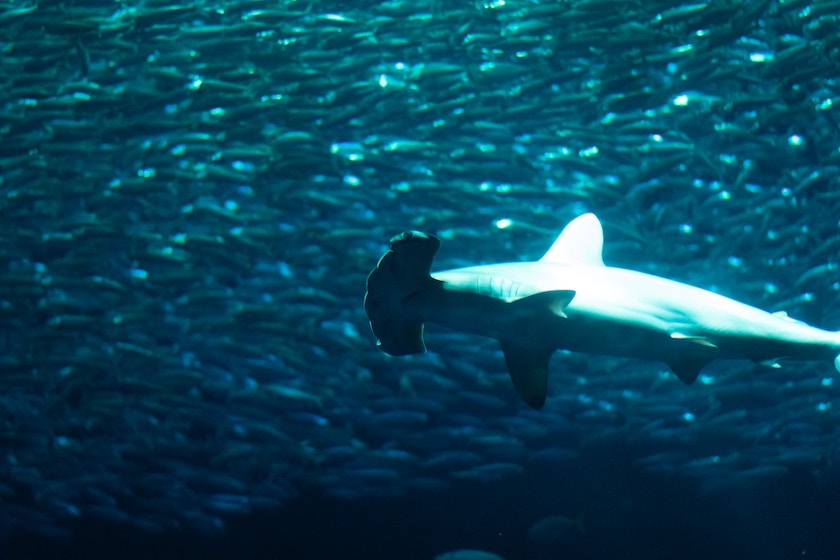 Hammerhead sharks
Have you ever been swimming with sharks? Between November and June, you could find yourself diving with large schools of up to 100 hammerhead sharks in the waters off Yonaguni Island! This is obviously a once-in a-lifetime diving experience with a truly beautiful and unique creature, and comes highly recommended.

Mobula rays
Ishigaki Island between the months of June to November is the place to go for the world famous 'manta scramble' although technically Japan's manta rays are not mantas at all, but mobula rays – a type of devil ray. Nevertheless, with a 'wingspan' of 2-3 metres they are just as amazing to swim with! 
Mikurajima dolphins
The Izu Islands, in particular Mikurajima Bay, is home to a large dolphin population and you could end up free diving and snorkelling alongside them. Swimming with dolphins is on many people's 'bucket list' and where better to do it than beautiful Japan. 
Giant gifu salamanders
The Japanese gifu salamander can grow up to 5ft. You'll find them in the icy mountain rivers of Gifu and in Koza River in Wakayama Prefecture. Gifu City is around two hours by Shinkansen from Tokyo using your JR Pass.

Humpback whales, dolphins, sperm whales and pilot whales 
According to experts, the best time to see whales around Shikoku is February and March. They can also be seen earlier in the year, from December onwards, in the Ogasawara Islands.
Japanese Pygmy Seahorses and nudibranchs
From the biggest to (some of) the smallest. Japanese Pygmy Seahorses are just as cute magical as they sound, while Nudibranchs are informally known as sea slugs, but are much prettier-looking than they sound. You'll find both in the Izu Islands. Of course, there is even smaller marine life in Japan's waters if you can spot it!
Don't Forget
Due to Japan's climate you can dive all year round. This means you can still dive during winter and spring, especially in the south of the country. 
Want to know more about Japan's beautiful beaches? Read our Itinerary Tip: Beaches guide. 
Never been to Japan? Don't miss our helpful guide for visitors exploring the country for the first time – 10 Tips For First Time Travellers to Japan.
Got unlimited train travel with your JR Pass? Don't forget unlimited WiFi either. Remember to buy PocketWifi to ensure your devices (up to 10) stay connected to the internet wherever your diving adventures take you across Japan.
Need more advice planning your trip to Japan? Contact our expert team or arrange for our helpful Meet and Greet Service.
If you're planning to dive in a particular region such as Okinawa, find out everything you need to know about rail travel in the area using our Experts Guide to Regional Passes.