From Tokyo all the way down the southern Kyushu, this itinerary offers variety of top experiences Japan has to offer in combination with a 14 day JR Pass. It is suited both for first time visitors and returning visitors wishing to see more of what Japan has to offer.
This itinerary has been written to make the best of the 14 day JR Pass and all travel is included within 14 days. If you do have more time to spend in Japan, then it's easy to add a couple more days to Tokyo.
Tokyo
We start our itinerary in Tokyo. After a long flight, Tokyo makes for a great start for trying out some of the tasty Japanese cuisine, be it sushi, okonamiyaki or a fully stuffed bento box. It is easy to fill in the days staying in Tokyo to your own liking, transport within the capital is very frequent and everything can be reached by public transport.
For this itinerary we suggest 3 days in Tokyo.
Day 1: Western Tokyo.
Start the day in Harajuku, home of the more extreme Japanese youth fashion, Harajuku is famous for cosplay and the latest trends. Takeshita Dori is the main shopping street, here everything from the super cute to goth can be found.
Just behind Harajuku the entrance to the Meji Shrine can be found, surrounded by a beautiful small forest, the Meji Shrine is dedicated to the Meji emperor.
Also close to Harajuku is Omotesando, this uptown avenue caters mostly to the wealthy. Many top brand stores and exclusive restaurants can be found here. It's also a great way walk from Harajuku to Shibuya, at the end of Omotesando turn right and you should reach Shibuya in about 10 minutes. Alternatively, return to Harajuku station and take the JR Yamanote line to Shibuya.
Almost the first thing that can be seen once exiting Shibuya station is the famous Shibuya crossing, the busiest in the world! Shibuya is the center of youth fashion in Tokyo, there are many huge department stores and it's one of the top spots in Tokyo to shop.
The next and last stop of the day is Shinjuku, to get here take the Yamanote line from Shibuya. Shinjuku is the busiest station in Japan, this alone is worth experiencing. We also recommend a visit to the Tokyo Metropolitan Government Office for a grand view of the Tokyo skyline and the entertainment district of Kabukicho.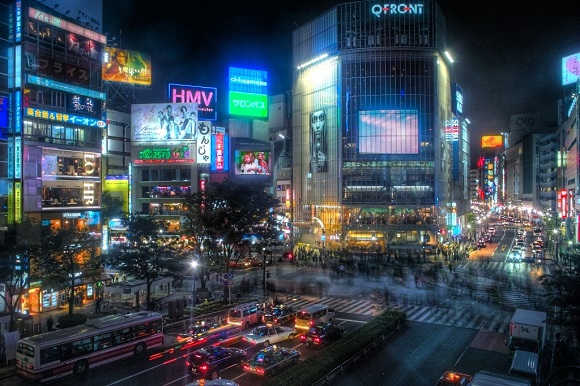 Shibuya crossing by night.
Day 2: Center Tokyo.
Start the day with raw fish at Tsukiji fish market, here newly caught fish is auctioned. After auction breakfast can be had at many small shops, making for a Sashimi breakfast for champions. Close to Tsukiji fish market is Ginza, the 5th avenue of Tokyo here many leading cosmetic and clothing brands can be found here, in addition to the Apple and Sony stores, displaying their latest products. Close to Ginza and even closer to Tokyo station is the Imperial Palace, this is the last stop for today. The imperial palace, the palace gardens are open year round and make for a pleasant stroll, there's also much of history value.
Day 3: Eastern Tokyo
Today we start in Akihabara, known as electric city, everything related to electronics, gadgets, and anime/manga can be found here. Akihabara is well worth a visit, to experience the Otaku atmosphere and maybe even enjoy a stay at a maid cafe. Only a few stops away from Akihabara on the Yamanote line is Ueno. Ueno Park just just outside of the station, here the Tokyo National Museum, National Science Museum and the Shitamachi Museum amongst others can be found. Ueno park also has different temples and Ueno Zoo is a fun visit if you travel with children. After Ueno the next stop is Asakusa, to get there take the Tokyo Metro Ginza line from Ueno to Asakusa station. Asakusa is where the old atmosphere of Edo Tokyo still remains, start with a visit to Kaminarimon followed by Sensoji Temple. There are also many small craft and souvenir shops to be found around here, well worth a visit!
The last visit for day 3 is the Tokyo Skytree, completed 2012 it is 634 tall and visitors and visit the Skywalk at 451 meter high.Tokyo Skytree is only 2 minutes away from Asakusa on the Tobu Skytree line, or about 30 minutes on foot.
Also see our classic 7 day itinerary post for more suggestions in Tokyo.
Kyoto
Transport to and inside Kyoto:
First make your way to Tokyo station, it is here where the Shinkansen depart from. Be sure to come a bit early as Tokyo station to buy an Eki Bento. The station is very big and it's easy to get lost along the endless passengers, however keep following the signs with Tokaido Shinkansen and you'll find trains departing south west to Kyoto, Osaka and Hiroshima. Reserve your tickets and make your way to the platforms, now it's time to ride the hyper fast bullet train!
Transport in Kyoto is mostly done by bus. One day tickets can be purchased for 500 yen, this can quickly help to make savings, as a normal bus ride costs 230yen.
With this itinerary we suggest a 2 day stay in Kyoto.
Day 4.) Western Kyoto
Start with the famous Zen gardens of Ryoanji Temple, we recommend coming early before the it gets busy with tourists, this way it is possible to experience the real Zen feeling. The next on our list is the iconic Golden pavilion, the tea gardens close to the pavilion are a good stop to unwind a little before moving on. The next stop is Arashiyama, it's a beautiful area with bamboo groves and a small monkey park.
Day 5.) Eastern Kyoto
Start at Kyomizu-dera, build on the side of a mountain overlooking Kyoto, Kyomizu-dera has a wonderful view over the Kyoto skyline. Just below Kyomizu-dera is are the small streets of the Higashiyama district. Higashiyama is historically well preserved and the it's the place where old Kyoto comes to life. There there are many small shops selling small crafts such as pottery. Just a little up north from Higashiyama is the famous Geisha district of Gion, it's a nice stop before traveling on to the next stop Nishiki Market. The atmosphere is pleasant and busy, many small stands sell all kinds of delicacies and cook wares. We recommend walking around the Shijō Kawaramachi area if there's time left. This vibrant area is the center of Kyoto, it's amazing for shopping and dining alike.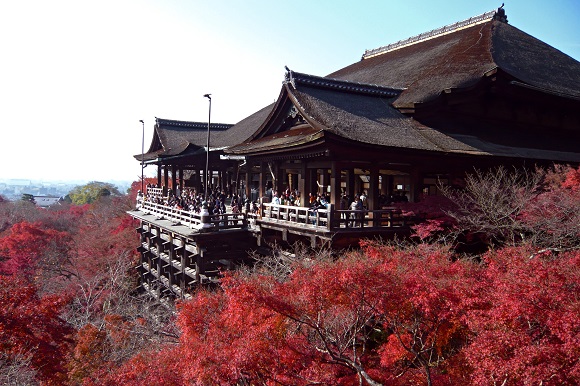 Kyomizu-dera temple.
The next stop is Hiroshima, bullet trains depart directly from Kyoto to Hiroshima station.
Hiroshima and Miyajima
Day 6.)For a day in Hiroshima we highly recommend a visit to the peace memorial museum and park, both leave a strong impression. The JR Pass is also valid on the Sight Seeing Loop bus and all great spots can be visited without additional charge. All the details are found on this website, including a handy map.
Day 7.) Miyajima, also known as Itsukushima, the Tori gate standing out in the sea during sunset, is oneof the most iconic sights in Japan. From Hiroshima take a local train to Miyajima-guchi, from there the ferry departs to Miyajima island. Both are covered by the JR Pass. After Miyajima there's most likely some time left and we suggest going to downtown Hiroshima. To get a feel of the atmosphere and try out some of the local foods, the Hiroshima Ramen are especially good!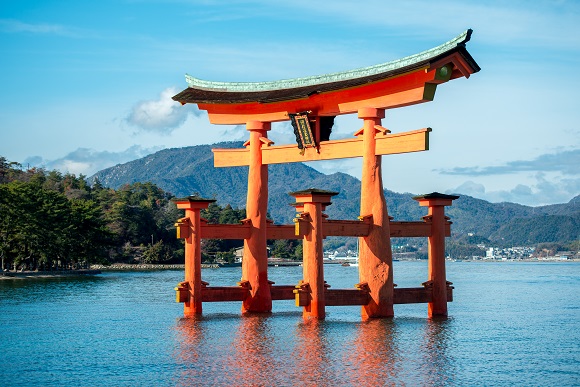 The Tori gate of Miyajima.
Kyushu, Nagasaki, Mt. Aso, Kumamoto and Yufuin.
Day 8.)The next stop is Nagasaki, to get there, take the Shinkansen from Hiroshima to Hakata station and transfer there to a limited express bound for Nagasaki. The route takes about 3 hours, so be sure to pack some food. Nagasaki is a very beautiful town build on the mountain slopes around Nagasaki bay. We recommend an evening visit to Mount Inasa. The view over Nagasaki is simply astonishing!
Day 9.) For the next day in Nagasaki we recommend visiting Dejima, during Edo Japan this was the only place where westerners were allowed to live. The island had been preserved and it's possible to get an idea how people used to live there. Other recommended visits in Nagasaki are the Nagasaki Peace Park and Sofukuji Temple.
Day 10.) For day 10 we either recommend a visit to Aso or Kumamoto. Aso is an active volcano in the middle of Kyushu. The area around Aso is especially nice for hiking, it is also possible to visit the crater and watch to smoke rise up.
If you're not into volcanoes, then Kumamoto makes for a great alternative. Kumamoto castle is especially beautiful and it is possible to go all the way to the top of the Castle. Suizenji Garden is also a well worth the time, it is a beautiful example of Japanese landscaping.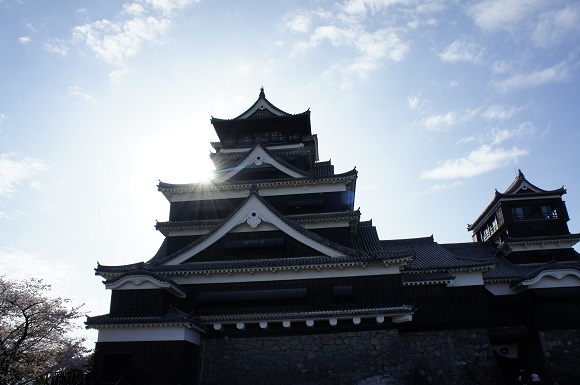 Kumamoto Castle.
Day 11.) Yufuin, after that much travel it's time to take a bath, literally! Yufuin is a beautiful small onsen town in the mountains of Kyushu. It's one of the best places in Japan to enjoy an onsen, the area is also very nice for forest walks.
Himeji and Osaka
Day 12.) It is slowly time to return north to Tokyo and our next stop is Osaka. A great stopover on the way to Osaka is Himeji, Himeji castle just reopened in 2015 after a long period of restoration. There are suitcase size coin lockers available at Himeji Station and storing your luggage there is easy. After Himeji it's time to travel on the Osaka. For the evening in Osaka we recommend a visit to Shinsaibashi and Dotonbori, this area of Osaka is best experienced after sunset when the city comes to life.
Day 13.) Start the day with a visit to the Umeda Sky building and the floating gardens, after we recommend a visit to one of the major entertainment spots of Osaka, either Universal studio or the Osaka Aquarium.
Day 14.) Back to Tokyo, this is the last day of the 14 day JR Pass and it is time to return to Tokyo for last minute shopping before returning home. Bullet trains depart from Shin-Osaka station and take about 180 minutes to reach Tokyo.
Photo courtesy:
Shibuya HDR by Shibuya Guwashi from Tokyo
Kyomizud-dera by Oilstreet
Miyajima by Jordy Meow
Sunflare at Kumamoto Castle by Daniel-san