JRailPass
Unlimited Japan Rail Travel
The Japan Rail Pass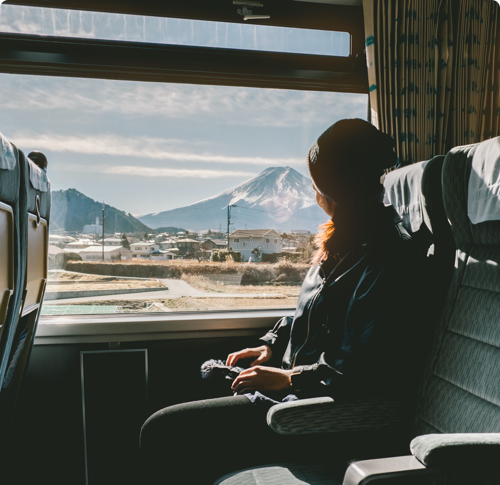 ---
Single pass for all of Japan, perfect for nationwide visit
International support 24/7 via various channels
Ride the High Speed Shinkansen bullet trains
What is the JRailPass?
The JRailPass is your one rail ticket for the national JR Network around Japan.
Use the pass for unlimited travel on the Shinkansen bullet trains, intercity and urban lines.
Available for 7, 14 and 21 days in ordinary and Green class (First) class.
Ordinary Class

Second Class

premium

Green Class

First Class
How do I receive the JRail Pass?
You can place your order online, then we dispatch your order within 1 business day using FedEx or UPS. Delivery time can vary by location and country. For details check our delivery page.
Am I eligible for the JRail Pass?
To be eligible for the Japan Rail Pass, you need to be a visitor to Japan for tourism, under a "temporary visitor visa". For details see our JR Pass eligibility page.
Frequently Asked Questions for the Japan Rail Pass
Are Child passes available / is there a discount for children?

Yes, children between the ages of 6-11 receive a 50% discount on the Japan Rail Pass.

Can I receive the Japan Rail Pass in Japan?

Yes, we can deliver to your accommodation. A signature is required, this can be done by reception. We recommend informing your accommodation that you are expecting a package in advance.

Can I use my JR Pass to/from the Airport?

Yes, the Japan Rail Pass includes travel to all major airports, like Narita airport, Haneda Airport, Kansai Airport and Shin-Chitose Airport.

Can I book train tickets for Japan in advance?

Yes, train tickets can be reserved at any JR Station, once you have activated the Japan Rail Pass. A limited amount of trains can also be reserved online in advance. See our blog for details.

Is the JRail Pass usable with breaks? Or is it counted in consecutive days.

The Japan Rail Pass is counted in consecutive days, in other words it will count down from the first day that you activate it.

The JRail Pass can be purchased at any date starting 3 months before your travel. For instance, if your Japan Rail Pass is issued on May 1st, then the pass will need to be activated by July 31st.

Is it Japan Rail Pass, JRail Pass or JR Pass?

The official name is Japan Rail Pass, JRail Pass and JRPass are simply a shorter name for the same rail ticket.

Can I use the Japan Rail Pass from Tokyo to Kyoto?

Yes, you can ride the bullet train directly from Tokyo to Kyoto. The fastest service covered by the JR Pass is the Hikari train service.

How much is the Japan Rail Pass?

The price is set in Yen but depends on the exchange rate for your own currency. See the order your Japan Rail Pass page online for the current rate.
Need a guide on how to use your Japan Rail Pass?
---
Japan Rail Pass reviews
Read thousands of verified Japan Rail Pass reviews
Additional services at JRPass
Use our High Speed
Mobile WiFi connection
Stay in touch while traveling
Keep your friends up-to-date while traveling across Japan and never loose access to direct information on your surrounding itineraries. Device supports up to 12 hours of uptime while fully charged and is very easy to use. Make the most of your visit, travel with your uninterupted internet access.
Unlimited data
4G connection in 97% of Japan
Get relevant Itinerary information on the go
No extra fees
WiFi Details Page
POCKET WIFI
with NinjaWiFi
JR Pass Meet & Greet
Get the best possible start of your Japan trip with our Meet and Greet service. We'll be waiting for you right after arrivals, help you exchange the Japan Rail Pass, take care of any business you might have at the airport and personally escort you to your onward method of transport.
Meet and Greet service
Passenger transfer
No-stress introduction to Japan
Assistance and support
Meet & Greet service page
Single pass for all of Japan
International support
Save money