Recently, one of our customers asked: "Why are first class carriages in Japan called "green class" and not first class?" Or "even business class like elsewhere in the world". Let's find out! In order to understand where Green Class comes from, we'll briefly explore the history of premium carriages in Japan, in addition to what Green Class looks like today.

Table of contents:


Introduction to Green Class
Green Class in the past 
What to expect of Green Class today

Introduction to Green Class

For those new to train travel in Japan, Green Class is the more luxurious way of travel in Japanese trains. There's more legroom, your seat reclines more and there are extra services available depending on the train, such as a special Green Class attendant, "Oshibori" hand cleaning towels, complimentary drinks (coffee/tea/water) and more.


Green Cars on local trains such as the Joban line in Tokyo have a special attendant to provide a drinks and snacks purchase service and check your tickets at the same time (nothing beats Japanese efficiency!). Green Class is also frequented a lot less than ordinary train cars, making it a great option for travellers who wish some peace and quiet.


Green Class in the past

Historically, first class was just called so on Japanese limited express train. In 1969, it was changed to Green Class or Green Car. While we don't know exactly why this was changed, there are two theories. The most popular theory is that Green Class is named after the pale green line that was drawn on outside of the train car designated as the first car, this way it was easy to recognize before boarding. The other theory is that Green Class was named after the green marks that were placed on the headrests of first class seats to designate them as such. Whatever the reason may be, Green Class is now universally used in Japan and can now be found in other types of transport as well.
The logo for Green Class is a four-star clover (see image at the top), this was chosen to represent good fortune and give Green Class travellers an added feeling of joy. The colour green has also long been associated with the train travel in Japan, the Japanese name for ticket window is Midori-no-Madoguchi meaning Green Window.


What to expect of Green Class today

Green Class in Japan is best chosen when comfort and a more relaxed way of travel are preferred. This includes better, more luxurious seats, assigned and secure seating, more luggage space and more! For full details on Green Class in Japan and what a Green Class Japan Rail Pass can offer you, see the JR Green Pass page.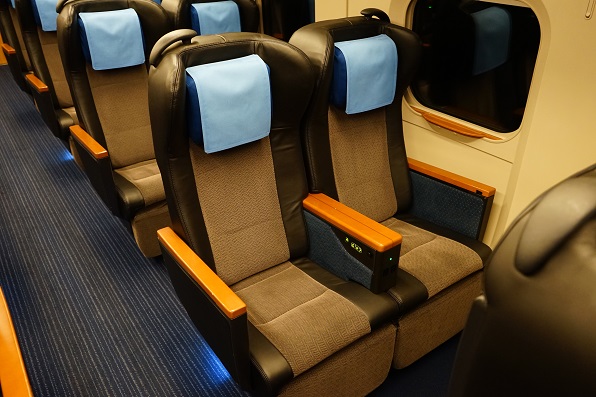 Green Seats on the Komachi Shinkansen.
Want to give Green Class a try for yourself? Order your Green Class Japan Rail Pass here.