Loving those red torii gate tunnel images from Kyoto, but just can't get down there? Never fear; Tokyo can deliver. 

We went traipsing around town to find the top three photo spots to complete your holiday snap collection. The good news? You could see them all in one morning! Without further ado: our favourite torii gate tunnels in Tokyo… 
Hie Jinja
Set atop a hill in Nagatachō, Hie Shrine is a green oasis surrounded by city buildings. And as one of Tokyo's most important shrines, it's no surprise that many people and businesses have donated these red gates for luck. To find the torii gates from inside the complex, turn right at the main hall, then follow the path to the left.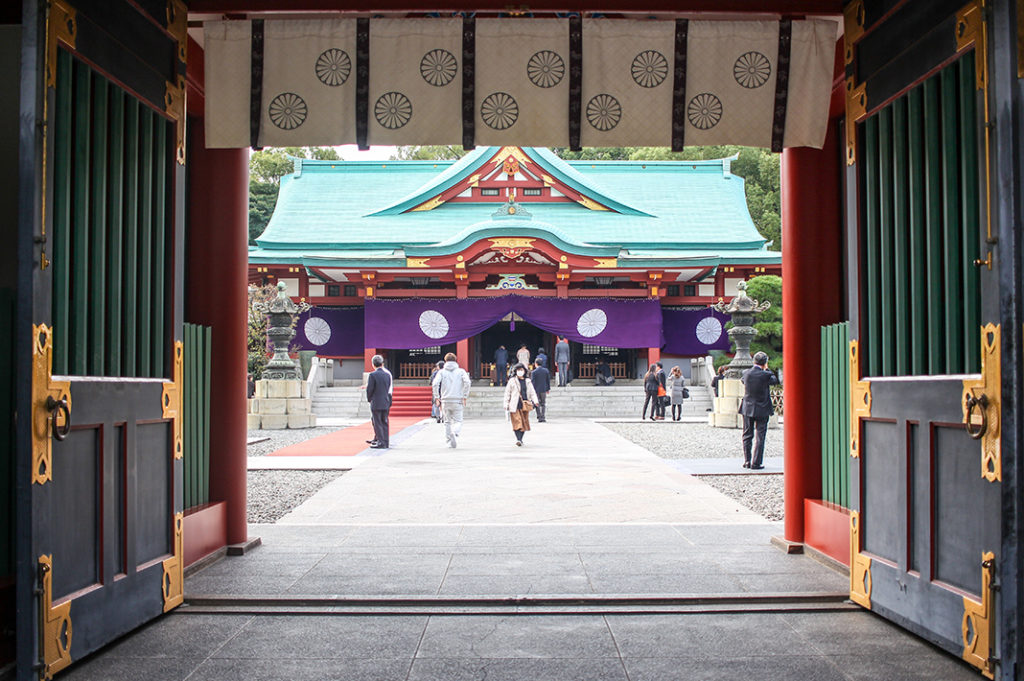 Turn right at the main hall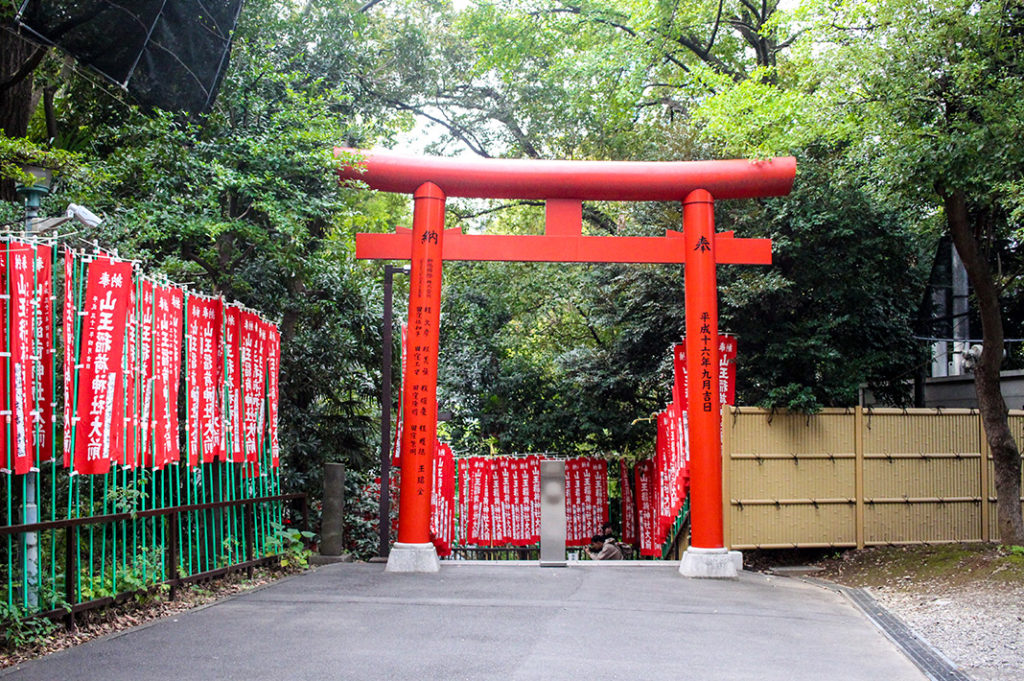 The entrance to the senbon torii
 
If you are outside of the grounds, you'll want to find the West Entrance, which is over behind the Okamura Chair Museum. What you'll find is a steep stone staircase flanked by tightly packed vermilion torii. This makes for a great photo from either end of the tunnel. During the day, you may need to wait your turn so try going early for lesser crowds.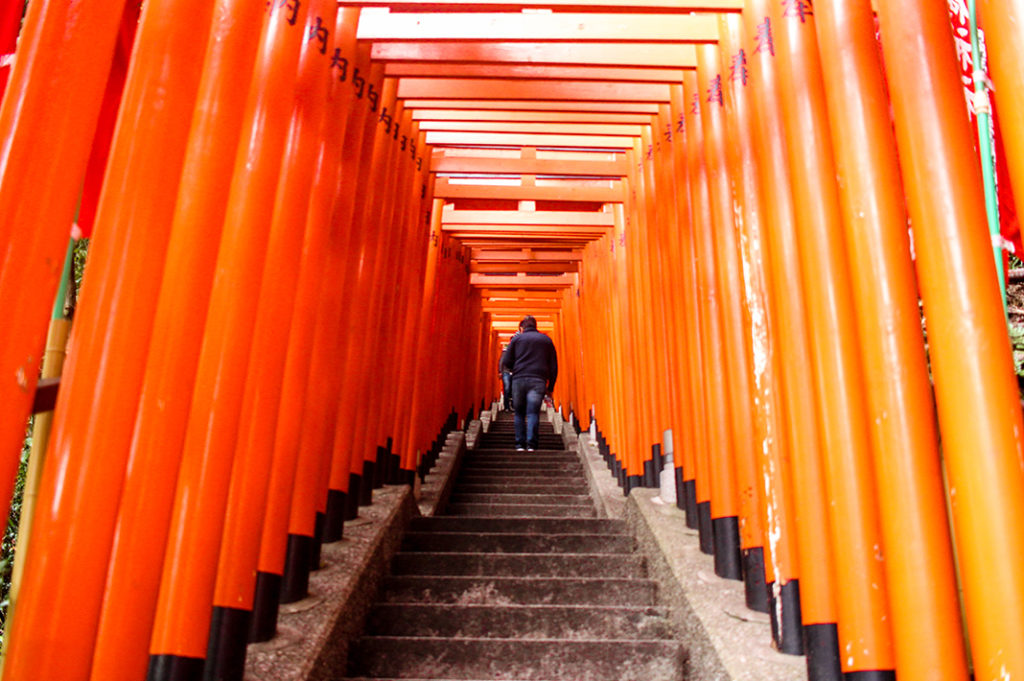 You can get there in a few minutes walk from either Akasaka Station, Akasaka Mitsuke Station, Kokkai-gijidoimae Station or Tameike-sannō Stations.

Address: 2 Chome-10-5 Nagatacho, Chiyoda City, Tokyo (link)
Open: 5:00a.m.–6:00p.m. 
Nezu Shrine / Otome Inari Shrine
 
Nezu shrine is one of the oldest in town, dating all the way back to 1705. Though well known by locals, many tourists overlook this little backstreet gem. The grounds are open, peaceful and perfect for a little photography. Just after crossing the small bridge, take the path to the left and you'll find the beginning of the torii gate path which leads to Otome Inari Shrine, a place for maidens to pray for marriage.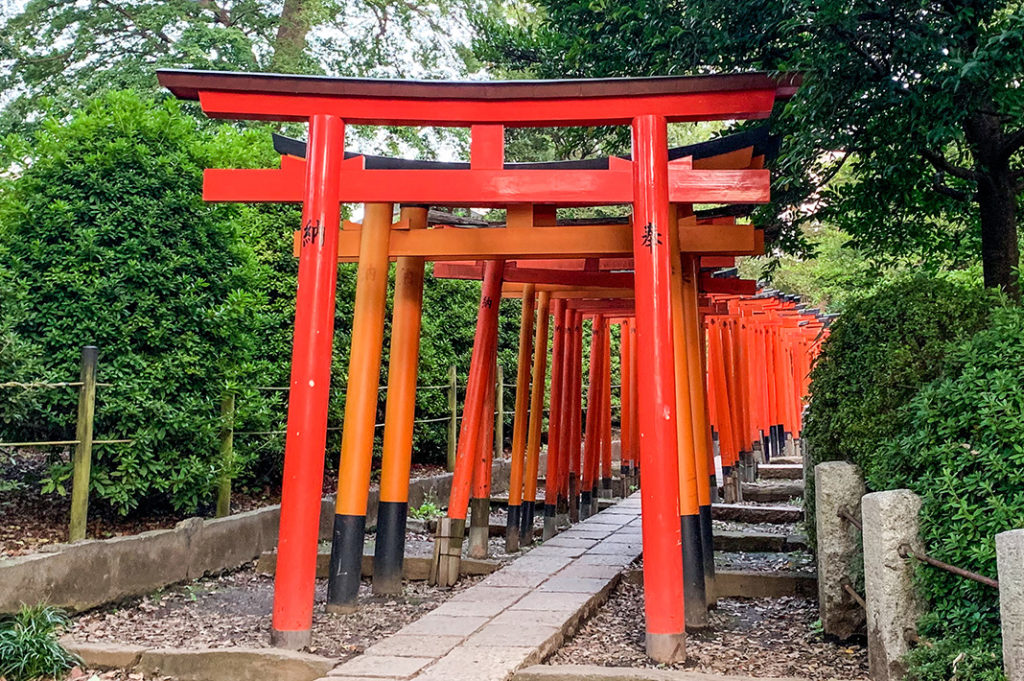 These gates have a different aesthetic to Hie Shrine—they're a little weathered, a little crooked—and you may need to duck under some. And this is exactly what makes them so charming!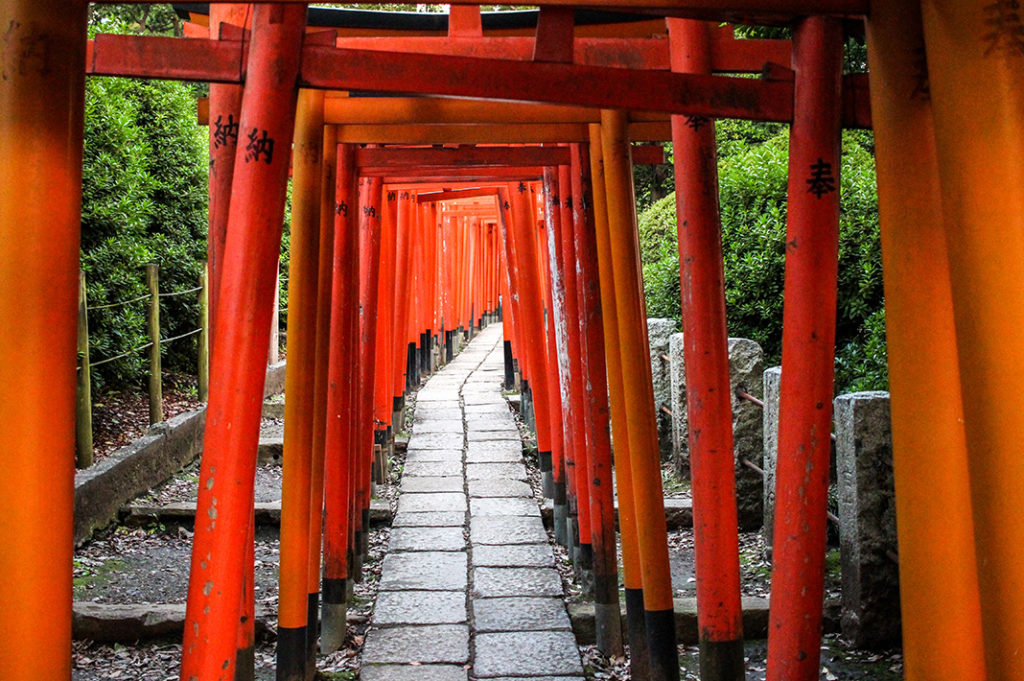 If you visit between early April and early May, you'll catch the Azalea Festival (tsutsuji matsuri) where three thousand azalea bushes form a colourful blanket across the landscape. These definitely add a new element to your torii gate shots, but will mean an increase in people. Head there early for an uninterrupted shoot (they open at 6:00am).

You can reach Nezu Shrine in 5 minutes from either Nezu station or Sendagi station (both on the Chiyoda line) or from Todaimae station (Nanboku line).

Address: 1 Chome-28-9 Nezu, Bunkyo City, Tokyo 113-0031 (link)
Open: 6:00a.m.–5:00p.m., 7 days per week. 
Hanazono Inari Shrine
Head into Ueno Park and make your way over to Hanazono Inari Shrine. This shinto shrine has a small red torii gate path, broken up into groups of around 10 gates, staggered over a few levels on the hill. 


It's not quite as visually impressive as the above two, but it's certainly charming. If you don't have much time in Tokyo, this might be a good option because there are so many other things to see and do around Ueno. For those visiting in cherry blossom season, the park becomes a sea of pink, which will no doubt interest the photographers out there.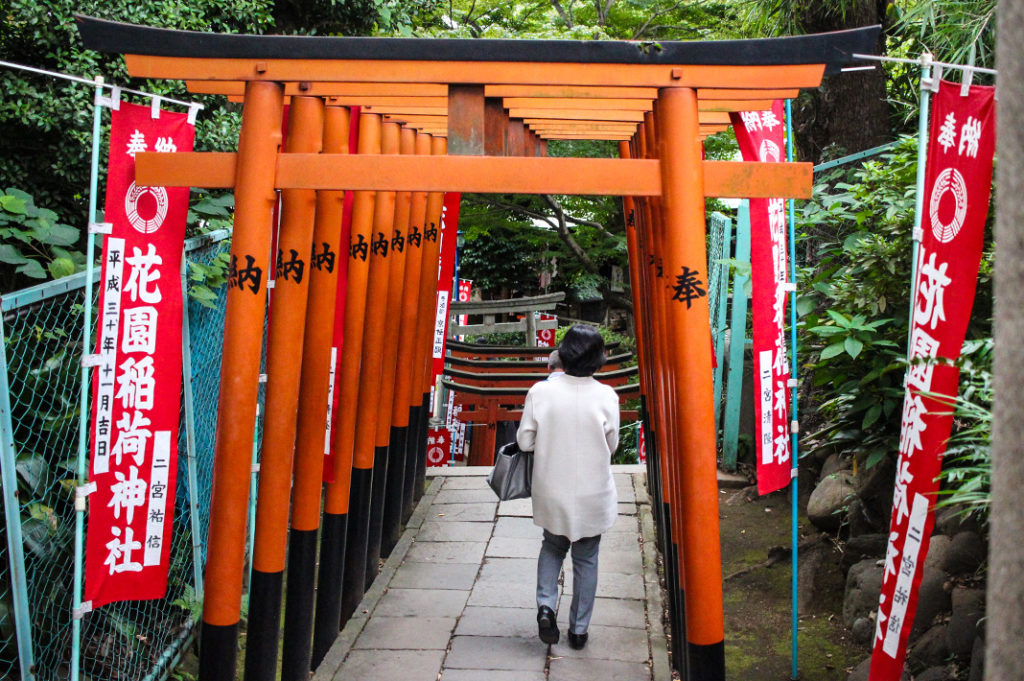 Hanazono Inari Shrine is a 5 minute walk from Ueno Station and is close to many other attractions within the park.

Address: 4-59 Uenokoen, Taito City, Tokyo 110-0007 (link)
Open: 6:00a.m.–5:00p.m., 7 days per week.

While there are even more torii gate tunnels in Tokyo, these three should get you started with ample photo opportunities. Happy snapping!

This article was first published by Japan Journeys. Check Japan Journeys for deeper and unique insights into visiting Japan, including wellness, travel, cuisine and more. Follow on Instagram @japanjourneys.jp, and on Facebook at this link!