The Alpha X is the latest and greatest in bullet train technology, bringing the best in terms of safety and top speed at 400km/h.
Table of contents:
What is the "Alpha-X" Shinkansen
The latest technology in speed and safety
Test rides
Points of interest
What is the "Alpha-X" Shinkansen
Introducing the Class E956 "Alpha-X" Shinkansen is a 10 car experimental bullet train operated by JR-East on the Tohoku Shinkansen line. Bringing together the best and latest train technology that makes a top speed possible of 400 km/h (250 mph). The train is set to be put in service together with the opening of the Hokkaido Shinkansen to Sapporo. Bringing down the journey time between Tokyo – Sapporo to only 3 hours, something that until recently took over 7 hours.
The latest technology in speed and safety
Onboard safety is key, and more so than ever on the Alpha-X. The train comes with a new set of technologies for a safe and quick stop in the case of an emergency, like an earthquake. These include air brakes on the roof and also use magnetic plates near the rails to slow down, in addition to the conventional breaking system. Additionally, a new 16 meters long noise design will allow the train to aerodynamically cut through now and high winds.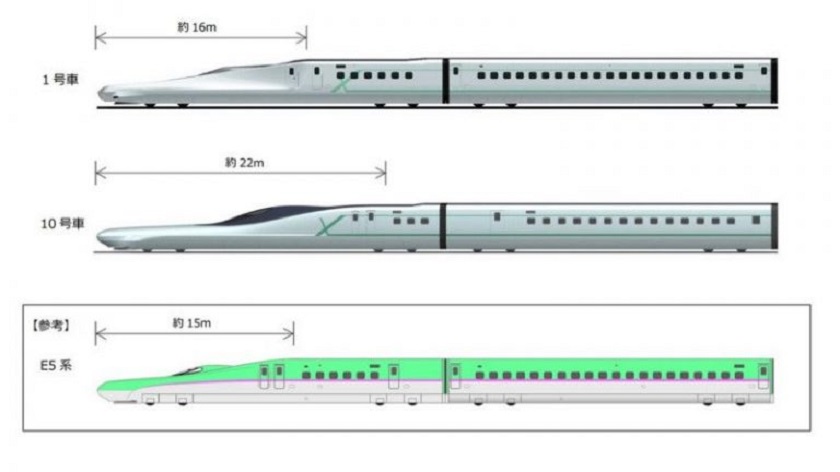 Test rides
Test rides for the Alpha-X have been underway, with the first test having taken place in May 2019. Then throughout the year regular tests have been taking place, and finally the top speed of 400 km/h (250 mph) was achieved on December 14, 2019. JR East offered test rides to the public for the first time on October 27th, 2020. A select few journalists, and rail fans attended the ride.
As JR East allows the Japan Rail Pass to be used on all its services, so too, will it be usable on this train. We look forward to the day that the Alpha X enters regular service and any JR pass user will be able to enjoy the best, fastest and safest train in Japan.
Points of interest
Alpha-X is an acronym for "Advanced Labs for Frontline Activity in rail eXperimentation".
The train will be the fastest train on tracks in Japan, though the fastest will be the Meglev, which uses magnetic levitation.
The train is also an export candidate for high speed markets in the US and Taiwan.
Photo ©
By N100teda – Own work, CC BY-SA 4.0, https://commons.wikimedia.org/w/index.php?curid=82870748