Night trains using the Japan Rail Pass.
Starting with a bit of history, long before the Shinkansen (the bullet trains) Japan was a country of night trains. These so called "blue sleeper trains" could nearly be found anywhere. Today, very few night trains remain and most have been retired due to people taking the much faster Shinkansen or cheaper night buses. Those that remain are very popular and getting a seat may not be easy. The following night trains still operate and can be booked using the JR Pass.
The Sunrise express.
The Sunrise express is a train that consists of two train sets. The Sunrise Izumo and Sunrise Seto, together they leave Tokyo travel to Osaka and Himeji, before splitting-up at Okayama station. From Okayama, one train set travels up to Matsue and Izumo-shi, while the other train set travels down to Takamatsu, Shikoku. Trains also run the reverse route back to Tokyo.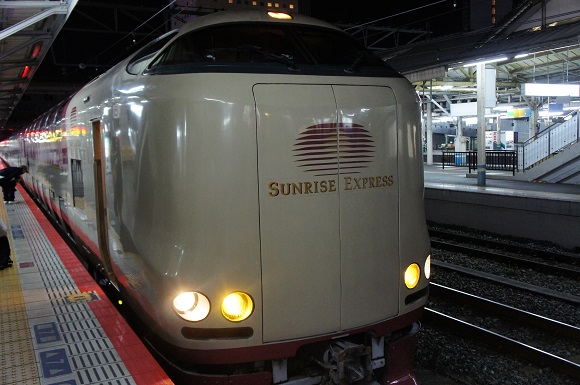 Compartments and charges.
There are different kinds of seats on board. For JR Pass users the "Nobi Nobi" can be used free of charge. These are carpeted seats to lay down on, small blankets are provided.
There is also a single bed "type A" compartment and twin bed "type B" compartment. These compartments require an additional fare, starting at 10,800yen per person.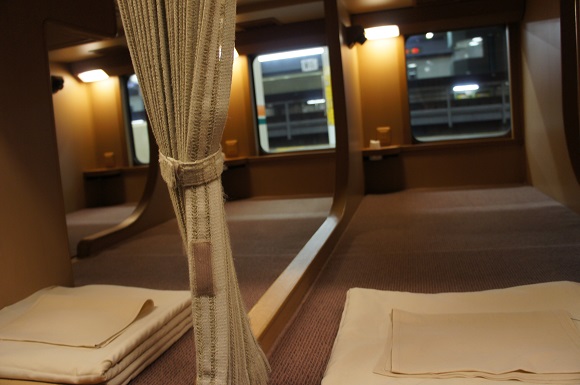 Nobi Nobi Seat!
Getting a reservation.
The most tricky part of getting on the Sunrise express is reserving seats. With only one service each night seats are very limited and sometimes sell out days, if not weeks in advance. The best way to make reservations is to ask for seats the moment that you are in Japan and have activated the JR Pass. It is not possible to reserve seats outside of Japan or via the internet for the Japan Rail Pass. Ticket reservations can be made up to 30 days in advance and are required in order to travel on this train. Weekend days and holidays are especially hard to book.
Also good to know:
-There are no special compartments for large luggage, you'll have to share your bed with your suitcase.
-There's a small vending machine on-board selling soda's and water.
-A limited amount of power outlets can be found on board.
-There's a shower on board, shower passes can be purchased from the conductor and last 6 minutes. There's only a limited amount of these available, so purchase them the moment the conductor comes to check the tickets.
The Hamanasu.
This night service travels between Aomori and Sapporo and is the last "blue train" in active service. Unfortunately this train is also expected to be retired in 2016 once Shinkansen service starts between Shin-Aomori and Hakodate. The train also stops at Hakodate, Oshamanbe, Date-Monbetsu (coming from Aomori Only) – Higashi-Muroran – Noboribetsu (coming from Sapporo only) – Tomakomai – Minami-Chitose – Chitose – Shin-Sapporo.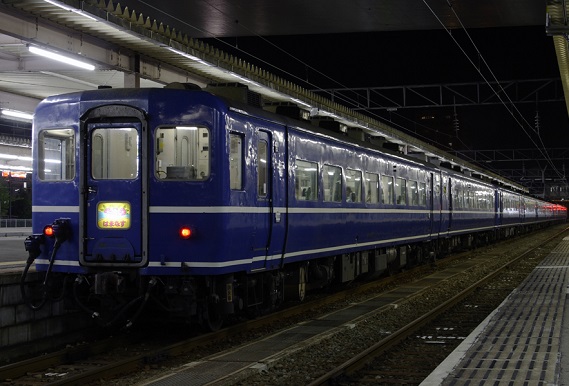 Compartments and charges.
Japan Rail Pass users can use this train without additional charge if traveling on a "Nobi Nobi" carpeted seat, "Dreamcar" reclining seat or a simple non reserved seat. There are also sleeping compartments on-board requiring an extra fare, starting at 9,500yen.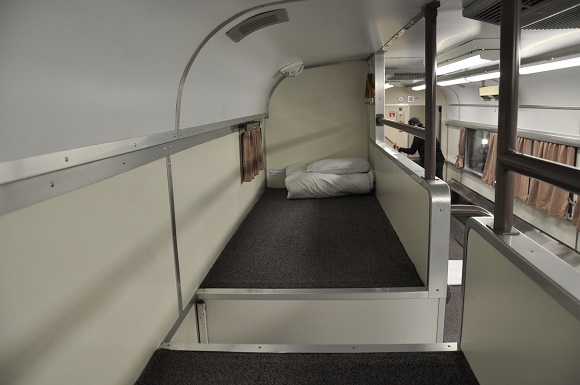 Nobi Nobi seat on the Hamanasu.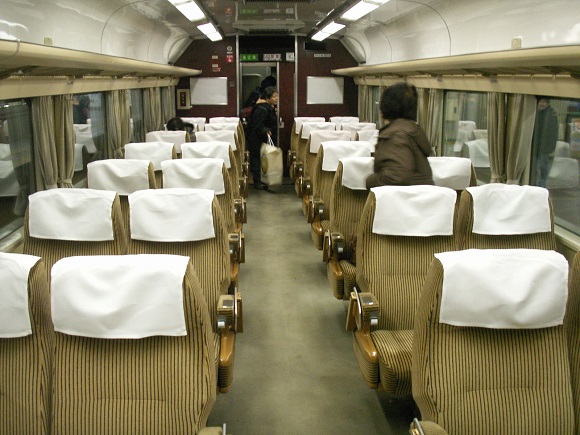 Dream Car seats.
Getting a reservation.
This train is somewhat easier to reserve in advance than the Sunrise express and it is even possible to take a non-reserved seat without prior reservation. Still, reservations can only be made once in Japan after activating the JR Pass. We recommend trying to reserve a "Nobi Nobi" seat as these are the only seats where you can lay down on, that don't require an additional charge.
Also good to know.
-There's only a traditional toilet on board.
-A vending machine selling drink can be found on the train.
-Non reserved seats go on a first come basis, it is recommended to come at least 45minutes in advance to the station and queue up on the platform before boarding.
Other night trains:
There are two other night trains in Japan traveling from Tokyo – Sapporo. These are the Cassiopeia and Hokutosei. These are luxury trains and the JR Pass only covers the basic fare, additional charges start at 16,500 yen but can amount to a lot more, depending on compartment type and distance traveled. Both the Cassiopeia and Hokutosei only run on selected days and tickets are very hard to reserve. It is recommended to reserve tickets through a travel agency if you wish to travel on either of these trains.
Further reading.
A very handy hand guide of night trains by JR Hokkaido
Sunrise Express (Wikipedia)
Hamanasu (Wikipedia)
An overview of night trains in Japan (Wikipedia)
Photo ©
"JR Hokkaido night train express"Hamanasu""Carpet-car" by EIHEITAI-EISHI.
Hamanasu"Reserved seat" by EIHEITAI-EISHI
"Hamanasu" by Photonica
All other pictures © by Daniel-San.