Meiji Jingu, one of Japan's most important Shinto shrines, can be found deep within a dense evergreen forest spanning 170 acres. A walk through the grounds brings you up close to over 100,000 trees, a number of rare birds and insects and a fascinating part of Japan's history. This slice of paradise is not, as you may think, a secluded mountain shrine, but rather conveniently located in Tokyo, beside the busy urban areas of Shibuya, Shinjuku and Harajuku. Its central location makes it easy to include in any Tokyo itinerary. And even though it's one of Tokyo's busiest tourist attractions, a visit to Meiji Shrine always leaves me feeling soothed and refreshed. 
In honour of Emperor Meiji 
The Shrine is dedicated to Japan's 122nd Emperor, Emperor Meiji, and his wife Empress Shoken. All told, Meiji was a progressive leader; encouraging friendship with other countries, developing a national education system and promoting women's rights. Though, he is perhaps best remembered for his part in the westernization of Japan in the early 20th Century, moving it from a feudal system to the modern global power we know today. 
After their deaths in 1912 and 1914, it was decided that a shrine should be constructed to honour the spirits of the Emperor and Empress. Word has it that this location was chosen because the Empress quite enjoyed visiting an iris garden on the land, which still exists to this day in the Meiji Jingu Inner Garden. As the shrine was completed in 1920, it celebrates its centennial in 2020.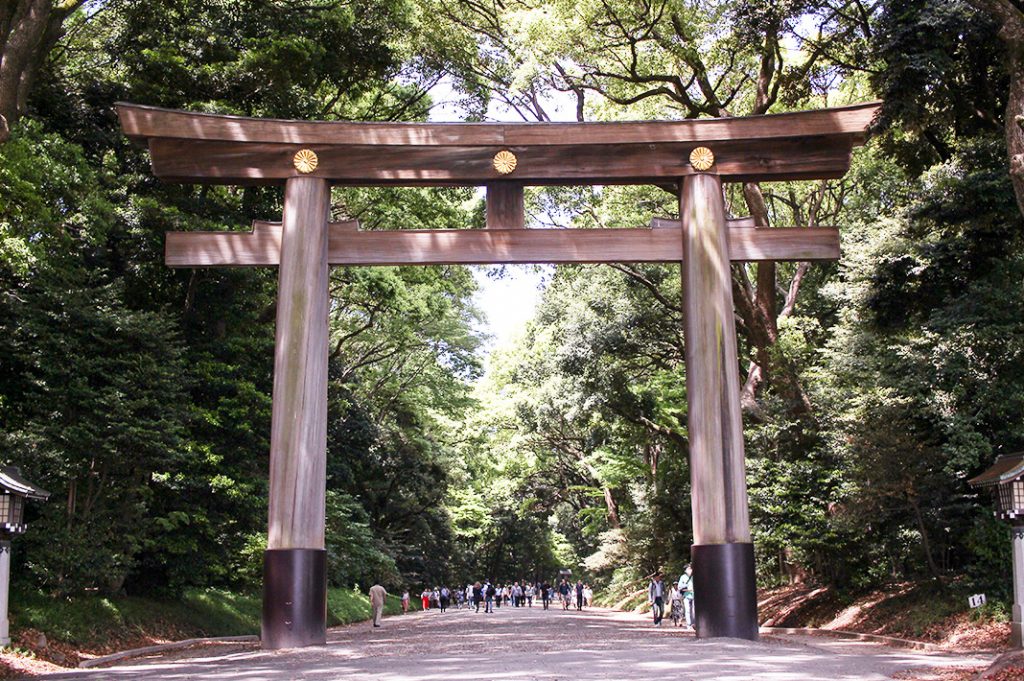 The entrance to Tokyo's most popular shrine
A green approach
The Harajuku entrance to the Meiji Shrine grounds is marked by a towering wooden torii gate, standing 40 feet tall and made from 1,600 year old cypress. As you walk through it, remember that the Japanese torii gates mark the divide between our world and that of the spirits. Turn your back on the hustle bustle and step through. 
The walk between the torii gate and the shrine itself is my favourite part of the experience. A wide gravel path winds its way through the lush forest; shady and cool in the summer and green all year round. This man-made forest contains over 100,000 trees of 365 species, donated from all over Japan during construction. The Meiji Shrine website goes on to explain that as the forest is considered sacred, human intervention is not allowed. If a tree falls, it is left to return to the earth. 
Along the Path
After a few minutes, you'll come across a few more iconic sights of the Meiji Shrine complex: the sake and wine barrel displays. The sake barrels are offerings to the deified spirits of Emperor Meiji and Empress Shoken, from sake brewers all over Japan. The bright designs make for a wonderful photo opportunity.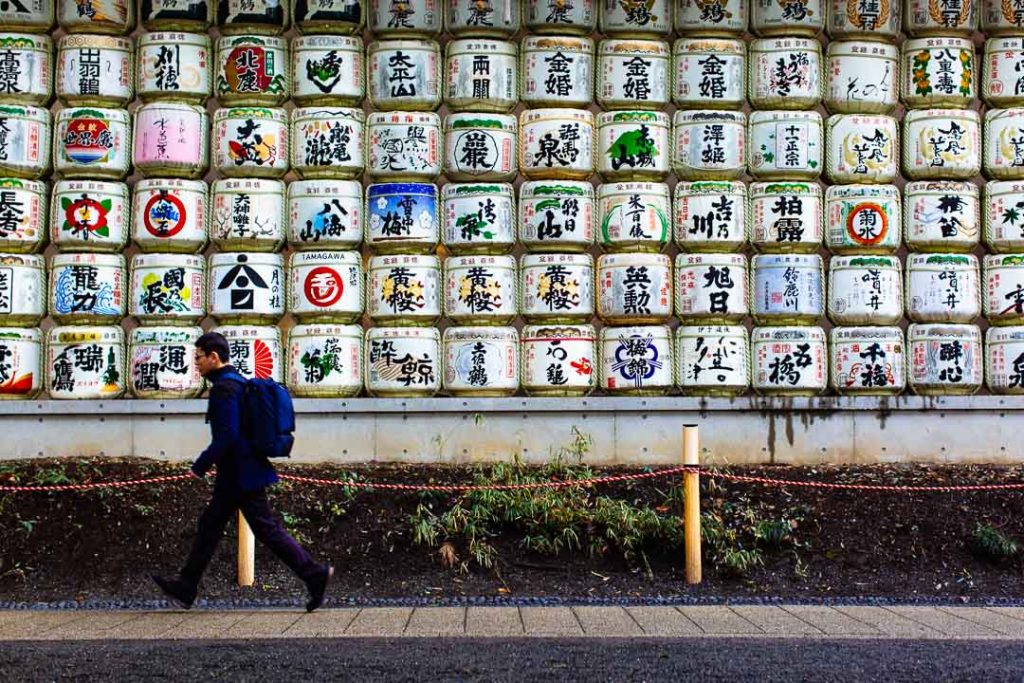 Photo copyright Jarrad Jinx (@jinx.photo)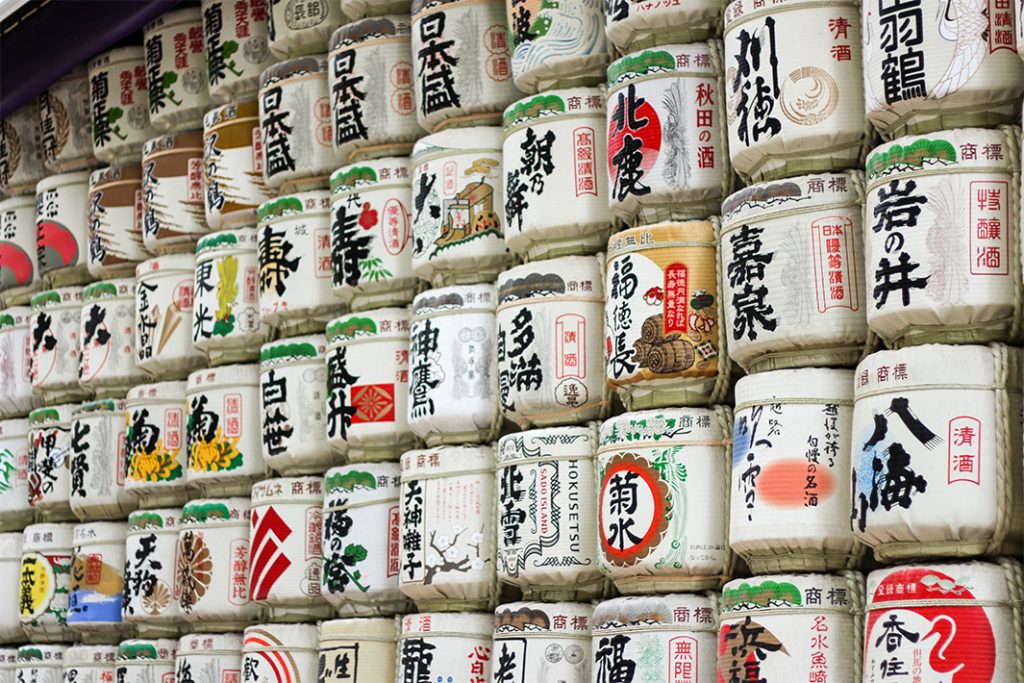 Wine aficionados will no doubt enjoy inspecting the barrels on the opposite side; this wall contains annual gifts from winemakers in Burgundy, France. It is said that the Emperor was quite fond of red wine and these barrels symbolise the friendly connection between the two nations. 
Just nearby is the entrance to the Inner Garden, a secluded traditional Japanese garden that pre-dates the shrine. It was here that the Empress enjoyed spending time in her tea house or by the large pond and beautiful Iris garden. It costs a small fee to enter, but it is truly calming and even contains a secret "power spot" to revive your travel weary soul.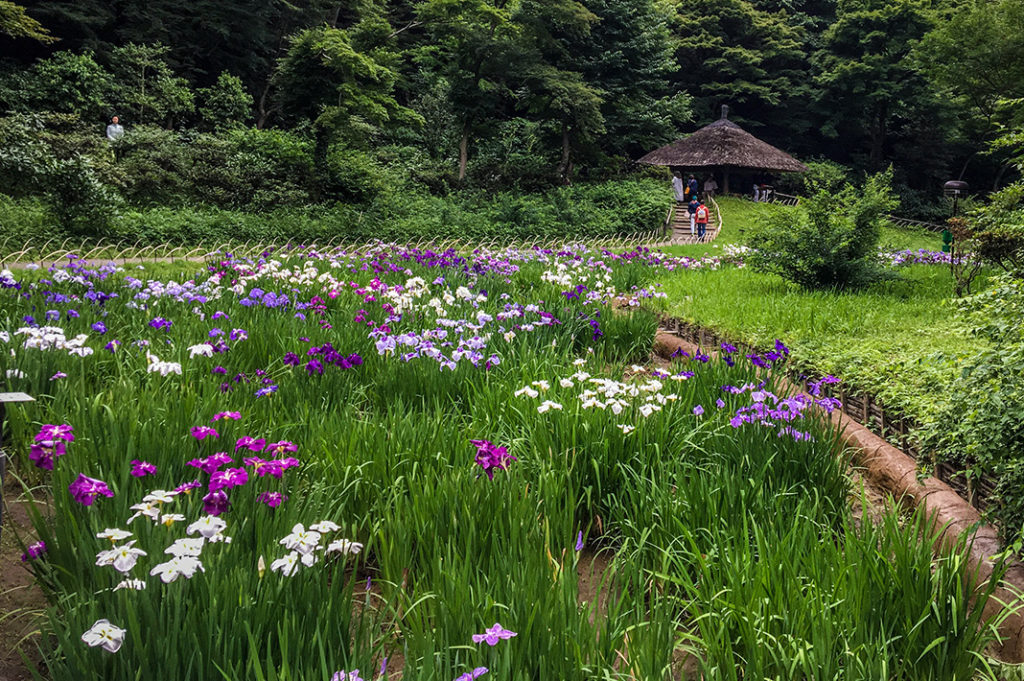 The Shrine 
After following the path around through a second large torii gate, you'll eventually come to the Shrine. Don't forget to wash your hands at the chōzuya basin, purifying yourself before heading through to explore.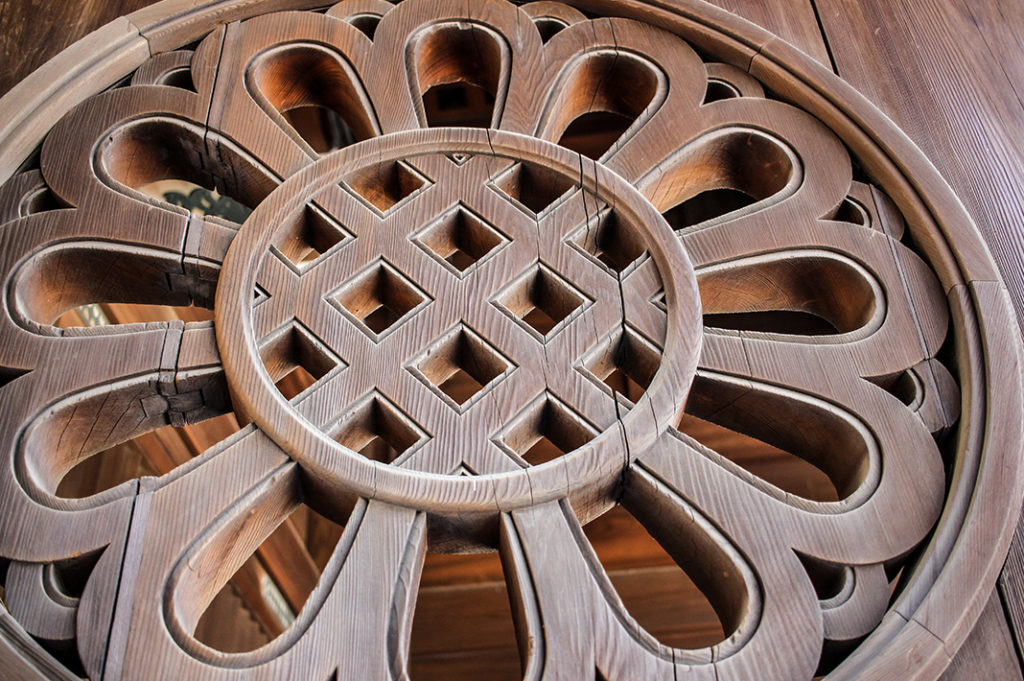 Detail on the Minami Shinmon gate
Take note of the Minami-Shinmon gate, made from cypress with a copper roof. This is one of the few structures in the complex that survived the bombings of World War 2; much of the rest was destroyed, including the main shrine which was rebuilt in 1958. Once through, you'll see the main shrine straight ahead.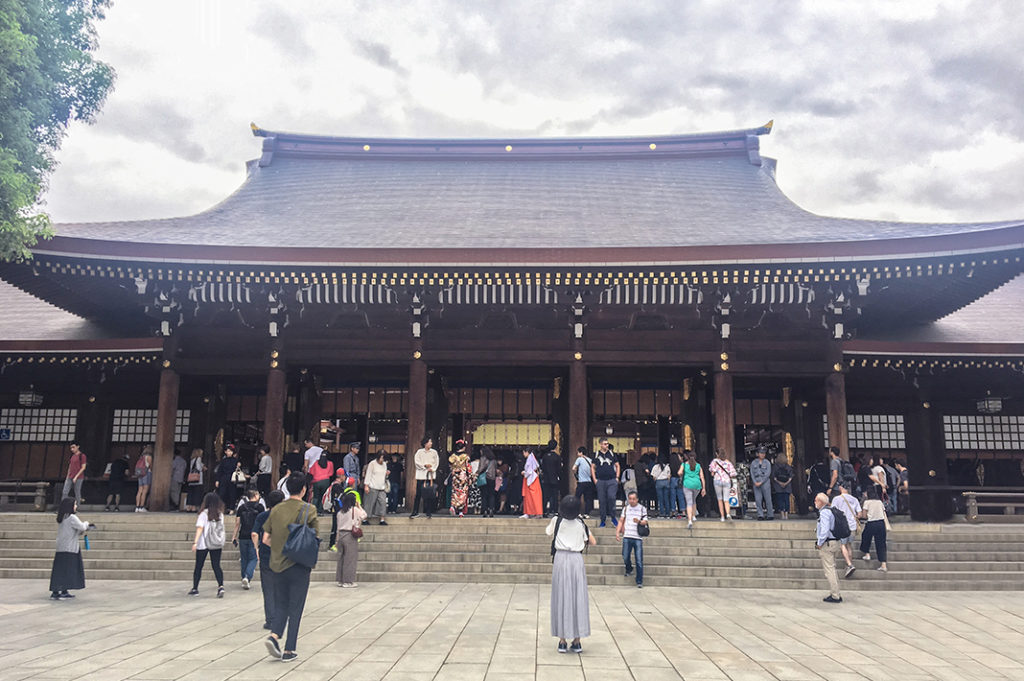 Meiji Jingu main shrine
Anyone is welcome to pray at Meiji Jingu. Head up, throw in a coin and follow the cues. And while you're up there, take a moment to appreciate the beautiful timber used in the construction. Much of it comes from the sacred Kiso Valley in Nagano, while the roofs are copper-clad for fire-proofing.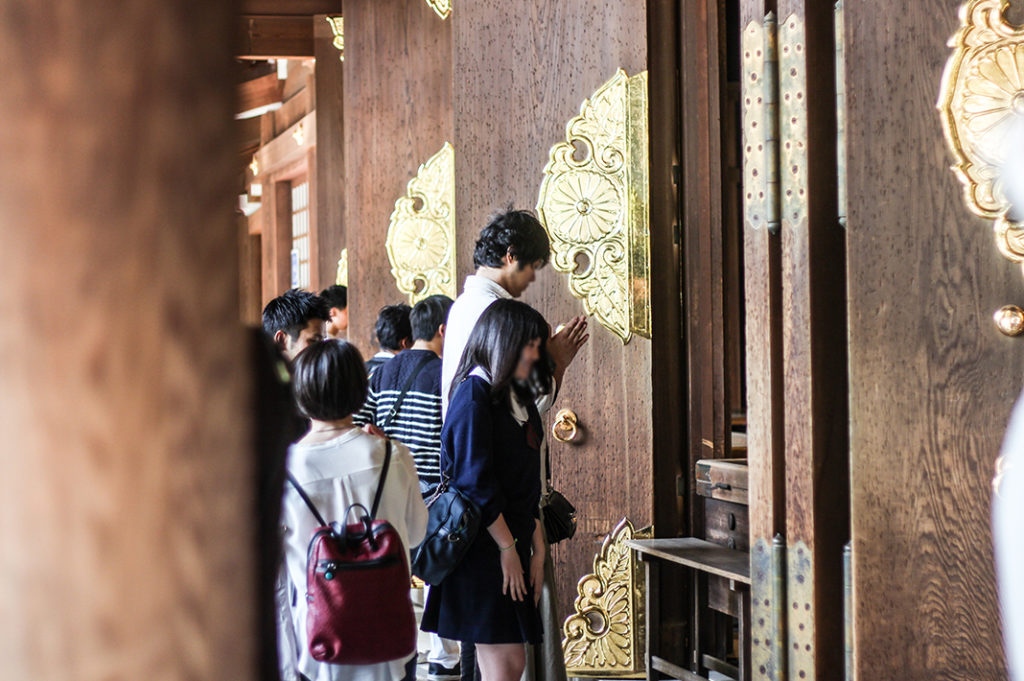 Make a wish 
The large paved clearing has some other sights to check out, too. On the left, two camphor trees stand side by side, united by a sacred rope. These symbolise the bond of a happy relationship so people looking for a partner or success in marriage will visit them.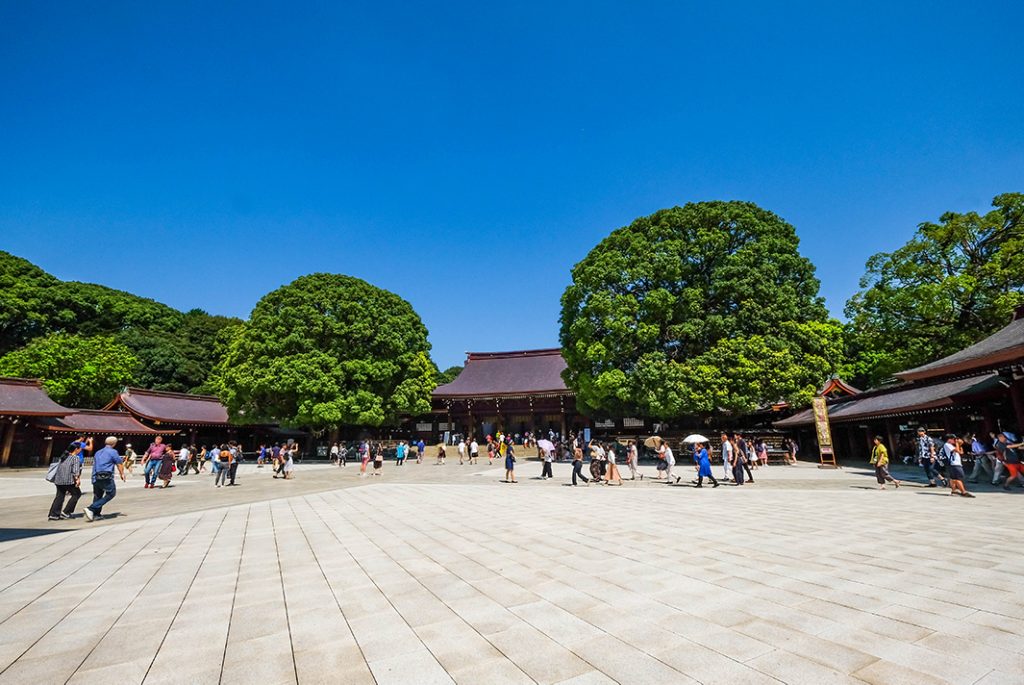 On the right under another large camphor tree is the ema-kake (votive tablet rack), full of people's hopes and prayers.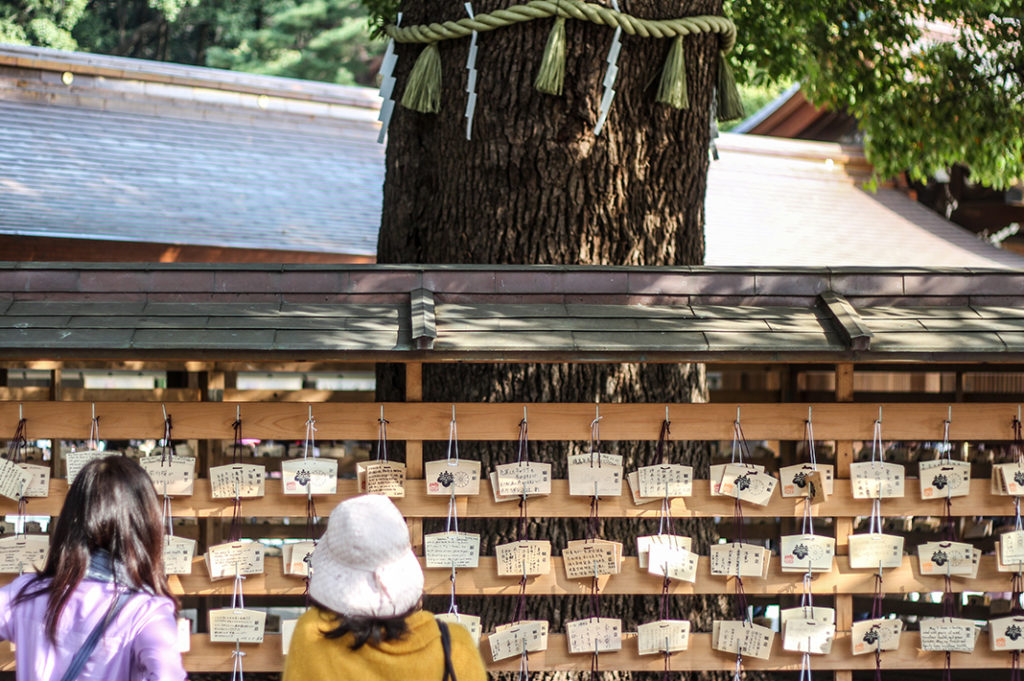 You can purchase a wooden ema from the amulet office which is located in the next clearing to the right.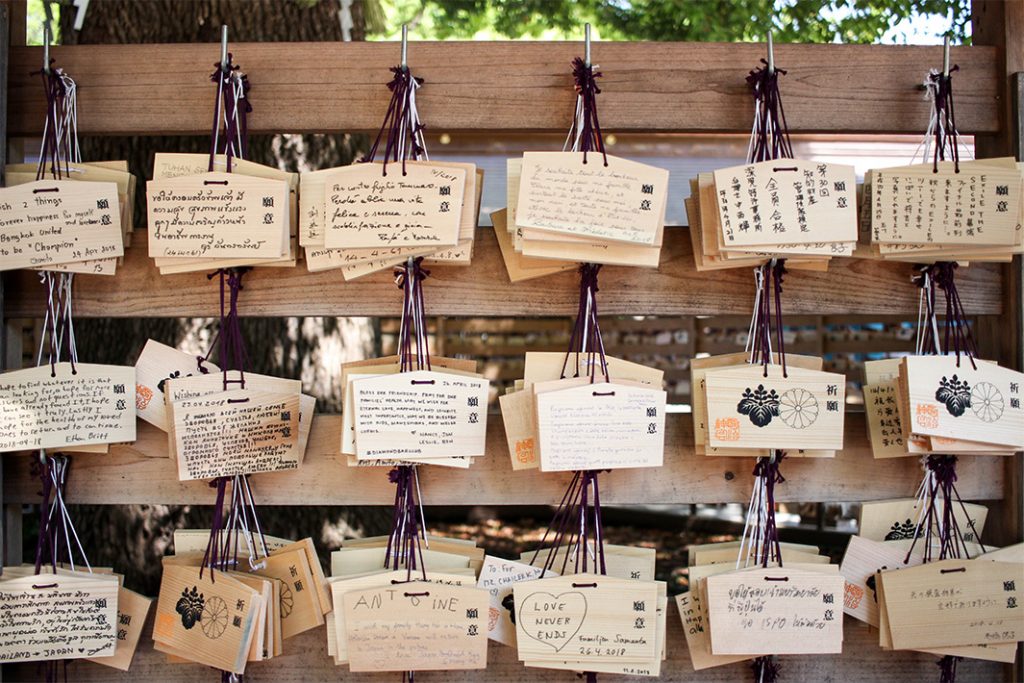 Make a wish at Tokyo's most popular shrine
As it turns out, the Emperor and Empress were both poetry aficionados. The shrine's website states that the Emperor composed over 100,000 waka poems and the Empress 30,000. These are longer than a haiku and follow a 5-7-5-7-7 syllable style. You can draw one of their poems out as a fortune during your visit or simply get one online. 
When to visit Meiji Shrine
If you happen to visit on a Sunday, you might catch a Shinto wedding in progress. It's hard to miss; the bride in a white kimono with an entourage of photographers and beautifully dressed guests.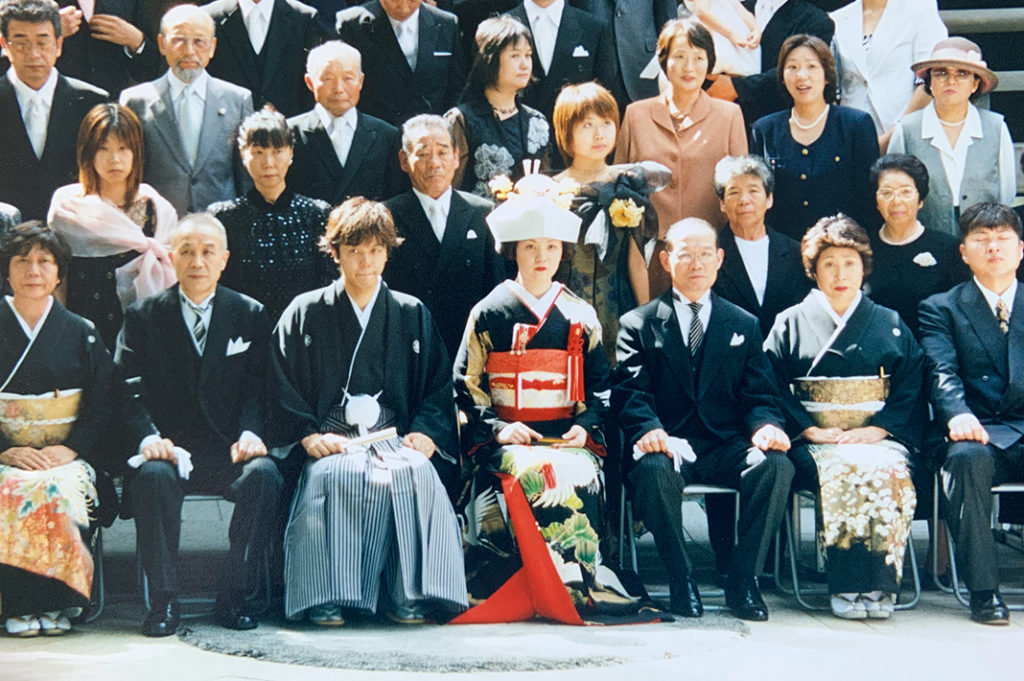 Shot on film in 2003
Any time of year is great to visit Meiji Shrine. I particularly like it in the summer months, as it is a shady reprieve from the sun and humidity. If you visit in mid-June, you'll also catch the Iris in full bloom inside the Inner Garden.  
There are a host of annual events at the shrine which are exciting to witness. But the biggest one, without doubt, is over the New Year period. Meiji Jingu is the most popular shrine in all of japan for Hatsumōde new years visits. It's said that around three million people visit it over the three days surrounding New Year's Eve.  
Getting to Meiji Jingu 
Meiji Shrine is a short walk from Sangubashi, Yoyogi and Kita Sando stations, though most people will access it via the Harajuku entrance by Harajuku Station. While you're in the area, don't forget to check out the Inner Garden and Yoyogi Park. I would recommend doing your busy Takeshita-dori shopping beforehand and taking full advantage of the calming and restorative effects of this beautiful complex.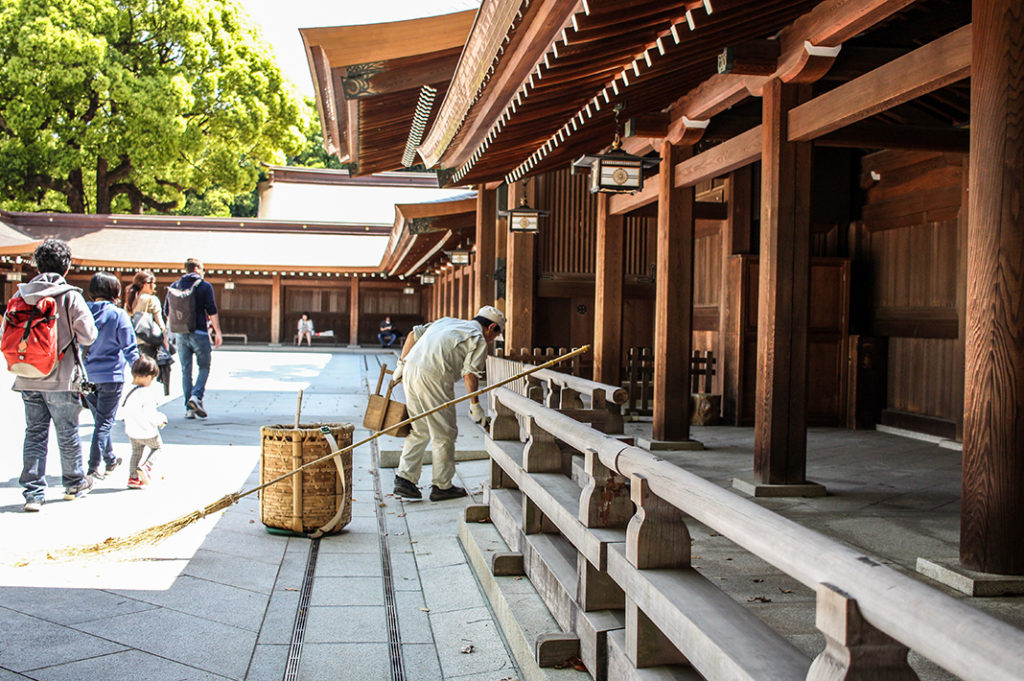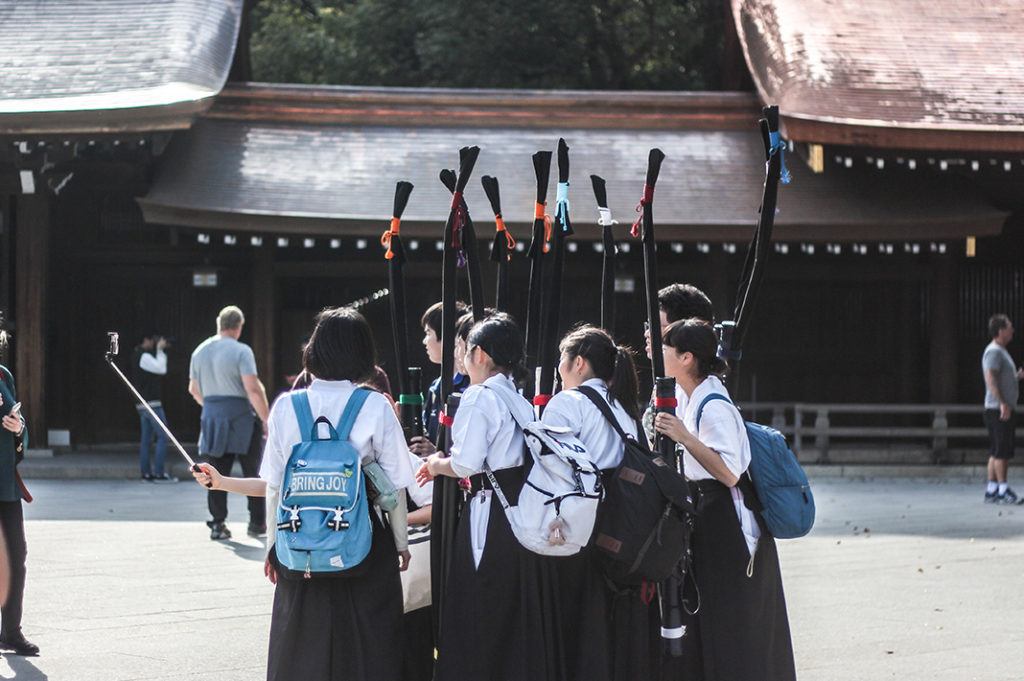 Meiji Jingu
Address: 1-1 Yoyogi Kamizono Cho, Shibuya City, Tokyo 151-8557
Open: 5:00am until 6:00pm, 7 days.
URL: https://www.meijijingu.or.jp/en/
This article was first published by Japan Journeys. Check Japan Journeys for deeper and unique insights into visiting Japan, including wellness, travel, cuisine and more. Follow on Instagram @japanjourneys.jp, and on Facebook at this link!   

Post by Japan Journeys.